Babies: much of the time when you see babies, you're only seeing half the story. You see a baby in a stroller for a few minutes, and you're in love. The way they smile, the way they laugh. You go home thinking to yourself "wow, I want to have a baby too!" Babies are generally viewed in the most positive ways possible: people talk about their smell and how mother/fatherhood is difficult but fulfilling.
There's another side to babies, though. Lacking the mental capacity to practice good hygiene, they tend to make messes. And when it comes to planning to have a child, knowing how to wash baby clothes for the first time may not register as one of the top priorities.
So now you have a baby, and the clothes are messy and don't seem to be getting any cleaner. What to do? Fear not: in this article, you'll learn how to wash baby clothes. You're going to learn the best baby-safe laundry detergent, and perhaps best of all, you're going to learn how to get stains out of baby clothes.
The Best Ways to Wash Baby Clothes
Babies have sensitive skin, so you will want to use detergents that do not have colors, perfumes, dyes, fragrances, or scents. Your child may have an allergic reaction to certain detergents, so it is best to play it safe.
You will also want to wash clothing before they ever wear them. Many manufacturers use chemicals to make new clothes look crisp, and these chemicals can irritate the baby's skin.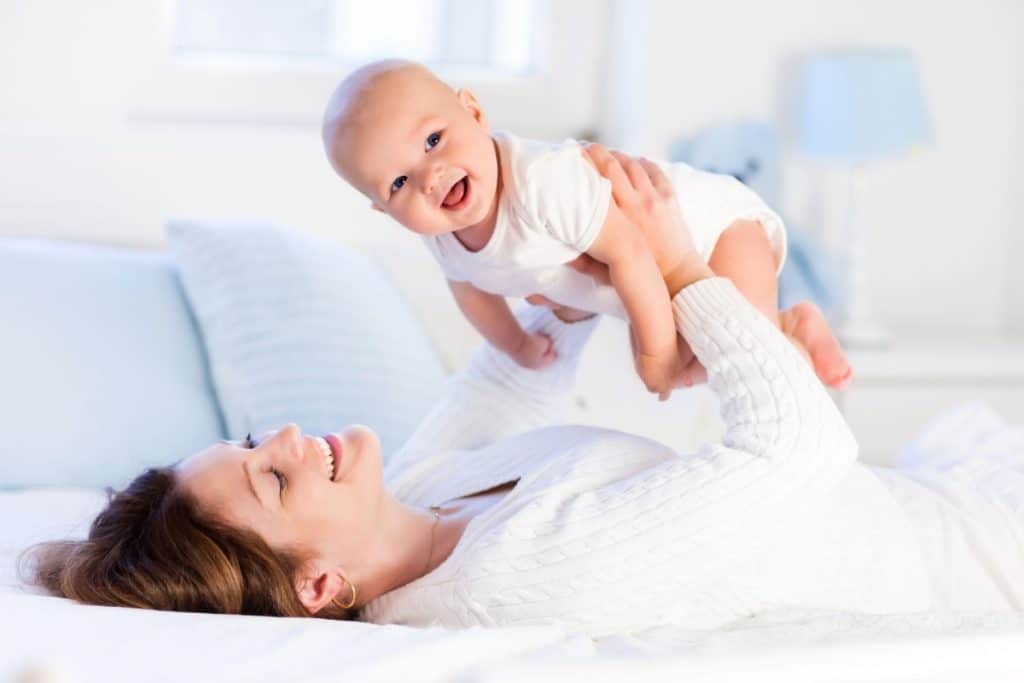 When you start washing baby clothes, begin by pre-treating any visible stains. Turn the clothes inside out so that the buttons and snaps do not get caught in the wash.
Homemade laundry detergent without Borax should work well for cleaning delicate fabric. Make sure that you follow the fabric tag carefully. For example, if it has the "do not dry" symbol on it, take care to hang the clothes up to dry instead of using the dryer.
Likewise, some of the symbols identify the temperature of the water — hot or cold — you'll use to wash them. To make sure the garment lasts as long as possible, make sure to follow all of the laundry symbols carefully.
Best Laundry Detergents for Baby Clothes
Ideally, you want to find a laundry detergent that is free from any fragrances or chemicals. Start by looking for organic or natural options. You may also want to look for detergents specifically designed for a baby's gentle skin.
Babyganics 3x Fragrance-Free Laundry Detergent: This Babyganics laundry detergent is perfect for sensitive skin. As it uses plant-based ingredients and organic materials, it never leaves behind any itchy residue. While it has a higher price tag, its high concentration means that you get up to 199 loads out of it.
The Honest Company Laundry Detergent: The Honest Company Laundry Detergent works for the whole family and is completely non-toxic. The eco-friendly detergent cleanses the fabric without any harsh chemicals or fragrances. Plus, it can be used for the rest of the family's laundry as well.
Seventh Generation Baby Natural 4x Laundry Detergent: This Seventh Generation Baby Natural laundry detergent is perfect for fighting stains. Whether you have had a diaper blow-out or a formula mishap, this detergent can break down the stain. It uses a quadruple enzyme formula to make sure that all of your clothes come out spotless. Best of all, the ingredients are all-natural.
How to Get Stains Out of Baby Clothes
With any stain, you should start by removing any remnants that are left on the clothes before you put them in the wash. Scrape off any food or spit-up beforehand. Then soak the stained clothes in cold water to help loosen the stain.
If the stain is protein-based like food, diapers, formula, spit up or breast milk, use an enzyme cleaner to remove the stain and a soft-bristled brush. Follow the directions on the bottle before using it on the stain. If anything is left, use a general, all-purpose stain remover like Spray'N'Wash or Shout to get the rest of the stain.
Use talcum powder or cornstarch to absorb the oil for oily or greasy stains. After waiting for 15 to 20 minutes, remove the powder and use a pre-treater on the spot.
If your mechanic hubby cuddles your little one after work, you may notice residual grease stains transferred to the baby's clothes. Remove motor oil stains by absorbing the oil first and pretreating it with dish soap or another cleaner. Once finished, you can toss it into the laundry with everything else.
If your baby likes berries and fruit juices, you will have a harder time removing the stain. Pre-treat the fabric with a one-part vinegar and two-part water mixture. Use an eye dropper to apply the vinegar solution so that it does not spread to the rest of the fabric.
Allow the fabric to sit for ten minutes before using a general stain remover. Afterward, wash it with the rest of your laundry and your regular homemade washing powder.
Once you have washed the clothes, all of the stains should be gone. If they have not disappeared, use the same pre-treatment process again. You might also use bleach pens on white clothes. If you use bleach, be very careful not to mix bleached clothes in with any non-white fabric when you do the wash.
How to Wash Cloth Diapers
Some cloth diapers require special care. Always check the label or the manufacturer's specifications before you wash them. In general, you can wash cloth diapers by removing anything remaining in the diapers first. Soak stained diapers for several hours before washing to help treat the stains.
Afterward, wash the dirty diapers like you normally would wash clothes, but make sure that they do wash them without anything else in the washer. In general, a cold pre-wash and regular hot wash will work. If they still smell dirty, wash them again. Use care when washing white clothes with bleach for baby.
When you dry the diapers, close the Velcro fasteners so that they do not link together. Unless the manufacturer says otherwise, you can dry them like regular clothes or hang them up to dry. If your child has an infection, use bleach in the wash. A little baking soda in the wash can also help to remove any odors.
How to Get Poop Stains Out of Baby Clothes
Poopy clothes can be cleaned by scraping off any remnants and allowing them to soak in cold water. Afterward, use a cleaner like Oxi-Clean to deep clean the fabric.
Warm water is the best temperature to remove poop smell from clothes because it is more efficient at removing the stain. You'll want to select the "normal" cycle for poop stains because it has enough agitation to clean the clothes.
Baby Your Baby Clothes
Babies are adorable, but let's face it: they can be messy. From food to spit-up to dirty diapers, you're looking at a constant surge of messiness that needs addressing.
You might feel overwhelmed at first, but using the tips in this article, you'll find that the work – while still substantial – is manageable. In this article, you learned how to wash baby clothes. You learned the best laundry detergent for baby clothes, and you know how to get stains out of baby clothes. Use our tips to get your baby's clothes spotless once again!
Use the buttons below to share on Facebook, Twitter, and Pinterest. Your friends will appreciate the help you provide in managing their new addition(s) to the family.