Organic gardening is the practice of producing food without artificial agricultural chemicals. Organic compost and manure is the best way to promote healthy soil and encourage plant growth. Learn the benefits of compost fertilizers and how to brew compost tea fertilizer in a few simple methods.
While chemical fertilizers are convenient, the overuse of these products alter the soil pH, reduce beneficial microorganisms and organic matter, and stunt plant development. This is why organic fertilizers like compost or manure tea are so important since they enrich the soil naturally.
Organic compost tea is an eco-friendly liquid fertilizer used as foliar spray or soil drench. It's not only environmentally friendly but also sustainable and essentially free if you compost food scraps and yard waste. If you have an existing compost heap, you're already on your way to creating rich compost tea.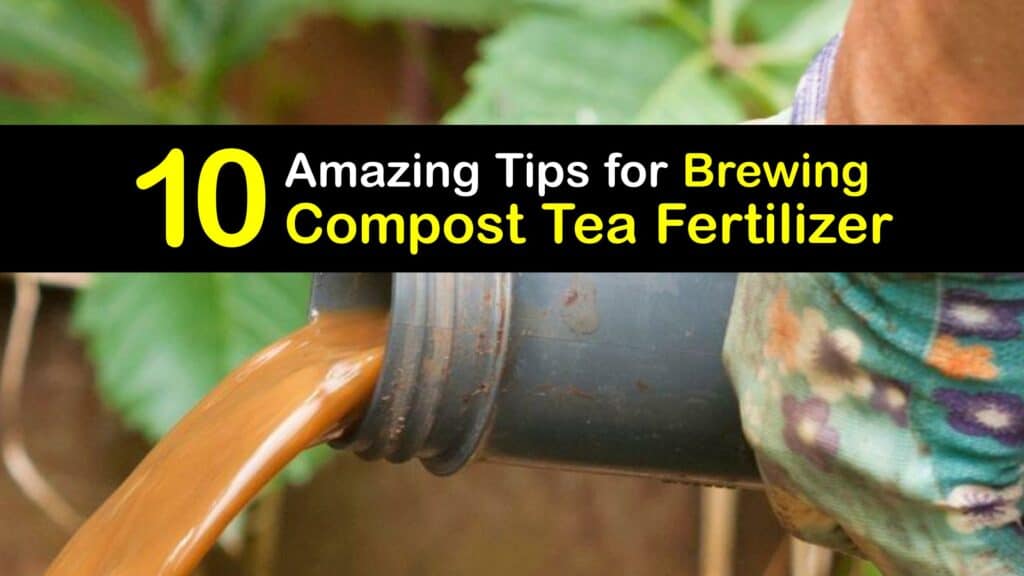 Methods For Creating Organic Compost Liquid
Compost tea is relatively easy to prepare, and you don't need a tea brewer or tea bag for the tea-making process. Discover recipes for basic and aerated compost teas and how to use the tea for your lawn and garden.
You can also use worms to make a worm tea fertilizer. Discover which worms are best for making worm casting tea, along with the methods and recipe, here.
What is Compost Tea?
You're probably familiar with a compost bin and how the material works as a soil amendment, but what is compost tea? Unlike good compost that resembles rich soil, brewed compost tea is a liquid fertilizer containing microorganisms necessary for soil health.
Compost Tea
Compost is a natural fertilizer with various beneficial bacteria, nutrients, and minerals. It's produced by drawing fungi, bacteria, protozoa, nematodes, and other beneficial organisms from the compost material during the brewing process. When you incorporate finished compost with water, you get compost tea.
How Compost Tea is Beneficial to Plants
Compost tea is a booster for plants, enabling them to resist pests and diseases. However, there are more advantages to using this natural tea than feeding your plants.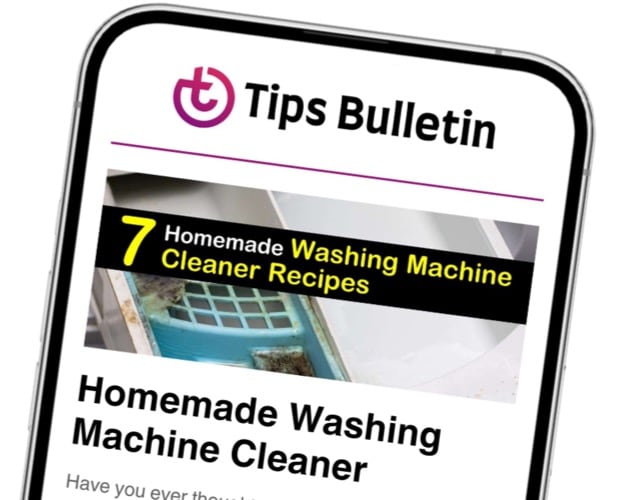 Finally, an email that Transforms Your Home.
Get the latest home and garden tips from our experts, delivered straight to your inbox.
Compost tea improves soil health and structure, making it less likely to leach nutrients beyond plant roots. It also improves water retention capacity in sandy soil and loosens clay soil.
When applying compost tea to foliage, the microbes occupy the leaf surface, preventing diseases. Learn how to make a DIY compost accelerator with the composting tea. Drenching the soil with compost tea encourages root growth, which helps reduce runoff.
How to Make Compost Tea
Many prefer to use a compost tea brewer with aeration, but you don't need fancy tools to create organic compost tea. Here is how to make compost tea with an easy recipe and a five-gallon bucket.
Shovel approximately six cups of compost into a five-gallon bucket and add four gallons of non-chlorinated water. Avoid tap water since water treatment plants often add chlorine and other chemicals. Rainwater is an excellent choice if you're unsure which water is safe.
Mix the water and compost with a shovel and set the bucket aside to brew. Pick an area where it's not in direct sunlight, and stir the mixture once or twice daily as it steeps. Once the compost tea is ready, pour it via a strainer into another container.
Steps For Aerating Your Compost Liquid Fertilizer
Aerating compost tea reduces the risk of pathogens and makes the best aerobic microbes. This compost tea recipe helps you make the most of your compost by introducing air and food for beneficial micro to flourish.
Pour three gallons of non-chlorinated water into the bucket, place a pond or aquarium aerator into the bottom of the bucket, and attach it to an external pump. Fill the container halfway with compost, and add water, leaving about three inches of space at the top.
Finally, add an ounce of molasses, stir the tea, and turn on the pump. When it's done brewing, turn off the pump, remove the tubing, and strain the tea through a burlap sack into another bucket.
How Long to Brew Compost Tea?
Composting takes some time, and using the compost material to make tea is just another step in the waiting game. Discover how long to brew compost tea, with and without aeration.
Compost Tea Time-Frame
Making regular and aerated compost tea is much faster than composting. The finished product takes less than three days, and the compost tea should have an earthy smell. Do not steep it for more than three days since the microbes don't have enough food to survive longer.
Alternative Ingredients for Compost Tea
Basic DIY compost tea is the most straightforward method for making liquid fertilizer. Nonetheless, there are various ingredients to add to compost material and compost tea to make it more nutrient-dense.
When preparing compost material for tea, consider adding wood ash and crushed branches to encourage microbes and allow aerobic organisms to breathe. Add sawdust or spent mushroom substrate to offset the moisture if you're using wet compost to make tea. Molasses, kelp, and fish hydrolysate are great food sources for compost tea microbes.
Things to Watch for While Making Compost Tea
The tea-making process is relatively simple, yet there are times when you encounter problems. Be cautious as you make compost tea to ensure you get a good fertilizing liquid.
Compost Tea Precautions
One of the most common mistakes when preparing composted tea is allowing the tea to sit too long. Oversteeping depletes the food necessary for microbes to flourish. Additionally, it will be in danger of harmful bacterial growth like salmonella and E. coli.
If the tea smells terrible, you've steeped it too long. Because beneficial microbes have a short lifespan, it's helpful to use the tea within 36 hours after steeping.
Another thing to avoid is adding the wrong compost materials to the tea, which may contaminate the final product. Do not compost meat and fish scraps, fats, oils, dairy, pet waste, and treated materials.
How to Use Compost Tea
You followed the steps for steeping and aerating the compost, and it's finally time to use the liquid fertilizer in the garden. Explore how to use compost tea for your plants, flower bed, and vegetable patch.
To use the tea as a drench, transfer it to a watering can and pour it directly into the soil around your plants. Apply it to newly transplanted plants or two weeks before they start budding.
Another popular method is to use compost tea as foliar spray. Pour the tea into a spray bottle, add an eighth teaspoon of vegetable oil, shake the container well, and spray the solution on the leaves in the early morning or late evening.
How Much Compost Tea to Feed Plants
Knowing how to use compost tea for manure in the garden is one thing, but how much tea should you feed your plants? Find out how much compost tea to use per plant to ensure it receives the perfect amount of microbes and nutrients.
Plant Feeding
Dilution is unnecessary if you have weak tea or compost tea that isn't very dark. However, dark brown or black compost tea may be too intense for plants. To dilute the compost tea, mix equal parts distilled water and tea.
Water the soil until it's wet, or spray the leaves to cover them. To fertilize larger areas, apply five to ten gallons of tea for each quarter acre.
The Difference Between Compost Tea and Manure Tea
Now that you have discovered how to make compost tea and its advantages in the garden, you may be considering making manure tea as your next project. Learn the differences between compost and manure tea and which is better for plants and soil.
Compost tea results from steeping compost in water; compost leachate is the liquid that seeps out from the bottom of the compost pile. Manure tea is the liquid that comes from steeping manure in water.
Both tea types offer your plants and soil nutrients. However, compost tea provides plants with microorganisms, while manure tea gives your plants more nutrients, and it's safest if you prepare it with aged compost.
Brewing compost tea at home is an excellent way to turn compost into liquid fertilizer, whether it's a simple compost tea recipe or actively aerated compost tea. It adds beneficial microbes to the soil and encourages your plants to grow strong.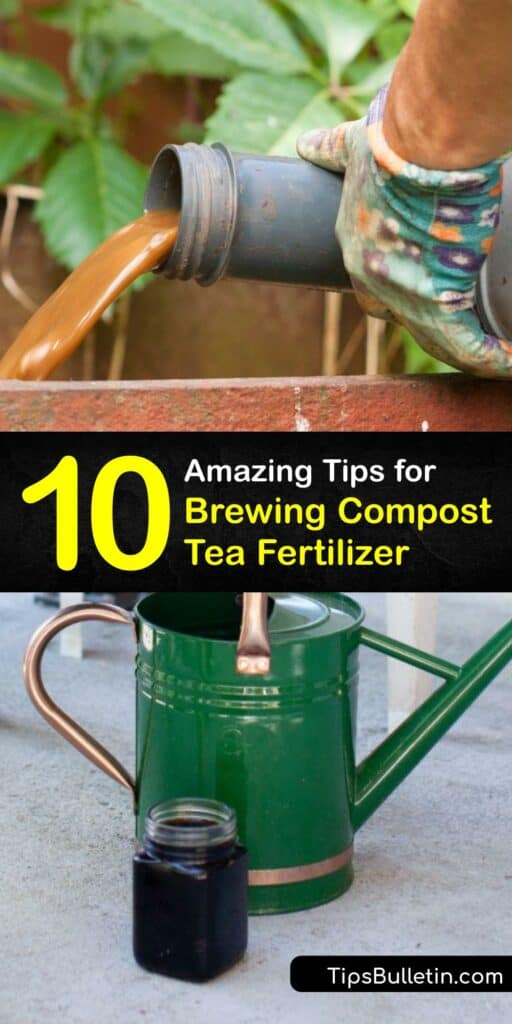 We hope you enjoyed learning how to brew compost tea fertilizer with the material from your compost bin, and we'd love it if you'd share our compost tea brew guide with your family and friends on Pinterest and Facebook.