Dentures return confidence to your smile, help you chew food, and provide support to facial muscles. However, they often also get so gross that you find yourself wondering how to care for dentures so that you're willing to put them in your mouth.
Proper denture care is more than an aesthetic issue. Plaque and tartar can build up on dentures, harming any remaining natural teeth. Oral bacteria and fungi also accumulate if you ignore denture care instructions, potentially causing bad breath, irritation, or infection.
Dentures may be made of porcelain, acrylic resin, nylon polymer, or metal. They may attach, among other things, to natural teeth or dental implants. Always check with your dentist about the denture care instructions for your specific set.
On average, dentures last five to seven years. However, their lifespan depends on how much care denture wearers provide. Read on to discover how to care for dentures to make them last as long as possible.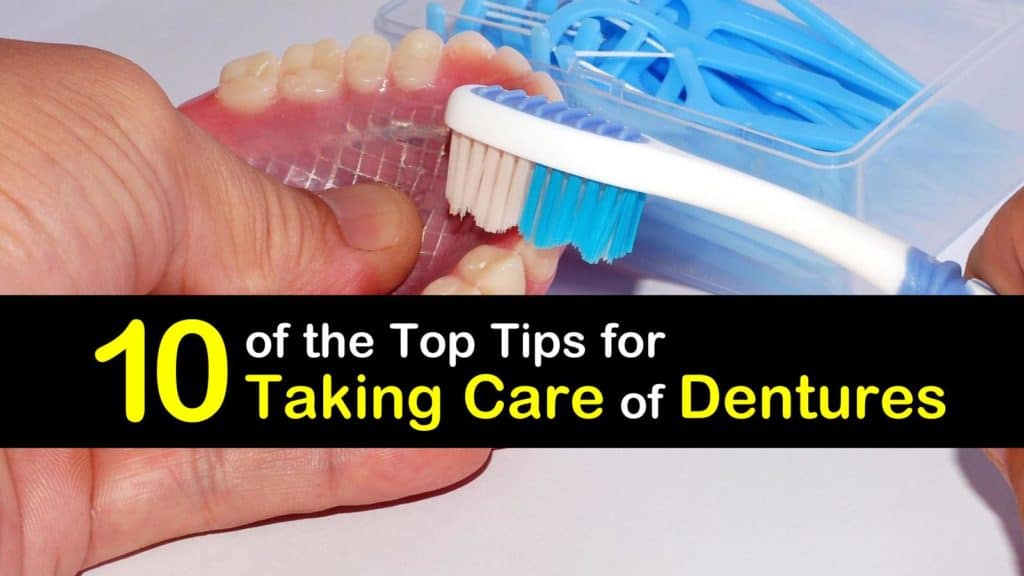 Tips for Taking Care of Dentures
The American College of Prosthodontists has guidelines for how to take care of dentures. Find some of their suggestions below, as well as additional tips for keeping your false teeth looking and feeling great.
Handle Dentures Carefully
Take care of dentures as you move around with them since they're delicate and expensive. When you're removing, rinsing, or brushing them, hold them over a folded-up towel or sink full of water.
Make sure not to bend or otherwise damage the metal clasps or other components. It's also a good idea to wash your hands before touching your dentures to avoid spreading bacteria and dirt.
Rinse Dentures after Eating
It may not be very convenient, but, to properly take care of dentures, it's important to rinse them after every meal and cup of coffee, just as you would use a cleaner for retainers and mouthguards. Since you've already removed the dentures, take the opportunity to rinse your mouth as well.
Run clean, warm water over the dentures to dislodge food particles. Although you may disinfect and clean your toothbrush with vinegar and boiling water, do not use this method for your dentures.
Warm water is sufficient and hot water may damage the appliance. Make sure to clean between teeth, along the gumline, and on the bottom. You may also rinse them with mouthwash occasionally.
How to Care for Dentures: Daily Brushing
Although you might have thought you were done with brushing after losing all your teeth, it's still an essential part of your daily denture care. The best way to clean dentures is with soap and water. However, you only need to brush them once a day, not twice.
This practice removes food debris and will clean plaque off partial dentures and full dentures and helps prevent stains. You should brush your dentures daily, even if you use an ultrasonic cleaner or cleaning tablets.
Wet a denture brush or very soft toothbrush with warm water. Apply mild hand soap or dishwashing liquid or an American Dental Association approved denture cleaner.
Brush in a circular motion and concentrate on one section at a time. Apply the same procedure to clean a mouth guard as well. Rinse the dentures thoroughly before returning them to your mouth. Once a week, soak your denture brush in equal parts denture bleach and water, then rinse it thoroughly.
Clean Your Mouth Daily
Before inserting your dentures in the morning is an ideal time to clean your gums, tongue, and palate. This habit helps prevent gum disease, stimulates gum circulation, and promotes overall dental health.
Use a toothbrush with soft bristles—different than the one that you use to clean your dentures. Wet the toothbrush and apply fluoridated toothpaste.
If you don't have a soft brush available, wrap a soft, wet washcloth around your finger and gently rub the gum tissue. Don't forget to brush any remaining natural teeth and floss them if possible.
Take Care of Dentures by Removing Them at Night
Remove your dentures before going to bed or for six to eight hours during the day. This tip applies to both removable partial dentures and complete dentures. Among other reasons, you don't want to damage or dislodge the dentures during the night.
Removing dentures overnight also allows the antibacterial agents in saliva to access gum tissue. Leaving them in your mouth while you sleep may cause plaque build-up, gum inflammation, yeast infections, and other oral health issues.
Temporarily taking the dentures off also gives your gums a chance to relax and recover. The constant pressure from dentures leads to a gradual reduction in bone volume and density. There stops being enough support for the dentures, which causes them to loosen.
Denture Care Instructions Related to Soaking
Immerse your dentures in liquid when you're not wearing them to prevent them from drying out or becoming misshapen. It's fine to use a denture cleanser soaking solution as long as your dentures have no metal attachments.
If they have metal parts, soak them in warm—not hot—water. Overnight soaking is the most effective at killing germs and odor-causing bacteria on your dentures and for cleaning a night guard or retainer.
Consider leaving out a bowl as a visual reminder to soak your dentures soaking before going to bed. Before returning the dentures to your mouth, rinse off the cleansing solution thoroughly. It may contain harmful chemicals.
Soak Dentures in Vinegar to Remove Tartar Build-Up
Ask your dentist before using a vinegar cleaning solution. Partial dentures and dentures with a soft lining generally should not be soaked in vinegar.
As the ideal home remedy for cleaning dentures, and if you have heavy tartar build-up on your complete dentures, combine equal parts water and white vinegar in a bowl or container. Soak your dentures in the diluted vinegar overnight to soften the tartar.
In the morning, scrub your dentures with a denture brush or soft-bristled toothbrush. Rinse the dentures well to remove stains, tartar, food debris, and the vinegar flavor. If the tartar does not come off, repeat the process.
Denture Care Instructions for Denture Adhesive
This product prevents dentures from slipping around and stops food particles from getting underneath them. However, it should not be a substitute for ensuring that the dentures fit correctly.
You might find adhesive in gel, paste, powder, or pad form. For gel or paste adhesive, only three to four dots of adhesive should be necessary—it should not ooze out from under the denture.
Follow the application instructions. You'll need to trim pads to fit your dentures. Note that denture adhesives are only supposed to last for one use.
Completely remove the glue at least once a day, including from the denture base. Storing your dentures with adhesive on them encourages bacteria build-up.
Take Care of Dentures while Eating
Although one of dentures' primary functions is to help you eat more foods, you'll need to adapt your eating behavior to avoid damaging them. Don't bite down with your front teeth, which could displace the dentures.
Instead, chew thoroughly and slowly with your back teeth and on both sides simultaneously. When you're first starting with dentures, follow a liquid diet, including juice, milk, and smooth soup.
You'll then be able to transition to a soft diet, cutting or mashing food as required. Possible foods include mashed potatoes, soft fruit, steamed vegetables, and pasta.
Once you're more comfortable with the dentures, you may eat tougher foods like apples as long as you cut them into small pieces. However, continue to avoid hard foods like nuts, sticky foods like taffy, and foods with small particles like raspberries.
Visit the Dentist Regularly
Visit the dentist at least once a year for them to give your dentures a professional cleaning, check their fit, and discuss general oral health topics. Book an appointment if your dentures break or are not fitting well.
Do not try to adjust dentures on your own since that risks damaging or weakening the dentures or making them uncomfortable.
Your mouth naturally changes shape as it ages, making your dentures loose. Possible issues from loose dentures include difficulty chewing, mouth sores, and infection. Your dentist can help by giving your dentures a reline or adjustment to fit your mouth better.
Denture Care Instructions for Removing Stains
Like with natural teeth, dentures get stains from coffee, tea, cola, wine, and smoking. Grocery stores and pharmacies sell denture cleaning tablets. However, it's possible to make your own stain remover from ingredients at home.
Combine the ingredients in a large glass, soak your dentures in the cleaning solution for five minutes, then rinse them well. Other DIY solutions abound.
You may make a paste from equal parts baking soda and water, then apply it with a toothbrush. It's also effective to dip a wet toothbrush in salt or soak your dentures in salt water overnight.
Alternatively, soak your dentures overnight in equal parts mouthwash and water. If nothing else works, your dentist should be able to remove the stains for you or offer advice.
How to Care for Dentures: What Not to Use
Do not use denture cleaner on dentures with metal parts since it may tarnish the metal. Instead, use warm water. Always avoid hot water since it may warp the dentures.
It's essential to use a soft toothbrush or denture brush. Abrasive products like stiff-bristled brushes, electric toothbrushes, and harsh toothpaste scratch false teeth, potentially causing plaque build-up.
Another no-no is whitening toothpaste. The hydrogen peroxide does not work on denture teeth. This kind of toothpaste may even damage dentures since they're designed to penetrate tooth enamel.
Another ingredient to steer clear of is bleach, which may weaken dentures and alter their color.
Getting dentures is a big change. There's an adjustment period as you learn how to eat and talk with these new teeth in your mouth, and your mouth feels strange.
The whole thing might feel like more trouble than it's worth, especially as you learn about all the steps for how to care for dentures. However, know that it doesn't take long to insert denture care into your routine and for the false teeth to start to feel normal.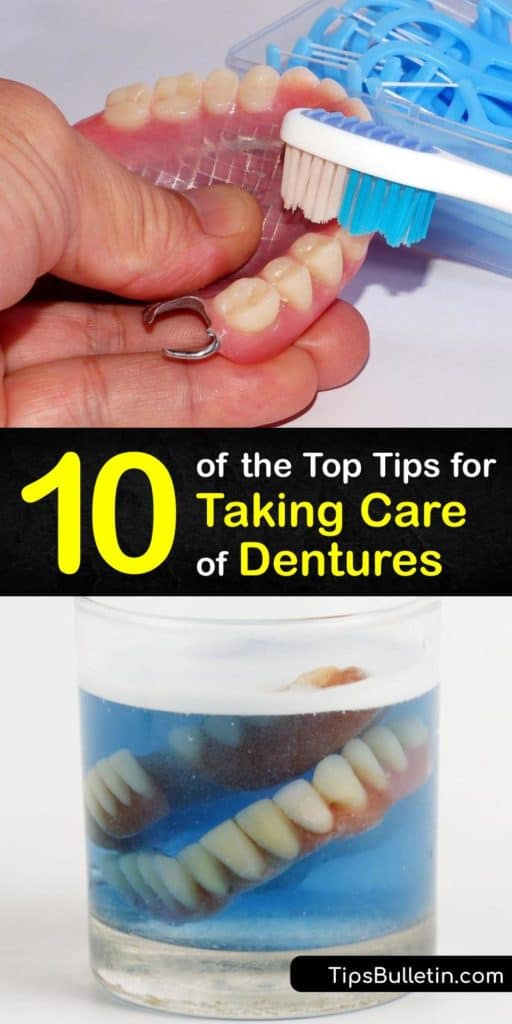 If you found this denture care advice helpful, please share these false teeth tips with your friends on Pinterest and Facebook.