Skunks are common critters that have the ability to cause significant damage to your backyard and garden. If you have a skunk problem, it is not impossible to repel and catch the unwanted animals safely. Learning how to catch a skunk is straightforward when you have the proper information to make appropriate decisions.
Throughout this article, we show you the best way to catch a skunk, what attracts skunks to your house in the first place, and other ways to repel skunks. The tips we provide for repelling skunks are also great because they are effective with other rodents that destroy your yard and garden.
The information and tricks for deterring skunks work well for a raccoon, chipmunks, an opossum, squirrels, and skunks. Using a live trap for catching skunks is simple when you know where skunks reside. Setting a skunk trap is just one piece of helpful information we offer in this article.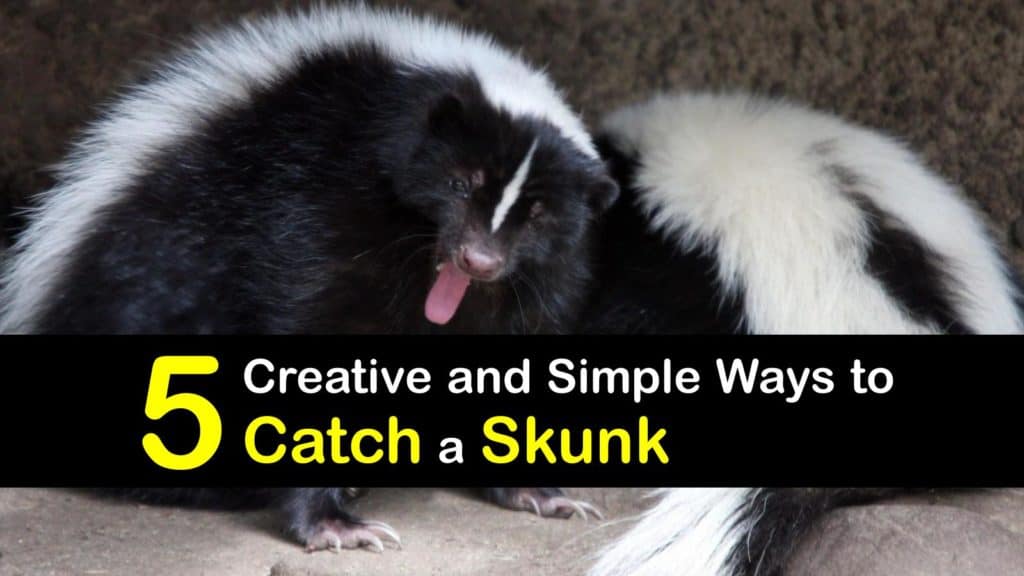 Why Catching a Skunk is Important
If skunk control is not made a priority, homeowners experience increasing damage as time goes on. Skunks infest your backyard to search for food sources like larvae, grasshoppers, grubs, and other insect larvae.
Another form of damage that skunks cause is when they create a skunk den. A skunk uses their front feet to dig their dens, tearing up the grass in your lawn.
Additionally, it's crucial to know useful solutions to deter skunks from entering your yard so their powerful skunk smell does not get on your clothes or pets.
Common Attractants to Know Before Catching Skunks
Before you implement any skunk removal method, understanding what attracts skunks to your home in the first place is an excellent place to start. Several things draw a live skunk to your house.
One of the most commonly found skunk attractants is sunflower and bird seeds from a bird feeder. Seeds are an integral part of a skunk's food source.
Other elements that draw skunks to your yard include cat food left outside, grills, and stacks of lumber where skunks like to make their dens. Skunks may build a shelter under your porch or deck if you have one.
Catching skunks is more manageable when you understand what foods and objects attract a skunk. Sometimes, merely getting rid of attractants is all the skunk control you have to use.
The Best Way to Catch a Skunk with the Correct Bait
Now that you know what draws a skunk into your yard and around your home, it is time to learn the proper bait to set inside your cage trap.
Companies like Havahart design easy to use animal traps that make skunk trapping manageable. However, the best way to catch a skunk still relies on using the best bait possible. It's not necessary to learn the way to kill a skunk with a trap if you can do it humanely.
Place the skunk bait of your choice into the trap and wait until you have a trapped skunk. Baiting is an essential part of skunk trapping.
Without the right kind of bait, a skunk never enters the trap. Learning how to catch a skunk with animal traps is virtually effortless when you use the proper bait.
How to Catch a Skunk in the Right Location
Trapping a skunk in a cage or how to catch chipmunks only works when you set up the trap in an ideal location. If you have noticed skunks congregate in one particular area around your house or deck, we recommend setting the trap there.
Use a large cage, big enough to hold a raccoon, and set a cover over the top of the trap. When you have a trapped skunk in your cage, call your local animal control services to handle the live animal.
Because this critter emits such a strong skunk odor from skunk spray, it is best to let a professional handle the trapped animal. Pest control services are well-versed in how to adequately take care of captured animals, so it is best to let them get rid of your trapped skunk.
Natural Odors that Deter Skunks
If you prefer not to use a live trap to capture skunks, we recommend following ways to repel skunks with natural ingredients. There are certain odors that skunks cannot stand and avoid in your yard when they become aware of the scents.
Some of the smells that skunks hate include citrus, mothballs, dog and coyote urine, and ammonia. Soak cotton balls in ammonia and spread them under your deck, near woodpiles, and by your garden.
When skunks pick up the ammonia odor, they avoid your yard. If you have small children or pets, make sure they do not ingest the ammonia, which is hazardous.
For repelling skunks from a backyard with the scent of citrus, spread leftover lemon or orange rinds around your yard. Although these techniques do not catch a skunk, they do a great job at deterring the critters from invading your lawn.
Does peppermint oil get rid of skunks? Peppermint oil is also effective for ridding your property of these animals, as well as others like chipmunks, squirrels, and groundhogs.
How to Use Bright Lights to Repel a Skunk
Bright lights activated by a motion sensor is a fantastic way to repel skunks. Another benefit of installing motion-activated lights is that it deters other rodents like moles, squirrels, raccoons, and opossums.
Because skunks primarily search for food at night, their eyes are quite sensitive to bright lights.
When skunks experience the flash of light, they immediately run away from the source, making lights an excellent way to repel the rodents. Bright lights are also terrific if you want to avoid using chemicals or installing fencing around your lawn.
When you have a family of skunks living under your deck or near your house, you will not have to put up with these rodents forever.
Learning the best way to catch a skunk is much easier than many people believe. When you know the proper bait to attract a skunk, capturing them in a live trap is easy. To discard a skunk from a live trap safely, we suggest contacting pest control.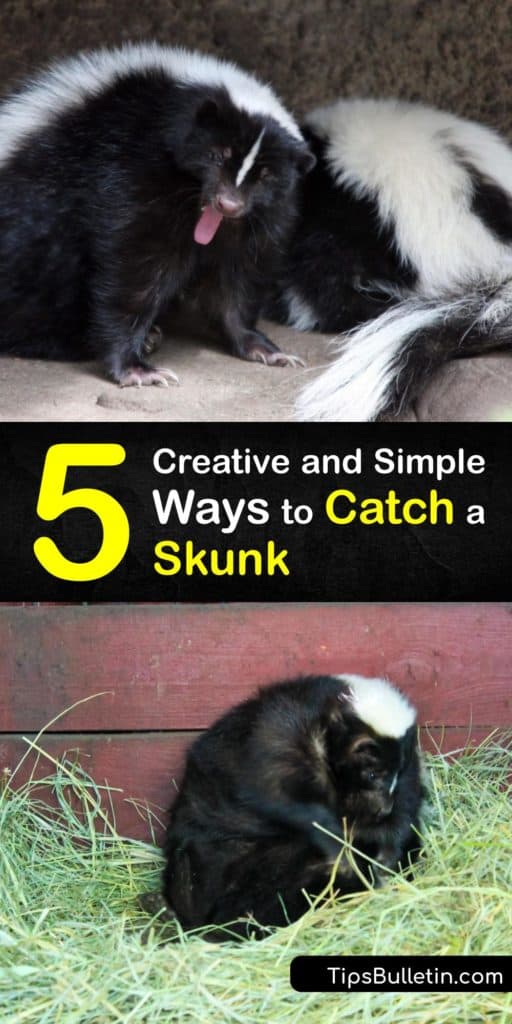 If you found out how to catch a skunk, share this article with advice for catching skunks with your family and friends on your Facebook and Pinterest accounts.