Squirrels may seem harmless in the wild, but they sometimes cause severe problems for homeowners. They might be stealing veggies from your garden, or they've found their way into your home. Read on to find out how to catch a squirrel and prevent them from returning in the future.
Squirrels sometimes take up residence in sheds, attics, crawl spaces, or garages. When they gnaw on electric wiring, cables, timbers, and walls, they do some significant damage. Squirrels have an acute sense of smell. Easy food sources attract them, so be sure to seal any pet food that you store outdoors. Strong odors also repel squirrels and other rodents. Use everyday household products to create a DIY squirrel repellent.
Follow a few simple steps to humanely trap an intruding squirrel and relocate it away from your property. Use our tried and true strategies for getting rid of squirrels in walls and making your property squirrel proof to prevent a future critter crisis.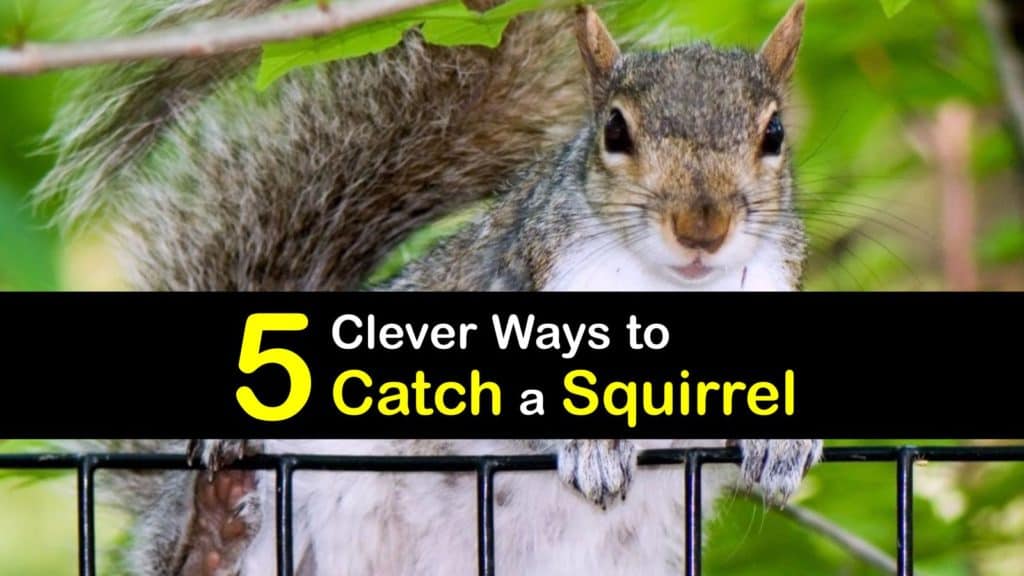 Best Way to Catch a Squirrel
Squirrels are cute but not when they raid your bird feeders or destroy your garden. Learn how to stop squirrels from eating plants and making a nuisance of themselves with these simple tips.
When it comes to squirrel removal, you need to know what type of squirrel you're dealing with.
Red squirrels are notoriously difficult to trap because they learn to avoid the traps, and they stash food indoors. Gray squirrels are the most common type found around homes and yards.
While ground squirrels don't typically enter houses, their burrowing habits sometimes cause damage underneath patios, foundations, lawns, and gardens.
They are often confused with chipmunks because they're the same size and both burrow. However, ground squirrels have smaller ears and different coloring.
If repellent techniques prove ineffective, you may need to resort to trapping and relocating the squirrel.
Before taking action, be sure to check your local laws about live trapping and relocating a live animal like a squirrel, skunk, gopher, groundhog, or family of raccoons. You may need to call a professional trapper to take care of the problem.
It's not necessary to kill chipmunks around your house, or squirrels and other rodents. Check out these remedies to get rid of them without harming them.
Remove the Food Source
The best approach to pest control is prevention. The first step in eliminating a squirrel problem is to remove their food source. Without a meal for motivation, the squirrels might leave on their own.
Bird feeders are attractive to squirrels as a leisurely lunch. Use bird feeders designed to be squirrel-resistant and regularly clean up fallen birdseed from the ground.
If you feed your pets outdoors, any leftover pieces are a perfect squirrel snack. Pick up remaining bits of food, and keep outdoor bins tightly sealed in a secure location where they can't get tipped over.
Best Natural Squirrel Repellents
Does peppermint repel squirrels and other small critters? Deter squirrels with strong odors like hot pepper, garlic, apple cider vinegar, and peppermint. These simple household ingredients are safe to use around your home and garden.
To keep squirrels away, sprinkle red pepper flakes or cayenne powder around suspected entry points or on the ground around plants they seem to prefer.
Alternatively, mix two teaspoons of cayenne powder or hot sauce with petroleum jelly. Spread the paste on surfaces near areas where you see squirrel activity, such as fences, poles, or siding.
However, avoid using this method on wood or painted surfaces that could stain.
Garlic's strong odor is an effective squirrel repellent. Use the following recipe to create a DIY squirrel spray.
Combine equal parts water and apple cider vinegar in a clean spray bottle, and add 2-3 finely chopped cloves of garlic.
Set the mixture aside to steep for a day or two, then spray it on fences, siding, or anywhere you notice squirrel activity. You may substitute peppermint essential oil for the garlic. This is also an excellent homemade squirrel repellent for bird feeders. Spritz it on the shepherd's crook to deter the squirrels.
In the garden, some plants deter squirrels and other rodents. Allium, daffodil, geranium, hyacinth, lily of the valley, and peppermint are excellent companion plants for repelling squirrels. They also keep chipmunks out of the garden.
How to Catch a Squirrel with a Live Trap
If deterring them doesn't work, you may have to resort to trapping squirrels. Catching squirrels in a live animal trap requires the proper bait and a sensitive trigger mechanism.
Brands like Havahart, Soffit, and Catch-A-Squirrel offer various options for a humane trap for squirrels and other common pests and are ideal to get squirrels out of the attic or basement.
The best way to catch a squirrel is by using a cage trap. A single-door trap requires the squirrel to walk through a one-way door to access the bait, when it becomes trapped inside.
A two-door trap has squirrel bait placed on a trigger plate, which drops the doors when the small animal stands on it.
The best squirrel bait is peanut butter. It sticks to the surface of the trap so that the squirrel can't steal it without triggering the trap. Some people prefer baiting the squirrel trap with fresh peanuts rolled in peanut butter, claiming it attracts squirrels faster.
What to Do if You Find Baby Squirrels
While it is reasonably simple to get rid of squirrels naturally, especially the adults, using the deterrent tactics listed above, the situation becomes more challenging if there are baby squirrels.
In this case, contact your local animal control, wildlife removal services, or a professional trapper to remove the wild animals safely.
After Catching Squirrels, Seal Entry Points
Once you're certain all live animals are out of your house or shed, close off any suspected entry points to prevent squirrels from returning. Once sealed, apply a squirrel repellent around the area for several weeks to deter returning squirrels.
Although they may seem adorable at first, squirrels are a considerable nuisance when they take up residence around your home and garden. But rest assured, deterring squirrels is a relatively easy and straightforward process.
If you're dealing with an incredibly persistent critter, the best way to catch a squirrel is to use a combination of the strategies discussed here.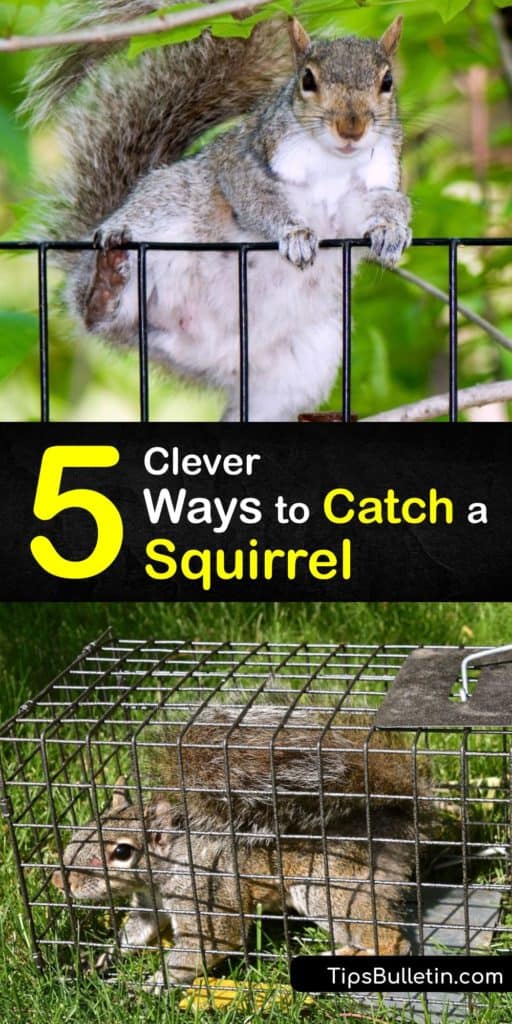 If you found these tips and tricks for catching squirrels helpful, please share this article about how to catch a squirrel with your friends and family on Pinterest and Facebook.