All of us try to keep our bathrooms as clean as possible. A clean bathroom helps keep your family healthy, and it boosts your spirits. Despite our best efforts, though, we often find our bathroom floors covered in dirt and soap scum.
If we want clean, good-looking bathroom tile floors, it is essential to know how to clean a bathroom floor quickly and efficiently. In this guide, you have step-by-step instructions for how to clean bathroom floor tiles.
We walk you through simple, regular cleaning, and we also show you how to deep-clean tile grout to remove stubborn stains and buildup. Using cleaning supplies you can find around the house makes the job easier and less expensive.
Cleaning bathroom tile flooring can be a chore, but if you follow our guide and use our recipes, you can make bathroom cleaning a snap!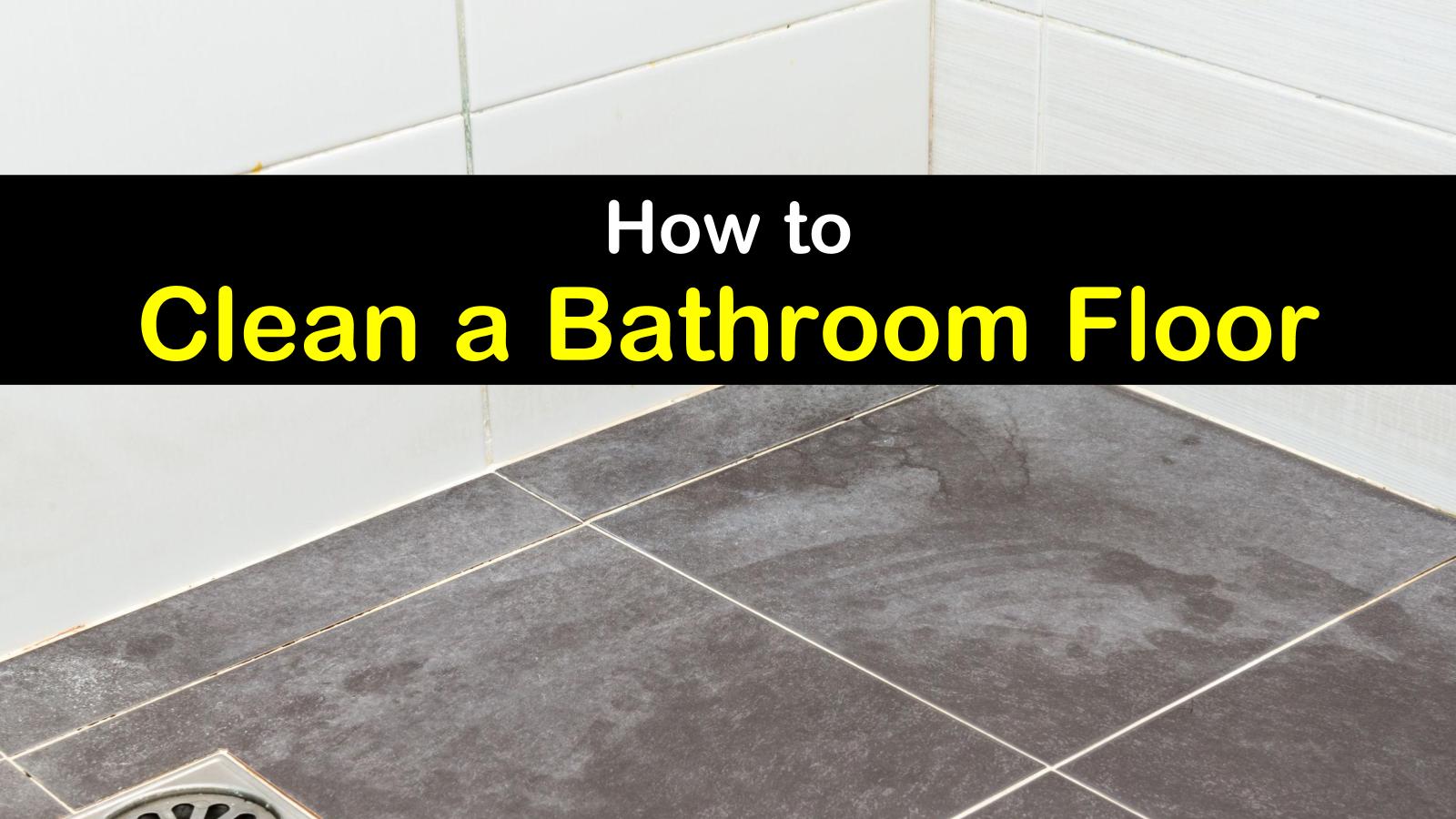 Easy Ways to Clean a Bathroom Floor
Although it is certainly important to clean your bathroom floor regularly, be sure to consider what type of flooring you have before you start the cleaning process and before you choose a particular cleaning solution.
Cleaning slate floors is a little different than cleaning laminate or tile, so pick the appropriate cleaner recipe before getting out your mop.
While many floors can handle the same type of treatment, deep cleaning vinyl flooring may be easier than tile or wood laminate. You don't want to inadvertently damage your floor by using the wrong cleaner.
Prepare your Bathroom Floor by Sweeping
You might not think of sweeping when you want to clean bathroom floors, but bathrooms are high-traffic zones, and pets and kids track in lots of dirt and grime.
Daily sweeping can help keep your bathroom floors neat until you need to mop them. Starting with a good sweep-down before mopping will make tile floor cleaning easier and the floor will look better, too.
Remove any floor mats or other objects on the bathroom tile and clean a bath mat separately by vacuuming and then washing in the machine or by hand.
Beginning at the far end of the bathroom, sweep toward the door, making sure to get into corners. Use the foxtail to sweep behind the toilet and other hard-to-reach spots and then to sweep the dirt pile into the dustpan.
Find Out How to Clean Bathroom Floor Tiles with Baking Soda
You are fortunate if you don't need to clean your tile grout daily. However, if you need to clean off stains or deposits, baking soda makes the best grout cleaner this side of commercial cleaning products.
Because harsh scrubbing agents and hard bristles can damage porcelain tile, be sure to use a brush with soft bristles for cleaning bathroom tiles. A toothbrush or toilet brush not used for toilet cleaning is a perfect tool for the job.
Fill the spray bottle with vinegar. Pour the baking soda in a bowl, and add the water by drops until it forms a thick paste. Apply the paste to the tile grout, brush the area lightly, and spray the spot with vinegar.
Wait a few minutes, and then scrub again. Wipe the area clean. Vinegar can damage marble and other stone floors, so be sure to check before using this DIY cleaner to clean marble flooring or other more delicate types of floors.
Test the method on an inconspicuous area first to determine if it is safe for your bathroom flooring before mopping the whole floor. Vinegar and baking soda aren't just for bathroom floors, though.
This cleaning solution also works on shower walls and the toilet bowl, as well as being the best way to clean a plastic shower curtain, too! Use it for how to clean a shower floor as well as the bathroom floor for a great multi-purpose cleaner for almost the entire bathroom.
Learn How to Clean a Bathroom Floor with Vinegar and Dish Soap
Vinegar is a fantastic all-purpose cleaner. It cleans soap scum off of shower curtains, and even by itself, it is a great way to scrub floor tiles. When you combine vinegar with dish soap, you get the best homemade floor cleaner around.
Use this bathroom floor cleaner recipe as a homemade shower tile cleaner or for daily cleanings or if you find a fresh stain. You can also use this bathroom cleaner in tandem with our tile grout cleaner for a full clean.
Fill a bucket or the bathroom sink with hot water, and stir in the vinegar and dish soap to make the perfect cleaner for tiles in the bathroom, kitchen, or another household area. Use a mop for tile floors or a rag without leaving them dripping, and apply the cleaner to the bathroom floor, working from the far end of the room to the door.
Rinse out the cloth or mop whenever it gets dirty, wet it again in the cleaning product, and continue. Once you mop ceramic tile floors and scrub floors to remove stains, rinse out the mop or cloth with clean water.
Go over the entire area again, being sure to wipe away any soap or excess water to prevent water spots. Rinse the mop or cloth frequently. This ensures that the surface shines after cleaning. It's not necessary to dry mop afterward but it leaves a nice smooth surface after cleaning.
This DIY solution is also an excellent remedy to clean a shower mat on a regular basis or to take care of moldy spots or other stains that may occasionally appear.
Use Glass Cleaner as a Mild Bathroom Floor Cleaner
It may be a challenge to know how to clean porcelain tile floors because they are easy to scratch. If you are concerned about damaging your tiles or only need a mild cleaning option, a glass cleaner is your best friend. Spray glass cleaner and wipe it down with paper towels or microfiber cloth. No muss, no fuss.
Although nobody enjoys cleaning bathroom floors, we hope our guide will make your experience a little easier. Knowing how to clean a bathroom floor with minimum trouble lightens our daily load and brightens our day. Our tips for naturally cleaning bathroom floors are a great way to make that happen!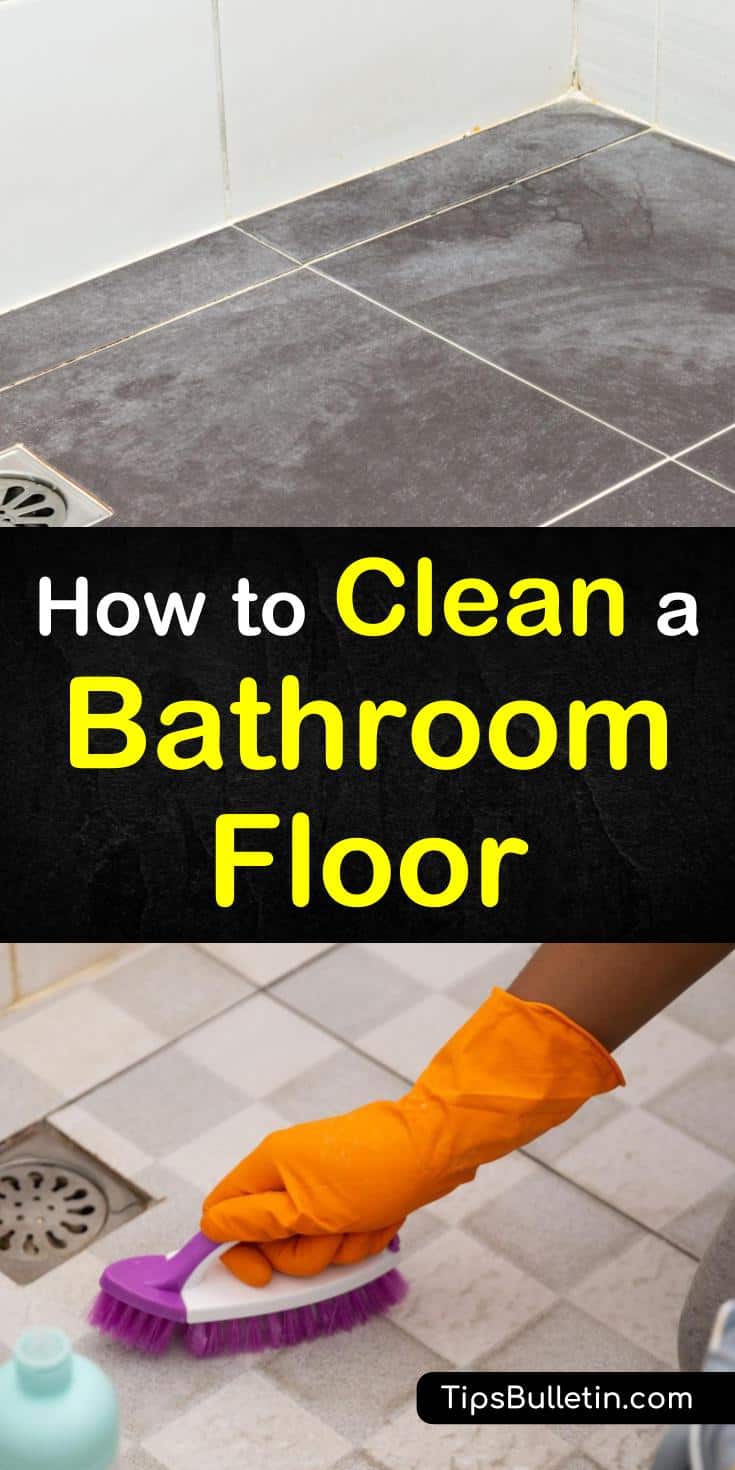 We hope you enjoyed reading our bathroom floor cleaning tips. If you found our cleaning tips and recipes helpful, share this bathroom cleaning guide with your family and friends on Facebook and Pinterest.