A boar bristle hair brush is a soft bristle brush that detangles and protects the health and shine of your hair, regardless of your hair type. Whether you have natural hair, curly hair, dry hair, or dandruff, a boar bristle brush is an essential hair care tool to have in your hair products arsenal. It's crucial to know how to clean a boar bristle hair brush when it gets full of hair or otherwise dirty.
Not cleaning a hairbrush can impede its function. Boar bristle hair brushes aren't just for humans; boar hair brushes are useful for pets, too, from horses to cats to dogs and everything in between.
It's essential to know how to clean a boar bristle hair brush used for animals, too, so that there's no poo, dirt, or other build-up inside when you use it. In this article, we'll teach you about the best way to clean your boar bristle brushes, how often you should clean them, and what different varieties do best.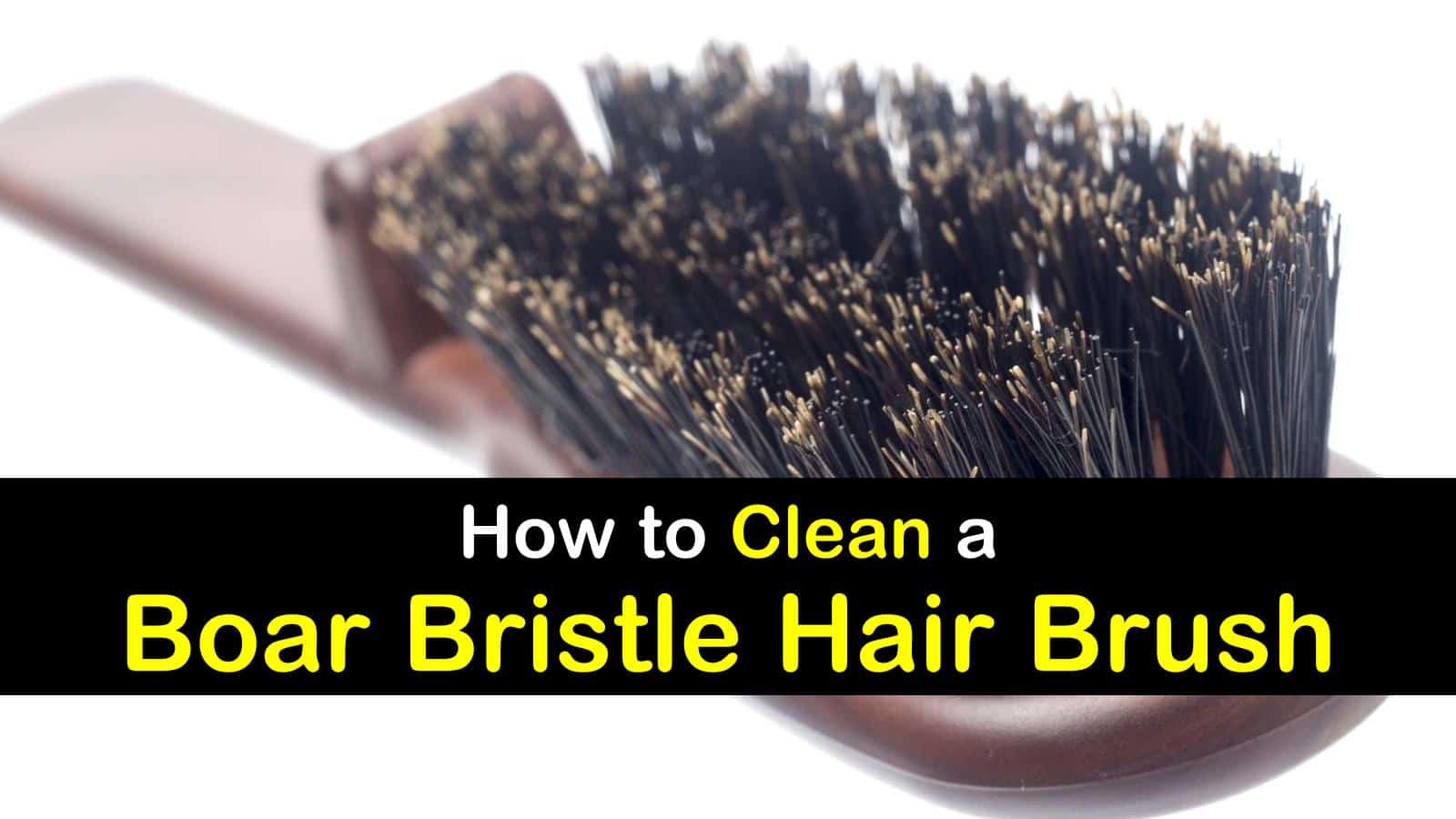 Cleaning a Boar Bristle Brush
A good boar bristle brush can be pricey, so you want to prolong its life for as long as possible. Follow our expert tips on cleaning your boar bristle hair brush.
The Best Way to Wash a Bristle Brush
Cleaning a boar bristle brush is relatively easy, and it's about the same for all boar bristle brushes. Follow this DIY method to thoroughly wash a boar bristle brush and leave it looking new. You need a few basic products to clean a brush to get you started.
Start by getting all of the hair and other visible buildup out of your brush before you wash it. You should be able to remove most of the hair with your fingers, but if there are any strays you can't reach or that are difficult to get off, cut them with scissors or brush them out with a wide-tooth comb or another clean brush.
A toothbrush can help you get between the bristles and get after any stuck-on dirt, if necessary.Once it's free of hair, place your comb bristle-side down into a bucket or sink full of water. You can add a few drops of gentle shampoo for a little extra cleaning power if you need it.
Shampoo is ideal to clean your brushes or remove other contaminants. If you have a brush with a wooden handle or fabric handle, don't submerge it in the water – swish the bristles around in it. Submerging it can cause damage to the wood or fabric, which can affect the brush's lifespan.
Or, you could add a few drops of shampoo to some water in a spray bottle, give it a couple of shakes, and make your own DIY brush cleaner spray if you aren't comfortable immersing the hairbrush in the sink. Spritz the cleaner on the brush and use the toothbrush to scrub it in.
If you have a plastic brush, immersing it is okay.Swish the brush around until you get all of the grime, dirt, and product build-up off of the brush. Rinsing the brush with clean water is an excellent way to get any remaining soapy water and soil off of it, and the brush should be good as new.
A full, soapy rinse is the best way to wash a bristle brush, but if you're in a hurry, swishing your brush through some warm water should get off most build-up, leaving you with a relatively clean hairbrush.Don't forget to let your wet brush dry bristle-side down on a clean towel after shaking off any excess water.
A damp brush can harbor mold or mildew, so let it air dry completely before packing it away in a bag, drawer, or case. If you need to dry your brush fast, a dusting of baking soda will help absorb moisture after washing.
How to Clean a Boar Bristle Hair Brush for Animals
For extra-dirty boar bristle brushes or brushes used for animals, you can try thumping the brush against a wall to dislodge stuck-on dirt or buildup. Any remaining dirt and grime will be easy to remove with the above method.
Why Use a Natural Boar Bristle Brush?
Natural boar bristle brushes come in several varieties that offer different benefits. We mentioned different handle styles above – they often come in fabric, plastic, or wooden brushes – but the brush bristles themselves come in different kinds, too. Some boar bristle brushes are a 100% natural bristle hair brush, while others have some nylon bristles mixed in.
A pure boar bristle brush is best for thin hair, while one fortified with some nylon bristles may be more suitable for thicker hair. Some boar bristles come with a round barrel that can be suitable for use with a hair dryer or styling hair, while others come as a paddle brush, round brush, with a cushion, or even with plastic tips to help the bristles penetrate the hair.
Boar bristles are unique because they help redistribute conditioner, natural oils (sebum), and other beneficial nutrients down the length of the hair strand, polishing it along the way. So, knowing how to clean a hairbrush lint and remove other dirt from the brush is essential to keeping your hair healthy.
There's a boar bristle hair brush out there to suit just about anyone's needs, and as long as you clean it regularly, your boar bristle brush will polish and maintain your hair for many years to come.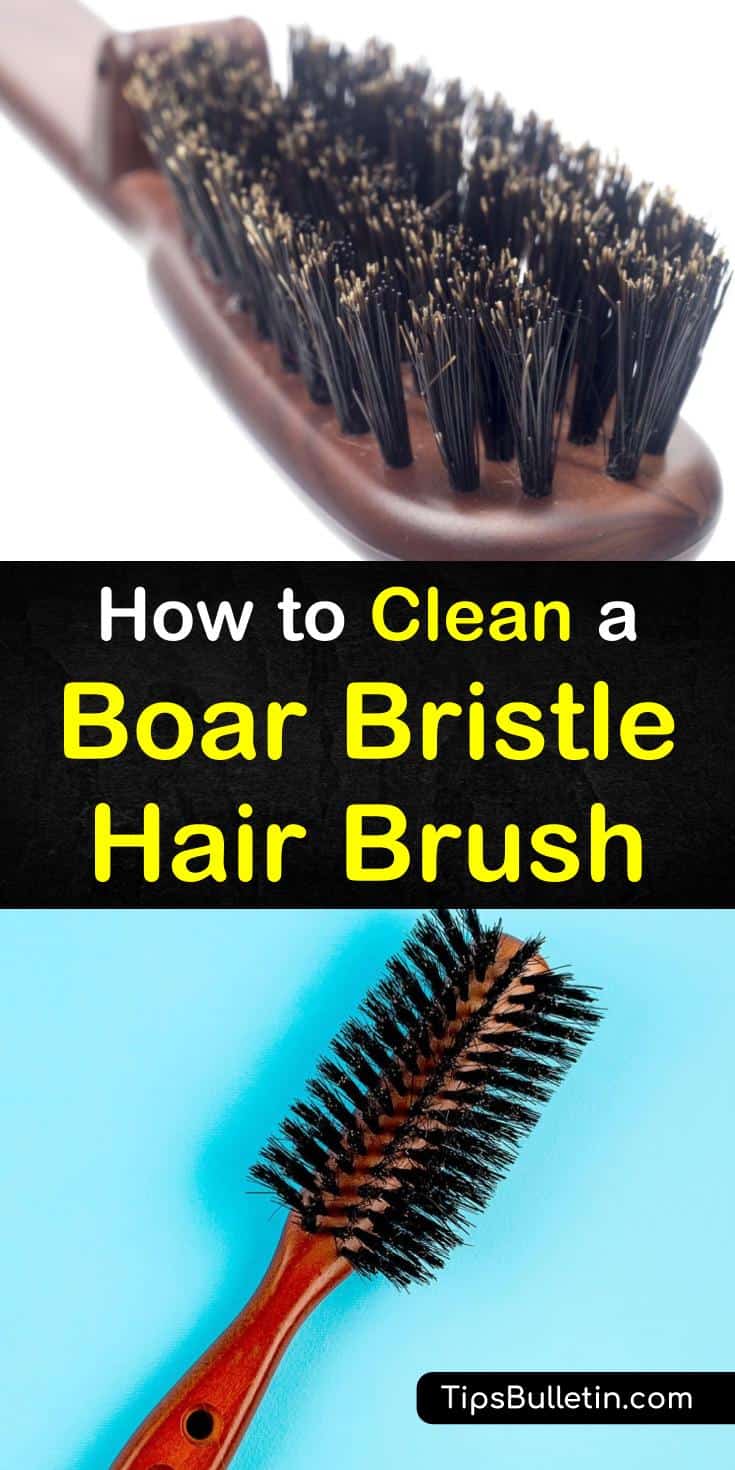 Did you like our take on how to clean a boar bristle hair brush? If you enjoyed reading about cleaning boar bristle brushes, we would love it if you could take the time to share these tips on how to clean a boar bristle hair brush with your friends on Pinterest, Facebook, and Wordpress, too!