Bunn coffee pots come in a variety of styles and operations, including traditional drip machines, thermal carafes, and even commercial coffee makers. Not only are they highly durable and brew quality coffee to tempt the taste buds, but they are also incredibly easy to operate. This same ease of use applies to their maintenance, which makes learning how to clean a Bunn coffee pot a breeze.
Whether cleaning a standard Bunn drip coffee machine or a commercial coffee maker, we have the best solutions and ingredients for keeping them operating at the optimal level. Cleaning a Bunn coffee pot with vinegar is one of the best methods, especially when it comes to removing limescale buildup and providing a deep clean.
However, you can also clean Bunn coffee pots with soap and water, lemon juice, and other classic cleaning favorites like baking soda. To discover the best cleaning option for your coffee maker, use the simple tricks and tips below.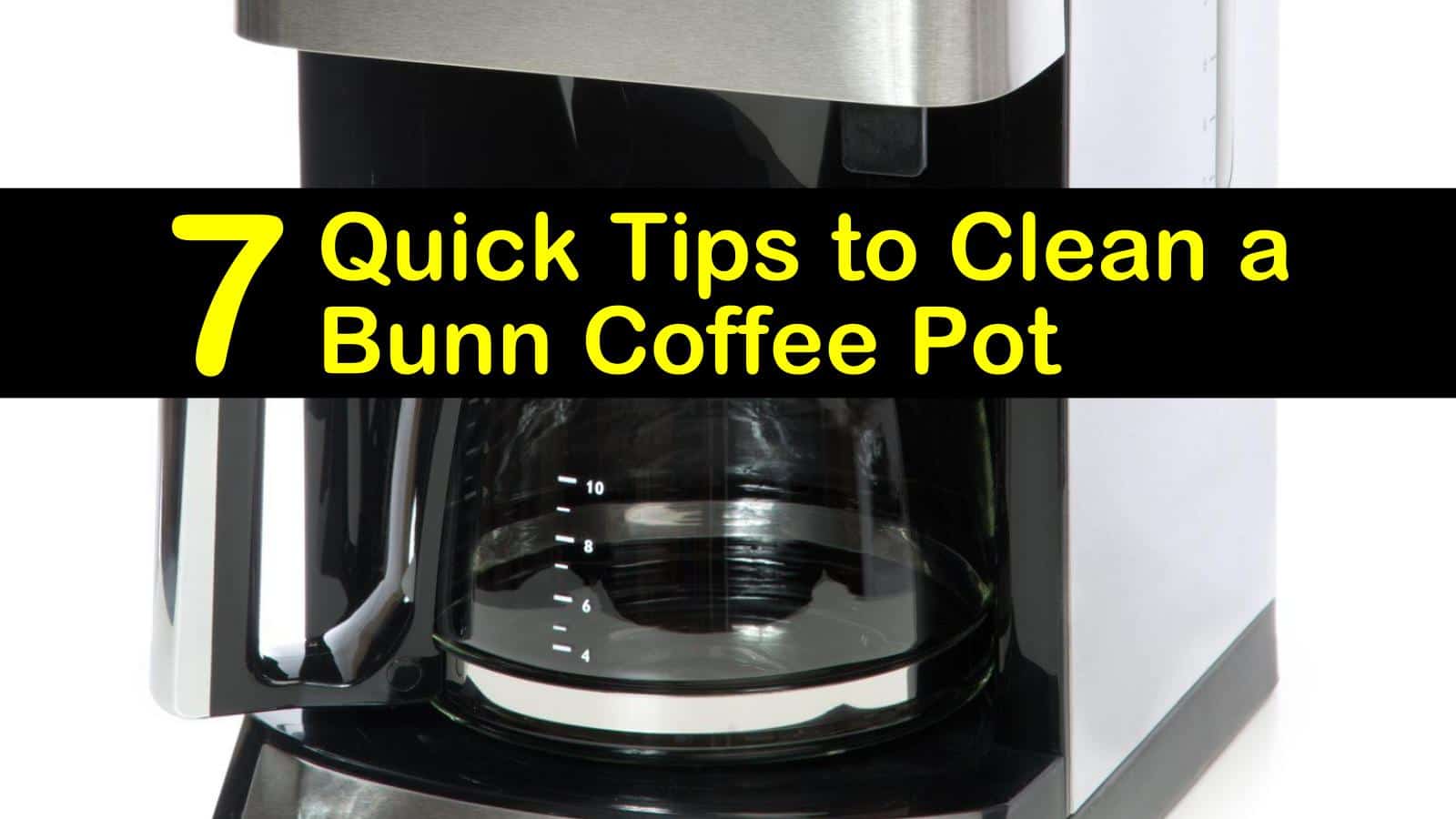 Clean Bunn Coffee Pots with Ease
To keep your next cup of coffee tasting great, make sure to take care of cleaning a coffee pot on a regular basis. While a deep cleaning and descaling of your Bunn Coffee maker are only necessary about once a month, cleaning the spray head every two to four weeks is essential. Clean the remaining components of your coffee machine after every use for delicious coffee that is free of contaminants and bacteria.
Daily Cleaning Routine with Soap and Water
Many of us make our pot of coffee in the morning in such a rush that we never think to clean the coffee pot as often as we should. However, those leftover coffee grounds and oils leave behind a nasty residue that alters the taste of your coffee without regular maintenance. In most cases, a thorough cleaning soapy water is more than enough to do the trick.
Wipe down the outside of your coffee pot first and remove all coffee grounds from around the edges. Next, toss out the old coffee in your decanter and add a couple of drops of dish soap. Pour in warm, clean water and allow the pot to soak.
If your decanter develops a brown ring around it, then instead of water, use pure vinegar and leave it there to soak for several hours instead of several minutes. Complete the process by scrubbing the inside with a damp cloth and rinsing with fresh water.
Often, soap and water are enough to clean coffee stains on stainless steel thermos surfaces, as well as the coffee makers themselves. If not, try one of our other remedies to see if it works better.
Clean All the Removable Parts
When cleaning the removable parts of your Bunn coffee maker, routine cleaning is crucial. Every part of the coffee machine contributes to the robust flavor in your coffee cup.
Because of this, treat every piece with as much care as the rest of the device. Not only is washing them after every single use necessary, running them through the dishwasher on occasion is a great way to keep them sterilized and ready for use. Just make sure you place them on the top rack when washing.
In addition to the filter basket and your coffee decanter, do not ignore other parts of your coffee machine that need cleaning just as regularly. The base plate receives its fair share of spills, and therefore requires cleaning after every pot of coffee. Wipe down the reservoir lids, as well, and let them air out to reduce moisture buildup.
Cleaning a Bunn Coffee Pot with Vinegar
Even with regular cleaning, a deeper wash of your coffee machine on occasion is an integral part of keeping it running smoothly.
Using a terrific coffee pot descaler like white vinegar once a month not only prevents a clog caused by gunky buildup and mineral deposits, but it also ensures your coffee stays hot and tastes great. For the best descaling solution, use the ingredients below.
To clean a Keurig coffee pot, your Bunn or another coffee maker, fill the water reservoir with your vinegar solution and start the cycle the same way you would when brewing coffee regularly. After all of the solution filters through the coffee machine, let it soak in the decanter, with the device turned off, for at least 15 minutes.
Next, pour out the mixture and rinse out the pot. Repeat this process, only this time, use cold water without any vinegar to remove any residual traces of vinegar left in the coffee machine. One more cycle may be required with water to ensure all vinegar residue is cleared from the machine.
Remove Hard Water Stains with Lemon Juice
Another common issue we see with our coffee pots is the emergence of hard water spots. Using an excellent deliming solution made with ingredients like lemon juice is the perfect way to get rid of those unsightly spots.
This same hard water stain removal technique also keeps your coffee pot clean while filling your kitchen with a pleasant citrusy scent.
To make this simple homemade descaling agent, mix the two ingredients in the water reservoir then let them soak for several minutes before turning on the coffee brewer. After around 15 minutes or so, turn on the coffee machine and run the solution through a full cycle.
This process removes limescale as well as reducing the appearance of any water spots on the carafe and can also eliminate stains. Rinse out the container, then dry.
Cleaning a Bunn Coffee Pot with Baking Soda
If your decanter requires a little more cleaning than soapy water allows, and you don't have any vinegar handy, then baking soda is a fantastic alternative. The gritty texture of the baking soda creates a gentle scrub when combined with water while also absorbing all the nasty particles and oils left behind.
To use this recipe for cleaning a Bunn coffee maker and pot, mix both ingredients directly in the carafe. Blend them evenly by swishing the contents around until the baking soda completely dissolves.
Pour the mixture into the reservoir and run the cycle. After the brew cycle runs its course, empty the carafe and pour clean water into the tank to rinse it out. Several rinses may be required to remove all of the baking soda residue.
Remove Limescale from Spray Head
The decanters and interiors of your coffee machine are not the only things that fall prey to limescale deposits. Another part of your machine that needs regular cleaning is the spray head. These components require cleaning every two to four weeks to prevent a clog, as well as keeping mildew and crusty buildup from entering your next cup of coffee.
Start by detaching the spray head and unscrewing it from the top of the brewer. Using either a toothpick or the cleaning probe that came with your coffee maker, remove blockages in the spray head.
You'll also want to use this to clear debris from the hole at the top of the brewer where the coffee drips out into the coffee pot. Rinse with clean water when finished.
Clean Bunn Coffee Pots with Thermal Carafe
If you have a Bunn coffee maker with a thermal carafe, then you need to take an additional step to clean it. The first thing is to remove the lid and pull apart the valve at its center.
Rinsing it with some soap and water removes lingering bits of coffee grounds or mildew caught underneath the flap. To clean the actual decanter, you need the following supplies.
Start by placing a paper filter in the brew funnel and add two teaspoons of dishwasher detergent. Slide your funnel back into place and pour cold water into the reservoir. Start the brew cycle and allow all of the water to run into the coffee pot.
After the brewing cycle is complete, rinse the funnel and pour additional water into the decanter. Allow the coffee pot to soak with warm water for approximately 15 minutes, then scrub with a long bristled scrub like a bottlebrush. Rinse with water and dry.
With so many different ways to clean Bunn coffee pots, whether for regular or deep cleaning, there's no reason not to ensure they stay that way. Your coffee pot will undoubtedly thank you, and so will your taste buds.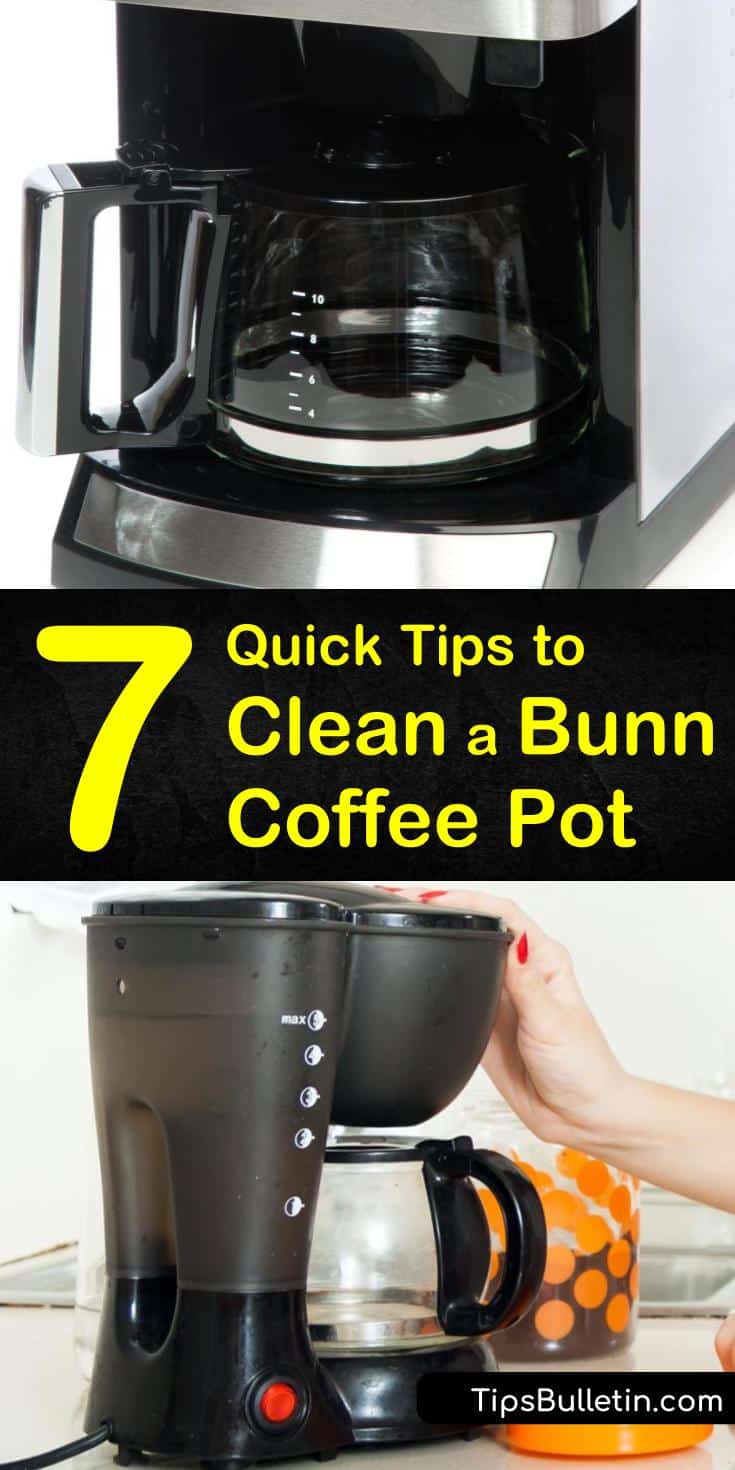 If you enjoyed learning all about cleaning a Bunn coffee pot with vinegar, lemon juice, and all the other great cleaning methods available, then please remember to share how to clean a Bunn coffee pot with all your favorite caffeine lovers on Facebook and Pinterest.