Everyone who owns one should know how to clean a burnt glass stove top. If you have a glass stovetop, you probably struggle with the problem of wanting to clean it but not wanting to scuff and scratch the surface. We've all been there – cooking dinner on the stove only to be distracted and turn back to burnt milk or sauce all over the glass stovetop and stove grates.
Finding the right cooktop cleaner to erase burn stains is daunting. To prevent a crust from forming, clean burnt food off the glass surface as soon as possible. Before beginning, ensure the stove is turned off and the glass top cools. Ensure you're using a non-abrasive solution like toothpaste, vinegar, or dish soap to avoid scratching the surface.
Glass cooktops are an investment, and understanding how to remove burn stains from a glass stove top protects them from damage. Use proven hacks for cleaning a burnt glass stove top to make quick work of an unsightly burnt stain and keep your stove spotless.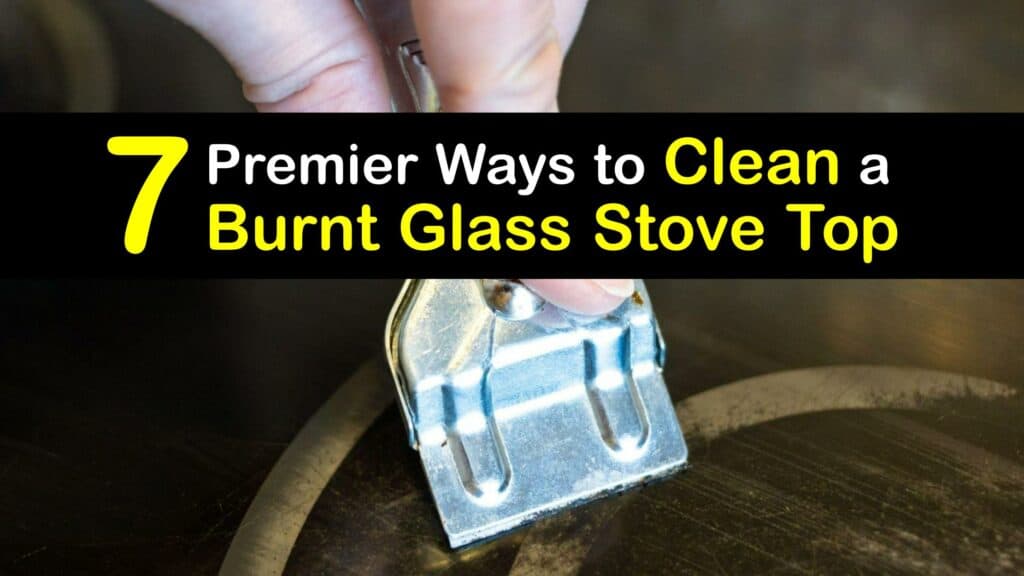 How to Remove Burn Stains From a Glass Stove Top
Compared to gas or electric stoves, glass stove tops demand particular maintenance. However, gas stove top cleaning hacks can be helpful to read about. A glass-ceramic composite forms glass flat tops, which are more susceptible to scratching than other stoves. Additionally, it is prone to streaks, a source of misery for many owners of glass stoves.
Cleaning a burnt glass stove top regularly stops spills and cooking debris from building into difficult, burnt-on stains. Thorough cleaning prevents streaks, ensuring that your stove looks pleasing. Follow straightforward tips for how to clean a burnt glass stove top to make this dreaded chore a breeze.
How to Clean a Burnt Glass Stove Top
The Mr Clean Magic Eraser Kitchen is explicitly created to make even the most demanding stains manageable. Use a Magic Eraser to remove grease or burnt-on food without much elbow grease. Wet the Magic Eraser and give it a few good squeezes to remove extra water before cleaning your stove.
Rub with the Magic Eraser to remove baked-on food and grease. To avoid missing concealed dirt, clean around knobs and behind the grates. Cut the Magic Eraser into tiny pieces to make it easy to reach into cracks. Clean areas thoroughly with a moist rag or sponge, and keep your cooktop clean and ready for your next meal.
Use Baking Soda for Cleaning a Burnt Glass Stove Top
Because of its well-known stain-removing properties, baking soda is a wise choice for a stubborn stain like burnt sauce on your glass cooktop. Even better, baking soda is a mild cleaner that will remove staining without damaging the surface of your stove or altering its color.
Craft a paste of baking powder and warm water to remove burn marks from a glass or ceramic stovetop.
Stir the water and powder together to create a viscous paste and smear it on the stained regions. Let the paste sit for 30 minutes, and wipe it away with a damp cloth or paper towel. If any crust is still there, lightly scrape it off with a clean razor blade at a 45-degree angle.
Removing Burn Stains From a Glass Stove Top
Distilled white vinegar and lemon juice are inexpensive, all-natural substitutes for a store-bought glass cleaner on your stove. White vinegar breaks down persistent stains, and lemon helps brighten the glass. Combine vinegar and lemon juice to create a stain-removing spray.
Shake well and spray the burnt stain with the mixture. Let the cleanser sit on the scorched food for at least 15 minutes before washing it with a damp microfiber cloth and rinsing it. Continue until there are no more traces of the stain.
Remove Burnt On Grease From a Glass Stove Top
Dish soap is the perfect tool for removing burnt food from your glass or electric stove and drip pans because it is made to remove stubborn food stains. Dish soap's potent cleaners loosen dried-on and cooked-on food, so it washes away.
Mix three tablespoons of liquid dish soap with one cup of hot water to make your own stove top cleaning solution. After applying the mixture with a soft cloth and letting it sit for ten minutes, use a razor blade to peel the burnt food off.
Use Toothpaste to Erase Burnt Food From a Glass Top Stove
Tackle tricky stains before cleaning the entire surface of your stovetop by spot cleaning. Use these home remedies for cleaning a gas stove burner with any pesky burnt stains. Use a soft toothbrush and a small amount of toothpaste to remove stubborn food residue from your glass or ceramic stove top. Gently scrub the stained region with non-gel toothpaste until the stain loosens from the glass and disappears.
Use distilled water to dampen a cloth, and wipe over the stovetop glass to remove dirt and residue left behind. For best results, wipe in circular movements with light pressure. Because it results in streaking, avoid using faucet water.
Eliminating a Burn Mark From a Glass Cooktop
Cleaning the surface of your glass-top stove after each use is the simplest way to maintain its cleanliness. Never use a scouring pad or tough scrub brush; use a microfiber cloth or soft sponge wet with vinegar or water.
If burnt food builds up, choosing the right cleaning tool is essential to help you get rid of it without causing scratching and scuffing on your stovetop. Always opt for gentle cleaners. A soft cloth is ideal as it glides over the surface collecting dirt without gouging the glass.
Use abrasive cleaners as a last resort. Though they make it easy to get rid of challenging buildup, they can cut into the glass and leave cloudy or scuff marks. Razor blades are a great way to remove cloudiness from a glass top stove, though only use them with light pressure. Hold the razor blade at a forty-five-degree angle and scrape gently. Never press it into the glass.
Get Cooked On Food off a Glass Stove Top
Consider several store-bought products if you're uncomfortable using a DIY cleaner on your glass or ceramic stove. Head to the cleaning section of your local store and choose an appropriate cleaning solution like Cerama Bryte or a glass cleaner designed for stovetops.
Read the directions on the stove cleaner carefully and note any safety precautions. Use suitable tools such as a soft cloth to work with the cleaner as directed.
Do you want to learn how to remove burn stains from a glass stove top without scrubbing all weekend? You no doubt spend plenty of time in your kitchen, so cleaning charred and burned spots off a glass stove top doesn't have to be laborious or time-consuming. Use practical cleaning tips to keep your stove glass spotless week after week.
If you loved this informative article on how to clean a burnt glass stove top, please share this knowledge with your close friends and family who are cleaning a burnt glass stove top on Pinterest and Facebook.