House cleaning is usually not on the list of the homeowner's favorite tasks. However, it is a job that must be done. Luckily, some jobs only require periodic attention. The oven is one of them.
For many people, cleaning the bottom of the oven is one of the worst jobs that need to be done in the home and often requires harsh chemicals to remove the burnt-on grime. These chemicals can cause burns to your skin and respiratory system so its little wonder that many people avoid cleaning the oven until it's way overdue.
Get ready to learn how to clean a burnt oven bottom with our six DIY tips for using household items to clean up your oven.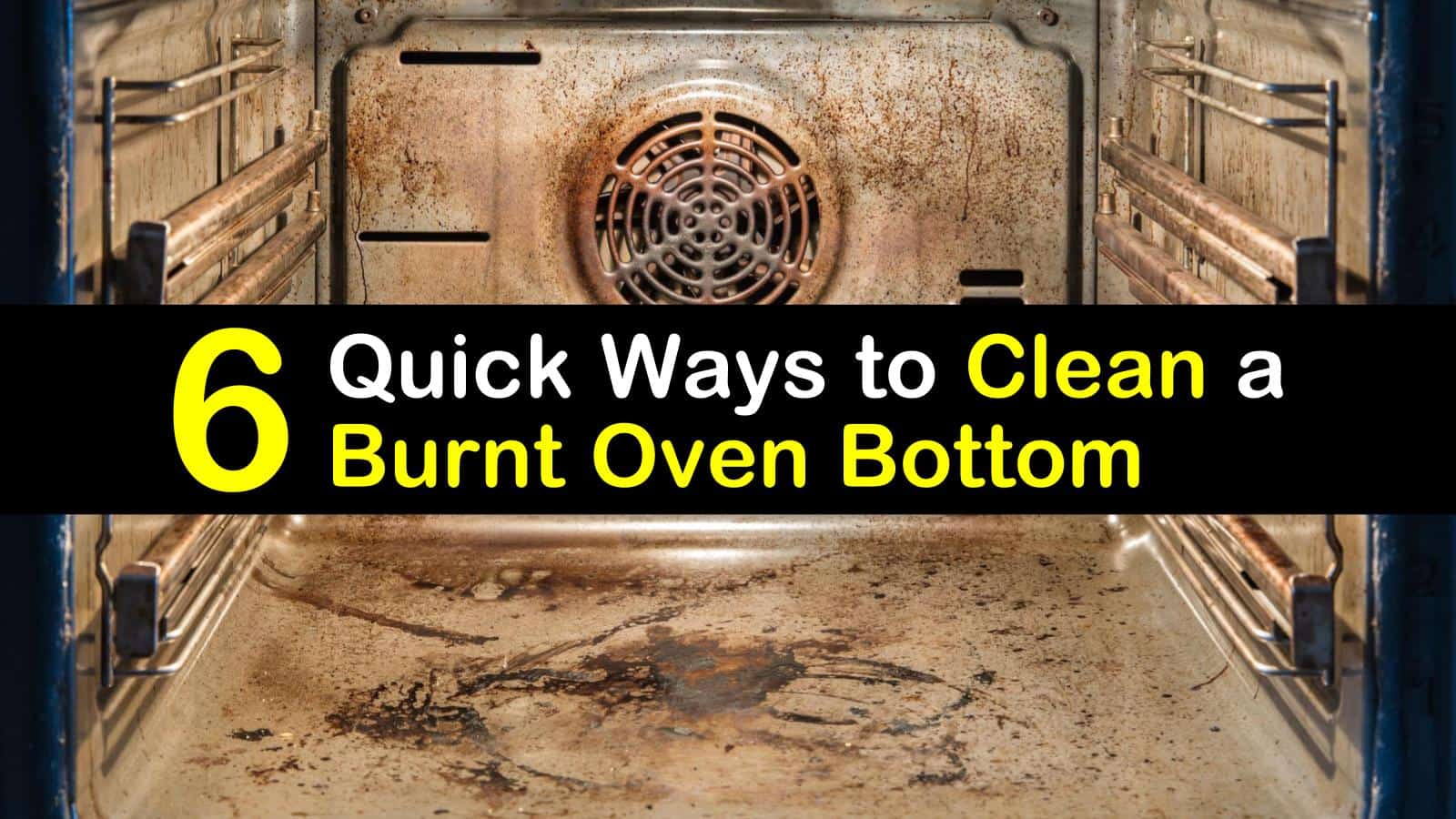 Getting Prepared for Cleaning the Oven Bottom
Cleaning the oven does not need to be a big chore, and you don't need to use harmful chemicals. We are going to help you do it with everyday items that you may already have on hand that will break up the burnt-on food so it can easily be scrubbed away to leave you with a clean oven floor.
Tips for a Clean Oven
Let us demonstrate how to clean a burnt oven bottom using our DIY tips that are simple and straightforward. Get ready to grab some ingredients from your pantry or from beneath the kitchen sink.
Self-Cleaning Oven
The easiest way to a clean bottom of an oven is with the self-cleaning function built into many stoves. This function locks the oven door and heats to a high temperature to burn off any food and debris. When the self-cleaning cycle is complete, let the oven cool and wipe it down with a damp cloth to remove the ash.
There are several downsides to the self-cleaning method that some people may not realize when learning how to clean a burnt oven bottom, however. When the oven reaches the high temperatures required to burn off foods and spills, it causes the Teflon coating to release a toxic Teflon gas that can be harmful to your respiratory system and cause flu-like symptoms.
The burnt-on food also releases carbon monoxide as it breaks down in the high temperatures. We highly recommend that you and your pets leave home while the self-cleaning function is active. If you are afraid to leave the house, open all the windows and spend the day outside if possible. Otherwise, you might choose a different oven cleaning option.
How to Clean a Burnt Oven Bottom with Baking Soda
A baking soda scrub is one fantastic way to a clean oven. The alkalinity of the baking soda soak-ins and breaks up the baked-on grime, and it doubles as a mild abrasive that will help scrub away dirt without scratching the Teflon.
To make this simple homemade natural oven cleaner, mix the warm water and baking soda in a small bowl to form a spreadable paste, adding more baking soda as required to get the right consistency. This recipe makes a lot of paste, but a cup of baking soda is not likely going to be enough to cover and clean an entire dirty oven.
Cover the bottom of the oven with the baking soda paste, spreading extra mixture over any caked-on areas so it can start breaking them down. Let it soak in for a little while and then begin to use a nonabrasive scouring pad, a plastic spatula, and a little elbow grease to work off the gunk.
Use more paste as you need it until you have removed all of the caked-on gunk. Give the oven a good wipe down to complete your cleaning. You can even use this simple mixture to clean a hot plate to remove grease and get rid of scorches.
Baking soda is extremely versatile and can be used for many other cleaning jobs around the home.
How to Clean Grease Off Oven Bottom with White Vinegar
White vinegar is also an excellent way to get rid of tough oven stains. The acidic nature of vinegar quickly gets to work penetrating and removing grime. It makes cleaning grease off oven surfaces a breeze.
To use vinegar for oven cleaning, fill a spray bottle with your favorite brand of white vinegar and spray liberally over the entire surface of the oven. Let the vinegar soak for several hours to loosen debris.
Continue to spray as it penetrates the grease and lifts the dirt and grime. Use paper towels to soak up the excess vinegar and grime that drips to the bottom. White vinegar is how to get rid of a burnt oven bottom and will also work very well as a homemade oven glass cleaner.
Use it to remove grease and splatter stains from the glass in your oven door and vinegar will also do a great job cleaning the stovetop. There are plenty of other uses for white vinegar, including a hair rinse, a weed killer, an automatic coffee maker cleaner, and to get a burnt popcorn smell out of a microwave.
Clean Bottom of an Oven with Dawn Dish Soap
Dawn dish soap can be beneficial for removing baked-on grease from the bottom of your oven, and it also does a fantastic job with sugary spills from pies and cookies.
This tip is how to clean grease off oven bottom with dish soap. To use Dawn dish soap as an oven cleaner, dilute 1/4 cup dish soap into four cups hot water and use the soapy water to soak a few old rags. Open the wet cloths and lay them over the top of the baked-on grease and sugar stains and let sit for several hours.
Re-wet the rags every hour or so to maximize the effectiveness of the dish soap. The rags will hold the moisture in place so it can break down and loosen the stains for easy removal with a dry rag or paper towels.
For cleaning a burnt pot, add a couple of drops of dish soap to some water in the pot and heat it on the burner until it boils. Let the solution cool and use a sponge to wipe up the burned-on pieces. Heavily burned pots may require another treatment.
Lemon Juice
The citric acid in lemon juice makes it the perfect cleaner. For a clean bottom of an oven, cut three or four lemons in half and squeeze the juices into an oven-safe bowl or casserole dish. Place the rinds in there as well and fill a little less than halfway with water. Bake this solution at 250°F for about 45 minutes.
The hot steam and lemon juice will break up stuck-on foods. Once the oven cools, gentle scrubbing with a nonabrasive scouring pad should remove any remaining stains.
If you want to know how to remove burnt food from bottom of pot, place the four half lemons in the pot with the lemon juice and fill the pot halfway with water. Bring the water to a boil for several minutes to remove the burnt food.
Ammonia
Ammonia has a strong odor, but it is a heavy duty cleaner. You can use ammonia to help get your oven clean with this multi-step process, but make sure that you have plenty of ventilation. This cleaning method is safe for an electric oven, but to use it on a gas oven, ensure the pilot light is out.
Preheat the oven to 150°F, or its lowest temperature setting. While boiling a pot of water, pour the ammonia in an oven-safe bowl. Shut off the preheated oven and place the container of ammonia inside with the pot of boiling water below it.
Close the oven and let sit overnight. The steam and warm temperature will help distribute the ammonia and soften stains.
After you have let the ammonia sit overnight, remove the ammonia and water and let the oven air out for a short time.Mix the ammonia, dish soap, and water in a spray bottle. Use a nonabrasive scrub brush and the spray bottle solution to remove the remaining grime from the oven.
A Few More Tips
All of these tips and tricks showing you how to clean grease off oven bottom can also be used to clean your oven racks, plus you can also run them through your dishwasher.
A baking stone often referred to as a pizza stone, is a fantastic tool for baking and using in your oven. It is a large, flat, ceramic board that distributes heat evenly, absorbs moisture, and can catch any spills before they each the oven floor.
However, you cannot use any chemicals or cleaning products on a pizza stone, so be sure to read the manufacturer's cleaning instructions if you use one and take it out from the oven before starting your oven cleaning.
You do not need to clean the heating elements on an electric oven because any spills and splatters are quickly burned off. When cleaning an electric oven, try not to get any cleaning chemicals on the elements that could create dangerous fumes or smoke later. Many times, the heating element is hinged for easy cleaning of the oven floor.
Remember to always clean with as much ventilation as possible and if cleaning is causing dust or smoke, wear a dust mask, as well. When using liquid cleaners, always wear gloves because even mild cleaners like vinegar and baking soda can irritate your skin. If you are going to be scrubbing vigorously, wear eye protection to guard against splashes.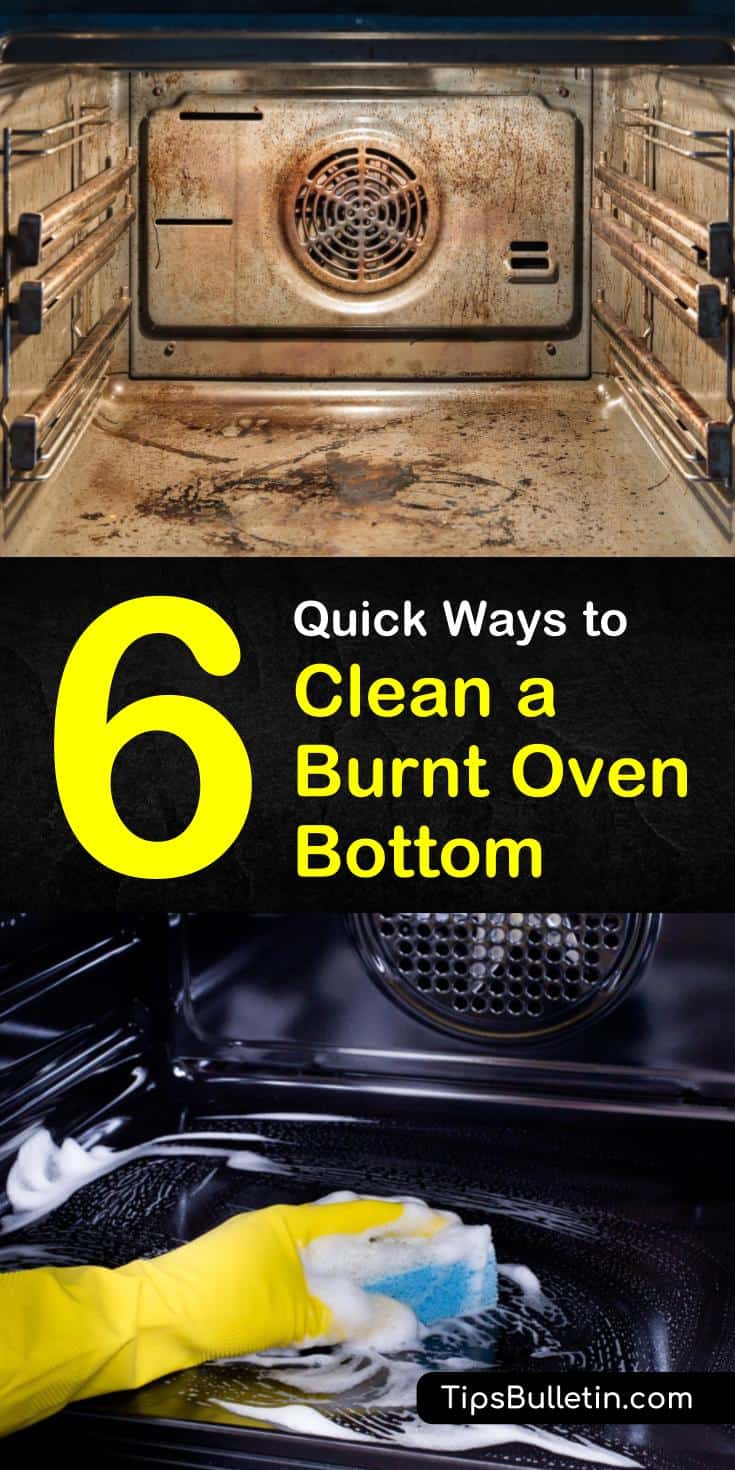 If we have shown you how to clean a burnt oven bottom with our six tips, please share this article about removing burned on food from the oven bottom on Pinterest and Facebook.