At some point in our lives, we have all burnt a pot or two. Learning to cook for the first time and experimenting with the heat levels on your stovetop can take its toll on pans. Even the most experienced cooks have gotten sidetracked scrolling through their phones or swapping out a load of laundry in the dryer.
Scorching your pots and pans doesn't mean having to sacrifice your favorite cookware. These seven easy tricks and methods will show you how to clean a burnt pan and how to remove burnt food from a pot.
We will discuss natural cleaning methods like baking soda and vinegar, along with some of the more unconventional ideas like using dryer sheets. These tips will also show you the best way to approach cleaning cookware made from different materials, such as stainless steel, aluminum, and cast iron pans.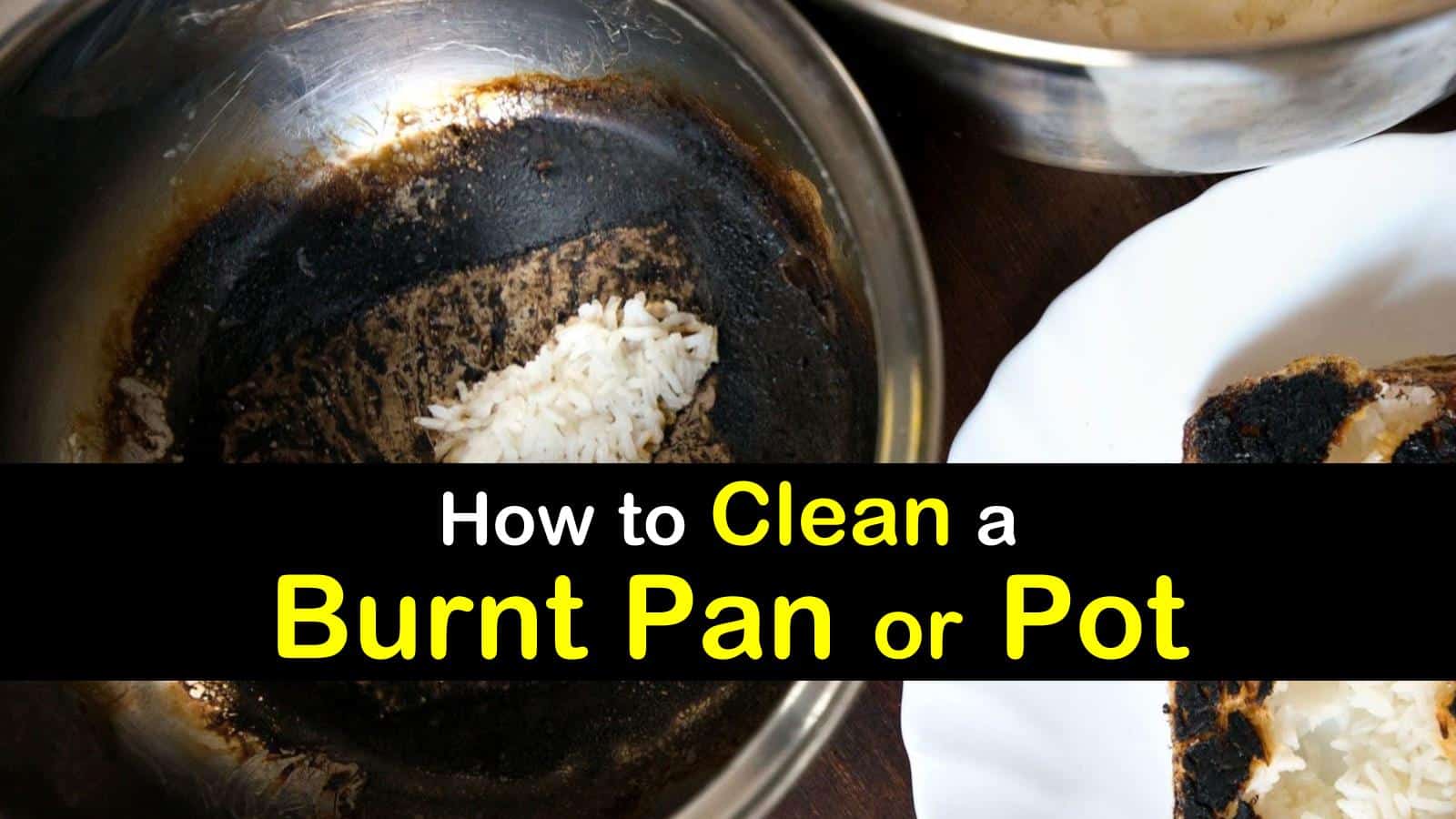 How to Clean a Burned Pan
Here is a list of supplies to keep handy no matter which method you choose for your pots and pans.
Simple Tricks to Cleaning Scorched Pots and Pans
Different methods may require additional materials, but these items will be in regular use for most of them. The one supply not mentioned, but equally as essential for cleaning burnt pans, is good old-fashioned elbow grease. Sometimes, hard work and determination are all it takes to lift those stains.
Heat and Water as Easy Solutions for How to Remove Burnt Food from a Pot
A simple way to clean a burnt stainless steel pot is by adding a few drops of dish soap and filling the pan with water. Any mild dish soap like Dawn will work. Gently scrub burned pots with the soapy water, then set it on the stove to boil.
As it boils, scrape off the charred pieces from the bottom and sides with a non-metal cooking utensil like a wooden spoon or plastic spatula. Using these tools prevents taking off the non-stick coating on most pots and pans. With just a little effort, your pot will be as good as new.
Add White Vinegar – How to Clean a Burnt Pot or Pan
If boiling water doesn't help, clean with vinegar. White vinegar is acidic, making it an excellent solution for breaking down burnt on particles. First, add one cup of vinegar to the pot or pan along with a half to a full cup of water, depending on the severity of the burnt area.
Mix the solution, then bring it to a boil. After letting the vinegar boil uncovered for a couple of minutes, remove it from the heat and let it cool.
There are a ton of recipes that blend vinegar with salt, lemon juice, and its old friend, baking soda. However, some metals react negatively to these solutions. Using vinegar on its own is generally as effective as most combinations.
Blend Vinegar with Baking Soda for a Stronger Solution on Most Pans
Many people use a mixture of baking soda and vinegar when cleaning burnt pans. This tag-team duo is the perfect natural stove cleaner, except on aluminum pots and pans. For all other metals, including copper pots, use the same method for cleaning with vinegar.
Instead, add two tablespoons of baking soda after removing from the heat. Like the science fair volcanoes of yesteryear, this combination may cause a fizzing reaction, so prepare to either be amazed or cleaning the stovetop. This solution should be left to sit for at least 30 minutes before scrubbing with a scouring pad.
How to clean a gas oven or electric oven can also be done with vinegar and baking soda. This powerhouse cleaning combination is ideal for getting rid of burnt-on messes that linger on the sides and floor of the oven, as well as taking care of the racks.
Add Salt to Dish Soap to Clean Cast Iron Pans
Cleaning cast iron cookware is stressful enough without worrying about ruining or chipping the pan's seasoning. Using a salt and dish soap paste to remove burnt on foods is the best and safest way to clean a cast iron pan. It is also beneficial for preserving the coating and poses less risk than more abrasive methods like steel wool or scouring pads.
Mix equal parts salt with dish soap in a small bowl and blend the two until they form a paste. Add the paste directly onto the pan. Scrub the burnt areas using a dampened cloth until clean.
If a little elbow grease fails to clean up the burnt patches, try adding salt without dish soap and scrubbing it again. Using salt is also a phenomenal pewter cleaner and polish when paired with flour and vinegar.
If you have a really nasty stain and must apply extra elbow grease, you may remove some of the seasoning from your cast iron anyway. If you do, don't worry. Get rid of the burned-on food first and then take care of seasoning cast iron in the oven when the pan is clean. It will be ready to use again in no time.
This recipe can also be used for cleaning stove grates that have burned places on them. Soaking the grates on a towel in the bathtub in hot water can help to loosen gunk and make the cleaning process easier.
Salt is an ideal DIY alternative to heavy-duty commercial scrubs that can damage your pots and pans or stove grates. Natural cleaning remedies are almost always better.
Add Cut Up Lemons to Boiling Water for Fresher Smells and Cleaner Pots
Lemon juice is a great way to remove tough stains from burnt pots. When mixed with vinegar, it makes a terrific DIY aluminum cleaner. These sour fruits work wonders on their own and replace horrible odors caused by burnt foods with a fresh citrusy smell at the same time.
Cut up 1-2 lemons. The amount you choose depends on the size of the pot or pan you wish to clean. The width of the slices is not essential as long as there are enough lemon wedges to coat the bottom of the pan.
Add enough water to cover the bottom. Bring water to a rolling boil before draining and tossing out the lemons. This process should break up stuck-on grime, making it easier to scrub away.
Dryer Sheets: An Ingenious Hack for Cleaning Scorched Pans
When thinking about how to clean a burnt pan, a dryer sheet is the last thing that comes to mind. This simple trick saves you time in the scrubbing department, giving it one more advantage over a liquid fabric softener.
To get started, add a couple of drops of dish soap to your pot or pan. Use hot water to cover the burned areas, then add the dryer sheet.
Submerge the dryer sheet in the water thoroughly. Let the pan sit for approximately one hour. When you return, the burnt pieces will peel away with minimal scrubbing required.
Use Bar Keepers Friend Cleanser for Stainless Steel Pots and Pans
Bar Keepers Friend is a bleach-free cleanser and polish that is perfect for protecting the surfaces of stainless steel pans. When combined with water, the cleaning solution creates a paste capable of removing even the most stubborn stains caused by rust, mineral deposits, and burnt food.
This cleanser is also a fantastic method for cleaning copper bottom pans and aluminum cookware. However, this cleanser should never be used on cast iron pans.
To create the paste for the best way to clean stainless steel pans and pots, add a cup of water to one cup of powder cleanser. For cleaning stainless steel pans, the consistency of the solution should be thinner than when applying it to other metals and not quite a toothpaste-like consistency.
Scrub the pan with a soft cloth and cleanser mixture, then wash with soapy water. If the pan still appears burnt after drying, repeat the steps until the frying pan or pot is clean.
Why should you avoid abrasive materials like steel wool when cleaning a scorched pot?
Materials like steel wool and scouring pads are natural allies to turn to when attacking stuck-on foods. However, they can ruin the coating on nonstick pans and cast iron cookware.
Using a soft scrub or washcloth when cleaning will reduce peeling the surfaces of your pots and pans. To remove burnt food from a pot without scraping the non-stick coating, use softer cooking utensils like spatulas made from nylon or a wooden spoon.
Can you clean aluminum pans the same way you clean stainless steel pans?
All pots and pans come with their unique requirements and specifications. While these solutions will work well for most pots and pans, they are not suitable for all of them. The material and coating of your cookware determine which cleaning products and techniques to use.
Stainless steel is well-suited to any of the discussed methods but avoid using steel wool. Pots and pans made out of aluminum should not be cleaned with baking soda, while cast iron pans do not require heavy detergents like Bar Keepers Friend cleanser or oven cleaner unless stripping the pan.
Choosing the best method for cleaning a burnt pan or pot should not be a chore. These seven techniques are simple to follow, with materials found readily available in your pantry.
Stick to cleaning classics like vinegar and baking soda blends, or try something new! Dryer sheets or lemon wedges might be the key to salvaging your favorite cookware.
If you liked our cookware cleaning tips, please share these tricks for saving burnt pans and pots on Pinterest and Facebook!