Cleaning your cast iron grill is a straightforward and affordable process.
Boil water and pour it on the grill to loosen the residue.
Scrub with a steel brush and rinse with boiling water for cleanliness.
For tough grime, use a paste of baking soda and water to scrub.
Rinse the grill with soapy water and dry thoroughly.
Re-season the grill with a suitable oil and bake for an hour.
There's nothing better than throwing a sandwich or burger on a cast iron grill and cooking up delicious meals. Having a grill makes cooking more enjoyable and gives your food a fantastic flavor, and if you use a cast iron grill, you get the joy of an evenly heated cooking surface with little required maintenance.
However, your cast iron grill can get dirty and impact your meals' flavor and health, which is why knowing how to clean a cast iron grill is an essential skill for every backyard chef.
Our guide gives you four excellent recipes to keep your cast iron pan looking clean. You'll get some excellent recipes with water that you can use to clean up your grills, and we also go over a couple of dynamite cleaning recipes that use vinegar for an extra cleaning boost. With our help, your grilling experience will always be delicious and satisfying.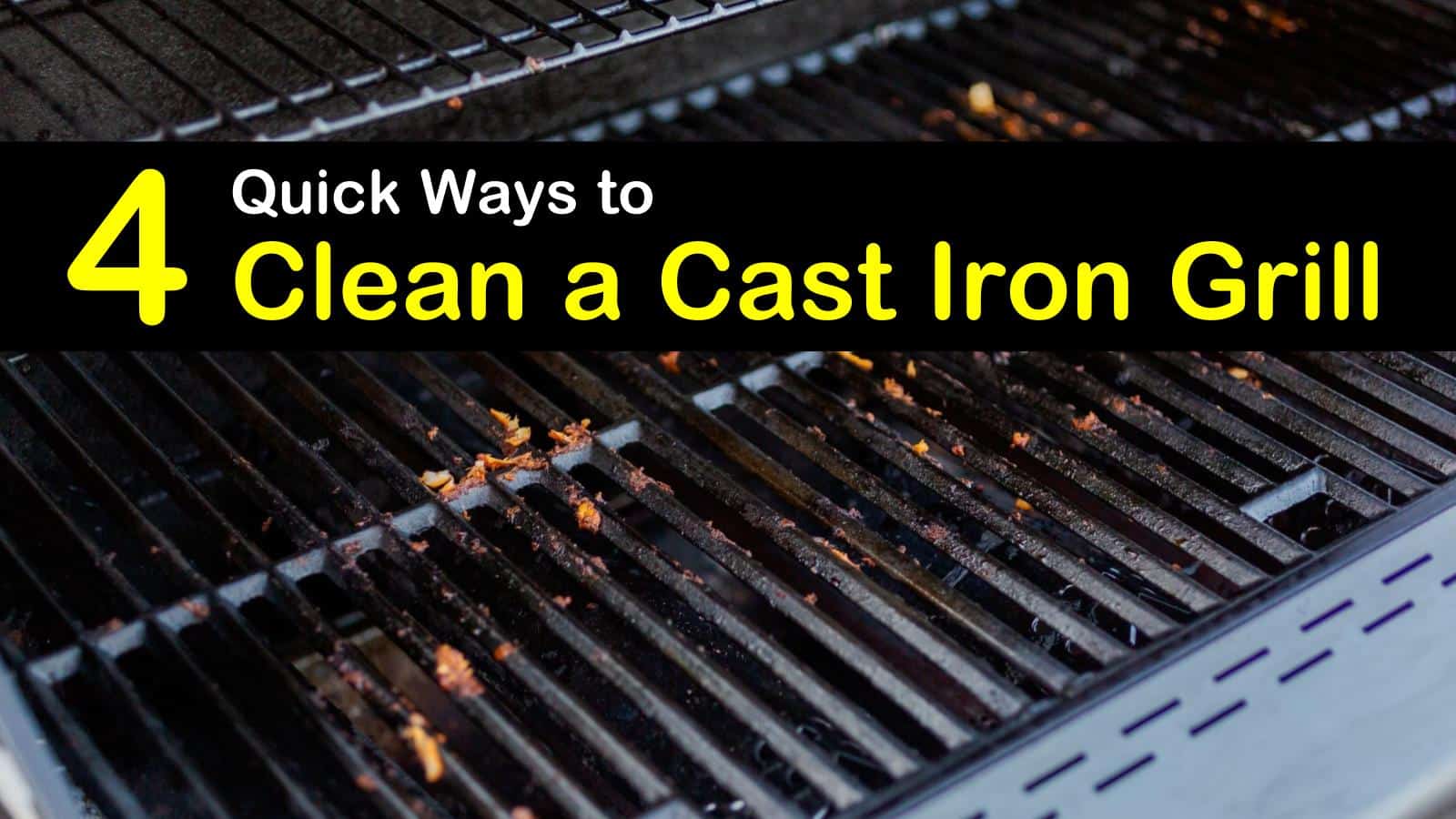 Cleaning Cast Iron Grill Grates with Water
You can't just throw cast iron in the dishwasher to clean it as you do with your stainless or copper pots and pans since this will likely leave you with grates that are still not totally clean and increase the potential for rust formation.
Cleaning cast iron grill grates requires you to strip away any seasoning that the cast iron might have on it. Most commercial cast iron grates are sold with a special coating to prevent rust, and you'll need to clean that off to get under it to the metal itself.
How to Clean a Cast Iron Grill
Just like your oven, it's important to maintain your grill to keep it in good condition and ready for use. You can use soap or a water-based cleaning product to clean a grill and remove the seasoning while you're at it.
This section covers how to clean cast iron grill pan surfaces using a water-based cleaning solution. You'll get a natural grill cleaner recipe that includes baking soda, and we'll also show you an excellent grill cleaning method that uses nothing but boiling water and elbow grease.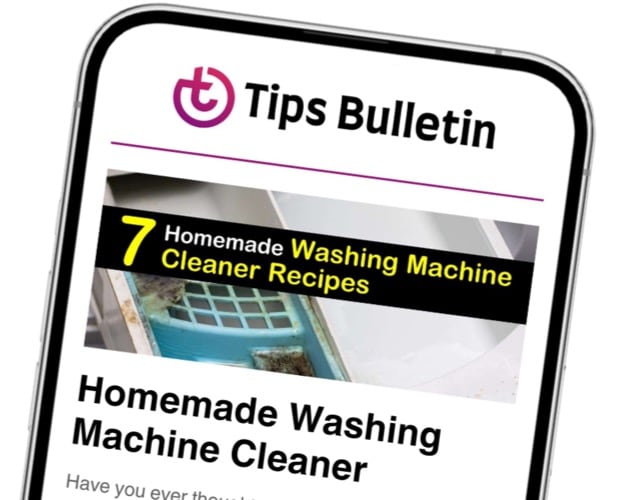 Finally, an email that Transforms Your Home.
Get the latest home and garden tips from our experts, delivered straight to your inbox.
Clean the Grill with Boiling Water
Boiling water might not seem like much on its own, but you can do a lot with it. Use it as an effective home made oven cleaner, as a toilet unclogger, and as an insect control product.
And, it's one of the more efficient methods you'll encounter of cleaning cast iron grill pans. Using boiling water is also a great way to clean BBQ grill grates. As with all of these recipes, you need to make sure to season the grill after you wash it.
Place the cast iron pan on the stovetop over high heat. Don the gloves, and fill the container with a few inches of boiling water. Dip the grill brush in the water.
Scrub at the griddle or grill, re-wetting the brush frequently and cleaning off food particles and other grime. Clean all cooking surfaces thoroughly, and rinse the grill with the water a few times to remove all debris. Once the grill is clean, dry it completely in a hot oven.
Get Your Grill Clean with Water and Baking Soda
If water by itself doesn't get the job done, you can always go for a more heavy-duty solution and break out the baking soda. Baking soda has abrasive and chemical cleaning action, which makes it perfect for cleaning away caked on grease, grime, and rust.
When you combine it with hot water, it can cut through just about any layer of dirt. It's just the right solution to clean burnt cast iron pans and get rid of nasty food stains without removing the seasoning. However, if the seasoning does come off, it's just as easy to add it again.
This solution is ideal for how to clean gas stove grates, as well as the barbeque grill, but it may be best to skip the wire scrubber and steel wool so that you don't damage the material. A sponge or old rag will work just as well.
To make this DIY metal cleaner, create a paste out of the cold water and baking soda, and use the cloth to apply it to all grill surfaces. Let the baking soda mixture dry for a few hours before proceeding.
Then, use the wire brush, steel wool, and scraper to clean all cooking surfaces thoroughly. Apply pressure as needed for particularly dirty areas. Add the soap to the bucket of warm water. Rinse the grill in warm, soapy water, and dry the grill in the oven.
If you need to clean porcelain coated cast iron grill grates, don't use steel wool as you may damage the material. A nylon scrubber works better on this type of surface.
How to Clean Cast Iron Grill Pan Parts with Vinegar
Vinegar is something of a miracle product. You can use vinegar as a DIY aluminum polish or to wash your clothes, and vinegar also works well as a preservative. Vinegar is particularly adept at eliminating mold and mildew from all kinds of surfaces.
Because of its acetic acid content, vinegar is an active cleaning agent that eats away at grime and dirt; it's a great way to sanitize the grill at the same time. Harness that cleaning power to get your cast iron grill looking beautiful again and ready for cooking your next outdoor meal.
This section looks at how to clean a cast iron grill using recipes with vinegar. When you need a little extra oomph for cleaning gas grill grates and other cast iron pieces, vinegar is a time-tested and proven winner.
We show you a fantastic recipe for cleaning cast iron with salt and vinegar, and you'll also learn how to clean cast iron grill pan parts with a long vinegar soak for the worst cases.
If you don't have a grill but use your oven to "grill without a grill," you can also use vinegar to clean the interior of the oven, as well. This miracle product cleans almost everything in the house and sanitizes it at the same time.
Clean Your Grill with Kosher Salt and Vinegar
Salt and vinegar are a good team. They taste great together on potato chips, and they clean cast iron like you wouldn't believe. Kosher salt has excellent abrasive properties, and when you combine it with the cleaning power that vinegar brings to the table, you wind up with a dynamite grill cleaner that's non-toxic and safe to use.
Don the gloves. Sprinkle the salt over all cooking surfaces. Add just enough vinegar to form a paste. Use the sponge to scrub the cast iron with the paste. Then, use the scraper, scrubber, and steel wool to clean any hard-to-reach areas. Rinse off the vinegar with the hot water, and dry the grill in the oven.
For Tough Jobs, Give Your Grill a Vinegar Soak
Because vinegar is acidic, you should only soak your cast iron grill in it when you've exhausted your other options. A vinegar soak is an excellent choice for rusting grills. Keep a watch on the grill to ensure that the vinegar doesn't eat into the metal, and make sure to rinse the grill after cleaning to halt all chemical activity.
Don the gloves, and fill the grill with vinegar. Allow the grill to sit in the vinegar for at least an hour, and then check on it to make sure pits haven't formed in the metal. Allow the grill to soak until you can clean off the build up of caked-on grime, grease, and rust.
Attack the grill with your scraper, steel wool, and scrubber until all food residue and rust marks are gone, and the grill is clean. Rinse the grill with hot water, and place it in a warm, dry place such as the oven to dry it thoroughly.
Remember to Re-Season!
To keep your cast-iron skillet or grill looking like you just cleaned it, you need to season your metal. Seasoning clean cast iron grill grates and new cast iron protects it from future oxidation and prevents rust from forming, and it creates a nonstick surface that makes future cleanups a snap.
Never season a grill with olive oil, which will smoke and leave deposits; instead, choose a neutral cooking oil when seasoning, such as canola or vegetable oil.
When your cleaned cast iron cookware is completely dry, coat it with a layer of oil, wipe off excess oil using several paper towels, throw the paper towels in a garbage bag, and place the cast iron on a sheet of aluminum foil at the bottom of an oven set to 325°F.
Bake the iron cookware for about an hour. Re-seasoning your cast iron pots might require more than a single coat; if the pan needs more than one layer, apply more oil and bake for another hour.
We hope you had a great experience with our guide on how to clean a cast iron grill. Having a cast iron grill is a great way to make delicious meals in a hurry, but cleaning cast iron grill grates can be a pain. This guide helps you find a cleaning method that works for you and will make sure you keep your cast iron looking and working great all year long.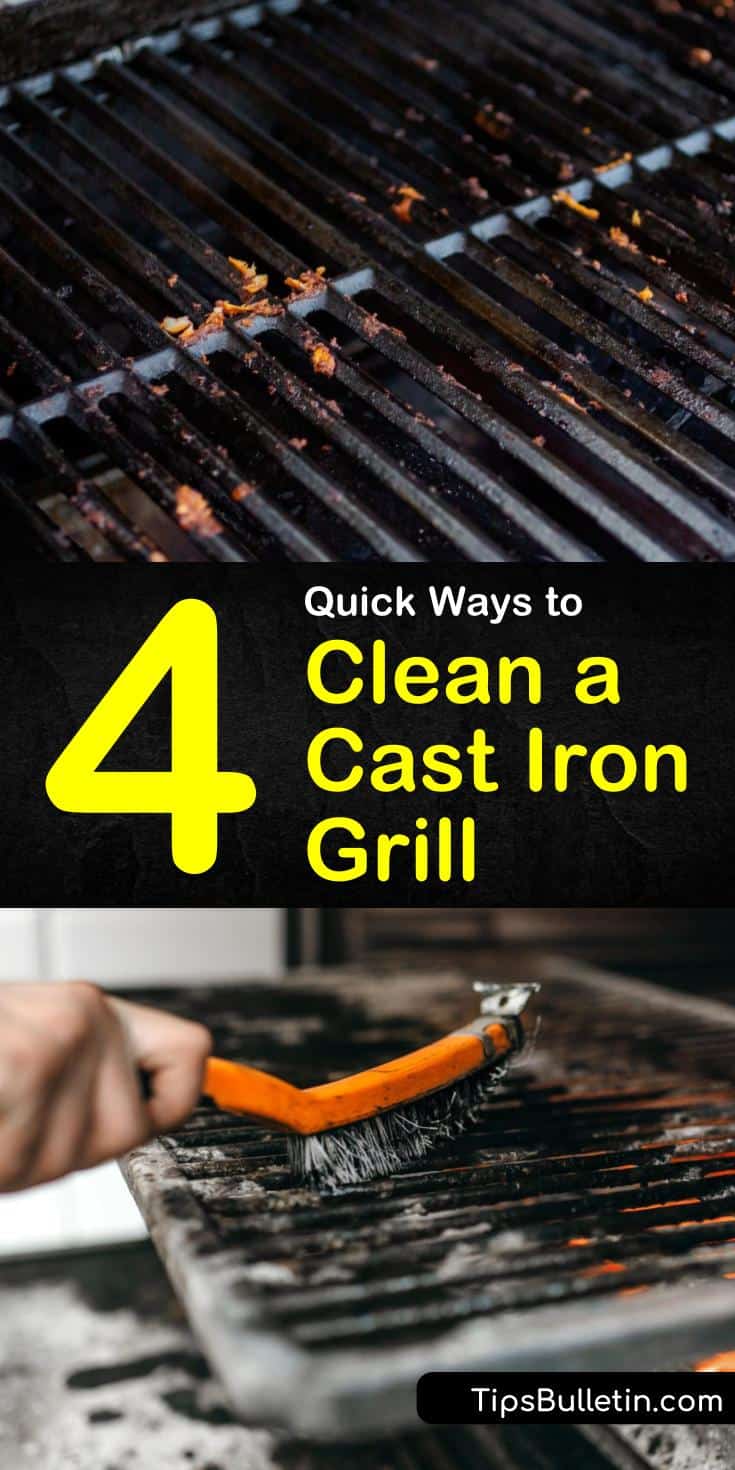 Thanks very much for reading our cast iron grill cleaning guide. If you thought our rusty grill cleaning tips were helpful, we'd appreciate it if you would share about how to clean a cast iron grill with your family and friends on Facebook and Pinterest.