With coffee being such an essential part of the start of our day, our freshly brewed coffee must taste as delicious as it smells. While using white vinegar tends to be the go-to ingredient for most cleaning solutions, not everyone has this descaling agent readily available. So how to clean a coffee maker without vinegar?
Though it may seem unlikely, there are several different resources you can use when cleaning your coffee maker without a vinegar solution.Over time, limescale and mineral deposits form on the inside of your coffee pot due to repeated exposure to hard water. To descale your coffee pot, most people use white vinegar to both disinfect and loosen up dirt particles in the coffee maker.
When cleaning a coffee maker without vinegar, you want to focus on these same properties: disinfecting the coffee pot of things like mold and mildew, and removing all dirt and grime. These tips use simple cleaning products like dishwashing soap, baking soda, and lemon juice to tackle these same problems, leaving you rich tasting coffee.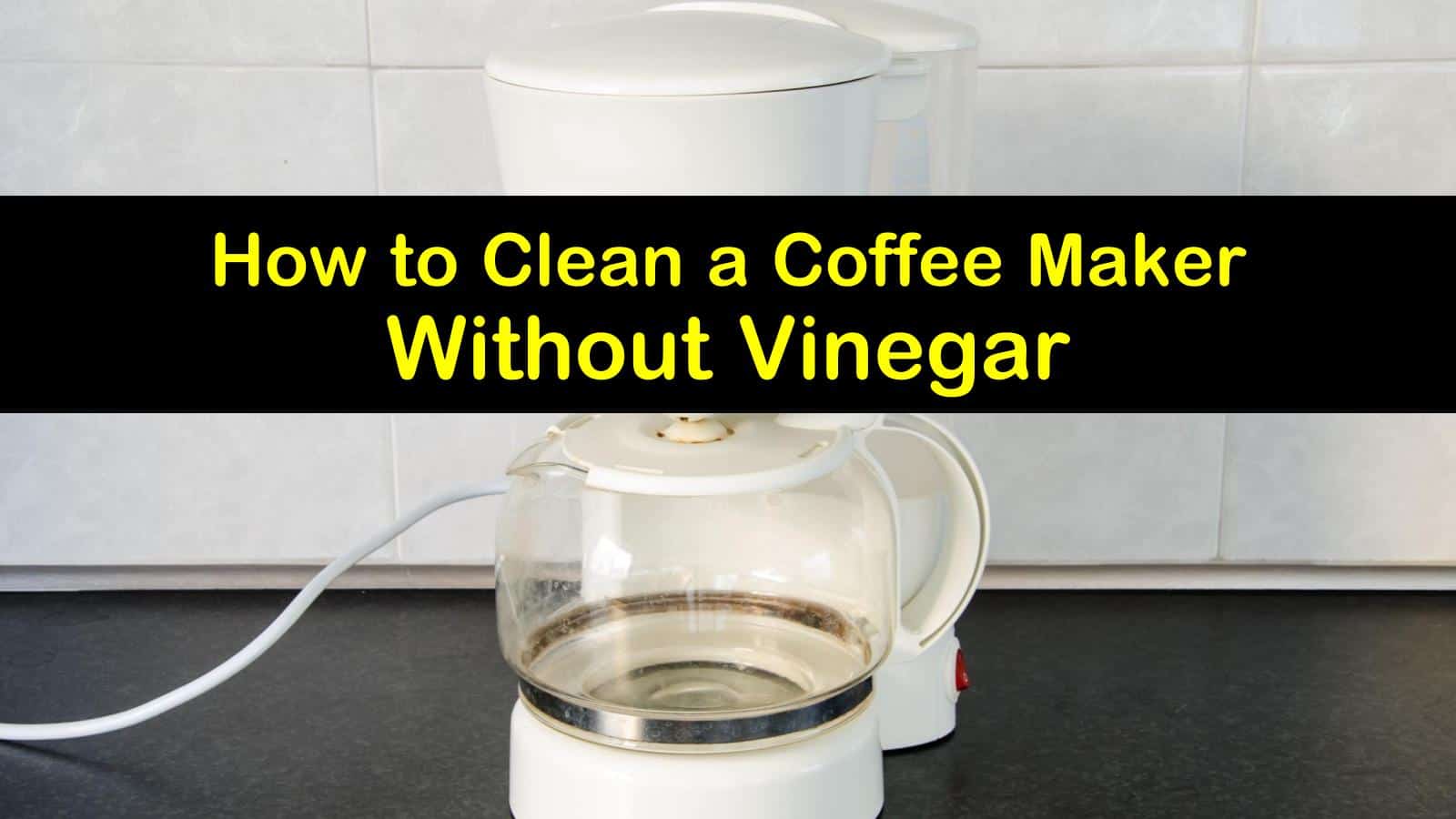 Cleaning a Coffee Maker without Vinegar
One of the critical reasons for cleaning your coffee pot, beyond removing mildew and grime, is to ensure your favorite cup of coffee maintains its bold, delicious flavor. Without proper cleaning, your favorite morning brew may not come out as hot as you'd like or may incorporate some of that yucky mineral buildup.
All of this makes your typical cup of joe taste like stale, old coffee. Avoid this by cleaning your coffee maker after every use, and descaling it at least once every two to three months.
Cleaning a Coffee Maker Without Vinegar
One way to guarantee you have a clean coffee maker is by regularly using soap and water. In some cases, as with your French Press, this is all you need to remove old coffee grounds and any stuck-on particles. For other coffee makers or mugs, using warm, soapy water is the best way to remove coffee stains from stainless steel travel mug and keep those removable parts clean.
Cleaning your carafe, lid, and filter after every use also reduces the amount of gunk and grime that goes into your water reservoir. If you want to use a dishwasher to clean your removable parts, the only item that's dishwasher-safe is your coffee carafe. All other things should be hand-washed with soap and warm water.
Using Borax to Decalcify Your Coffee Pot
Another option to clean a coffee maker with vinegar is to use a cleaning agent like Borax. Borax is a popular cleaning agent used throughout the house, especially for cleaning other home appliances in your kitchen. It doesn't leave behind a chemical residue afterward, either, making it safe to use in your coffee pot.
Descaling a coffee maker is easy. Start by filling your water reservoir to the top. Scoop in about two tablespoons of Borax, then run your coffee maker on a regular brew cycle.
Once the brew cycle finishes, add clean water to the reservoir and allow it to run through the coffee pot an additional three or four times to ensure that the cleaning agent flushes completely out of the system prior to brewing your next pot of coffee.
Try a Natural Cleaning Agent Like Lemon Juice
One of the best alternatives to cleaning with vinegar is using lemon juice. The citric acid in lemon juice operates like the acetic acid in vinegar and easily removes grease and mildew. If you use a Keurig coffee maker, this method is the perfect option for you.
To use this option, start by filling your reservoir with a solution made from equal parts lemon juice and water. If using a Keurig, ensure that the K-cup compartment is spotless before using. Run the cycle part way through, stopping the brewing process halfway.
Allow the cleaning solution to soak inside the coffee maker for approximately 15 minutes before running the remainder of the lemon juice solution through the machine. Run the cycle an additional time with fresh water to remove any taste of lemon from your coffee machine.
Sprinkle in Baking Soda for a Deep Clean
If you don't want to use vinegar, baking soda is a great way to clean all of your most challenging coffee maker or espresso machine. Baking soda is another non-toxic cleaning solution that uses natural ingredients to remove dirt and mildew from your coffee maker.
Instead of using white vinegar, pour the baking soda and the water into the coffee carafe. Swirl the contents around until the baking soda has fully dissolved, then empty the contents of the coffee pot into your water reservoir.
Run the coffee maker on a regular brew cycle until all of the baking soda and water solution has completely drained from the tank. Fill the water reservoir to the top and run the cycle until all the water is gone.
Try Hydrogen Peroxide as an Alternate Disinfectant
Another alternative to cleaning a coffee maker without vinegar is using hydrogen peroxide. This powerful disinfectant often works interchangeably with vinegar for most cleaning responsibilities. When it comes to your coffee maker, hydrogen peroxide is an excellent way to remove limescale and disinfect your coffee pot.
Create a diluted hydrogen peroxide solution by adding one cup of hydrogen peroxide to your carafe and filling the remainder of it with warm water. Run the coffee cleaner through until all of the hydrogen peroxide solution has passed through the coffee maker.
If you use a paper filter in your brew basket, add one when cleaning, as well. Finish the cleaning process by rinsing your coffee maker with clean water through at least two rinse cycles.
Use Cream of Tartar for a Natural Alternative
Another fantastic natural coffee cleaner is cream of tartar. This phenomenal spice works similar to baking soda by creating a mild abrasive to scrape away the dirt and grime in your coffee pot. It also uses a low-grade acid known as tartaric acid for a natural, non-toxic cleaner.
To use cream of tartar for your coffee maker, begin by filling your coffee pot with hot water and adding three tablespoons of cream of tartar.
Stir in the spice until it completely dissolves, then run the solution through the coffee machine. Once finished, wash all of the removable parts with some soapy water. You can also run an additional brew cycle with clean water, though it is not necessary.
Drop In Some Alka Seltzer Tablets
Using Alka Seltzer tablets is also one of the best coffee maker cleaning hacks out there. These antacid tablets use a mixture of citric acid and baking soda to reduce the effects of indigestion. Both of these ingredients are products that we have already talked about in our article, so you know they work.
For this method, add three tablets into a full water reservoir. Once the tablets interact with the water, they will begin to fizz. Leave the tablets for approximately 15 minutes, then run the coffee pot on a full cycle. Once the cycle is complete, rinse your coffee pot with clean water on an additional two cleaning cycles.
We love our coffee in the morning. But, what's more important is that your coffee tastes great and is safe to drink!
While we may not always have a spare bottle of vinegar lying around to descale and disinfect our coffee makers, these simple tools show that there are plenty of solutions for cleaning a coffee maker without vinegar. So, clean those coffee pots, then relax with a nice, warm cup of joe.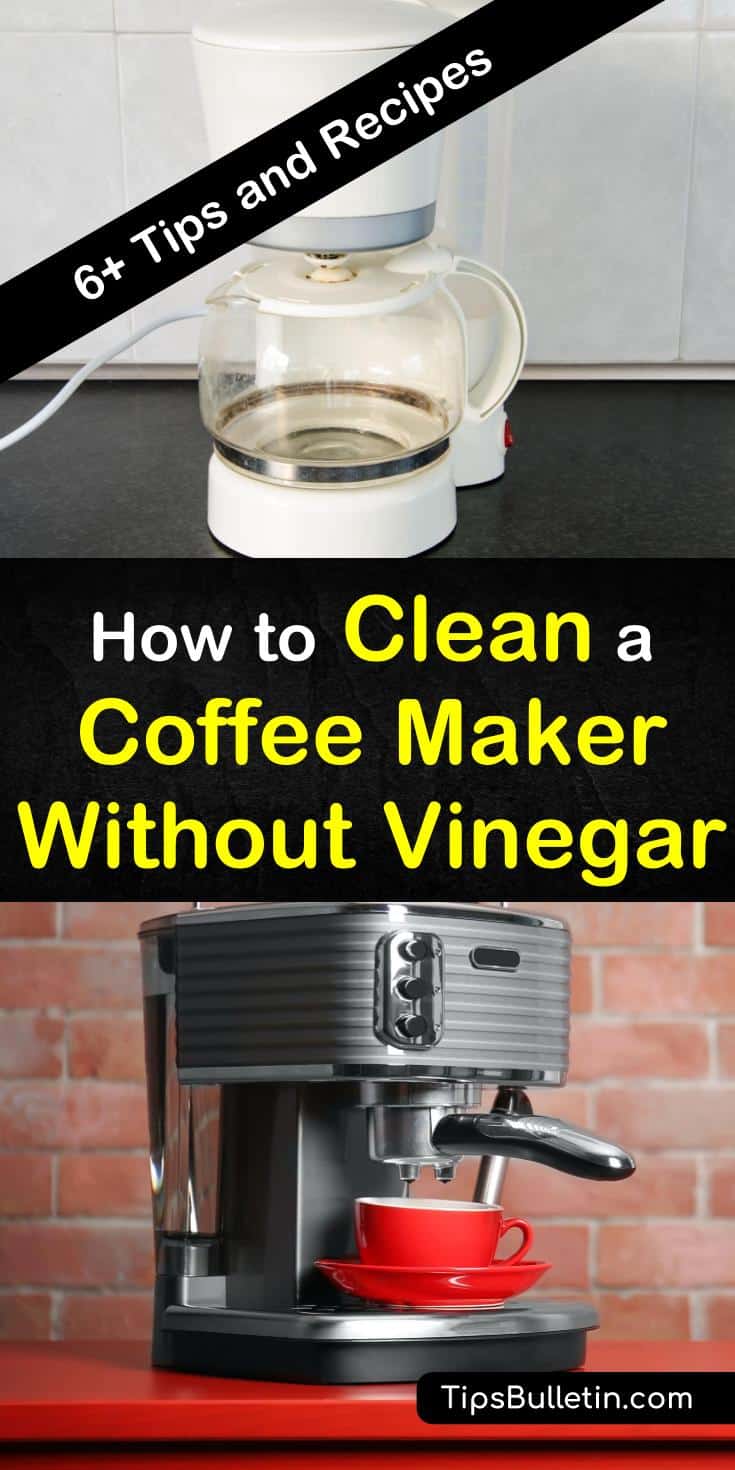 If you enjoyed these coffee cleaning tips, don't forget to share how to clean a coffee maker without vinegar with all your favorite coffee drinkers on Facebook and Pinterest.