A fresh cup of morning coffee is like liquid gold and helps us to begin the day on the right foot. Unfortunately, leftover vinegar from a recent cleaning can ruin your experience and impact your morning. Understanding how to clean a coffee pot without vinegar is a crucial skill for homemakers who want to enjoy every cup of coffee as much as the first time they used the coffee pot.
Having a game plan for getting your pot clean ensures that your coffee stays delicious all year long. This guide examines how to clean a coffee pot with baking soda and other DIY cleaners. If you find yourself with a dirty coffee maker and without vinegar or you don't want to risk vinegar tasting coffee, this guide is for you.
We show you how to use lemon juice, antacid tablets, baking soda, and much more as top-notch substitutes for vinegar. You'll be amazed at how many cleaners will stand up to your coffee pot and walk away victorious.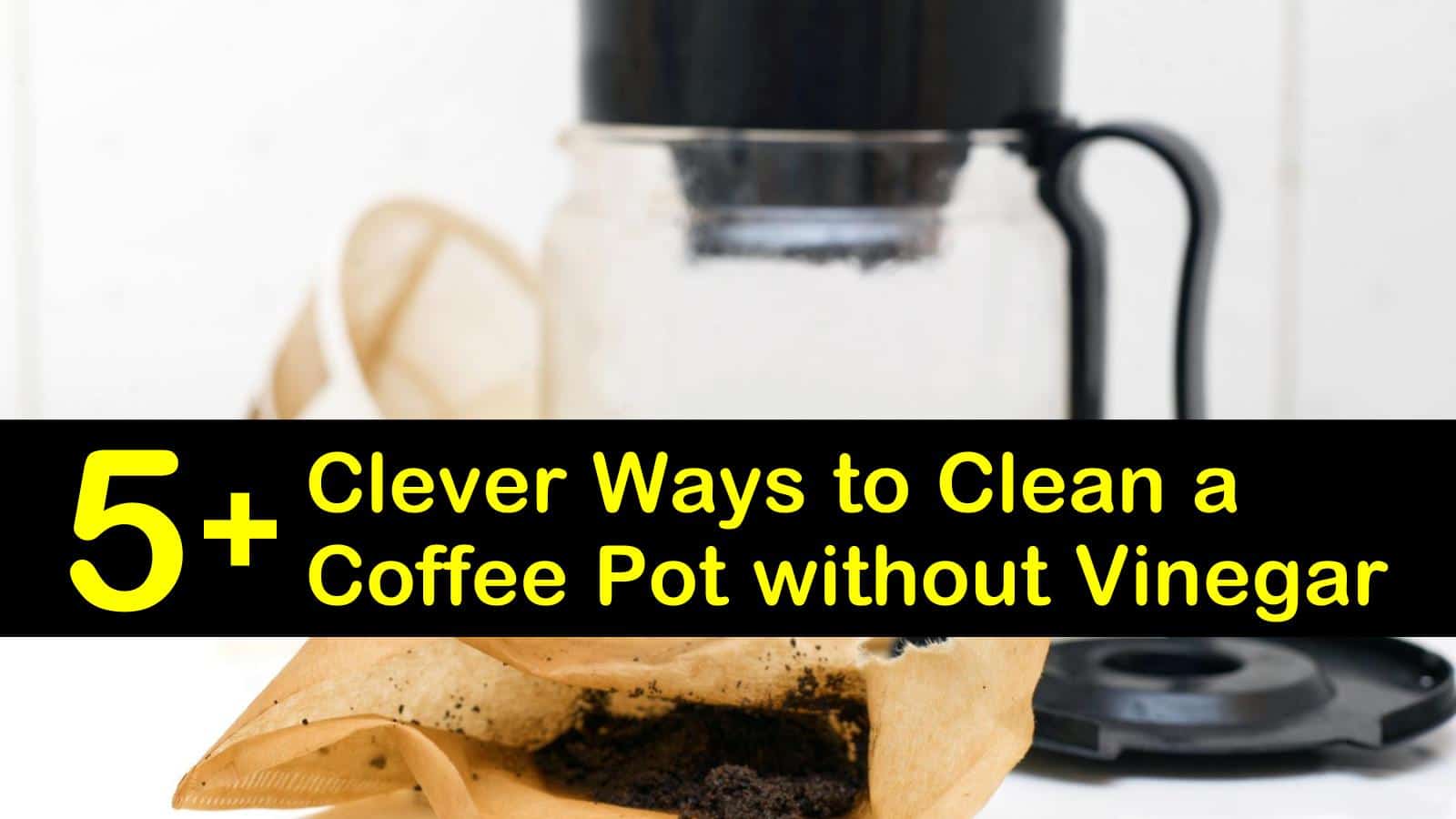 Cleaning a Coffee Pot without Vinegar
Your coffee pot probably gets as much or more use than any of the other home appliances in your kitchen. You likely use it once a day or more, and each use adds a little more hard water deposits and grime to the tubing and water reservoir.
Usually, white vinegar is used to clean away these sorts of scaling and deposits and leave a clean coffee maker behind. Coffee pot cleaning with vinegar is popular but there are many other ways to descale and clean your coffee pot.
You can find plenty of acceptable substitutes suitable for regular use. Check out our excellent recommendations.
Regular Cleaning Solutions
This section covers cleaning options for your Keurig, Mr. Coffee, or other brand coffee pot that you can employ on a daily, weekly, or monthly basis to maintain its cleanliness and quality.
We show you how to clean your coffee maker with cleaning methods ranging from mild to intense, and none of them will leave a vinegar aftertaste in your cup of joe. Use these cleaning options to prevent buildup and other issues from occurring.
Wash the Coffee Pot Daily with Soap and Water
In many homes and businesses, the coffee pot looks as if it's never seen soap and water. Fortunately, this issue is simple to fix and can save you a lot of trouble in the long run. Regular dish soap cuts through all sorts of dirt and coffee grounds without harming the pot, and a good rinsing afterward ensures that you won't taste the cleaning the next morning.
The best way to clean a Keurig coffee pot is the simplest way. Every day after you finish using it, rinse out the pot to get rid of coffee residue and wash it with soapy water. Use a nylon scrubber to tackle any stubborn stains on the glass.
If the coffeepot has an easily damaged surface, restrict your scrubbing to a soft sponge to avoid scratches. Rinse the pot with hot water a few times to make sure that all soap residue is gone. Dry with a cloth or paper towels to prevent hard water spots or mildew from forming.
Give the Coffee Maker a Weekly Lemon Juice Treatment
Vinegar's magic ingredient, the one that makes it such an effective cleaner, is acetic acid. The mild acid allows the vinegar to eat at scaling and dirt, which makes it perfect for coffee maker cleaning.
You can get the same results without vinegar, though. Lemon juice contains citric acid to clean limescale, and it doesn't leave a lingering flavor behind after you finish using it.
Once a week, pull out all removable parts and clean them in soapy water. Then, add equal parts lemon juice and water to the reservoir, and turn on the coffee maker. Use the self-clean setting on your coffee pot if it has one.
You can send more lemon juice and water through a second time if the pot still shows signs of having mineral buildup. After you finish cleaning the pot, rinse it in fresh water. Fill the reservoir with clean water and run it through the coffee machine's brew cycle to remove any lingering traces of lemon from the system.
Feel free to use this lemon juice recipe as a stainless steel coffee pot cleaner on the exterior, as well. You'll have a nice streak-free shine.
Drop an Antacid Tablet in the Pot Every Month
Our Cuisinart coffee pot cleaning tips include using antacid tablets. Yes, you read that correctly. While you might not consider antacid tablets to be ideal for cleaning or descaling your coffeemaker, they're full of active ingredients that work wonders on mineral deposits and dirt in your tubing and pot.
Antacid tablets such as Alka-Seltzer contain citric acid, baking soda, and aspirin. All three of these ingredients will descale your plumbing and get your coffee maker looking and tasting great.
Once a month, fill the coffee maker's reservoir ¾ full with cold water and drop in two antacid tablets. Wait 15 minutes to allow the effervescence to subside, and then run the coffeemaker until the reservoir is empty.
Run two reservoirs of fresh water through the system after the antacid water finishes its work. You can also add an antacid to your dishwasher for extra cleaning power.
Cleaning a Coffee Pot – Heavy-Duty Options
Even your best efforts at regular maintenance won't stop your coffee pot from getting dirty or backed up from time to time. Lemon juice and antacids are excellent cleaners, but they can't handle every cleaning challenge. When these instances occur, you need a few go-to cleaning products to take care of the situation.
How to Clean a Coffee Pot with Baking Soda and More
This section looks at the top ways to get your coffee pot clean without using vinegar. In this section, you'll find cleaning options that take care of any stain or scaling issue your coffee maker can throw at them. We show you how to use peroxide, cream of tartar, and, of course, baking soda to make your coffee pot spic and span once more.
Use Baking Soda to Clean the Pot
There's a reason why there are so many uses for baking soda and vinegar. It's because of how well each cleaner works on its own. Combined, they make for a powerful grime-fighting duo.
Individually, though, baking soda is more than up to any cleaning challenge it encounters. Use baking soda as your first line of defense when you encounter a tricky stain on your coffee pot.
Add the water and baking soda to the pot, and agitate to dissolve. Fill the reservoir with the baking soda and water solution, and run it through the machine.
The baking soda will pick up and transport any dirt and mineral residue it encounters out of the system. Rinse out the pot, refill the reservoir with fresh water, and run it through the coffeemaker. Repeat to thoroughly rinse the system with hot water.
Clean the Pot with Cream of Tartar
Like lemon juice, cream of tartar contains acid and eats away at scaling and dirt that collects in your coffee maker and pot.
You can use this cleaning option as a vinegar substitute, and it won't leave a lingering flavor or affect your coffee in any way. This cleaning option is fantastic for folks who like a spotless carafe and tasty java.
Pour any old coffee out of the pot and rinse it. Remove the old paper filter from the filter basket, and fill the coffee carafe with water. Stir in three tablespoons of cream of tartar.
Pour the mixture into the reservoir and run it through the coffeemaker. Empty the pot and fill it with clean water, and then run two additional pots of fresh water through the machine to remove any traces of the cream of tartar.
Run Peroxide through the Pot
Hydrogen peroxide is another household agent that does lots of heavy lifting without getting much credit. Peroxide is great for sterilizing wounds, but it's also an excellent cleaning agent and can get everything from coins to teeth looking bright and beautiful again. Send peroxide through your coffee maker to decalcify and clean away debris, grime, scaling, and coffee residue.
Pour a cup of peroxide into your carafe and fill the remainder of the carafe with cold water. Pour the mixture into the reservoir and run it through the coffee maker.
Rinse out and refill the coffee pot with fresh water once the peroxide solution finishes its work. Run two additional carafes of water through the machine to clean out any lingering peroxide.
We hope you had a blast reviewing our cleaning tips for coffee pots and espresso machines. Our coffee pots get plenty of daily use and need regular cleaning. But, when your coffee tastes like vinegar, it can leave an unpleasant aftertaste and ruin our morning.
Our guide shows you the best way to keep your coffee pot or French press clean without resorting to vinegar. You'll never have to suffer through vinegar-flavored coffee again with our tips and recommendations.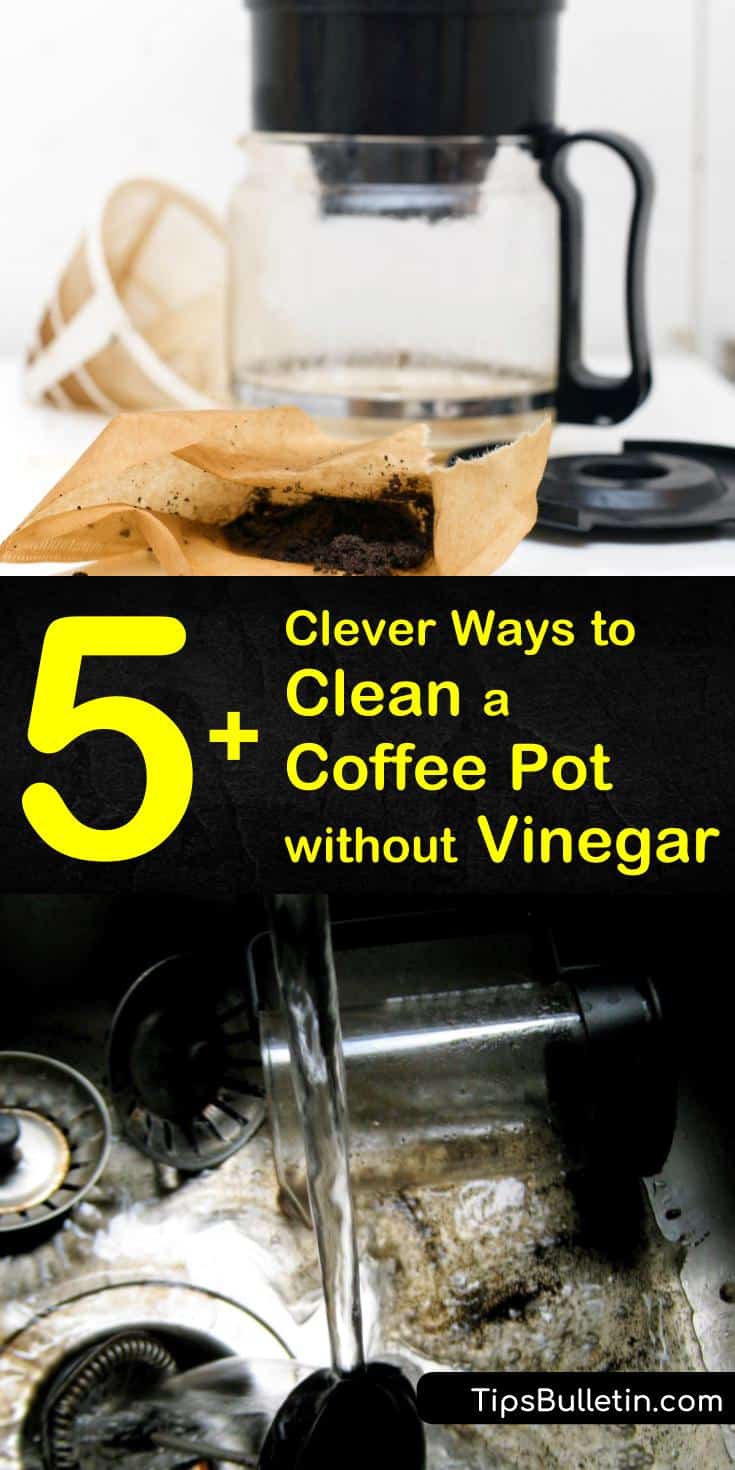 Thanks for reading our coffeepot cleaning suggestions. If you enjoyed discovering how to clean a coffee pot without vinegar, Facebook and Pinterest are perfect venues to share information about cleaning coffee pots with family and friends.