When it comes to our morning routines, there's almost nothing that compares to that first cup of coffee. Whether you need that steaming cup of joe to function throughout your day or enjoy the earthy aroma in the morning, the beginning of your coffee routine starts with a clean coffee maker. Knowing how to clean a coffee pot keeps gritty grounds from creeping into your favorite morning drink and also keeps your coffee tasting the way it should taste.
Depending on the type of coffee pot you use, the instructions for cleaning will also change. And let's face it, there are pretty complex coffee machines out there nowadays.
Even with Keurig capsules that are easy to toss out, cleaning out the water chamber to prevent mineral buildup is an essential part of keeping your machine running properly. With tips like how to clean a coffee pot with vinegar and basic maintenance routines, cleaning your coffee maker means more delicious cups of morning fuel for you.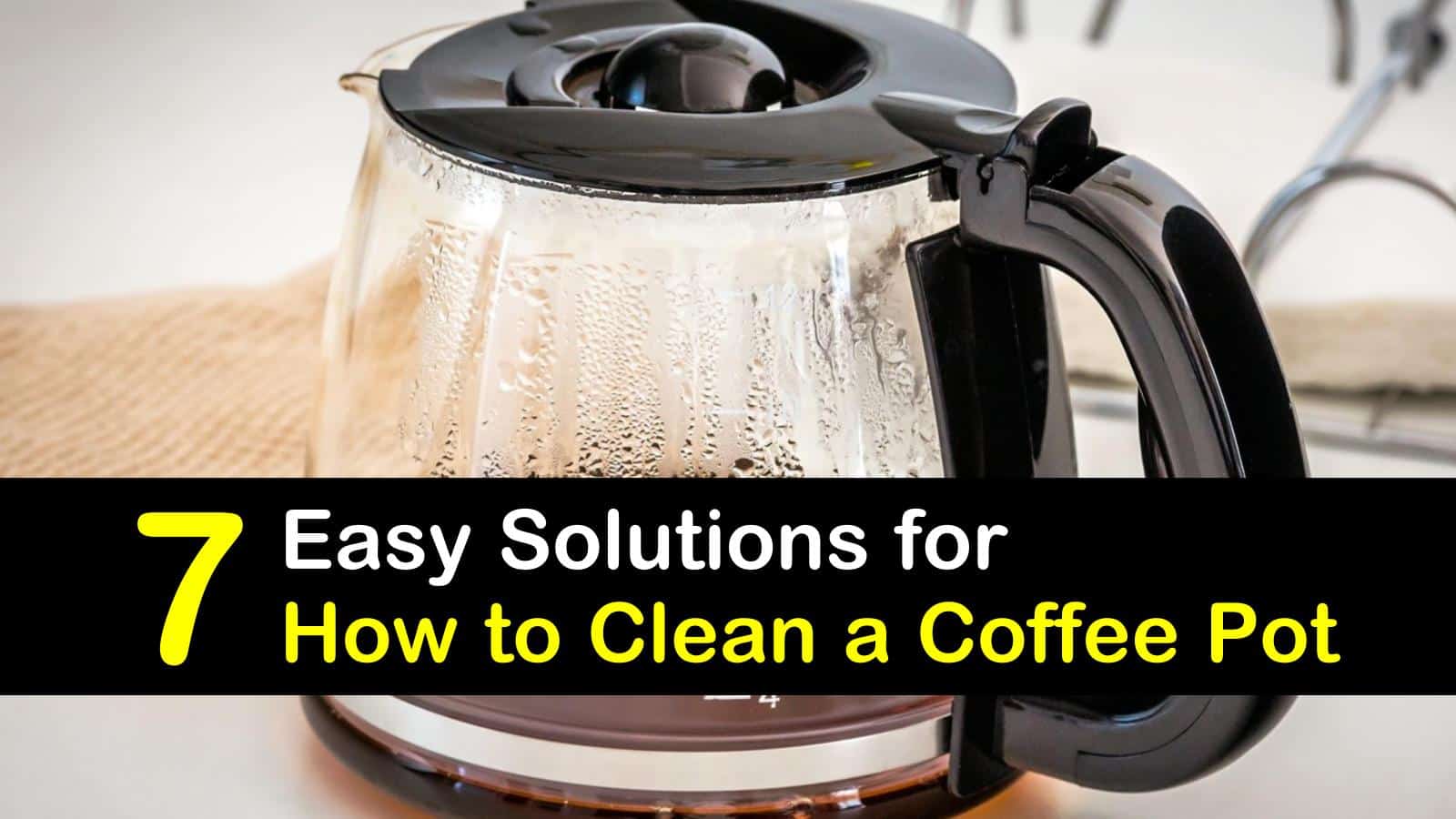 What to Know about Cleaning Coffee Pots
When it comes to your coffee pot, knowing the type of maker you are cleaning changes your approach to the process. Some of us even have more than just one coffee maker at home, depending on the style of coffee we are in the mood to drink each morning. Here are some of the more conventional coffee makers you may find in your household.
While ingredients like white vinegar work in almost every coffee maker, ensure you are using the right method. Some coffee pots require only a light cleaning, where others involve a thorough cleaning and descaling to keep your coffee tasting great! Here are some helpful bits of advice to help you along the way.
What does "descaling" mean?
Descaling is a term often confused with cleaning since it acts in a similar capacity. Yet, descaling serves an altogether different function in the maintenance process. While cleansing removes oily residue left behind by your coffee in the coffee maker, descaling targets problems created by the water.
All water contains some minerals, such as calcium or magnesium, which stay behind in your coffee maker. If you have hard water, there are even more of these minerals in your water. These mineral deposits collect on the inside of your coffee maker over time, clogging the flow of water and disrupting the functions of the heating element.
Nobody wants to drink weak or lukewarm coffee, especially when they are expecting a fresh hot brew. Remove limescale from a tea kettle in the same way you take care of your coffee pot.
Descaling prevents this insult to your tastebuds by clearing away limescale from the pot and keeping your maker running smoothly.
How often should I clean my coffee pot?
When performing standard care procedures, clean your coffee pot and smaller working parts after every use. Removable parts that need a quick, gentle washing are the coffee pot, the brew basket, and the lid. When performing a deep clean of your coffee pot or even descaling it, these methods are only necessary about once every three months.
Some avid coffee drinkers may want to bump this up to once a month, depending on how often they use their coffee pots and whether or not they use hard water to brew coffee. Many coffee pots even have a maintenance function that alerts you when it's time to clean the interior of your machine. Though, you can always choose to beat the clock and clean your coffee pot before the alert sounds.
How to Clean a Coffee Pot with Vinegar and Other Simple Ingredients
Ready to get started cleaning your coffee pot? Perhaps you are still confused about how much vinegar to clean a coffee pot is needed. We have the answers you need right here.
Soapy Water for Your Daily Carafe Cleaning Routine
Every time you use your coffee pot, remove all the residual oils and grounds left behind. This step does not require a long, complicated process and is easily accomplished using some dish soap and warm water. After making your cup of coffee, empty your carafe and pour in fresh water.
Add a few drops of soap, and wipe down the interior with a soft sponge. Allow your carafe to soak in the water for a few minutes before rinsing and wiping down the front. Clean the filter basket and lid with some soap and water, as well.
Ensure all parts are thoroughly dry before replacing them. If you want to wash your coffee pot in the dishwasher, only the carafe itself should go through the wash cycle, and only when placed on the top rack.
Cleaning Your French Press Carafe
Similar to cleaning a standard drip coffee pot, your French press carafe needs only a little bit of soap and water to function at its best. Because these carafes are manual coffee makers that don't have hidden inner workings, there is no need for deep cleaning.
Instead, after each use, remove the coffee grounds by adding a little bit of water to the carafe. Dump this mixture into a strainer, discarding any excess coffee grounds from your coffee pot, then toss the grounds into the trash. Next, add a few drops of soap into the pot, along with some water.
Using your plunger, pump the soapy water up and down along the edges of the French press. The soap cuts through oily grease or mineral scale deposits left on the interior of the press, leaving it clean and ready to use next time.
How to Clean a Coffee Pot with Vinegar
Now your coffee pot is ready for a deeper clean. If you have a standard drip coffee pot, use a diluted vinegar solution that contains equal parts vinegar and water. Always double-check with the manufacturer's recommendations before adding any cleaning solution to your coffee makers.
Start by filling the water reservoir with half water and half vinegar. If you usually use a paper filter, use one at this point, as well. Turn the coffee pot on to start the percolation process, but stop it halfway through to allow the water solution to soak in the chamber.
Leave the vinegar water for approximately 30 minutes to an hour, depending on the level of cleaning needed. Turn the coffee pot back on and run the remaining solution through the machine. Pass clean, cold water through the brew cycle a few times before making your next cup of coffee to remove any lingering droplets of vinegar.
Use vinegar and water for cleaning a stainless steel pot on the outside, too, to get it nice and shiny again. The vinegar does not streak like soap and water can.
Clean Your Keurig with Pure Vinegar
Knowing how much vinegar to clean a coffee pot depends on the type of machine used. To decalcify your Keurig machine, you can use pure vinegar without diluting it. When using this method, ensure to clean all other working parts of the device before running the vinegar through.
Fill the water reservoir up to the top with vinegar. Next, lift the pod handle where you place the single-cup servings, and close again to start the machine.
Continue this process until all the vinegar in the reservoir has filtered through the machine. If there is a little bit of vinegar left over, add enough clean water to run the remaining amount through.
How to Clean a Coffee Pot with Vinegar or Baking Soda
Another critical reason to use vinegar when cleaning your coffee maker is to disinfect the interior. Without regular cleanings, a common form of E.Coli, known as coliform bacteria, might form in your coffee reservoirs.
Cleaning them not only becomes essential for matters of taste and proper functioning, but they also become a matter of safety.
Adding an ingredient like baking soda to your cleaning routine makes this process even more effective since it can also clean coffee stains not only from your coffee pot but your clothing, furniture, and carpet, too.
When using this cleaning solution, add the baking soda and water to the carafe first. Swish the contents around until the baking soda has completely dissolved, then pour into the water reservoir.
Run a brew cycle on the coffee pot using the baking soda and water solution. Run one cycle of baking soda and one cycle of vinegar for extra cleaning power.
Use this mixture to clean your coffee thermos, too. Add the solution to the thermos and use a bottle brush to swipe the sides and bottom of the interior. Rinse with clean water.
Cleaning Your Vacuum Coffee Pot or Siphon Brewer
If you have a vacuum pot or siphon coffee brewer, regular cleaning is all that is required to keep it free of coffee residue and stray grounds. Start by removing the coffee grounds from the top container after the brewer has cooled, of course.
If you have a filter, take this out of the glass pot, rinse with warm water, and set it out to dry.
Rinse the top container with water to loosen any remaining coffee grounds from the walls of the container, allowing the water to pass through the siphon tube after cleaning. Use soap and water to clean the separate components, then rinse and dry thoroughly before using it again.
Cleaning Your Moka Pot – How Much Vinegar to Clean a Coffee Pot?
If you are an espresso lover, you know your Moka pot is a must-have in the household. This small, silver brewer resembles a multi-tiered teapot and is placed on the stovetop to brew those dainty shots of espresso often served with dessert.
Cleaning the multiple parts of your Moka pot may seem overwhelming, especially since the soggy coffee grounds make their way into every crevice of the bottom tier.
These Moka pots are actually quite easy to clean, however, and require no more than hot water and a cool place to dry.When cleaning your Moka pot, avoid using soapy water, acidic cleaners, and anything abrasive on the metal.
These cleaners will take away from the natural oils left behind by the coffee, which flavor the interior and detract from any metallic taste. Instead, rinse away the grounds and leftover coffee with the hot water, then thoroughly dry, or place on a drying rack until completely dry.
No matter what type of coffee maker you use, there's no reason not to keep up with regular maintenance. It may be hard, especially when we are already tired and groggy in the morning. However, these seven helpful ways of cleaning various coffee machines should help make the process easier.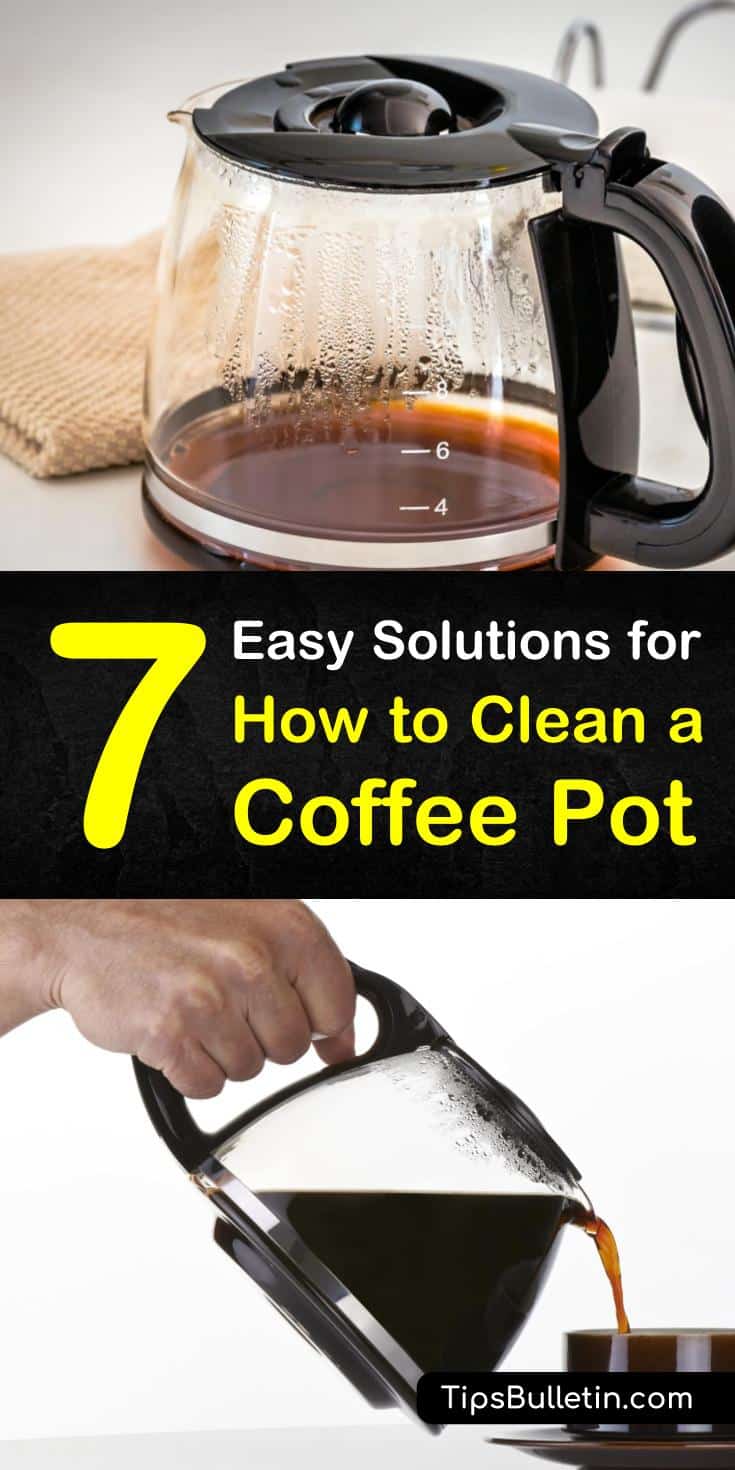 Hopefully, you have enjoyed learning how to clean a coffee pot with vinegar and other helpful ingredients as much as you'll love that fresh-tasting pot of coffee. If you gained some helpful tips about coffee pot cleaning, don't forget to share how to clean a coffee pot with all the caffeine-lovers in your life on Facebook and Pinterest.