Concrete driveways become covered with dirt, grime, and tough stains over time. Because concrete is porous, it absorbs stains that rain showers and a garden hose can't always wash away. If you've been asking yourself how to clean a concrete driveway so that it completely removes oil stains and discolorations, there are various options for you to try.
Cleaning concrete or other concrete surfaces, like a paver or patio, only requires a deep clean once a year in the spring. It's a simple home improvement project and a great way to improve your home's curb appeal. Some of the most common stains are from ground-in dirt, antifreeze, and oil, spilled paint, and mildew.
Because the concrete's pores harbor grime deep within them, a pressure washer is the easiest way to make your driveway look fresh again. However, not everyone can afford to purchase or rent a power washer. This article supplies several ways to clean a concrete driveway, with or without a power washer.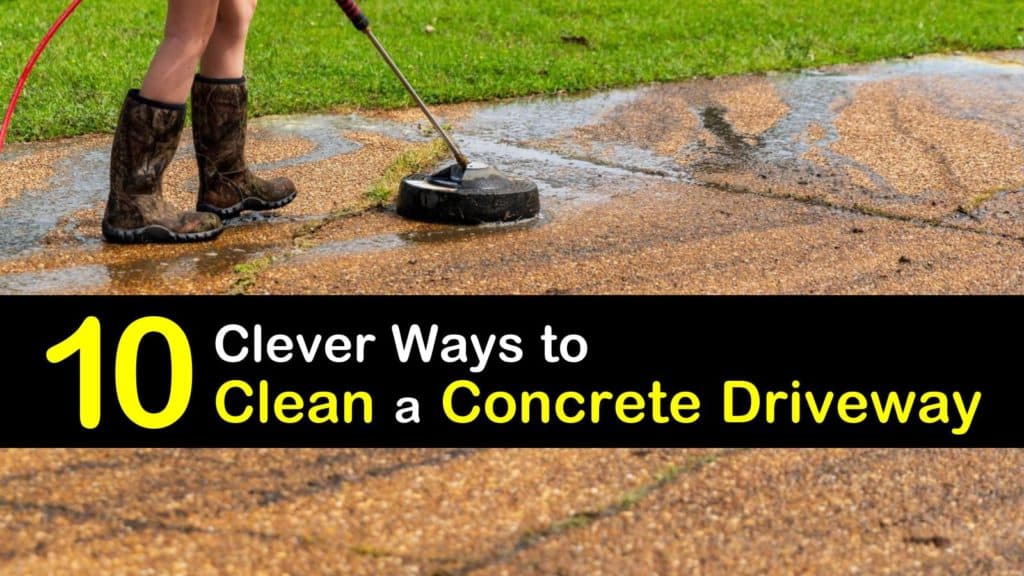 Smart Ways to Clean a Concrete Driveway
How do you know it's time to clean your driveway? Grab a broom and begin sweeping away loose dirt and debris from the concrete's surface. Walk up and down the driveway, looking for signs of stains, mildew, or mud that weren't removed when sweeping.
Observing your concrete's condition is also the first step for cleaning concrete garage floor or concrete patios. You'll likely find a stain, and learning how to clean a concrete driveway pays off in the end.
How to Pressure Wash Concrete Driveways
Pressure washing machines work by hooking up a garden hose to the washer and shooting the water out of a trigger gun at speeds reaching over 100 miles per hour. The steady water stream easily removes hard to reach dirt and stains.
If you don't own a power washer, they are often available for rent at a local hardware store. Learning how to pressure wash concrete driveways is one of the quickest and most straightforward solutions.
Before attempting driveway pressure cleaning, clear your driveway of cars or objects. Sweep away loose dirt or stones to ensure you don't blow debris where you don't want it to go. Use a high-pressure nozzle on the pressure washer and begin power washing the concrete by moving the trigger gun back and forth in one section at a time.
If washed at full strength, the concrete slightly lightens in color, and you see the difference between the power washed areas and the unwashed areas. Continue until the entire driveway is clean.
Discover our easy and effective power washer cleaning solution to get the most out of using the power washer on your driveway.
How to Clean a Concrete Driveway with Household Products
You'd be surprised how many household products provide simple ways to clean a concrete driveway.
Items like baking soda, bleach, Coke, cat litter, sawdust, hydrogen peroxide, and cornstarch are all products that can be made into homemade concrete driveway cleaner. They are especially useful when cleaning oil stains off concrete, but they also work for gas and antifreeze stains.
Removing Stains with Cat Litter
Cat litter is a product that naturally absorbs moisture. It is an excellent tool to remove moisture that has seeped down into the pores of the concrete.
For stains that are new and still damp, like grease stains on concrete, cover them with a thick layer of kitty litter and let it sit for at an hour. The litter works as a natural absorbent and soaks up the fluid. Use a broom to sweep away the cat litter.
If the stain has dried, cover it with a thick layer of kitty litter for an hour. Wet the litter with water. Use a bristle brush or another stiff brush to begin scrubbing at the stain. Rinse away the litter and let the spot air dry. Repeat as many times as necessary.
Using Soapy Water to Remove Stains
An old fashioned soap and water combination is popular for a reason. Dish soap has agents that fight to remove grease without damaging other materials, and most people always have soap at home. You can often clean oil off driveway areas with this simple remedy.
Pour warm water in a bucket and squeeze a small amount of dish soap in until suds form. Dip a bristle brush or another stiff brush in the soapy water and scrub it in circular motions to begin lifting the stain from the concrete.
Rinse the area with fresh water from a garden hose. This cleaning solution works best for spills that occurred in the past 24 hours.
Baking Soda Concrete Cleaner
Baking soda is an ingredient that homeowners use time and time again for stain removal. It produces carbon dioxide which helps lift stubborn stains. Use baking soda to make a DIY concrete cleaner that is both effective and inexpensive.
Cover the stain with a medium layer of baking soda and let sit for at least one hour. While you wait, combine three parts baking soda with one-part water to form a paste.
Pour the paste over the stained area and scrub with a bristle brush. Use a power washer to begin rinsing away the baking soda.
Cleaning Concrete with Cola
Cola and other dark sodas have two major components that help fight stains. The acid breaks down the fluid that caused the stain, while the carbonation lifts the debris to the surface for easier cleaning.
Allow the cola cans to reach room temperature and pour them over the stained concrete. Let the cola sit overnight. Once 24 hours has passed, use a stiff brush to scrub the stain. Rinse away the cola with water.
Dishwashing Concrete Cleanser
Powdered dishwashing detergent is another product that many people have on hand. The degreasing effect that works so well on dirty dishes fights equally hard against oil and gas stains.
Wet the stained area with water. Sprinkle the powder detergent over the spot and let sit for one hour. Bring a large pot of water to a boil while you wait.
Once boiling, take the pan outside and pour the hot water over the stain. Scrub the area with a bristle brush. Rinse the area with fresh water once finished. Repeat as often as necessary.
Cleaning Concrete with Chemicals
Driveway cleaning sometimes requires a little more muscle than expected, especially for stains that have been sitting for long periods. Chemicals clean concrete with a little more oomph than household items.
Some substances can be combined with household ingredients to make a powerful homemade driveway cleaner, though. Whenever using chemicals to clean concrete, take safety precautions by using gloves and protective eye wear.
Homemade Sawdust Poultice
This recipe may look like an odd combination, but this sawdust poultice recipe with acetone becomes a powerful stain fighter. The solvent breaks down the stain while the sawdust absorbs it.
Place some sawdust in a large bucket and slowly pour in the acetone or lacquer thinner, mixing until a thick paste forms.
Smear a half-inch of the poultice over the stain. Lay as much plastic wrap over the area as necessary and let sit for 24 hours. Wash away the poultice with water.
Using Bleach to Clean Concrete
We all know the strength of chlorine bleach. A lot of people don't realize that there are far more uses for it than for laundry or sanitization. Try using this recipe on your concrete driveway for a flawless finish.
In a large bucket, combine equal parts chlorine bleach and water. Pour the solution over the concrete stain and let sit for ten to 20 minutes. Use a stiff brush to scrub the area and rinse away the solution with water from a garden hose or pressure washer.
Trisodium Phosphate Concrete Cleaner
Trisodium phosphate is another heavy-duty cleaning solution that is available at most hardware stores. The degreaser breaks up oils and other similar solvents. Wear protective eye wear and gloves when handling harsh chemicals.
Driveway Cleaner with Stronger Chemicals
Trisodium phosphate, or TSP, is often used to dissolve copper oxides when soldering copper piping. This product is so strong that it lifts away even the deepest, toughest stains on your concrete driveway.
To get spray paint off concrete or to address other types of stains, add one cup of trisodium phosphate into a bucket with one gallon of hot water. Pour the TSP solution into the garden sprayer and saturate the stained concrete.
Let sit for 20 minutes. Use a bristle brush to scrub the concrete and rinse the area with fresh water.
Concentrated TSP Stain Remover
Another way to use trisodium phosphate is to concentrate it into a paste. The paste works extra hard to bring you even better results.
Combine equal parts trisodium phosphate with cornstarch until it has a paste-like texture. Spread the trisodium phosphate paste over the stained area and use a stiff brush to scrub the area in circular motions.
Let the paste air dry and use a putty knife to scrape off the excess. Use a power washer or hose to rinse the area.
Enzyme Cleaners for Concrete Stains
Enzyme cleaners, also commonly called oxidation cleaners, use strong chemicals to eat away tough stains. They are available at your local hardware store and are simple to use. All you have to do is apply the cleaning solution and let it do the work.
Before using enzyme cleaners, always reach the directions located on the packaging to guarantee that you're using it safely and correctly.
No water or scrubbing is necessary when using these chemicals. You may have to reapply the enzyme cleaner for larger stained areas.
Hiring Professional Concrete Cleaners
If you've tried every product you could find to remove a stain on concrete and nothing is working, there are services available to homeowners who desire some extra strength.
Professional cleaners often used powerful chemicals like muriatic acid that break down oil stains easier than other compounds.
Your concrete driveway, garage floor, or patio will inevitably endure a few stains. Skills like knowing how to pressure wash concrete help to keep your concrete looking like it was freshly poured. The sooner you're able to spot a stain, the easier it is to remove.
Sometimes cleaning concrete is a hassle with not enough time in the day to get to it. If that's the case, apply a sealer to your concrete to fill the pores and keep stains off.
Regardless of which action you decide to take, your concrete and home's curb appeal are left in better condition than before.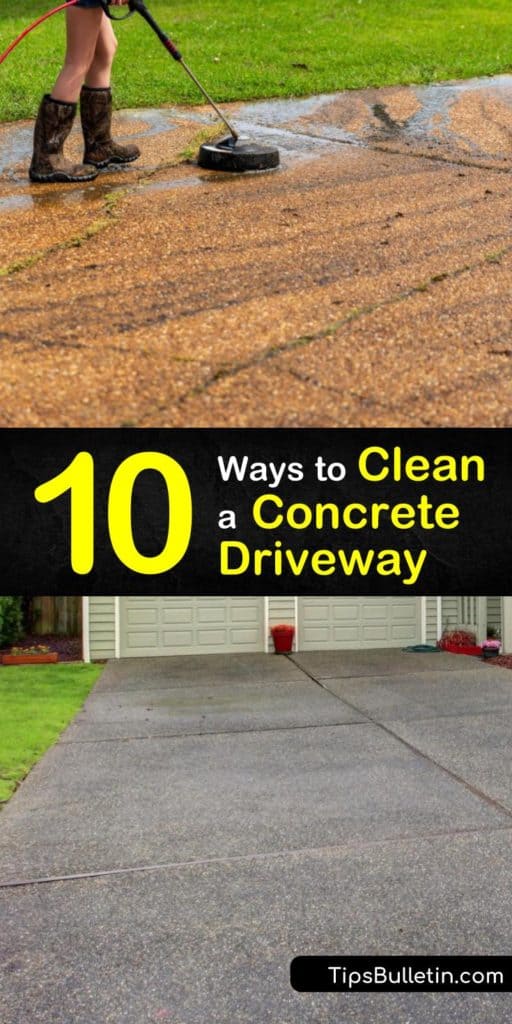 If you enjoyed using these recipes on how to clean a concrete driveway, share these concrete cleaning tips on Facebook and Pinterest.