With the warm days of summer approaching, you may be scratching your head about how to clean a concrete patio. From dirt and grime to barbeque grease, there are many ways that your patio could have gotten stained. You might assume that you're stuck with a patio that looks less than ideal, but there are also many ways to clean a concrete patio and return the concrete surfaces to their original pristine state.
The first step is to remove any patio furniture or plants and to give the space a quick sweep to brush away any loose dirt and debris. Make sure not to use a brush with metal bristles, because any bristles that fall off and lie on the concrete could cause rust to develop.
Once you've achieved a clean concrete patio, you may want to apply a commercial concrete sealer to protect the patio against stains, rust, and mildew. Apply the sealer using a paint roller, including over grout between floor tiles, and make sure to replace the sealer every two to three years.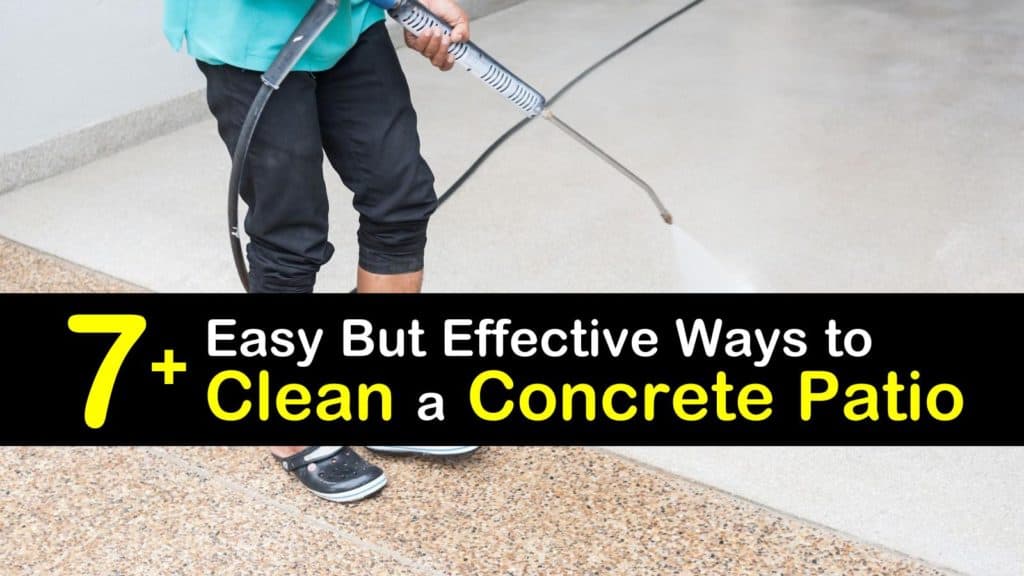 Best Ways to Clean a Concrete Patio
If you enjoy low-maintenance solutions, you'll be happy to know that cleaning sealed concrete floors is much easier than cleaning unsealed ones. In this article, we show you simple but successful ways to clean a concrete patio so that you'll never again be stumped about how to clean a concrete patio.
With a few household cleaning products in easy DIY combinations, you'll soon have a patio so clean that you'll want to break out the patio chairs and fire up the barbeque.
Use Dish Soap to Clean Cement
It's no secret that dish soap comes in handy for more than just dishwashing. This degreaser is highly effective at cleaning up concrete stains while avoiding the use of harsh chemicals.
Simply combine two gallons of warm water and two teaspoons of dish soap in a bucket, then dampen a mop with the cleaner and get washing. This is one of our favorite strategies to clean a concrete patio if you're only dealing with light stains.
How to Clean a Cement Patio using Vinegar
To tackle more stubborn stains, including rust stains and for removing paint from concrete, combine equal parts white vinegar and water. Let the mixture sit for ten minutes on the stains, and then clean the stained areas with a soft bristle brush. If, after rinsing, the stains have not disappeared, try scrubbing your patio with undiluted vinegar.
While you've already got the supplies out, did you know that you can also clean patio furniture with vinegar? For example, plastic furniture benefits from a combination of white vinegar and water.
Remove Mold from a Concrete Patio using Bleach
If you're wondering how to remove that icky mold or moss from your concrete patio, bleach diluted in hot water is the way to go. Kill moss on concrete by using this effective bleach cleaning method. Cleaning concrete is easy using this powerful household disinfectant.
Be sure to wear rubber gloves when combining one cup of bleach with one gallon of water. Rub away the mold and mildew using a soft scrub brush, and rinse away the cleaning solution with your garden hose.
As an alternative, combine bleach and water in the same proportion but add 1/8 cup of dish soap. Using a spray bottle, squirt the mixture onto your patio. Let it sit there for a few minutes, and then use a stiff brush to work the cleaner into the concrete.
DIY Concrete Degreaser
Use this homemade concrete patio cleaner to remove oil stains from outdoor concrete. If you're wondering how to clean a cement patio that's marred by grease stains, look no further than this straightforward cleaning method.
Follow this guide to create a homemade deck cleaner with vinegar for any material. Vinegar is a great solution to kill mold, mildew, moss, and more.
For an easy way for cleaning grease off concrete surfaces like your driveway or patio, spread baking soda on the stained area and allow it to sit for a few minutes before pouring vinegar over the stain.
After the vinegar fizzles out, work in some laundry detergent using a stiff brush. Finish by rinsing the area with a hose.
Another way to clean up oil and grease stains from concrete is to spread a thin layer of cat litter over the stain. Leave the kitty litter there overnight, then sweep it away. This unlikely concrete cleaner soaks up any oil that's stained a concrete patio and usually works quite well for removing oil stains from concrete.
How to Clean a Concrete Patio using a Power Washer
In case you're not familiar with them, a pressure washer is a machine that releases a high-pressure stream of water, while a power washer does the same thing but specifically using hot water. These machines are invaluable for cleaning large surfaces, such as a concrete patio or the facade of a building.
The good news is that it's possible to rent a pressure washer if you think you'll only use it once or twice each year. To make your cleaning solution, pour one gallon of hot water into a bucket and stir in baking soda a little bit at a time, making sure that it dissolves properly.
Add some dish soap and one quart of bleach, stirring slowly so that the mixture does not overflow. Pour your homemade cleaner into the power washer and follow the instructions on the package.
Use Hydrogen Peroxide for Cleaning Cement
Hydrogen peroxide is available at some pharmacies, big-box stores, and home improvement stores. It's a relatively mild disinfectant and cleaner, although it can still cause skin irritation, so be sure to wear gloves.
If possible, replace the screw cap on your bottle of hydrogen peroxide with a spray nozzle so that it's easy to spray the chemical across your patio, focusing mainly on dirtier sections.
If you like, spray vinegar on top of the hydrogen peroxide to clean even more effectively. In any case, scrub with a nonmetallic brush to get rid of those tough stains that just don't want to go away.
Ways to Clean a Concrete Patio using Oxygen Bleach
If you're looking for a relatively safe and environmentally-friendly chemical to clean a deck without a power washer, try oxygen bleach, such as OxiClean. One option is to sprinkle this versatile powder over the patio. Scrub at stains using a push broom, then let the bleach sit there for about 15 minutes before rinsing it off.
Alternatively, combine two scoops of bleach with two tablespoons of water to make a thick paste with the consistency of peanut butter. Leave the paste on stubborn stains for one hour before scrubbing it away with a brush.
Another option is to dilute oxygen bleach following the instructions on the package and then spray the mixture over your patio, remembering to rinse it away after a few minutes. Any of these oxygen bleach uses help you return your patio to a clean state.
You may have just finished a cement project and are left with dollops of concrete on your clothes. Getting dried concrete out of clothes doesn't have to be a chore. Let the cement dry, and treat the stains with OxiClean.
How to Clean a Cement Patio using Muriatic Acid (Carefully!)
If none of the other cleaning solutions have been successful, consider using muriatic acid powder. However, it's important to note that contact with this strong chemical can cause skin burns or damage to your eyes, lungs, and nose lining.
If you do use muriatic acid to remove mineral deposits or mold from your concrete patio, make sure to wear protective gear, including goggles and a face mask. Muriatic acid is readily available at many home improvement and big-box stores.
To prepare your cleaning solution, carefully pour one part muriatic acid into four parts hot water and stir to combine. Pour the acid over your patio and let it sit there for about ten minutes, making sure to rinse away the acid before it dries. Finish by sprinkling baking soda to neutralize any remaining acid.
How to Remove Rust Stains from Concrete
Ugly rust stains might emerge on your concrete patio if a metal object, such as an old garden tool or a bristle from a wire brush, was left on its surface, especially during a rainstorm. Thankfully, it's easy to use an acid like lemon juice, white vinegar, or even a cola soft drink to dissolve the rust on your concrete patio.
These everyday household products each make an excellent rust remover. Pour your chosen acid onto the rust stain and allow it to sit there for at least ten minutes. Scrub at the stain using a scrub brush and rinse the concrete with cold water. Voilà! One rust-free concrete patio.
All you need to clean your patio with one of these easy methods are products that you likely already have around your house, such as dish soap and vinegar, and standard cleaning tools like a broom and a nonmetallic scrub brush.
Purchase any additional items, such as hydrogen peroxide, if necessary, and then you're good to go. If you were puzzling over how to clean a concrete patio, now all you need to do is gather these supplies and get started.
Whether you decide to sweep, spray, or sprinkle, with our easy concrete cleaning solutions, you'll soon be able to sit on your patio without wincing at the grime and stains.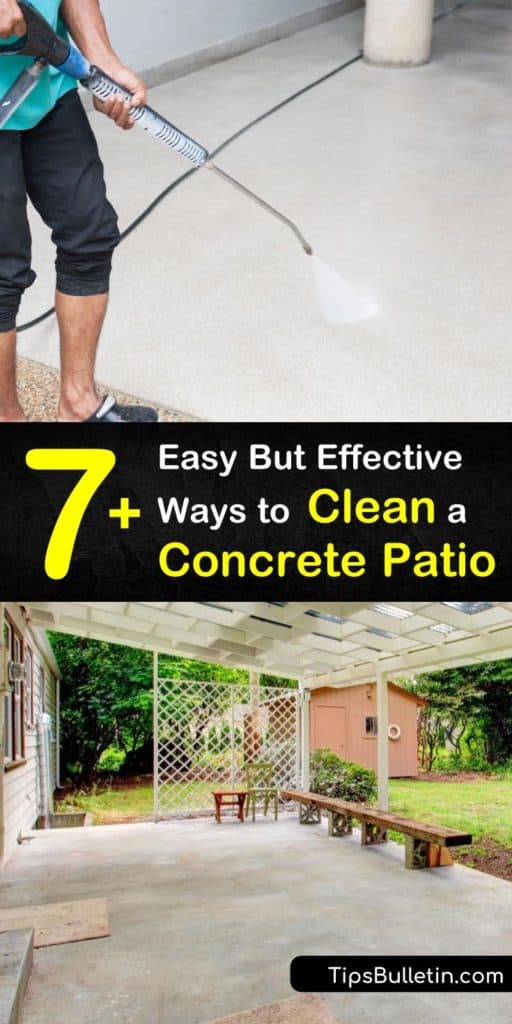 If you found these concrete patio cleaner tips useful, please share these ways to clean a concrete patio on Facebook and Pinterest.