Cool mist humidifiers have many uses, from relieving cold symptoms and dry skin to reducing snoring and humidifying houseplants. However, dirty humidifiers are problematic to your health, and a clogged unit eventually stops working. We'll show you how to clean a cool mist humidifier with daily maintenance and deep cleaning solutions.
Unlike warm mist humidifiers, the cooling varieties moisturize the air with cool mist, making it a safer alternative if you have children and pets. While these handy little machines humidify the room, they also disperse nasty materials into the air you breathe if you fail to clean them daily.
Anything that holds water is a potential breeding ground for germs, mildew, and mold, including a cool mist humidifier. They are the perfect environment for bacteria growth, and they often build up with mineral deposits and limescale from hard water and require regular cleaning to operate correctly.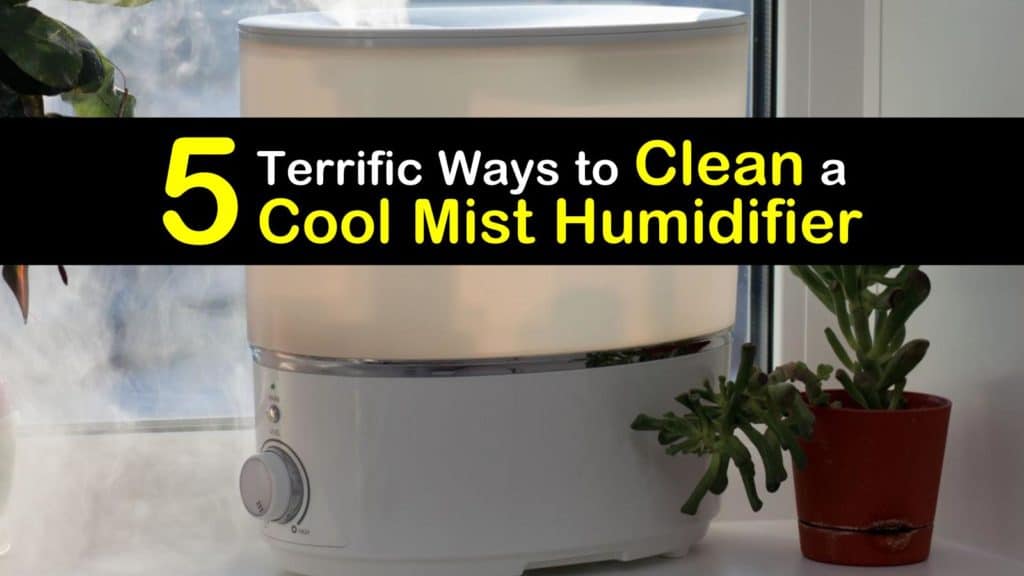 Cleaning and Maintaining a Cool Mist Humidifier
How does a humidifier work? Adding moisture to the air keeps it from being so dry.
Breathing fresh, clean air is important to our health, whether it's indoors or out. Cleaning indoor air with a humidifier is simple as long as you maintain the unit.
It's essential to clean a humidifier or vaporizer, whether it's a basic or ultrasonic humidifier. Disinfecting, unclogging mineral buildup, and keeping the unit clean are essential to your health and your unit's operation.
Cool Mist Humidifier Operation and Cleaning
How do cool mist humidifiers work, and what's the simplest way to clean them? Knowing how these units operate and performing daily maintenance ensures that the humidifier works properly for healthy indoor air.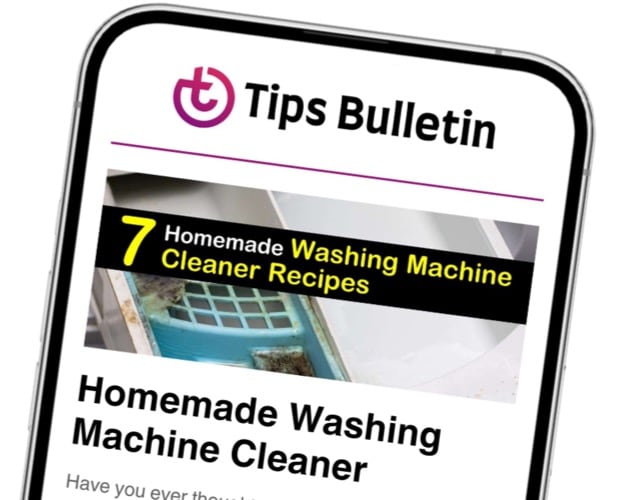 Finally, an email that Transforms Your Home.
Get the latest home and garden tips from our experts, delivered straight to your inbox.
Whether you need to know how to clean Vicks cool mist humidifier or another brand, they all mostly work the same. Cool mist humidifiers have a wick that pulls up water from the base. A fan then evaporates the water into the air, increasing the humidity of the room.
If you regularly use your humidifier, daily maintenance prevents cleaning a clogged cool mist humidifier in the future. To keep it clean, unplug the unit from the electrical outlet and disassemble it by removing the water tank from the base.
Take the cap off and dump the remaining water into the sink. Fill the tank halfway with tap water and swish it around before pouring it out. Use a clean cloth or paper toweling to wipe down the inside and then reassemble the humidifier.
Best Way to Clean a Cool Mist Humidifier to Remove Scale
Scale is the result of mineral deposits in your water, and over time, this crusty residue prevents your humidifier from working correctly. The best way to clean a cool mist humidifier or the ideal way to clean an ultrasonic humidifier is to remove scale is with white vinegar.
To deep clean your humidifier, remove the tank, dump out the remaining water, and set it aside. Plug in the base and turn it on to dry out the wicking filter. After it dries, turn off the unit and unplug it from the wall.
Remove the filter, set it aside, pull out the water tray, and set it in the sink. Pour white vinegar into the tray until it's halfway full and let it sit for 20 minutes.
Clean the tray inside with a sponge, rinse it thoroughly under warm running water, and set it aside to air dry. Fill the tank with half a gallon of water and two tablespoons of vinegar and replace the cap.
Swish the liquid around to coat the inside and let it sit for 20 minutes. Remove the lid, dump out the liquid, and dry the inside with a towel.
Add the water and vinegar to a spray bottle for one of the best home remedies for disinfectant spray and cleaner for use all over the house.
Cleaning a Clogged Cool Mist Humidifier
If you have hard water in your house, there are times when your humidifier stops working efficiently. This is often due to clogs from mineral deposits, and cleaning a clogged cool mist humidifier is essential to optimal performance.
Follow this simple technique to unclog and clean a humidifier to get it working correctly again.
To unclog a cool mist humidifier, pour a decent amount of undiluted white vinegar into the humidifier base and let it sit for about an hour.
Use a small brush or toothbrush to scrub away deposits and grime from the inside of the base, rinse it completely with clean water and dry it with a clean cloth.
How to Clean a Cool Mist Humidifier to Remove Germs
While it's important to descale your cool mist humidifier, it's just as necessary to clean it to remove germs.
The inside of this machine is a breeding ground for bacteria that gets into the air you breathe and disinfecting it is vital to your health and well-being.
To clean mold, mildew, and germs inside your humidifier tank, pour one gallon of water and a teaspoon of bleach into the tank. If you prefer not to use bleach, replace it with one part hydrogen peroxide and four parts water.
Put the cap in place and shake the container vigorously to clean the inside. Let it sit for about ten minutes, and then dump out the bleach water. Rinse the tank with clean water until the bleach smell is gone, and then dry it with a clean towel.
To disinfect the water tray, make a solution with one gallon of water and a tablespoon of bleach. Dunk a sponge into the liquid and use it to wipe down the inside of the tray. Rinse it with clean water and dry it with a towel before you reassemble it.
Maintaining a Cool Mist Humidifier
Day-to-day care and maintenance of a humidifier are just as important as knowing the best way to clean a cool mist humidifier. These machines run most effectively with proper operation.
Rinse and refresh the water inside the humidifier daily, and perform a deep clean once a week. Change the wicking filter every five weeks or so.
If you have hard water, change it more frequently to ensure the filter operates appropriately. For occasional use, clean the water tank to remove dust beforehand, and clean and dry it thoroughly before storing it.
There are many benefits to using a cool mist humidifier in your home. However, not following a routine and deep cleaning schedule causes the unit to stop operating and often leads to breathing problems and health issues.
Fortunately, humidifiers are easy to clean using a simple cleaning solution with vinegar or bleach.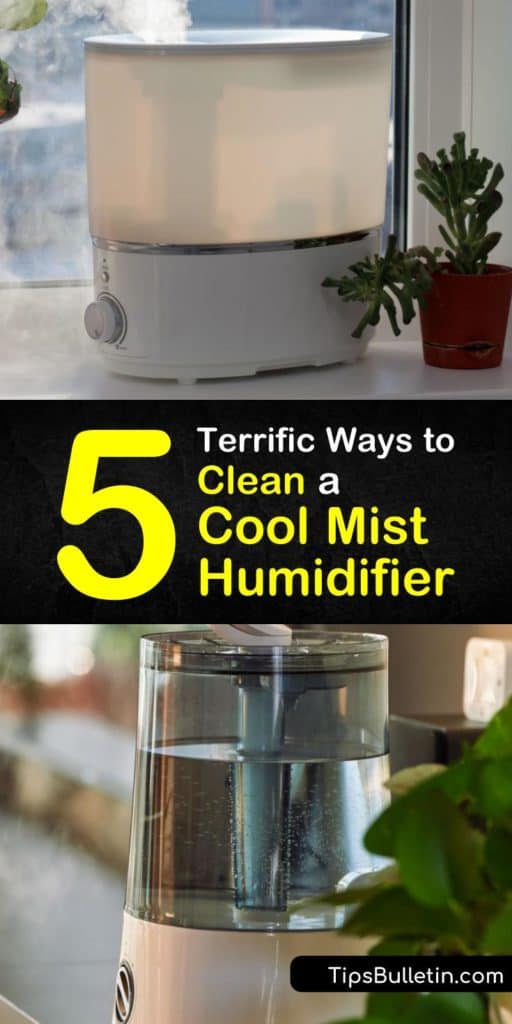 It's important to know how to clean a cool mist humidifier to remove bacteria and hard water deposits, so why not share our cool mist humidifier cleaning tips and methods with your family and friends on Pinterest and Facebook?