Copper sinks and faucets add color and beauty to a home and have a living finish that evolves and improves over time. Exposure to the wrong products or grime and gunk buildup mars your sink's natural patina, though. Understanding how to clean a copper sink allows you to have a tried-and-true approach that can handle the worst tarnish, water spots, and mineral deposits.
When you have reliable choices for cleaning copper sinks, they stay as bright and shiny as a new penny. Our look at copper-cleaning tips gives you a rundown of the best ways to clean a copper sink.
We show you options perfect for daily care of your copper surfaces, and most of the treatments work wonders on stainless steel and other surfaces, too. These DIY methods give you copper sink care suggestions that allow you to take grimy copper kitchen sinks, bathroom sinks, cookware, countertops, and other copper products and make them gleam once more.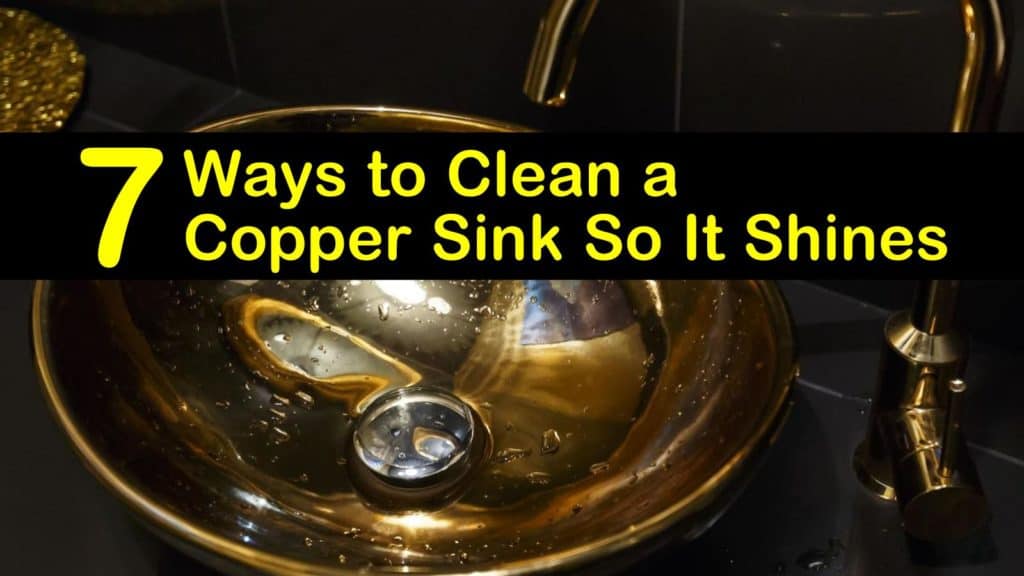 Cleaning Copper Sinks
Copper faucets and sinks are ideal for home use. Keeping copper spot-free is as easy as cleaning stainless steel sinks, and copper also has antibacterial and anti-microbial properties that help to protect your loved ones from illness.
With regular attention and a solid plan, your shiny copper sink and fixtures stay sparkling and ready to handle anything you send in their direction.
Daily Solutions
We offer regular care and cleansing tips in this portion of the guide. Our daily preventative and cleaning methods give you home remedies that help you clean up after unclogging a copper sink or washing a grimy pot or pan. These treatments are essential tools for your daily chore kit.
Treat Your Copper Sink with Care
Copper is a fantastic material for kitchen or bathroom sinks, but it requires special attention if you don't want its luster to fade. A few precautions ensure that your daily maintenance keeps tarnish, hard water, and damaging products away from your copper.
If you remain vigilant in cleaning copper, your copper stays as attractive as the day you bought it for many years. Acidic foods eat into copper, so wash away ketchup and products with similar properties before they cause permanent damage. Toothpaste scratches copper and leaves marks, so rinse it off your copper bathroom sink as soon as you can.
Avoid using clean-copper scrubbing pads that are also abrasive cleaners such as steel wool, and don't use scrubbers that include harsh chemicals like bleach. These ingredients might scratch or discolor your sink. A nylon scrubbie should work just fine on your copper sink or other copper items.
Use a Damp Sponge for Daily Treatments
Knowing how to clean a copper sink doesn't just mean having complex, advanced approaches for getting copper looking amazing. Simple options do best when you're not dealing with a bad mess, set-in spots, or uneven patina.
Warm water, a sponge, and elbow grease do much of the necessary work in many cases and prevent buildup. Best of all, this treatment doesn't add additional chemicals to the mix.
Put on gloves and dampen your sponge in warm water. Wipe the sink down from top to bottom, using a gentle scrubbing motion on any areas that require more attention. When you finish with the sponge, dry all surfaces to prevent additional water spots or other discolorations from forming.
Get Your Sink Shining with Dish Soap
There's no need to reach for heavy-duty chemical cleaners right off the bat when you clean copper. Sinks made of copper and similar materials are tough customers and do just fine if you use liquid dish soap and water most of the time. Reach for mild dish soap to deal with regular stains and similar challenges.
Fill a container with two cups of warm water and a teaspoon of mild soap. Wet a sponge in the mixture, and wipe down the sink. Scrub off stains and water spots by applying gentle pressure, and continue until the copper is stain-free and spotless. Rinse the sink with clean water and dry with a soft cloth.
Soap and water are also usually all you need to clean copper mugs. If there are some stubborn stains, try using vinegar.
Use Vinegar on Your Copper Sink
The acetic acid in white vinegar makes it the perfect mid-level cleaner for your sink. Cleaning copper with vinegar works wonders; the vinegar eats through mineral deposits and tarnish. A pass with vinegar makes your copper sink shine.
Give vinegar a shot before moving on to the more powerful cleaners. Avoid using it on vintage patinas, as the acid in vinegar removes the aging and color from the finish. Vinegar also works wonders on porcelain sinks.
To clean tarnished copper sinks or other items, mix the water and vinegar in a container, and wet a sponge in the solution. Scrub at stains and discolorations with a damp sponge, using a gentle, circular motion.
Repeat until the copper is clean and shiny again. Dry the metal with a clean cloth to prevent oxidation and further stains from developing.
If you have copper in other areas in your home, vinegar can help there, too. Clean copper jewelry with vinegar, decorative accents, and more with this versatile and inexpensive household ingredient.
You can even clean a copper penny with vinegar. Be careful with collectible coins, however. It may be best to leave them "as is" so that you don't ruin their value.
The Best Ways to Clean a Copper Sink
Your standard cleaning options work most of the time to protect and clean copper sinks, but some buildup and stains require a more forceful approach. No worries, though. There are plenty of copper care treatments that use a bit more oomph and knock out stains without breaking a sweat.
How to Clean a Copper Sink – Heavy Duty Cleaners
In this section, we include ways to clean your sink that take on the tough stains and come out on top. You get home remedies that use baking soda and suggestions for when and how to use copper cleaners and sealants to keep the worst of the stains from returning.
Our copper care tips help to preserve your sink's good looks and ensure that your kitchen stays both attractive and spic-and-span.
Remove Tough Stains with Baking Soda
Baking soda is one of our favorite home cleaners and an ideal go-to for DIY brass cleaning, as well as for getting your copper looking like it's brand new. Use baking soda to take on persistent stains or unsightly spots on your sink that the milder treatments can't touch. This hack is worth a try before graduating to professional products.
Form a thick paste with the baking soda and warm water. Substitute vinegar for water if you are cleaning a new sink without an existing patina.
Apply the paste to any stubborn stains or surfaces you wish to clean with a sponge and wait a minute to let the stain loosen a little. Scrub gently, rinse the sink with warm water, and dry all surfaces with a clean cloth.
This recipe works well to clean a copper sink and a copper pipe that may have tarnish, dirt, and other stains.
Control Aging and Stains with a Copper Cleaner
Your DIY efforts keep much of the tarnish and buildup from harming your copper sink's good looks, but home remedies can only do so much on their own. An effective game plan for keeping copper sinks looking beautiful also includes regular treatments with a commercial copper cleaner.
A copper cleaner is an essential element in your fight against ugly, discolored metal. Wear gloves and all other appropriate safety gear when using copper cleaner, including breathing and eye protection if needed.
Open windows and give yourself adequate ventilation. Follow the manufacturer's instructions so you can reach out to the company for support if needed. Rinse the copper surfaces after you clean them and dry the metal with a towel or cloth to prevent future issues.
Apply a Sealant
When cleaning your copper sink and faucets, the fight against stains and tarnish can seem endless. Copper has a living finish, and it develops a natural patina over time. To enjoy the fruits of your labor and prevent the copper from darkening and restaining, lay down a sealant layer after you clean it.
A food-safe wax or lacquer is just what you need to maintain the mellow gleam of copper after a good stain removal session. There are excellent commercial copper protectants and lacquers available at your local home improvement center, and carnauba wax works wonders on your sink's surfaces, too.
Use a soft and clean cloth to apply the wax or another sealant, and buff it to a high shine. Taking the time to give your sink this sort of treatment reduces required heavy-duty cleaning frequency and keeps your copper gleaming.
We hope you had an educational journey investigating our copper care recommendations. Copper sinks are sturdy and attractive, but they require attention if you want them to remain clean. Our sink treatment suggestions help you preserve your copper and keep it looking fabulous.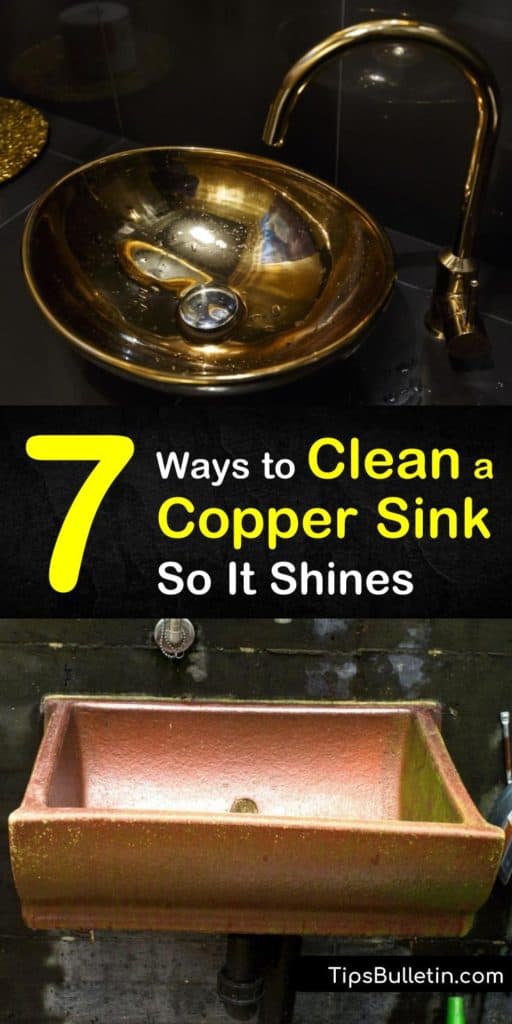 Thanks for reviewing our copper cleaning tips. Pinterest and Facebook are excellent platforms on which to share how to clean a copper sink, as you may hope to assist others in learning about sink care as you did.