The day that you never thought would come has finally arrived when your new Cricut machine and accessories get dropped at your doorstep. Informing yourself on how to clean a Cricut mat is one of the most useful actions you'll take on as a crafter.
Whether you make your own homemade Cricut mat cleaner or are looking for some natural cleaning hacks, knowing how to clean a Cricut cutting mat helps get as many uses out of your new art tool.
To put it plainly, Cricuts are cutting machines used to make papercrafts. Depending on what model you have, these machines are also able to draw, emboss, make folding lines for 3D projects, and make boxes, stickers, greeting cards, and more.
A Cricut maker might be a smart purchase if you're looking to take your art projects up a notch. This cutting machine takes your designs to the next level and makes projects look cleaner and more professional. Using the mat that comes with the Cricut is essential to making your work perfect.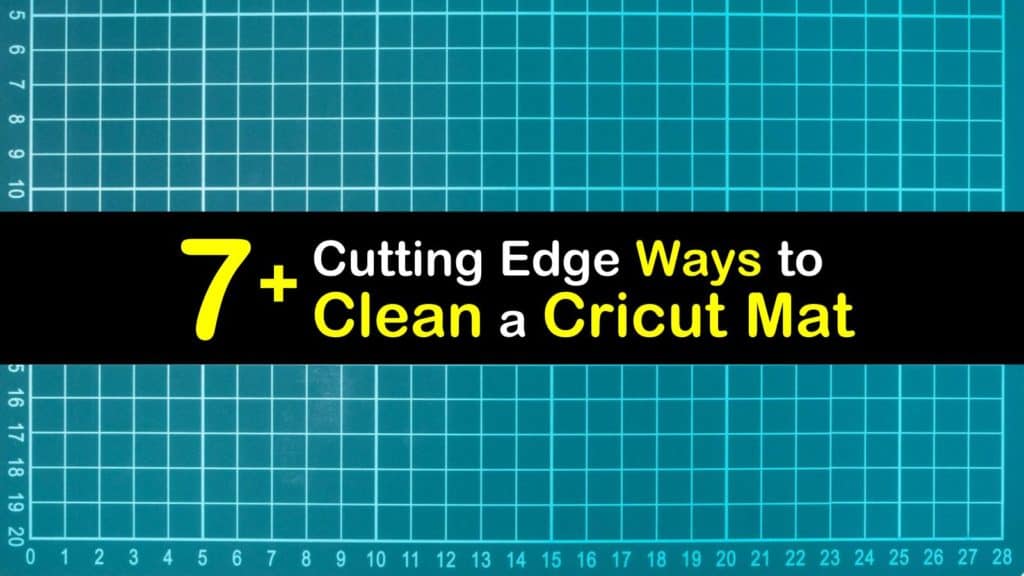 Why You Should Clean a Cricut Cutting Mat
A new mat has a layer of stickiness that helps hold down the craft while the machine works its magic. This sticky mat generally lasts for up to 40 uses, but knowing how to clean a Cricut mat extends its life and rejuvenates it, making the Cricut mat sticky again.
After some time, cleaning the mat no longer makes the mat sticky, but there are ways to add that essential tacky layer back. Aside from extending the life of your Cricut accessories, there are other benefits to keeping your mats clean.
Sometimes, if the mat isn't adequately taken care of, a toll may be taken on your art projects. If the mat isn't sticking to your paper projects, this affects the cut of the machine.
Your work may slide around and result in a visually unappealing project. If you keep having to redo your crafts, you're essentially throwing money down the drain. Keeping your Cricut mat clean helps save cash on supplies and new mats in the future.
How to Clean a Cricut Mat
Clean Cricut mats one you notice that they begin losing a little bit of their sticky texture. Cleaning the mat now and then is an excellent way to maintain your cutting supplies.
Crafters use a green mat or fabric mat most often for crafting projects, and each has a variety of ways to keep them working at peak performance. Keep in mind that there are several different types of Cricut cutting mats.
Of course, there are different sizes. The size of your mat directly correlates to the amount of product you use to clean your mat and make it sticky again. There are also mats with different grip strengths. Use light grips for lightweight materials like printer paper.
Use standard grip mats for stuff like cardstock and vinyl. Use sturdy grip mats for heavy supplies like leather and poster board. Finally, use fabric mats for bonded fabrics or other similar materials.
Keep in mind that these differences may affect your Cricut mat cleaning results and may require repeating the cleaning process several times until rid of all leftover debris.
Traditional Cricut Mat Cleaning
Use a hard, plastic scraper on the mat to remove build-up from other projects. Don't forget about the edges of the mat by going around the silhouette several times.
Once you scrape off excess debris, use alcohol-free baby wipes or a lint roller to remove leftover particles on the surface.
Fill a small glass bowl with dish soap and warm water. Dampen a clean cloth in the soapy water and lightly scrub the surface of the mat. Rinse the cutting mat with warm water and let it air dry.
Soap and water work wonders on all sorts of surfaces, from your Cricut mat to squeaky clean silicone baking molds.
Cleaning Cricut Mats with Magic Erasers
Remove excess build-up with a plastic scraper. Dampen a Magic Eraser with warm water and lightly scrub the surface to remove residue. Rinse with warm water and let the cutting mat air dry.
Using Degreaser on Sticky Mats
Sometimes cutting mats are extra dirty with no stickiness left. This issue is fixable with a more robust cleaner. Spray a store-bought degreaser on the mat and use a clean cloth to scrub the surface.
The degreaser begins cutting through residue on the exterior. Clean the degreaser off with soap and hot water and let air dry.
If you'd rather use a more natural cleaner, use vinegar as degreaser on your mat. It cuts grease and eliminates stains with ease.
A Simple Homemade Cricut Mat Cleaner
If you're short on cleaning supplies for Cricut cutting mats, there is a super simple way to remove lint and debris from your mats.
Wrap a loop of painters tape or masking tape around your hand with the sticky side pointing out. Run your hand with the tape over the mat's surface to pick up particles and be left with a clean, sticky finish.
DIY Cricut Mat Cleaner
This homemade Cricut mat cleaner works best for those who plan on resticking the mat after the cleaning process. The strong chemicals strip away everything on the mat, including the stickiness, and requires the use of a repositionable adhesive afterward.
Put on rubber gloves and safety goggles whenever handling harsh chemicals. Pour a tiny amount of rubbing alcohol on the mat. Use a clean rag and scrub the surface of the mat.
Remove the rubbing alcohol with a paper towel. Wash the mat in dish soap and hot water and let air dry. Try this solution for how to get super glue off plastic surfaces, too.
You can also use this simple solution as a natural yoga mat cleaner after a workout.
Goo Gone Tack Stripper
Goo Gone is an adhesive remover available for purchase at your local hardware store. This product is especially useful when you notice your cutting mat requires a stickier surface after regular use.
Drizzle some Goo Gone on your cutting mat and spread it around with a paper towel. Let the Goo Gone sit on the mat for 15 to 20 minutes.
Use a plastic scraper to get all debris and tack off the mat, then clean the cutting mat with hot, soapy water. Rinse with fresh water and let it air dry. When it dries, you're ready to apply the product to make the mat sticky again.
Resticking Your Cricut Cutting Mat
Instead of purchasing an entirely new mat, there are several strategies for resticking your mat's surface.
Of course, only restick your mat after it has been stripped for debris and tackiness and thoroughly washed and dried. A clean surface is key to having your old mat feel new again.
After your cutting mat is stripped, cleaned and dried, tape off the edges of your mat with painter's tape. The edges of the Cricut mat need to be free of tackiness because the sides are the parts that get pulled through the machine rollers.
You don't want the rollers in the machines to become sticky, so this is an essential step. Once all the edges of the mat are covered, it's time to apply adhesive. Dip the silicone pastry brush in the glue and apply a thin layer over the cutting mat's exposed surface.
Let the coating dry and apply two or three more coats in the same way. Remove the painter's tape from the edges only after the adhesive has dried thoroughly. The mat is now ready to use again.
Other Adhesives for Making Mats Sticky
There is a wide assortment of products to assist in making your cutting mat sticky again. Our favorite is an adhesive spray. Spray adhesive creates a thin layer of stickiness and is easy to apply.
It requires minimal effort and materials and is one of the fastest ways to repair cutting mats.
If you're looking for even more products, there is scrapbooking glue, repositionable glue sticks, quilt basting spray, and tacky glue that is applicable after mixing with water. Use whichever glue you think works best for you and your supplies around the house.
Store-Bought Cricut Mat Cleaners
Some people prefer to purchase their Cricut mat cleaners at the store because there is usually a great guarantee that they work effectively. There are various mat cleaners available for purchase online and at your local crafting store.
The downside to these cleaning products is that they tend to be pricey. They typically work as well as a homemade Cricut mat cleaner. The choice is up to you, but try out one of our DIY strategies before rushing to the store. You'll be amazed by the results.
Knowing how to clean a Cricut mat is an essential step in the crafting process. It helps the artist realize they are getting the most precision possible without worrying about dust, lint, or dirt affecting the overall outcome.
Regular cleaning also allows materials to slide with ease into the cutting machine and stay there during the cutting. Don't spend your money buying new mats regularly when there is a more natural way to handle it.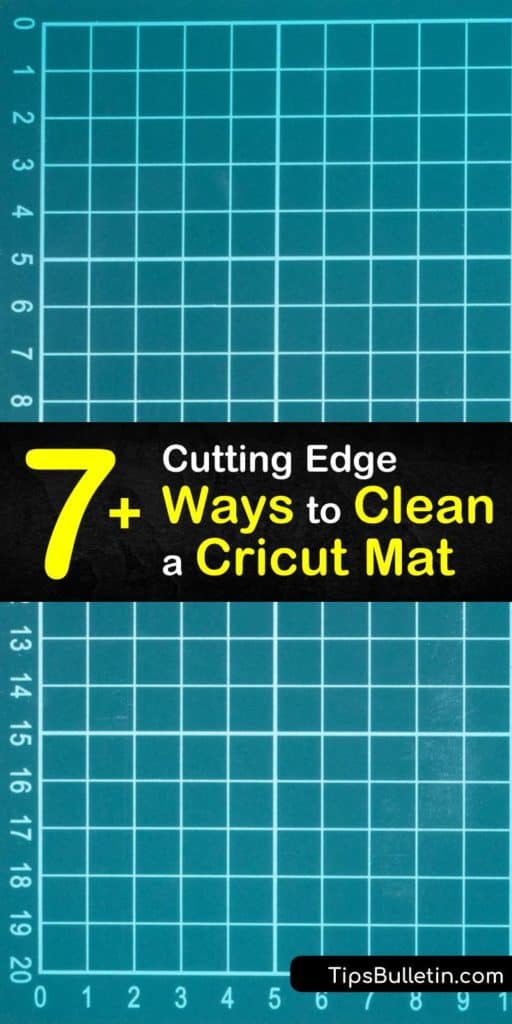 If learning how to clean a Cricut mat has helped your projects maintain professional quality, share these Cricut mat cleaners on Facebook and Pinterest.