Nothing can ruin a good morning more than a bad cup of coffee. Calcium deposits and old coffee stains alter the flavor of coffee and result in insufficient brewing. We'll show you how to clean a Cuisinart coffee pot, whether it is a single-serve brewer, fully automatic carafe brew coffee maker, or programmable coffeemaker.
Both the outside and inside of your Cuisinart coffee machine need regular cleaning, and this is especially true if you are a regular coffee drinker. Over time, coffee brewers get a mineral buildup in the inner workings and water reservoir. This buildup is the result of hard water, and you must clean it for optimal performance.
Making coffee in a brewer clogged with calcium buildup results in reduced operation and bad tasting coffee, whether you are using a Cuisinart coffee maker, Keurig, or other brand name coffee machine. Regular cleaning is key to ensuring that your Cuisinart keeps your flow of coffee smooth and delicious.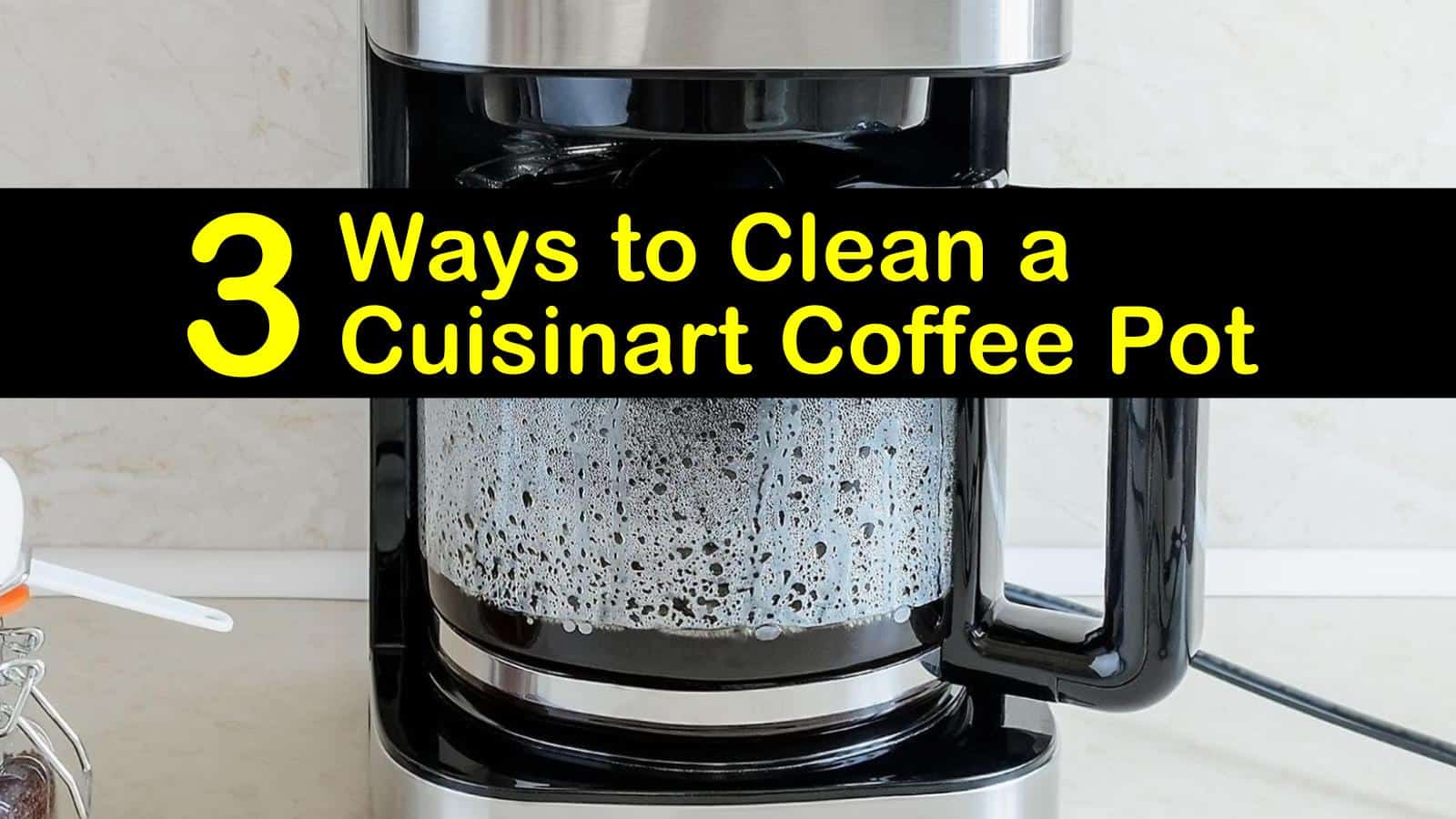 Cleaning a Cuisinart Coffee Pot
Learn how to clean your coffee pot to remove coffee and hard water stains using water, soap, and vinegar. We'll also show you how to clean a brewer clogged with mineral deposits through decalcification. Whether you are cleaning a Keurig coffee pot, a Cuisinart, a French press or another coffee maker, we have the tips you need to ensure it is ready for making your next cup of joe.
Easy Cuisinart Pot Cleaning Tips
Take a few steps to ensure that your coffee maker runs efficiently and that you get the best cup of coffee it can produce. Here are several Cuisinart coffee pot cleaning tips to make the job easier.
Coffee Maker and Pot Cleaning Tips
There are electrical heating components seated within a coffee maker, so unplug the machine before performing any cleaning to the surface. Always allow the coffee maker and pot to cool completely before washing them. A glass carafe that goes from hot to cold has the potential to crack or shatter.
If you drink coffee daily, use vinegar to decalcify the water reservoir once a month. If you only enjoy the occasional cup of coffee, clean it at least once every six months.
Mineral deposits in the coffee maker are a result of hard tap water. While a charcoal water filter may remove chlorine and sediment, a water filter does not reduce calcium and other minerals. To prevent these mineral deposits from building up in the coffee reservoir, consider using a water softener rather than tap water.
Never immerse the coffee machine in water. The device contains electrical parts that will get damaged if water gets into the base unit. Avoid using harsh chemicals or scouring pads to clean the unit to prevent scratching.
Easiest Way to Clean a Cuisinart Coffee Pot
Clean the exterior of your coffee maker as part of your kitchen cleaning routine to ensure optimal performance and a great-tasting cup of coffee. One of the best ways to clean a Cuisinart coffee pot is to use simple cleaning ingredients and a little know-how.
Begin by turning off your coffee maker and unplugging it. If you recently brewed coffee, allow it to cool before cleaning. Slide the filter basket out of the Cuisinart coffee maker and discard any ground coffee. If your model has a coffee grinder, remove that basket as well.
Squirt dish soap into a sink filled with warm water. Wash any removable parts, such as the carafe and filter basket with a sponge and soapy water. Rinse thoroughly with cold water and allow them to air dry. You can also place these items into the top rack of your dishwasher for easier cleaning.
Use a damp cloth to wipe the exterior of the coffee machine. Make sure that you get into unseen areas beneath the filter basket. Apply a dab amount of dishwashing detergent to the cloth and wipe the burner plate to remove dried or burnt coffee stains.
Wipe away the soapy residue with a damp cloth. Reassemble the Cuisinart grind basket, filter, and carafe before using it.
Often, all you need is some dish soap and hot water to remove coffee stains from stainless steel coffee makers, too. If streaking becomes a problem, add some vinegar to the mix. The stainless will shine like new.
Cleaning the Coffee Pot Reservoir
If you are an everyday coffee drinker, decalcify the water reservoir once a month to ensure that the coffee machine operates appropriately. If your device has a clean button, it will blink when it's time for a cleaning. Vinegar can be used for coffee pot cleaning to remove hard water deposits that build up over time.
To descale your coffee pot and for cleaning your coffee pot with vinegar, begin by emptying coffee grounds from the coffee filter basket or discarding the paper filter, and dumping out any leftover coffee in the carafe. Descale the coffee maker with two-parts water and one-part vinegar.
Use the carafe or coffee cup to measure the vinegar and tap water and then pour the solution into the water reservoir for cleaning a Bunn coffee pot with vinegar. If you have a 12-cup coffee maker, fill the water tank with eight cups of cold water and four cups of white vinegar.
If your coffee maker has a clean button, press it once and then push the on/off switch. When the machine beeps, the cleaning cycle is complete. If your coffee machine does not have this option, run a manual brewing cycle instead.
For deep cleaning of the brewer, stop the maker halfway through the brew cycle and let it sit for one hour before resuming the cycle. Allow the coffee maker to cool completely, especially if you have a glass carafe.
Discard the dirty vinegar solution and give the carafe a good rinsing before filling it with clean water. Run a second brew cycle with water only to flush out any vinegar and leftover deposits. Repeat up to three times to ensure all residue is flushed.
The best way to clean a thermos that holds your coffee day after day is to add vinegar and water to the container, close it and shake it vigorously. Let the solution sit in the thermos for a couple of hours, rinse, and use a bottle brush to remove any residue. Rinse thoroughly with clean water and you're ready for your next cup of coffee.
Using the right cleaning solution and methods ensure that your Cuisinart coffee pot continues brewing your coffee effectively. Simple ingredients such as dish soap and white vinegar can remove old coffee stains and the buildup of hard water deposits when used correctly. Roll up your sleeves, clean that coffee maker, and enjoy a rich and steamy cup of Joe.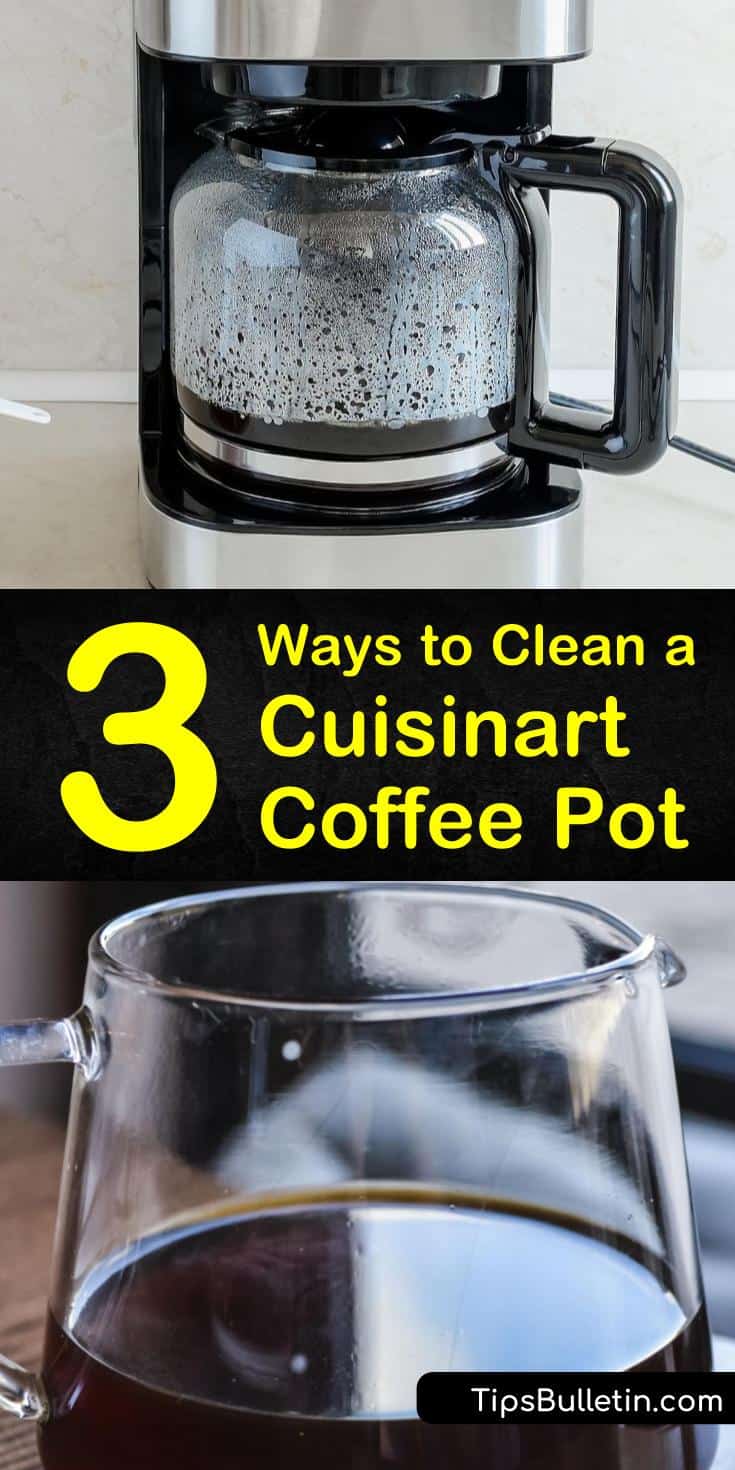 Now that you have tips on how to clean a Cuisinart coffee pot so that you can savor a delicious cup of coffee or tea, why not share these coffee pot cleaning ideas with your family and friends on Pinterest and Facebook?