Is your cutting board looking worse for wear? Don't wait until your board is ruined or you suffer food poisoning to find out how to clean a cutting board. Every kitchen needs a chopping block or two. Whether you prefer brightly colored plastic, rich wood, or even sleek and stylish glass, there are cutting board options for every look.
Though your cutting board matches your decor, it is essential in protecting your knives, countertops, and food hygiene. A clean cutting board halts the risk of cross-contamination and prevents knife marks from marring expensive countertops. A filthy cutting board transmits germs and could result in digestive illness.
Anyone who cooks must understand how to wash a cutting board to remove all traces of food particles and microorganisms. Thankfully, cleaning a cutting board is simple. Use tried and tested methods to eliminate tricky stains and eradicate germs from your cutting board so you make your next meal with confidence.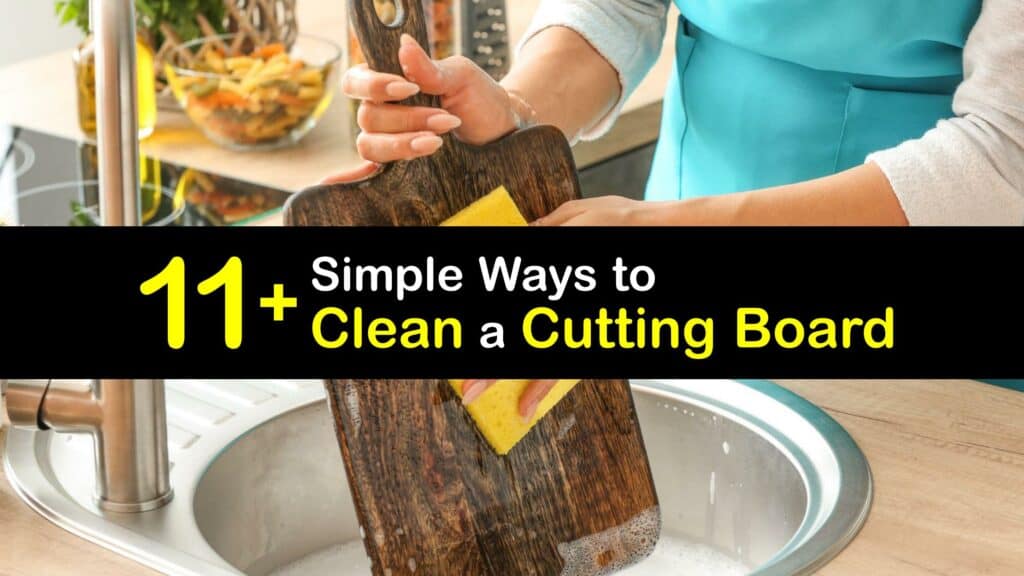 Home Remedies for How to Wash a Cutting Board
Many people are unsure how to clean a cutting board despite the health risks the boards pose. Cutting boards harbor microorganisms and, if not sterilized, lead to food poisoning. Take every precaution to conserve hygiene in the kitchen – the cutting board is a huge source of contamination and is frequently overlooked.
Aside from health benefits, maintaining your cutting board prolongs its lifespan, keeping it beautiful and functional longer. All boards sustain knife marks and begin to look worn with regular use, but there's no reason to suffer a stained and filthy cutting board.
Choose your favorite technique based on the items you have in your pantry, cleaning closet, and kitchen. Get to work to ensure your cutting board is clean and safe for food preparation.
Why Use a Cutting Board?
From ancient times, wooden slabs have been cutting surfaces for preparing meals. Cutting boards are now made of a broader range of materials, each having advantages, applications, and maintenance requirements, although their use hasn't changed significantly.
Cutting boards protect your counter from wear and add aesthetic appeal to your kitchen. Plastic and wood are the most common cutting boards because they're durable and come in various colors and styles.
A plastic cutting board is an affordable and practical choice. Plastic boards are excellent for chopping raw or cooked meat, poultry, or seafood since they are nonporous. Cutting boards made of plastic can be hand washed or go in the dishwasher, simplifying sanitation and cleanup.
Plastic is not as tough as other materials. Deep cuts and grooves in the board trap moisture and serve as a home for bacteria, necessitating frequent replacement.
Wood is a favored choice for cutting boards because it's more durable, yet not all wood is the same. Compared to softer woods such as cypress, harder woods like maple and teak are less likely to sustain knife impressions and absorb water. Knives are increasingly prone to dulling or damage on wood cutting boards.
Challenges of Cleaning Cutting Boards
Clean and dry cutting boards after each use. Cleaning your cutting board is crucial because they come into frequent contact with microorganisms from cutting food. Sterilization and regular washing are wise if the cutting board is used for raw meat, poultry, or shellfish.
Cutting boards are somewhat challenging to clean since even a newer board quickly develops minor cuts and depressions from the knife. These slices contain bacteria that are tough to clear. Cleaners failing to reach into the divots in the board leave harmful pathogens waiting to infect the next food in contact.
Some materials used to make cutting boards, including wood, need extra maintenance. The natural fibers in wood dissolve if poorly handled with dangerous chemicals or faulty cleaning procedures, ruining your wood cutting board.
Sanitize a Cutting Board With Natural Ingredients
Not only must your hands be washed before, during, and after preparing food, your workstation and tools have to be clean. Cutting boards and everything else coming into contact with food provides a risk of contamination and sickness from foodborne bacteria.
Avoiding cross-contamination in the kitchen is imperative for taste and sanitary reasons, regardless of the cutting board material. Sanitizing your cutting board or butcher block is essential to avoid getting sick from a foodborne infection.
Cutting boards can harbor hazardous bacteria and cause food-related illnesses if not cleaned and maintained correctly. Though there's a host of chemical cleaners for cutting boards, avoid using harsh chemicals on items contacting your food. Forego exposing your family to toxic compounds with store-bought cleaners and use natural ingredients to sanitize your cutting board.
Washing a Cutting Board With Lemon Juice
The scent of lemons makes everything smell clean, but its usefulness doesn't stop there. If you prefer natural cleaners, try wiping germs off a cutting board with lemon. Lemon juice contains citric acid, which destroys germs and loosens grime.
Coarse salt is a mild abrasive, reaching quickly into the slits on your cutting board to eliminate germs. Combining lemon and salt is a clever way to clean your board, and the process is very straightforward. You don't need a freshly cut lemon; a mostly-squeezed lemon suffices. This hack is a terrific way to use a lemon leftover from a cooking project.
Dust the whole plastic or wooden cutting board with coarse salt. Use one half of a lemon, with the cut side facing down, and scrub the surface, lightly squeezing the lemon, so the juice comes out. Move systematically from one side of the board to the other as you work.
Let the juice sit for five minutes, and use a plastic scraper to remove the contaminated, gray liquid and dispose of it. If required, perform the same steps on the opposite side of the cutting board, and give the surface a final rinse with a clean, damp sponge.
How to Clean a Cutting Board With White Vinegar
The collection of ingredients on the back of a bottle of soap or sanitizer is off-putting. Many prefer a natural method to clean their cutting board or kitchen utensils. Use white vinegar to replace harsh chemical cleaners and detergents.
White vinegar is acidic enough to break down tough stains and food waste clinging to surfaces without using hard-to-pronounce chemical blends. It's made from the fermentation of grain alcohol, or ethanol, by acetic acid bacteria. Vinegar can contain up to 8% acetic acid by volume, acidic enough to handle most everyday stains.
To sanitize a cutting board with natural ingredients, incorporate white vinegar and warm water into a 1:10 ratio, dip your microfiber rag, and scrub the stains away. For stubborn discoloration on your cutting board, try a more concentrated white vinegar blend using less water.
Try Dish Soap for Cleaning a Cutting Board
If you haven't got white vinegar handy, dish soap does the job. Liquid dish soap is a cheap and widely available cleaning product, excellent for everything from washing your cookware to ousting stains and cleaning your cutting board.
Most dish soaps contain detergent and surfactants instead of actual soap because detergents don't react to the minerals in water to create soap scum. This is great for your cutting board because the surfactants in the dishwashing liquid reduce surface tension and help break down grime.
Deposit the water and dish soap into your bowl, and agitate it with your towel to mix both ingredients until it forms hot soapy water. Douse your towel generously into the mixture and move it over your cutting board in circular sweeps until stains and discoloration give.
Use colorless dish soap to work with a raw wood cutting board. Blue, green, or brightly colored detergents run the risk of dying the natural wood fibers with the colorant additives.
Bleach Will Sanitize and Remove Stains
Not every stain is created equal. If dish soap and white vinegar won't work on extreme discolorations, it's reasonable to lean into heavy-duty cleaners such as bleach. Household bleach is excellent for disinfecting and sterilizing and is also great at ousting unwanted colors from wood surfaces.
Disinfect a raw wood cutting board by making your own antibacterial cleaning solution with bleach. Mix traditional bleach with water in a 1:10 ratio. Bleach is a powerful chemical; breathing in the fumes may lead to dizziness, so do not pour the bleach too freely into the water.
Use a microfiber rag to wipe your cutting board with the bleach, and scrub heavily stained areas well. Drying the board in the sun after a bleach wash is particularly effective at stripping unwanted colors. Repeat this process as frequently as necessary to erase stains.
Baking Soda Cleans a Wood or Plastic Board
Baking soda is a notorious stubborn stain and odor eliminator, so it's no surprise it's a favorite for cleaning plastic and wooden chopping blocks. If your cutting board is clean and sterile but a little smelly, sprinkle it with baking soda and leave it overnight.
The baking soda takes in any odor to leave the surface naturally fresh. Sweep away the baking soda in the morning and put it in the trash. Baking soda is a wonderful food-grade item to remove stains from wooden or plastic boards. Mix the baking soda powder into a paste with water to make it simpler to apply.
Measure and pour the baking soda into the bowl, followed by the water, stirring to incorporate it into a paste. Smear the baking soda paste on the cutting board with a cloth or paper towel, leave it there for ten minutes, and remove it with a damp cloth.
Inspect the board for remaining blemishes and repeat if necessary. Baking soda tends to lighten dark colors and should be used with care on richly colored woods to prevent accidental fading.
Apple Cider Vinegar Eliminates Food Particles
Apple cider vinegar is another organic substance to wipe down a sealed cutting board. Like distilled white vinegar, apple cider vinegar is mildly acidic yet not corrosive enough to damage the wood grain of your cutting board.
Apple cider vinegar has a less potent smell than distilled white vinegar, which some homeowners prefer, particularly for the cutting board that touches their food. Make your own spray to clean wood in the kitchen, such as cutting boards and countertops. Clean, sanitize, and deodorize, thanks to the acid in apple cider vinegar.
Measure and pour the water and apple cider vinegar into the spray bottle and agitate it to blend them. Spray it liberally, trying to cover the whole face of your board without soaking it. Let your board sit for around 30 minutes before rinsing. Store your board on its side to allow any liquid to run off.
Hydrogen Peroxide Is a Plastic or Wood Board Cleaner
Hydrogen peroxide typically lives in the first aid kit. Yet, it's a brilliant solution for cleaning and disinfecting a plastic or wooden board. Make a good homemade disinfectant spray with hydrogen peroxide. The 3% hydrogen peroxide sold in pharmacies is a strong oxidizer, using its oxidizing properties to destroy the cell walls of bacteria and other germs to sanitize your cleaning board fast.
Hydrogen peroxide is the answer if you're searching for a convenient and cost-efficient way to clean and disinfect your cutting board. Rinse your wood or plastic cutting board with warm water, dry it off, and lay it on a flat surface. Pour hydrogen peroxide directly onto the board or into a bowl to dip a sponge and coat the entire surface.
Give the hydrogen peroxide time to fizz and react as it cleans and eradicates germs before rinsing. Though hydrogen peroxide is common in households, it's still a chemical. Thoroughly wash and clean the board before using it to chop food.
Oil Your Clean Cutting Board
Cutting boards made of wood have organic pores, much like any wooden kitchenware. These pores take in food waste and serve as mold growth sites. When a board dries, the fibers split or accumulate too much moisture, causing warping. Regularly applying food-grade oil to your wooden board prevents this issue.
Cutting board oil helps your wooden cutting board or butcher blocks last many years when applied quarterly or monthly. Never use an oil high in fat, such as maize, vegetable, or olive oil, to treat your wood board, as they oxidize and eventually becomes rancid.
This causes your wooden cutting board to become foul-smelling and hazardous for food preparation. Instead, use mineral or coconut oil safe for consumption. Refrain from using oil not clearly labeled as suitable for food use.
Do not apply a coating of baby oil. Choosing a food-safe or food-grade oil or a product expressly made for a wood or bamboo cutting board is the best option.
Precautions for Wooden Cutting Boards
Wood is porous – it absorbs liquids. Never leave your chopping board in the sink while you wash dishes. The wood in your cutting board could fracture and distort due to prolonged exposure to moisture. Always clean your cutting board promptly and dry it immediately.
While it's safe to clean plastic cutting boards in the dishwasher, this isn't the case for a wood board. The intense warmth and moisture inside the dishwasher could destroy a wooden board. Instead, wash your cutting board by hand and dry it with a clean towel.
Switch up where you cut on your wooden cutting board every once in a while to prevent uneven wear and tear on the board's surface. If your board becomes completely worn, change the cutting surface by turning it over.
Did this article give you a solid grasp on how to wash a cutting board? The right cutting board, whether wood or plastic, shields counters from damage and assists with food hygiene. With a range of options from bamboo, to oak, to endless colors of plastic, the right cutting board enhances your kitchen design.
Yet, if not cared for, it introduces pathogens into your food. Don't let your cutting board become a source of illness in your family. Learn to clean your chopping block without harsh chemicals and prepare food confidently.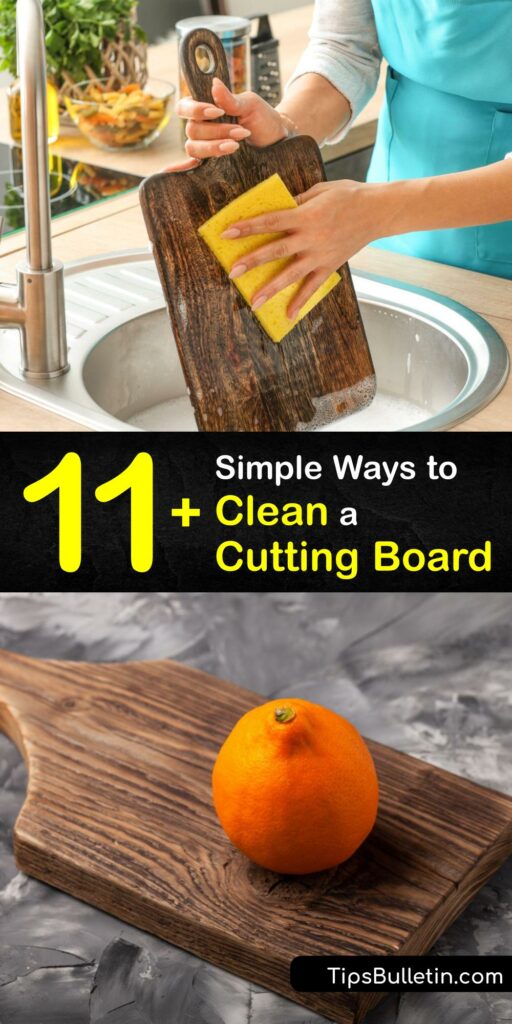 If you loved this educational article on how to clean a cutting board, please share it with your friends and family who are cleaning a cutting board on Pinterest and Facebook.