Cleaning your deck not only keeps it looking nice, but it also protects and extends the life of your deck. The easiest way to clean your home's deck is by power washing it, but not everybody has access to a pressure washer. While pressure washing is fast and convenient, we are here to teach you how to clean a deck without a power washer.
Decks are a beautiful addition to homes; not only do they increase the beauty of your outdoor space, they also help improve your home's value. Ignoring your deck for years on end will lead to a costly home improvement project, but taking proper care of your deck can extend its life to 20 years or more.
Neglecting your wooden deck leads to mold and mildew problems, along with cracked or splintered wood and permanent stains. By learning how to how to clean your deck for staining and other purposes, you will be able to spot problems as they occur, allowing you to take action sooner rather than later.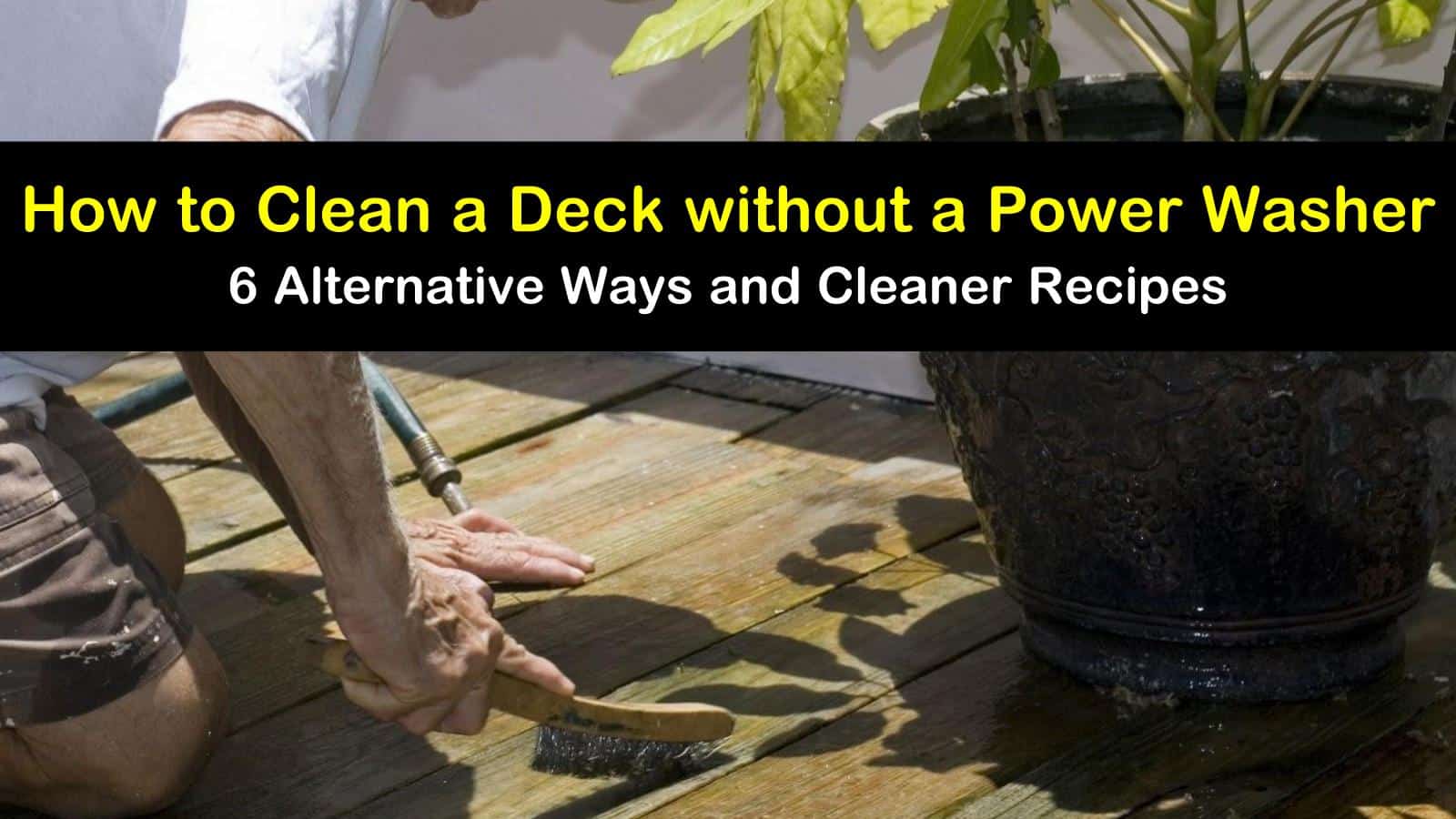 Deck Cleaning with No Power Washer
Before you can stain a deck, you need to prep and sand the surface. Sweep and wash the deck's surface to remove all dirt, wood fibers, grease, mold, and mildew. If the surface is dirty, the stain or sealant will not stick.
It's sometimes easiest to power wash a deck first but not everyone has one of these pieces of equipment. Of course, you could rent one, but if your deck is on the smaller side, it's almost as simple just to do a little scrubbing.
Even if your deck is new, it needs cleaning to get rid of sawdust, footprints and other dirt and debris that accumulated on the surface during installation. You want the cleanest surface possible when staining a new deck so take the time to clean it first.
Best Tips on How to Clean a Deck for Staining
Once you have swept the deck, use a pump sprayer to spray it with the best wood deck cleaner. For larger surfaces, work in small sections to ensure the area stays wet the entire time. Even if you don't have a power washer, you can still use power washer soap for cleaning. Instead of loading the cleaner into the sprayer, you can apply it with a sponge or mop.
Allow the deck cleaner to sit for 15 minutes. Lightly mist the entire deck with a garden hose to keep the wood wet. Clean grease stains with a mild detergent or a TSP cleaner. Use a stiff-bristled brush to scrub the wood planks and then rinse thoroughly, making sure always to spray the same direction as the wood's grain to prevent damaging your deck.
Allow everything to dry for several days. You want the wood completely dry to prevent any gouging or other damage, as damp wood is more fragile than dry wood. Once the deck is dry, lightly sand the entire surface to prepare it for staining.
If you have replaced any wood, be sure to sand those pieces, as well, to remove any leftover residue from the factory. Once you are done sanding, sweep, or use an air compressor to remove sawdust particles and then apply the deck stain or sealer with the correct brush.
Cleaning Composite Deck with Vinegar and Baking Soda
If you have a composite deck, use a deck cleaner that is not only safe for your deck but one that will still get the job done. When cleaning composite deck with vinegar and baking soda, use it as a homemade cleaner for the deck surface or to spot clean stains.
When making this homemade deck cleaner, you have the option to use apple cider or white vinegar; both are just as effective. Mix all three ingredients inside a bucket and stir well. Rinse your deck with a hose and spray nozzle.
Pre-rinsing your deck allows the cleaner to work better and helps soften up the fibers. Dip a soft-bristle brush into the bucket of cleaner and scrub your deck to remove any grime, dirt, and other debris. After washing each board, rinse decking thoroughly with fresh water.
Rinse with a high-pressure nozzle until the water coming from the deck runs clear to ensure a film doesn't remain. If your composite deck needs mold or mildew stains removed, you can mix a solution of two parts vinegar and one part water to apply directly to the problem area.
Sprinkle baking soda on the area, making sure to cover the surface entirely and allow the baking soda to sit for at least 20 minutes. Use a scrub brush to wash away any mold or mildew and rinse thoroughly.
How to Treat Stains on Your Outdoor Deck
Before you begin treating tough stains, like when you need to get green stains off pressure treated wood, remove all items, and sweep the entire deck to remove dust and debris. If your deck doesn't sit on top of a concrete patio, use tarps to protect the area underneath.
Take care of getting rid of moss or moldy spots by first mixing the oxygen bleach and hot water inside a large bucket. Dip the scrub brush into the deck-cleaning solution and apply directly to the stain. Leave the solution on the stain for up to five minutes.
Once bubbling stops, scrub the area with a scrub brush. Use your garden hose to rinse the solution from the surface and move onto the next stain. Once all stains are gone, rinse again with your garden hose.
It is vital to remove all oxygen bleach residue from your wood deck, so you may need to rinse several times. Allow the wood to dry before putting items back. Wet wood is more likely to gouge, and placing heavy objects on wet wood increases the risk of mold.
Using Oxygen Bleach Products to Clean Your Deck
Oxygen bleach products, such as Oxy-Boost, OxiClean, or Ajax, use a combination of natural Borax or soda ash and hydrogen peroxide in the form of a powder to eliminate ground-in dirt and grime. If you don't have any oxygen bleach, use laundry detergent if it contains sodium perborate or sodium percarbonate, as those are the active ingredients in oxygen bleach.
To clean a dirty deck or to make a homemade wood siding cleaner, mix the oxygen bleach with the required amount of water and apply it to the wood with a long-handled nylon brush. Clean the wood surface in small sections, always keeping the wood wet and allowing the cleaner to soak into the wood before scrubbing. Once the area is clean, rinse thoroughly with fresh water to remove all residue.
Cleaning Black Mold from Your Deck
If your home's deck is in a shady or wet area, you need to know how to tackle mold. Getting rid of black mold is not as simple as using chlorine bleach, as this won't kill the mold roots and may cause discoloration on your deck. Using pressurized steam is the best way to get rid of deck mold, but is not the only option.
If scrubbing by hand with a scrub brush, create a cleaner using 1/3 cup of laundry detergent and one gallon of water. If the mold caused stains, use oxygen bleach to treat the stains. If you use oxygen bleach, follow up with a deck brightener solution as this returns the pH levels of the wood to a stable level.
Best Homemade Deck Cleaner
Once a year, when your deck looks like it requires a good cleaning, whip up a batch of this homemade deck cleaner. Never use this cleaner for routine cleaning as it is on the harsh side.
In a bucket, mix the water and oxygen bleach until powder is fully dissolved. Pour in the liquid dishwashing soap and mix until you have created a lot of suds. Use a broom dipped in the solution to brush the mixture across the entire deck.
Gently brush the whole deck, applying more pressure where you notice stubborn stains or grime build-up. Thoroughly rinse with fresh water to remove all soap residue.
This easy recipe also works well to clean patio wood furniture that may be stained and dull due to constant exposure to the elements or for cleaning plastic outdoor furniture, as well. Try it on both your deck and furniture to get everything clean at once.
Not having access to a power washer or simply not wanting to use one is no deterrent for keeping your deck and outdoor furniture clean. Use one or more of our recipes to get the job done.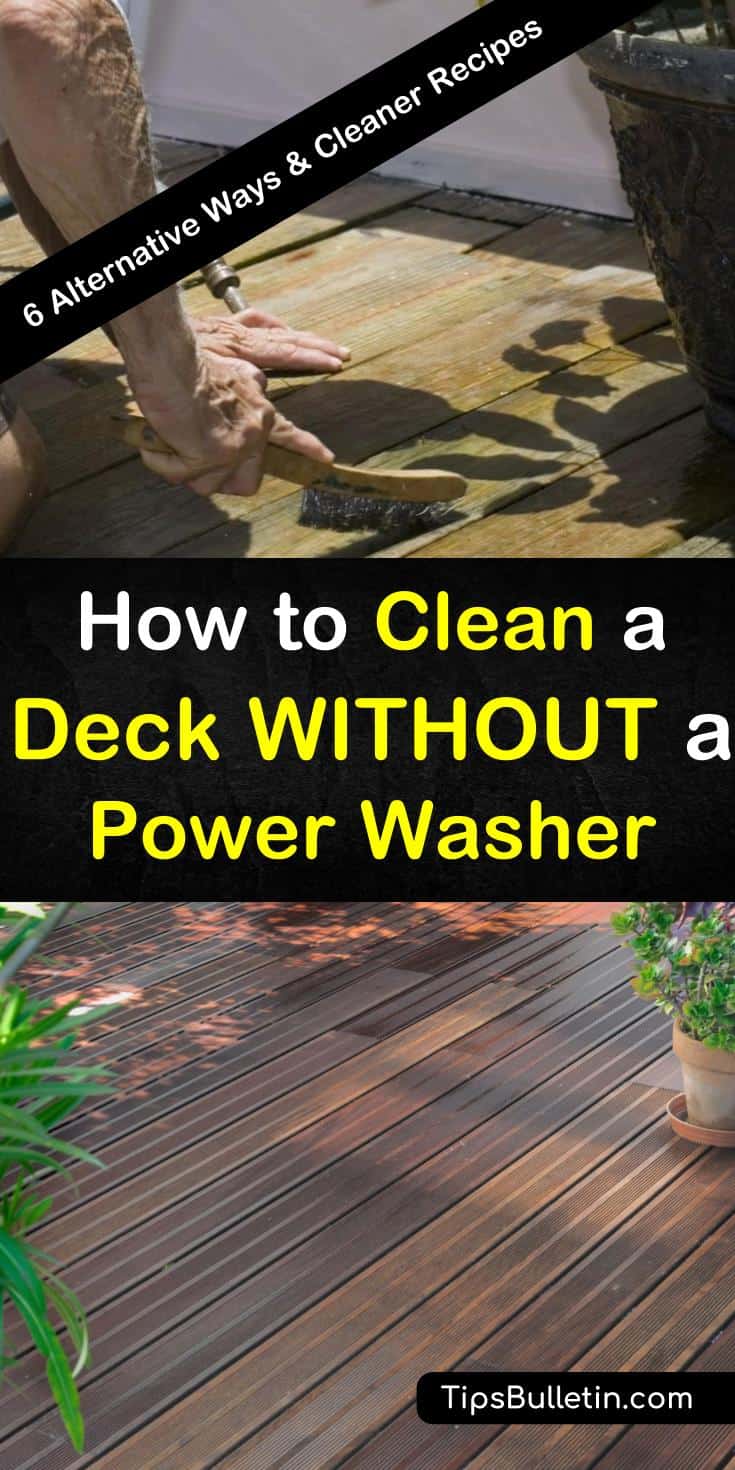 Thank you for reading our tips and ideas on how to clean a deck for staining and other purposes. If you found our deck cleaning tips and recipes helpful, please share with others on Facebook and Pinterest so others may learn how to clean a deck without a power washer, too.