Fiberglass is an easy-to-install material often used to make bathtubs and showers. An inexpensive alternative to stainless steel, ceramic, and cast iron tubs, this lightweight material consists of multiple layers that quickly wear down over time without proper care and cleaning. Understanding the best methods for how to clean a fiberglass tub can save you unnecessary repairs and keep the surfaces in your bathroom shiny and clean.
Cleaning a fiberglass tub is relatively simple and doesn't require the use of harsh chemical cleaners to get the job done. That means you won't have to inhale any toxic fumes within the close confines of your bathroom.
Instead, we have compiled a list of all-natural, non-toxic cleaning solutions that are perfect for maintaining that sparkling clean fiberglass tub. No matter which recipe you choose, we have a homemade cleaner for fiberglass tubs that's perfect for you!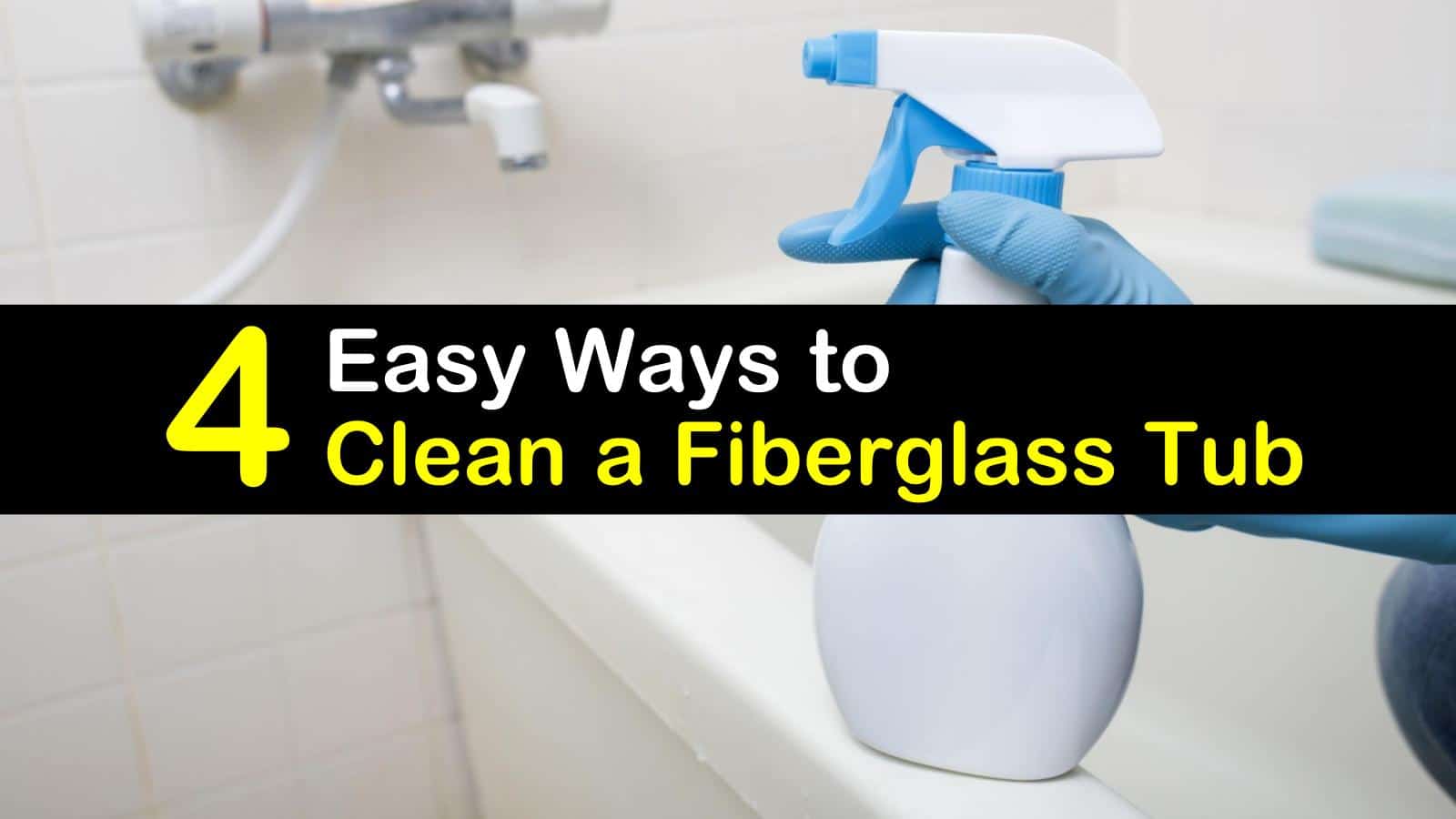 Tips and Recipes for Cleaning a Fiberglass Tub
Finding the right fiberglass tub cleanser is challenging enough. But add in all the many different cleaning supplies you can use to go with it, and you have a full-scale dilemma.
To make your decision choosing fiberglass cleaning supplies easier, we have put together a list of some of the best items to use as a way to clean fiberglass without harming the material. Note that the same recipes can be used for how to clean a fiberglass shower as you can for a fiberglass tub.
The best part about using these supplies is that most of them work interchangeably. If you don't have a scrub brush, try a squeegee or Magic Eraser tool for cleaning. If you have them all, even more tools are available to help you on your fiberglass cleaning journey.
The Magic Eraser can be a particularly effective tool to get rid of rusty bathtub stains. Use a combination of vinegar and baking soda on your sponge for even more cleaning power.
Start with Good Old Dish Soap
If you are looking for a basic bathtub cleaner, one of the best places to start is with a mild soap and water solution. Either dish soap or laundry detergent is an excellent resource when it comes to removing grime and grease. Both should be fragrance-free without any bleaching agents.
The easiest way to clean a tub with dish soap is by filling a bucket up with warm water and adding a few squirts of the liquid detergent. Using a soft squeegee or sponge to soak up the soapy mixture, clean along the surface of your tub or shower floor.
Leave the soapy solution on the surface of the fiberglass for approximately one hour before rinsing with warm water. After you have finished, dry all remaining water droplets with a soft towel to prevent water marks.
Vinegar: Best Homemade Cleaner for Fiberglass Tubs
Another fantastic homemade fiberglass cleaner uses natural agents like vinegar and baking soda to cut through stubborn stains and mildew. When combined, these ingredients form an all purpose cleaner for your bathroom that is perfect for cleaning your tub, shower stall, tiles, and even your tub faucet. This fantastic DIY cleaning solution is easy to make and will also take care of stains and mineral buildup caused by hard water.
For how to clean a hot tub with vinegar, start by mixing the solution and apply it to any stains or water spots in the tub. Allow the paste you've created to sit for at least one before scrubbing with a washcloth or sponge.
When cleaning tough stains, you may also want to use a soft scrub brush or Magic Eraser to remove the dirt and grime. Rinse the tub and dry when finished. Stubborn stains may also require multiple treatments or trying a different cleaning solution.
Use a Vinegar Alternative on Fiberglass
If you don't have access to vinegar, an excellent alternative for cleaning your fiberglass shower or tub is lemon juice. There are many ways to use lemon juice, the first being spraying it over the surface of your tub with a spray bottle. This option is also a great way to clean those glass shower doors.
If you only have a lemon and not enough juice to clean the whole tub, sprinkle some salt on top of a halved lemon. Using the lemon as a makeshift scrubber creates an amazing hard water stains remover. Apply the salt sparingly, however, to avoid scratching the surface of your tub.
Another excellent alternative to vinegar is another disinfectant: hydrogen peroxide. This method works exceptionally well on darker stains that vinegar and baking soda can't lift.
Start by laying down numerous layers of white cloths over the stain you are attempting to remove. Pour several drops of the hydrogen peroxide over top of the cloths, then allow it to soak for several hours, preferably overnight. After enough time has passed, rinse away the hydrogen peroxide and dry with a clean cloth.
How to Clean a Fiberglass Tub with Borax
Borax is another great cleaner for your fiberglass tub. It also works on most surfaces in your bathroom, including tile floors and grout. When making a Borax cleaning solution, you only have to use a little bit to make a huge difference.
Mix the ingredients in a small bucket, then transfer to a spray bottle for more comfortable use. Spray the surface of the tub with the cleaning solution, then leave for one hour. Afterward, scrub away any remaining cleaner with a soft sponge, then rinse with clean water. Always dry the tub after cleaning to reduce the appearance of water spots.
Some Helpful Tips about Cleaning Your Fiberglass Tub
Even though you have some of the best tips for cleaning fiberglass right here at your fingertips, you may still be curious about when to use them and what to avoid. These additional cleaning tips will help you with answer those last few lingering questions.
What Should I Avoid when Cleaning a Fiberglass Tub?
Because fiberglass is such a delicate material, using scrubbing tools, harmful cleaning products, or even certain bathroom accessories, can be detrimental to your tub. While many homeowners love having mats on the base of their tubs to prevent slipping, using one with suction cups may leave behind a nasty residue with repeated exposure to water.
This grimy film is difficult to remove and allows mold to collect beneath it. If you love your slipmats too much to part with them, then ensure that you are cleaning under them just as regularly as your tub itself. Other items to avoid when you clean fiberglass bathtubs are abrasive cleaners like bleach or harsh scrubbers.
Bleach discolors the surface of your tub, making it appear dingy or dull over time. Abrasive scrubbers like scouring pads or steel wool will also ruin your basin by scratching the fiberglass. Use a gentle bathroom cleaner, instead, to prevent damage.
How Often Should I Clean My Fiberglass Tub?
Cleaning your fiberglass tub and shower should be a routine in your household. Most homeowners suggest cleaning your bathtub once a week to reduce the amount of soap scum and mineral deposits in the basin.
This practice is a great rule to live by and should be adjusted accordingly, depending on how many people are in your household and the times used each week. For fiberglass showers, it is recommended to wipe down the walls with a soft sponge after every use.
Keeping your fiberglass bathtub or shower clean can be as easy as tossing in some essential ingredients from your pantry and applying a little bit of elbow grease. Now that you have these easy-to-create recipes at your disposal, you know exactly when and how to use those ingredients.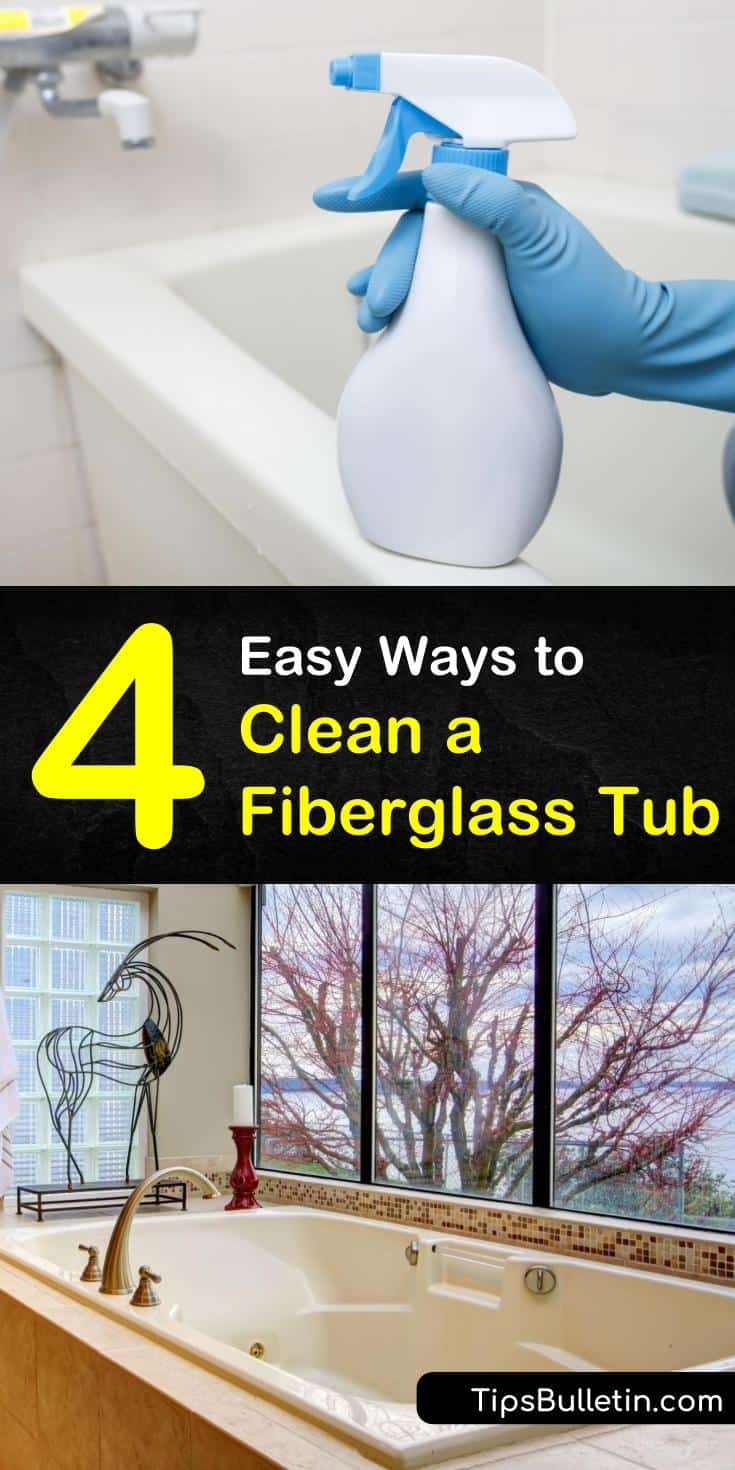 If you found these fiberglass tub cleaning recipes useful, don't forget to share how to clean a fiberglass tub with friends and family on Pinterest and Facebook.