Firing up your gas grill is one of the best ways to enjoy food like burgers, ribs, and BBQ chicken. One of the most significant contributors behind making sure your dinner tastes delicious is the cleanliness of the cooker itself, and the last thing anyone wants when they bite into a juicy hamburger is to chomp down on a crusty piece of gunk from the grates. Knowing how to clean a gas grill means better tasting entrees and a more prolonged, healthier shelf life for your appliance.
With grilling season just around the corner, people are dusting off their appliances and preparing for a feast fit for kings. Cleaning a gas grill is relatively simple, even more so than maintaining a traditional charcoal grill.
The critical piece of information to remember when cleaning is to tend to all the smaller parts of the grill, not just the grates. Ideally, a light scrubbing takes place after every use, while deeper cleans are only necessary about twice a year. To discover the many different ways to clean a propane gas grill and all its parts, follow these helpful tips.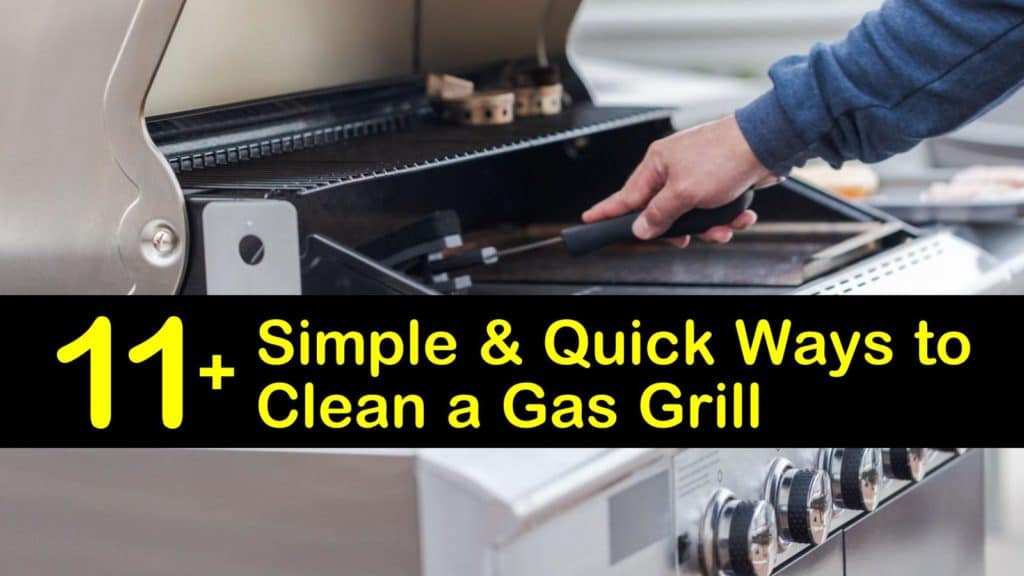 Phenomenal Ideas for Cleaning a Gas Grill
Two things to keep in mind when cleaning your grill is what material its made out of and what supplies are necessary to clean it. While nothing beats good old-fashioned elbow grease, it doesn't hurt to have the proper scrubbers and grilling tools handy to make the process run smoothly.
Of course, if you don't have a barbecue grill and grill inside the oven instead, you need the right materials to take care of that job, as well.
Depending on the state of your grill, you may not even need to use all of the above tools. Whether you own a cast iron or stainless steel grill also determines the necessary equipment, since certain materials cause more harm than good.
Prep the Grill for Cleaning
The first step to take in the cleaning process is to shut off the gas line between the propane tank in the grill. Leaving the gas supply running while cleaning exposes you and those around you to harmful chemicals.
Not only does it pose a threat in terms of fire safety, but it also creates health complications, so make this step priority number one. Begin by locating the valve on the propane.
Turn the knob or lever, depending on the type of grill you own, clockwise to ensure it is off. If you've recently used the device, let it cool down a little before cleaning, though not too much. A bit of heat helps break down food particles and makes it even easier to clean.
Follow this same rule when you clean a gas oven inside. Removing grime from a warm oven takes much less time.
Use the Correct Brush for Grill Grates
To clean your gas grill with minimal effort you need the appropriate tools. Using the wrong ones makes the job harder and less efficient. Before you even begin using any cleaning solution, ensure you have the right grill brush for the material you're cleaning.
A basic wire brush is perfectly acceptable to use in most cases, except when cleaning cast iron or stainless steel. Grills made with stainless steel typically come with brushes made from the same material, which prevents damage to the coating of the metal.
Similarly, cleaning a cast iron grill with a wire brush wears down the surface and exposes it to the rusting. Parts of the bristles may even break off into the grooves of the cast iron, making it much more difficult to clean.
To prevent rust, use a nylon cleaning brush instead of wire. These types of brushes also work on stainless steel.
Other Grill Brush Alternatives
Sometimes, the issue with your grill brush has less to do with the grill's metal and more to do with whether you have a brush at all. If you find yourself short a grill brush after cooking, one alternative to use is aluminum foil. Like most grill masters, you likely have a few sheets of foil handy, especially if you just grilled up some tasty veggies.
Wad the aluminum up into a ball and use a pair of tongs to gently scrub it over the grates. An alternative to this method employs the aid of onion instead, though in a similar fashion. Simply cut the onion in half, stick it on the end of a grill fork or pair of tongs, and scrub away!
How to Clean a Gas Grill Using Soap
Now that you're ready to wash your grill grates, you're ready to add the perfect cleaning solution. The gentlest approach is combining dish soap and water to make your own grill cleaner at home. Dish soap is a natural degreaser, so it works perfectly to remove the gunk and grime from grills.
When you clean grill grates with soapy water, remove them from the grill, along with the warming rack, if your grill has one. Doing this allows you to work on both sides of the grates, both the top and undersides. Rinse thoroughly when you finish scrubbing, then let the parts air dry.
Show the Burner Covers Some TLC
Another part of the grill you never should forget is the burner covers, as well as the burners themselves. These require attention to function properly and provide the much-needed amount of heat. Scrub down any dirt or grime collecting on the covers with warm soapy water and a sponge.
After tending to the covers, take care of the burners. Examine the holes in the burner tubes for any blockages or clogs by testing them with a toothpick. Use a soft sponge to wipe them down and dry with a paper towel afterward.
Scrub All Gunk from Grill Bottoms
Once the smaller working parts are washed, it's time to clean the bottom of the grill. In some models, you have a drip pan that collects all the icky food residue that falls between the cooking grates. Remove this bottom tray and use a putty knife or scraper to scoop up as much of the grease and food particles as possible.
Wash it with soapy water afterward or, if it's small enough, toss it into the dishwasher. If you don't have a bottom tray beneath your grill grates, you still need to clean the space beneath the burners.
Check this area for any loose debris like crumbs or pieces of food. Use a scouring pad to scrape up a severe build up of foods whenever necessary.
Cleaning Your Stainless Steel Grill
It is relatively easy to clean stainless steel grills, and they don't require much more maintenance than normal ones. The biggest concern is whether or not the metal retains its brilliant shine over time. Luckily, there are plenty of store-bought cleaning solutions available to keep your grill looking its best.
A popular stainless steel cleaner is Bar Keepers Friend. It comes in either a powder or liquid form and is applied by rubbing it along the grain. Similar products come from Weber (brand of grill parts), which also makes various replacement parts and cleaning solutions to accomplish the task quite nicely.
How to a Clean Cast Iron Grill
Cast iron is one of those finicky materials that adds immense flavor to dishes but tends to be a pain to clean. Too much exposure to water makes it prone to rusting, so your best line of defense when cleaning comes from the scrubbing brush.
How to clean cast iron grill grates and other parts starts by turning up the heat without cooking anything. This process burns off lingering food particles and makes it easier for you to sweep them away afterward. The other ingredient required to clean cast iron is vegetable oil.
Add a dab to a paper towel and rub it along the surface of the grates. Make sure the grill grates completely dry before applying and don't overdo the amount of oil. A very little goes a long way to protect the cast iron from rusting.
More Ways to Clean a Propane Gas Grill
For grills that require a little more stain-fighting power than soap and water, adding vinegar and baking soda to form a frothy cleanser helps. Vinegar is an excellent disinfectant and stain fighter, while baking soda adds fine granules for a mild abrasive. Do not use this method on stainless steel or cast iron grills, however, as the metals react negatively with the ingredients.
Using this approach works the same way as cleaning with soap and water. Clear away all loose debris and food, then mix the three ingredients in a large tub. The baking soda and vinegar foam at first, but after a moment or so, they are ready for use. Dunk a cloth into the tub, and scrub along the grates with the homemade cleanser.
Use a Strong Degreaser
The last thing anyone cares to see is a bright, erratic flame streaming its way up from the grill. These bursts of fire are terrifying and dangerous, though completely avoidable. Two of the leading causes behind these flare-ups are an unclean grill and too much fatty grease left on the grates. Both find a natural remedy in this quick BBQ degreaser.
This simple recipe for a grill rack cleaner works exceptionally well on caked-on messes and forms a paste when blended. Smear the lemony paste over the surface of the grill grates, and let it soak for approximately 30 minutes.
Wipe down the grates on all sides with a scrubbing pad and warm water. Not only does it remove grease and stubborn burnt-on food debris, but it also leaves behind a pleasant aroma.
Cleaning a Gas Grill on the Outside
Now that the inside is squeaky clean, maintaining the outside of the grill is next. It's very easy once you put all the pieces back into place. During this step, continue to keep the gas off.
If there is a removable drip pan attached to the appliance, then either clean it or throw it out if it's disposable. Using the same soapy water solution from before, wipe down all the areas of the grill's exterior, including the side panels and lid.
Rinse soap with water, and dry with a soft cloth to prevent water spots. If cleaning stainless steel, add a glass cleaner to develop a beautiful sheen.
Don't Forget the Briquettes
The briquettes in gas grills take the place of charcoal and ensure heat distributes evenly across your food during the grilling process. While these briquettes require minimal maintenance, periodic cleaning is critical to enhancing their performance. A good indication it's time to clean them is if food no longer cooks at an even temperature.
Heat these smaller pieces in the grill first to loosen up any dried on particles. Wash with soap and water and use a soft scrub brush to eliminate all traces of grease and dirt. Rinse the briquettes with warm water, then dry them with a cloth when finished.
Now you have quite a few different options to choose from when it comes to cleaning a gas grill. No matter which of these convenient options you choose, remember that regular, proper maintenance is crucial to keeping your appliance running smoothly and efficiently.
Plus, the payout is a delicious barbecue. Who doesn't want that at the end of a hard day's work?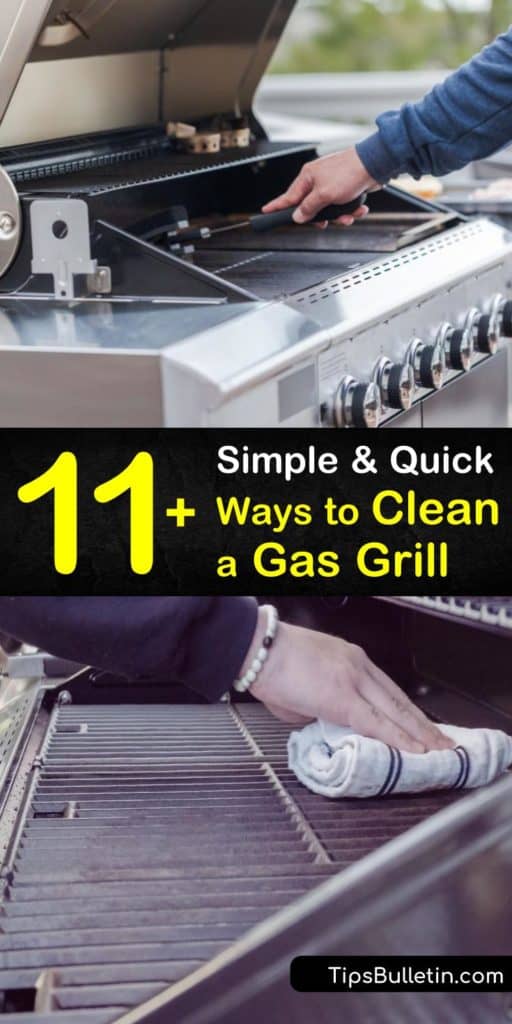 If you found these grill scrubbing tips useful, please remember to share how to clean a gas grill with your favorite grillmasters on Facebook and Pinterest.