Gas appliances are miracles of modern technology. Having a gas oven and stove means you get instant heat with no waiting, unlike with an electric oven. Knowing how to clean a gas oven lets you continue to enjoy its convenience for years to come.
When your gas appliances are clean and in good condition, you can have peace of mind that your meals and family are in good hands. It's a great way to make sure that your home looks its best. We've put together this article to give you the ultimate in-depth cleaning guide for gas ovens.
You'll learn all about getting your oven ready for its big cleaning moment. We also give you a rundown on techniques and DIY cleaners that target different surfaces. You'll even get a fantastic homemade oven cleaner for gas ovens that you can use instead of a commercial oven cleaner. You'll be amazed at the difference some planning and elbow grease can make to your stove and oven.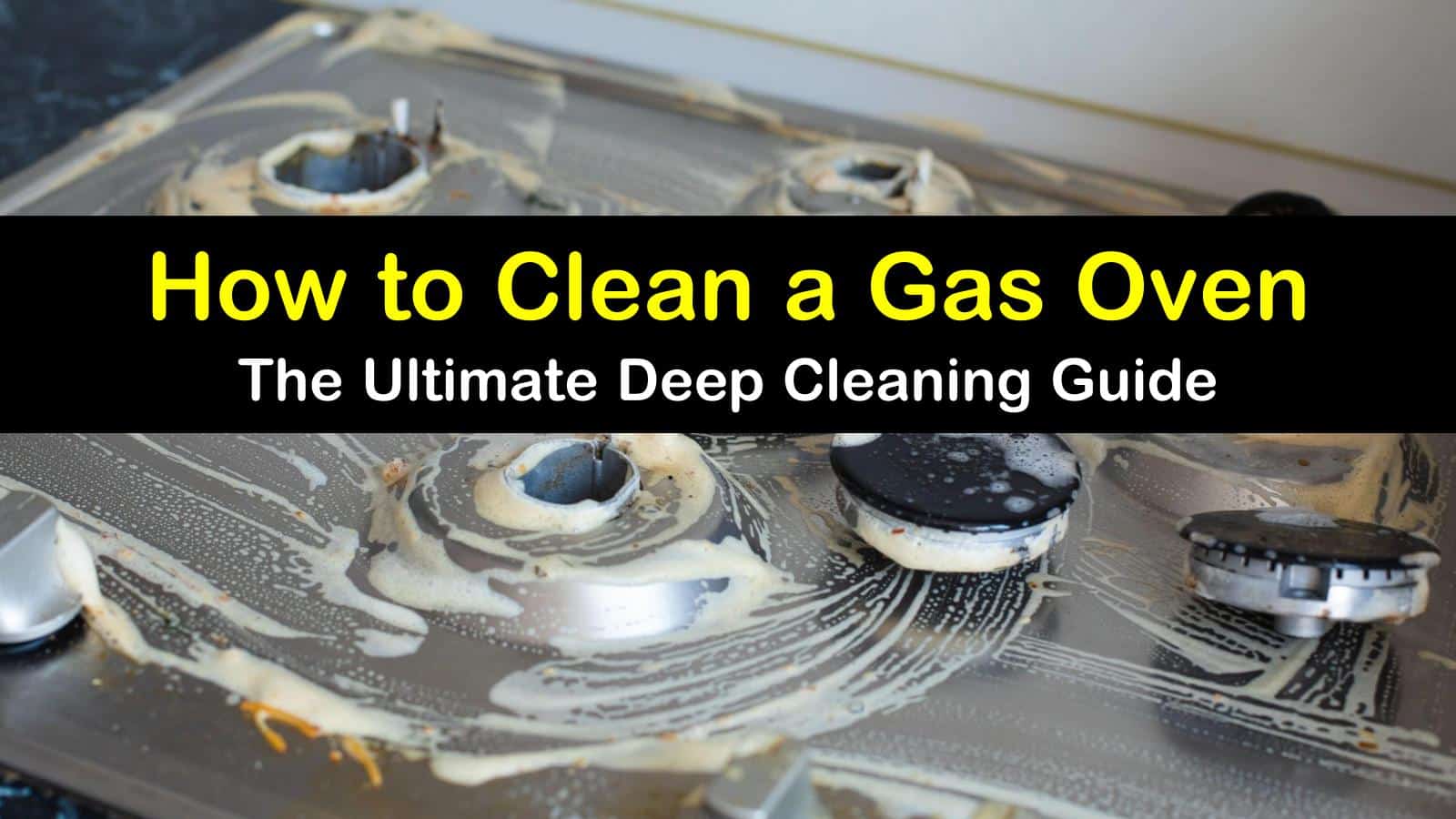 Cleaning a Gas Oven Safely
To get your gas appliance looking its best, make sure that you plan ahead. We have a few helpful and easy oven cleaning hacks to make the job less painful and time-consuming. Thoroughly prepare your oven and stove and make sure you have all the necessary supplies to ensure that the cleaning approach itself is practical and quick.
When you have a solid plan to secure the oven for safety and get all cooking surfaces prepped and ready, you'll ace your oven cleaning tasks without trouble. Of course, you could purchase an oven cleaner from the store to take care of stains and get your oven sparkling again, but these cleaners usually contain harsh fumes and are not very environmentally friendly.
It's better to clean an oven naturally with basic, simple ingredients you probably already have. For effective cleaning gas stove top drip pans, burners, knobs, and the oven interior, follow our proven tips to get this appliance looking as good as new.
Preparing Your Stove and Oven
This section looks at the best way to get your gas stove and oven ready for cleaning. We show you which safety precautions to take to make sure that you don't injure either yourself or the oven, and you'll also find out how to loosen any stubborn stains on the stovetop and oven ahead of the cleaner.
Safety Precautions
Before you start to clean, make sure that your gas oven is ready and in a proper state for cleaning. Give gas appliances adequate respect at all times and remove the potential for accidents or injury. To accomplish this, take a few simple precautions whenever you get ready to clean.
Cleaning a gas oven safely requires avoiding the chance of burns or gas leaks. Make sure that all surfaces cool before working on them. Allow at least an hour or more to pass after using the appliance to let the oven cool before attempting to work on it.
Make sure that the burners are all off, too. If you have an older oven that has a lift-up top and doesn't feature sealed burners, check your manufacturer's instructions for safe handling and cleaning.
Prepping Gas Stove and Oven Surfaces
A good pre-cleaning is essential for an effective cleaning plan and will help you learn how to clean an oven fast with minimal effort. Giving all of your surfaces a quick once-over ahead of full-on gunk removal is a great way to identify and pre-treat any trouble spots and makes regular cleaning easy.
To make sure that your stubborn stains don't slow up or put a halt to your cleaning, attack all surfaces with a good pre-cleaning. Don't forget to pre-clean hard-to-reach spots, as well as taking care to clean cast iron stove grates to remove baked on gunk that has accumulated there.
Don the safety gear. Gently scrape off any large, loose pieces with a spatula. Don't forget to give the inside of the oven door a scraping, as well, and check the broiler compartment.
Wipe up any debris and residue with a damp cloth. You might need to repeat this once or twice to fully prep the oven and stove.
How to Clean a Gas Oven
Now that you've got your oven ready for its big moment, make sure you have a tried-and-true cleaning approach. When you plan and know what to do in any situation that might arise, you avoid anxiety and uncertainty. And, you make your cleaning tasks much simpler and less stressful.
The Best Way to Clean a Gas Oven
This section delves into the nitty-gritty of cleaning your gas oven's component parts. We go in-depth on how to get your stove top and burners looking their best, what to do to keep your control knobs pristine, and which DIY cleaning solution can get your oven as clean as any commercial cleaner. You'll be impressed at how a solid cleaning plan makes your life easier.
Cleaning the Stovetop and Burners
Your gas range is the surface that probably sees the most spills and has the most stains. It's easy for your heating elements and surfaces to quickly clog with grease and burnt food. Cleaning a gas stovetop can be a nightmare if you don't have a time-tested plan and a top-notch home remedy ready to go.
Baking soda and water are an excellent choice for cleaning gas burners, and they won't scratch your cooktop. They make a tremendous non-toxic cleaner that you can use to safely clean up lots of household surfaces, including your gas stove and oven.
Before you make this all natural oven cleaner recipe, don your safety gear. Combine the water and baking soda, and use a clean cloth to apply the baking soda paste to any stains. Allow the mixture to dry, and scrub the spots with the brush until the stains lift away.
Use toothpicks to clean out all holes in the stove burners and a cloth to wipe down all surfaces. Repeat as needed.
Cleaning stove drip pans with ammonia is often your best bet since the pans almost always have a lot of baked-on grease and stains. Soak the pans in a water and ammonia mixture for a while and then scrub clean.
How to Clean Oven Control Knobs
You might not consider them very often, but your gas oven control knobs need a good cleaning along with everything else. When your oven knobs are dirty, it affects the way the entire appliance looks. So, you need to make sure that you have an effective method to get them clean and looking their best.
Always give your knobs a proper cleaning when you tackle the rest of the oven and stove. Your control knobs are likely detachable, which makes them much easier to clean than they would be otherwise. If you have a dishwasher, you can pop them in and send them through a cleaning cycle.
Few products work better than a grease-fighting dish soap for cleaning both the interior and exterior of your oven, as well as myriad other appliances and surfaces in your home. Make a homemade oven cleaner with Dawn and warm water and give the knobs a good rinse in warm, soapy water.
Make sure not to scrub too hard, though, or you could rub off the knob markings! Stainless steel knobs are the most straightforward of all and often are easy to wipe clean with a damp cloth.
Cleaning the Oven Door and Interior
Getting your dirty oven door and the inside of your oven clean is key to your cleaning activities. Many oven doors are removable, which makes them easier to clean. Never soak your door, though, as you could introduce water into the glass layers in the door window.
Self-cleaning ovens have fewer stains, but you'll want to clean a burnt oven floor manually when crumbs build up. You can always opt for a commercial oven cleaner for heavy duty stains, but we love the results we get from our homemade oven cleaner recipe.
Vinegar and baking soda are excellent DIY cleaning products, and they'll knock out almost any oven stain or baked-on food without harsh chemicals. They're a fantastic way to clean an oven door or interior without risking damage. Never use metal scouring pads on your oven, as they can scratch the surface.
Put on the safety gear. Remove oven racks, and wash them in warm soapy water in the sink. Sprinkle baking soda on any stains on the door or in the oven.
Fill the bottle with vinegar or lemon the natural oven cleaner, and spray the stains to create a thick paste. Scrub at the stains with the scouring pad until they lift away. You can also use this selfmade cleaner on stubborn bathroom tile stains and to get your wooden tables and decks looking amazing.
Wipe off any debris with a damp cloth. Remember to wipe down the bottom of the oven, too. Repeat this cleaning method until all stains are gone, and the oven is clean. Using lemon juice has the added benefit of leaving behind a delightful citrus scent.
Don't Forget to Clean the Trim
It's easy to overlook your oven trim when you go about your cleaning tasks. However, metal oven trim is an ideal location for grease, dirt, and other grime and gunk. If you pay attention to it when you clean, you won't regret it.
Getting your metal trim clean and gleaming makes your entire kitchen look like a million bucks.You don't need to get fancy when you clean trim. You'll be able to clean most trim using common household cleaners, including glass cleaner.
If you prefer to get back to basics, you can also use good old warm soapy water to get them clean. Add soap and water to a bottle for a simple degreaser spray to tackle the trim and any other oily spots on the stovetop surface. Make sure to remove all soap residue after you clean the trim and other areas, and give it a wipedown with a dry cloth when you are finished cleaning.
We hope you enjoyed our gas oven cleaning guide. Knowing the best way to clean a gas oven keeps your house looking its best. Our article gives you tips on cleaning a gas oven safely and helps you make your home shine and sparkle. You and your family will love the way your kitchen looks.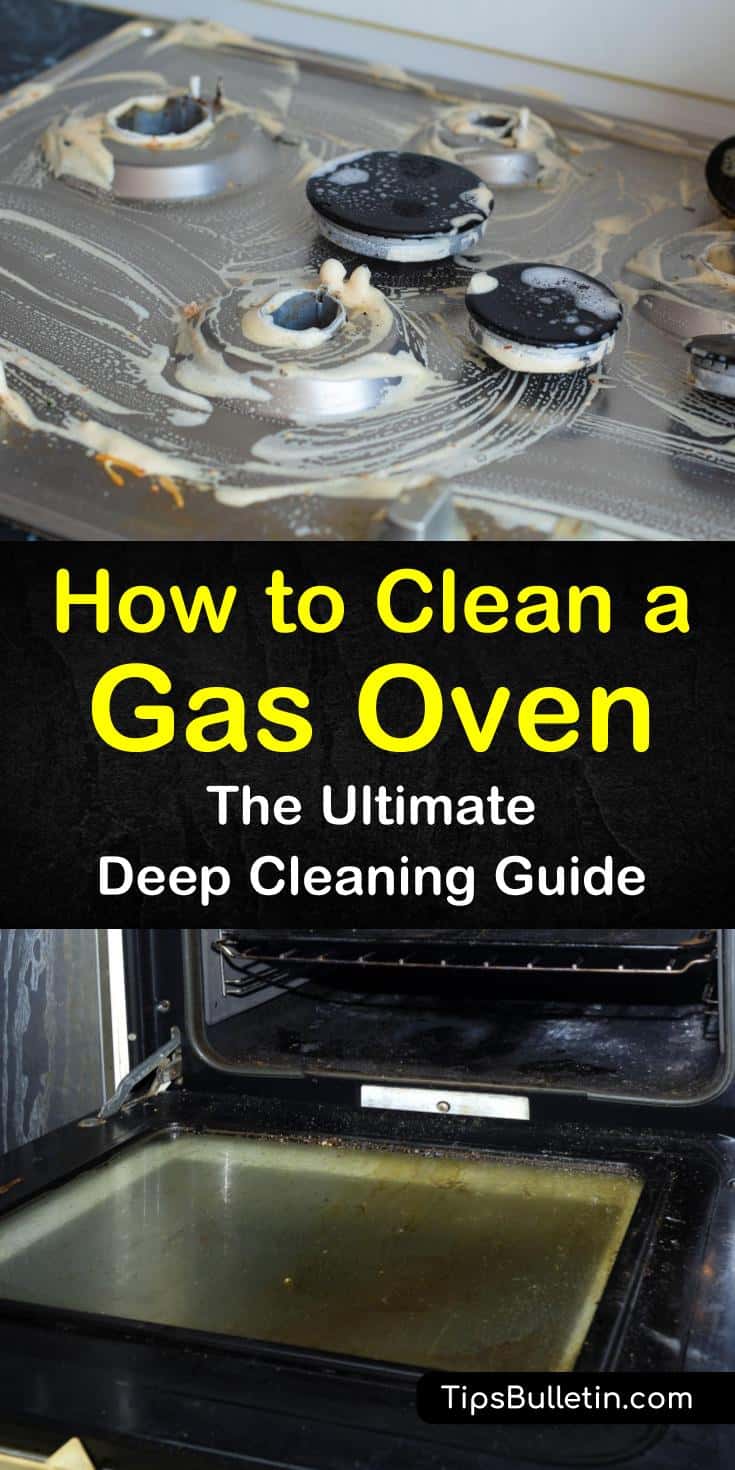 Thanks for reading our oven cleaning tips. If you thought our article on how to clean a gas oven was useful, please share our advice on cleaning a gas oven safely with your friends and family on Facebook or Pinterest.