A black granite sink adds an elegant touch to your kitchen. Composite granite—a combination of granite sand and acrylic resins—brings the same look while being cheaper, more durable, and less of a hassle to maintain than pure granite. However, without proper maintenance, these materials develop blemishes that leave you scrambling to find out how to clean a granite sink.
A white haze on granite indicates either the presence of mineral deposits or damage due to harsh chemicals or an abrasive cleaning tool. To avoid limescale deposits from hard water, make sure to rinse and dry your granite kitchen sink at least once a day.
When cleaning a granite sink, it's best to use gentle natural products like dish soap or baking soda, as well as a non-abrasive scrubbing pad.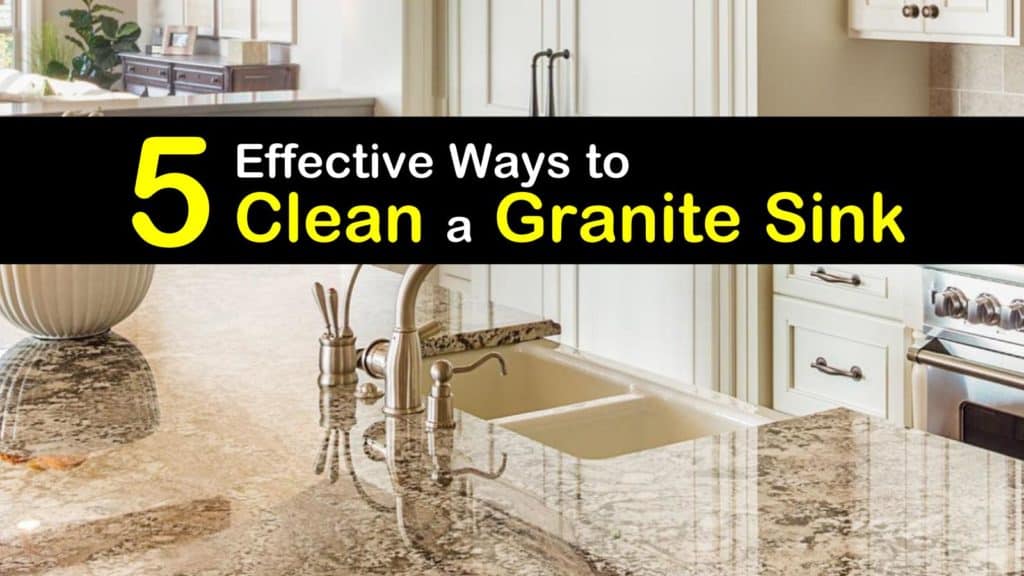 Simple DIY Methods for Cleaning a Granite Sink
Can you use bleach on granite surfaces to get rid of tough stains? No, do not use acids like vinegar or lemon juice, harsh chemicals like bleach or ammonia, or abrasive scrubbers like steel wool or a Mr. Clean Magic Eraser on your granite.
Now that you decided to try to remove the scum from your sink, we're happy to show you a variety of ways to clean a granite sink. The first couple of methods are great for light-duty cleaning; then, we'll get into how to tackle more stubborn stains and how to ensure that your sink stays shiny.
We'll finish with a couple of commercial cleaners that are effective for specific cleaning situations, as well as some essential maintenance tips.
How to Clean a Granite Sink with Dish Soap and Oil
Get ready by removing any food scraps and rinsing the sink with hot water. Squirt two to three drops of dish soap onto the soft side of a dish sponge or a nylon brush and scrub at the grime and get rid of hard water stains that sometimes appear.
Rinse away the soapy water, then dry the sink with a soft cloth. To keep the granite in optimal condition, apply a thin layer of mineral oil or a cooking oil like olive oil with another cloth.
After a minute has passed, wipe away the excess liquid. Follow this natural granite cleaning procedure once a week.
Dish soap and water also works well as the best way to clean granite tile floors. The degreasing qualities in the soap eliminate stains while leaving behind a nice shiny finish.
Make a DIY Granite Sink Cleaner
Instead of buying a cleaning product, make your own using the natural cleaning power of baking soda and the fresh scent of essential oils. This homemade sink cleaner brings the luster back to granite composite sinks.
Baking soda is also an effective drain cleaner. Lemon essential oil, meanwhile, is safe to use on granite because it does not contain citric acid.
Stir the essential oils with the baking soda. Dampen the sink with a little water then spoon the cleaning powder on top.
Add a good squirt of Castile soap. After scrubbing the sink with a sponge, rinse it with tap water and dry it thoroughly with a clean cloth.
Cleaning Granite Composite Sinks
The different blend of a composite granite sink means that it's okay to use vinegar to remove tough stains from its surface. Cleaning granite composite sinks is easier in this regard. However, don't leave the acidic substance sitting in your sink for long.
Follow the same initial steps of rinsing the sink, washing it with dish soap, rinsing the soap away, and drying the sink off with some paper towel or a clean cloth. Next, sprinkle baking soda to remove stains from granite surfaces.
Combine equal quantities of white vinegar and water and spray the mixture onto the soda. After the vinegar fizzes, scrub with a dish sponge. Finish by thoroughly rinsing and drying the sink.
Polishing and Sealing a Natural Stone Sink
Once you master basic granite cleaning techniques, it's time to make your sink shine. This DIY granite polish is a cheap and easy way to make your sink look as new as when it was first installed.
Shake the ingredients in a spray bottle and spritz the polish onto your clean sink. Rub the liquid into the granite in a gentle circular motion with a soft cloth. Also, reseal a non-composite granite sink every couple of years.
Apply a commercial sealer to your clean and dry sink, following the instructions on the package. In combination with natural cleaning solutions, this product protects your sink against stains and scratches. It's also a good idea to seal quartz countertops.
Ways to Clean a Granite Sink with Commercial Cleaning Products
A couple of cleaning agents available at many home improvement stores successfully treat issues that you may have with your granite sink. Although it's usually mandatory to use a pH-neutral cleaner for granite, these products are not useful for removing mineral deposits.
Consider using a scum and mineral deposit remover specifically designed for granite. Apply the cleaner with a damp sponge, focusing on hard water stains and mineral deposits. Rinse the sink and dry it with a soft cloth.
Finish by applying a thin layer of olive or mineral oil, which you should wipe away after one minute. If your sink has gotten rusty, try Bar Keepers Friend.
However, since this cleaner includes oxalic acid, make sure not to leave it sitting in your sink for long, and rinse and dry the sink thoroughly. Perhaps test a small area before cleaning the whole thing.
How to Maintain a Granite Sink
When possible, blot away stains immediately so that they don't have time to sink into the granite, particularly alcohol or citrus stains. Another best practice is to rinse and dry the sink after every use.
Although this task sounds onerous, leaving the sink wet can cause white haze to develop. Once a week, wash the sink with dish soap and apply olive or mineral oil.
Improper or infrequent cleaning can cause limescale to develop. Also, aim to reseal your pure granite sink every one to two years.
Finally, make sure to avoid acids, harsh chemicals, and abrasive cleaning tools when cleaning a granite sink. In general, try not to leave a wet sponge sitting in the sink, place extremely hot objects in it, or drag aluminum items across its surface.
Pure versus Composite Granite Sinks
Most granite sinks are made of a granite composite, such as Blanco Silgranit, meaning that they're 20% acrylic resin. Both types of granite are strong, durable, and beautiful materials that are less prone to scratching than a stainless steel sink is.
There are, however, differences in terms of ways to clean a granite sink made of one type over the other. Cleaning granite composite sinks is relatively simple, given that it's possible to use vinegar, if necessary, on stubborn stains.
You also don't need to seal these sinks, because they naturally resist scratches, chipping, and water spots. Unadulterated granite sinks require more maintenance effort.
Even with resealing every couple of years to protect against scratching, they're still more likely to chip than granite composite. Pure granite is also significantly more expensive, although it does bring a one-of-a-kind look to your kitchen.
A granite sink, whether pure or composite, can act as a focal point for your kitchen's decor. However, the black material is less striking underneath a layer of white gunk. Ideally, you manage to avoid this situation through careful, regular cleaning.
In case you haven't, we've shared some of our favorite cleaning tips with you. You now know how to clean a granite sink with everyday household ingredients like dish soap and baking soda.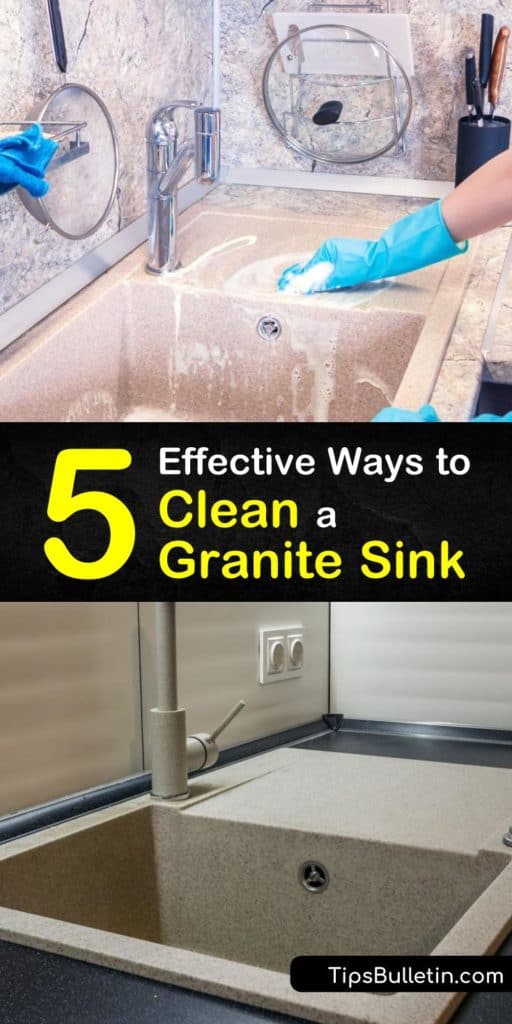 If you found these granite cleaning tips useful, please share these sink cleaner recipes with your friends on Pinterest and Facebook.