One of the best ways to unwind after a long hard day is soaking in your hot tub. While this sounds nice, sometimes dirty water, slime, and nasty gunk build up inside your hot tub, making it less inviting. If you want to use your hot tub to its fullest, you will need to learn how to clean a hot tub correctly.
Proper cleaning not only keeps the water looking beautiful and inviting, but it also helps ensure your hot tub stays functioning correctly. As people learn how to clean a hot tub, they wonder if it has to be empty or not. The truth is they can be empty or full when cleaning; it's just how you go about cleaning them that is different.
We want to teach how to clean a hot tub without draining it, but we also want to show you how to clean a empty hot tub. Knowing how to clean it both ways guarantees you will stay on top of regular cleaning because it will no longer seem like a horrible chore.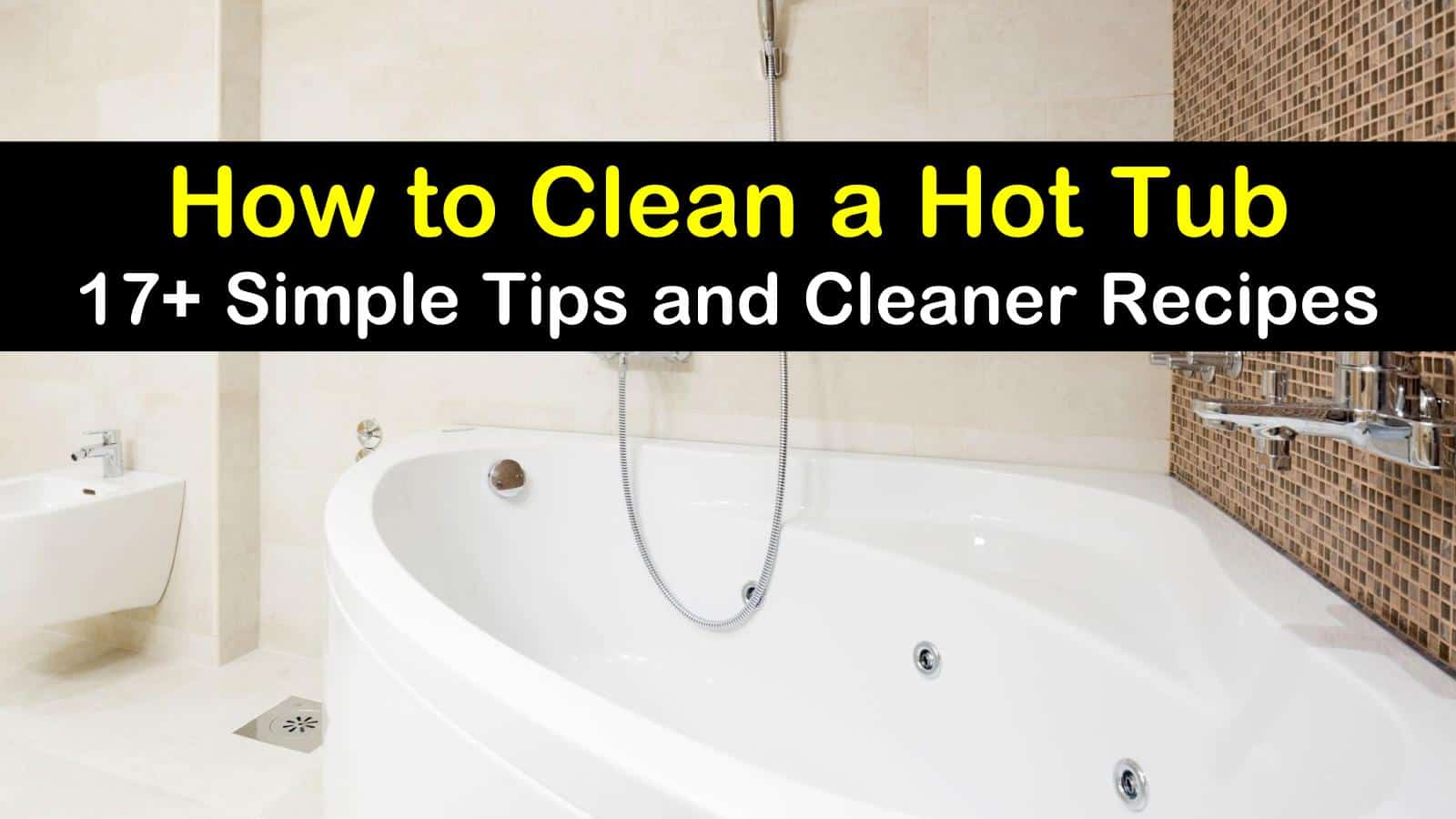 Best Ways to Clean a Hot Tub
To ensure that your Jacuzzi or hot tub gets the regular cleaning it needs, be sure to add this task to your restroom cleaning checklist. The temperature your hot tub runs at makes the inner parts an ideal breeding ground and living environment for bacteria, mold, and many other nasty living organisms that can make you sick if they are not cleaned often.
If you drain your hot tub to clean it and forget to flush the lines, all of that hard work was wasted as the bacteria, mold, and other nasty stuff living in your lines will quickly contaminate any new water. The only way to tackle that nasty gunk is to flush the lines before doing any cleaning.
Flush Lines Before Cleaning Your Hot Tub
Flushing the lines doesn't just clean them, it also helps your hot tub run more efficiently as it clears up any blockages. Clear lines allow for better jet pressure, less stress on the pump motor, and more transparent water.
You can find a line flush explicitly designed for hot tubs at your local pool supply store. Sometimes your local hardware store also carries it. Double-check that the product is designed for hot tubs, as many line flush products exist.
Turn Off the Power and Drain Your Hot Tub
Before you do anything else, cut the power off to your hot tub. Failing to cut off the power may result in damaging both the filtering mechanism and the pump if it tries running without enough water. Don't just flip your hot tub to off when cutting the power.
Consider unplugging it and turning off the circuit breaker. This will prevent you from accidentally flipping the power back on while you are cleaning. Draining your hot tub will vary, but always follow the manufacturer's instructions.
Some hot tubs require the use of a built-in sump pump, while others require the removal of a drain plug. Pay attention if your manufacturer's instructions include leaving water in the footwell, as some strongly recommend it.
If flushing results in cloudy water discharge, drain all the water from the tub, as well as rinse it out to remove all chemical residue. If necessary, refill the footwell with clean water and proceed as instructed.
Remove and Clean Hot Tub Filters
Before removing your filter cartridges, take a picture of the assembly so you can quickly put it back together. Once filters are removed, you need to clean them. Begin by squirting the filters with a high-pressure nozzle attached to your garden hose.
Never use a scrub brush on your filters, as it will ruin them. You can clean filters by soaking them in an oil-cutting solution; instructions for this are found in your owner's manual. If using the oil-cutting solution, follow up by disinfecting them with a Dichlor and water rinse.
Make this filter cleaner by combing ¼ teaspoon Dichlor with five gallons of water. Your other option to clean your filters is to run them through your dishwasher. Use the usual amount of dishwasher detergent, but turn off the heat drying cycle. For optimal results, run your filter through the dishwasher twice.
Before running it through a second time, turn the filter over. Before using the dishwasher, it is always a good idea to consult your owner's manual to ensure the filter can withstand the sanitizing temperatures of your dishwasher.
A good filter cleaning is also an excellent way to clear a cloudy above ground pool, as well as an in-ground model.
Ideas for How to Clean a Hot Tub without Draining It
The only way to scrub the shell of the hot tub is by draining it, but sometimes you need to clean the water without emptying the entire spa. Luckily, there are several ways you can do this. The first method is to scrub any dirt or film off the shell and then scoop it out with a skimming net or spa vacuum.
Balance your chemical levels and use a granular chlorine shock. For filthy water, use double or even triple the dose of shock. Another way to clean your spa is to hire a company that offers mobile water recycling.
They will come out and pump out your spa water into their truck. They will run the water through filters mounted inside the truck and once clean, return the water. Know this service is not offered everywhere and is most commonly found in the driest parts of the country.
Your other option is to purchase a pool pump and filter system for an above ground swimming pool. Hook the system up to your spa and allow the water to filter through. Rinse the filter and repeat the filtration process until the water is clean.
How to Clean a Empty Hot Tub with Vinegar
The great thing about using white vinegar to clean your hot tub is that it is powerful enough to remove most scum and hard water lines. Vinegar is also relatively inexpensive and works just as well as your more expensive specialty cleaners. To clean the shell with vinegar, make a solution of equal parts water and vinegar.
For easier cleaning, pour the solution inside a spray bottle. Spray down the entire shell and allow the solution to sit for at least 15 minutes. If using a bowl, pour the cleaning solution over the area you are cleaning and allow to sit for 15 minutes.
Use a microfiber cloth or sponge to wipe down the shell's surface. Rinse the shell thoroughly before refilling. Alternatively, you can clean the inside of the shell with a cloth and some vinegar.
Wet the cloth with warm water and wring out any excess water. Pour some vinegar onto the towel and wipe down the hot tub's surface. If using this method, there is no reason to rinse the solution away, and the vinegar smell will dissipate shortly.
How to Clean a Hot Tub Using Homemade Soft Scrub
Due to hard water stains or other built on gunk, sometimes you need a more abrasive cleaning product. Our homemade soft scrub spa cleaner is a mildly abrasive cleaner but is safe to use on the hot tub shell as it won't scratch the fiberglass surface.
To easily mix your own natural DIY descaler, combine liquid dishwashing soap or hair shampoo with baking soda to create a creamy paste. Dip your sponge or rag in the paste and gently scrub the spa's surfaces. Reapply the cleaner to the cloth or sponge as necessary.
Once clean, rinse thoroughly and drain the remaining water. If the water level drops down to a certain point, you may need to use a garden hose to siphon out the water remaining in the footwell. This also makes a great DIY bathtub cleaner.
Why is My Hot Tub Water Cloudy?
Many times your water is cloudy due to an imbalance in your water chemistry. To rectify this issue, you need to get an accurate reading of your pH levels, alkalinity levels, and calcium hardness. How you adjust your chemicals will depend on your readings.
If your calcium hardness is above 330 ppm, you need to lower your spa's calcium, alkalinity, and pH levels with a chemical balancer. If your total alkalinity levels are above 150 ppm, use a pH decreaser to lower levels to around 100 ppm. Adjust your pH levels accordingly, so they are within the 7.2 to 7.6 range.
Low sanitizer levels may also result in cloudy spa water. Check your bromine or chlorine levels to ensure they are within the appropriate range. Ideal bromine levels are 2-3 ppm, while if using chlorine, you want 3 to 5 ppm.
Anything below 1 ppm allows contaminants to grow out of control. Proper sanitizer levels will kill the pollutants causing the cloudy water. If your chemicals and sanitizer levels are all correct, a few other things that may cause cloudy water is air in the filtration system, an old or improperly fitted spa filter cartridge, or pump problems.
Air may enter the system through loose fittings or drain plugs, as well as a leak in the suction side of the spa pump or low water levels. Correcting the leak will resolve the cloudy water.
If your filter cartridge causes the cloudiness, either replace it with a new one or install it correctly. Numerous pump issues may result in cloudy water, including not running the pump long enough, clogged pumps, broken impeller, no flow, and several other things.
How to Reduce Spa Foam
Biofilm not only results in foam, but it may also cause cloudy spa water. Found inside the pipes and around various fittings, biofilm is a slimy bacteria that can form quickly in spas that are dormant. In extreme cases, you will notice slimy flakes floating in the water, which is the biofilm breaking loose from inside the pipes.
To treat biofilm, lower the pH level to 7.2 and then use enough spa shock to raise your chlorine levels above 10 ppm. Treat the spa with Jet Clean, which can be found at your local pool supply store. Jet Clean will remove any deposits, and to prevent future ones, add an enzyme product to your maintenance schedule.
How to Clean Your Spa Jets
For a simple yet highly effective DIY hot tub cleaner that also works on jets, try this recipe. If your spa features removable jets, the easiest way to clean them is by removing them and soaking in a mix of 50% water and 50% vinegar.
Soaking in the vinegar solution will remove any calcium build-up that may accumulate in the tiny openings in the jets. It's also helpful when cleaning pool tiles calcium deposits. Use a small scrub brush, such as an old toothbrush, to clean the soaking jets to get in the cracks and crevices.
Cleaning Your Hot Tub Cover
An essential part of hot tub maintenance that is often overlooked is cleaning the cover. The cover is prone to collecting dust, grime, sap, and everything else as it's the most exposed to the elements. Wipe down the cover with your preferred cleaning solution.
Once clean and rinsed, apply a vinyl protectant to the outside. The vinyl protector will help prevent the cover from cracking.
To clean the underside of the hot tub cover, remove the spa cover from the spa and spray it off with a hose. No special cleaners or protectors are necessary, although to reduce musty smells, you can use a diluted bleach cleaner every 90 days.
How to Remove Sap from Your Hot Tub
The last thing any of us want to clean up is sticky sap; whether it's on the cover or the spa's shell, it can seem like a daunting task to remove it. The sap is not something that easily wipes or scrubs off; no matter how hard you scrub, it just seems to spread the stain.
Pour some olive oil onto the sponge and gently scrub the sap until it begins to break up. Olive oil is safe for the shell and cover of your hot tub. Once the stain starts to break up, grab a clean rag and wipe the remaining stain away.
Wash with mild soap and warm water to remove any residue left behind by the olive oil. To prevent foaming when you fill your spa with fresh water, rinse the shell thoroughly after cleaning.
Cleaning Your Hot Tub without Chemicals
If you are looking for commercial cleaning agents without the worry of harsh chemicals or toxic fumes, your best choice is Simple Green. This hot tub cleaner is safe to use on the inside and outside, but do not use it on unfinished wood, leather, or suede.
You have the option of using Simple Green at full strength or diluted; how strong a cleaner you need depends on the cleaning you are doing. If cleaning hard water stains, use it at full strength or mixed with equal amounts of water. For general cleaning, mix one ounce of Simple Green with one cup of water. For light cleaning, you only need to mix one ounce of cleaner with two cups of water.
To use the cleaner, spray, or pour over the spa's shell and allow to sit for two minutes. Scrub away any stains with a soft cloth or sponge. Rinse thoroughly with fresh water to prevent foaming when you refill the tub. For stubborn stains, apply cleaner again and increase the strength of the solution.
Shine Up Fixtures with Rubbing Alcohol
Nobody wants fingerprints all over their stainless steel or chrome fixtures. To shine up the fixtures, dampen a soft rag with rubbing alcohol. We recommend using rubbing alcohol with a 90% alcohol content. Scrub or buff the fixtures until they are nice and shiny.
Baking Soda is an Effective Hot Tub Cleaner
Baking soda is one of the most versatile cleaners around. Make a baking soda and water solution for a base cleaner, or create a paste for a mildly abrasive cleaner. If making a base cleaner, dilute one tablespoon of baking soda inside a spray bottle of water.
You can increase the strength of the solution by adding more baking soda. For stubborn stains, sprinkle baking soda directly on the sponge and scrub until gone.
When cleaning the hot tub, use baking soda and vinegar. The chemical reaction that forms when they combine work to get rid of all kinds of grime, as well as mold and mildew, from a variety of surfaces in the kitchen, bathroom, and other areas inside and outside your home.
Sanitize and Clean Your Hot Tub with Bleach
Bleach will not only break up stains but will also kill any bacteria lurking in your spa. This is an excellent cleaning choice if you are dealing with hot tub folliculitis. Never use bleach with other cleansers, and always rinse your hot tub thoroughly after cleaning. Bleach, when mixed with other cleaning agents, can create toxic fumes.
Before doing anything with bleach, make sure you are wearing rubber gloves and old clothes you don't mind ruining — mix equal amounts of bleach and water inside a bucket or spray bottle. If using a spray bottle, spray the spa's shell.
If using a bucket, dip a rag in the solution and carefully apply the bleach solution to the tub. Allow diluted bleach to sit for 15 minutes. Use a sponge or clean cloth to wipe down the shell's surface and rinse thoroughly with clean water.
Use a Magic Eraser to Clean Your Hot Tub
Any melamine sponge, which is the generic name for the Mr. Clean Magic Eraser, quickly and easily cuts through the toughest stains inside your hot tub. Once the abrasive foam is activated with water, it will easily cut through grease, dirt, and built-up soap scum. You cannot use the sponge inside a hot tub filled with water, so if the stain is below the water line, you must drain the tub before scrubbing.
Use Silly Putty to Pick Up Debris
A spa vacuum works best at cleaning up pieces of debris, but it is not the only thing that will work. Silly Putty, which is 100% waterproof, is an excellent tool to use when picking out debris such as leaves or sand. To apply, press the Silly Putty directly onto the waste, remove from the water and discard.
Remove Mildew from Hot Tub Pillows
To remove mildew from your hot tub pillows, remove the pillows from the hot tub. To remove them, follow the instructions in your owner's manual.
Make the cleaning solution by adding one teaspoon of mild detergent to five gallons of water along with a small amount of bleach. Stir to mix thoroughly. Begin by cleaning the area inside the hot tub where the pillows sit.
Using a sponge dipped in the cleaning solution to wipe away mildew. Make sure you scrub every crevice to prevent mildew from reappearing. Next, clean the pillow covers, again making sure you get every crevice.
An old toothbrush works well in the harder to reach areas. You also need to clean the foam encasements. Once everything is clean, rinse thoroughly and allow each part to dry before putting everything back together.
Absorb Body Oils, Lotions, and Other Stuff with Tennis Balls
Even when we shower before entering the hot tub, lotions, body oils, hair products, and all kinds of other gunk enter the water. Adding tennis balls to the skimmer or into the water directly is an excellent way to keep the nasty stuff out of your filters. Tennis balls soak up oils as they enter the water, but for optimal results, change them out regularly.
Cleaning Your Hot Tub Grout
If you have tiles, you have grout, which is just one more thing that requires cleaning. The quickest way to clean grout is to create a thick paste with baking soda and water.
Apply it to the grout with a sponge. Allow the paste to sit for five minutes and scrub with an old toothbrush. Baking soda shouldn't alter your spa chemistry too much, but always check and balance the water once you are done cleaning.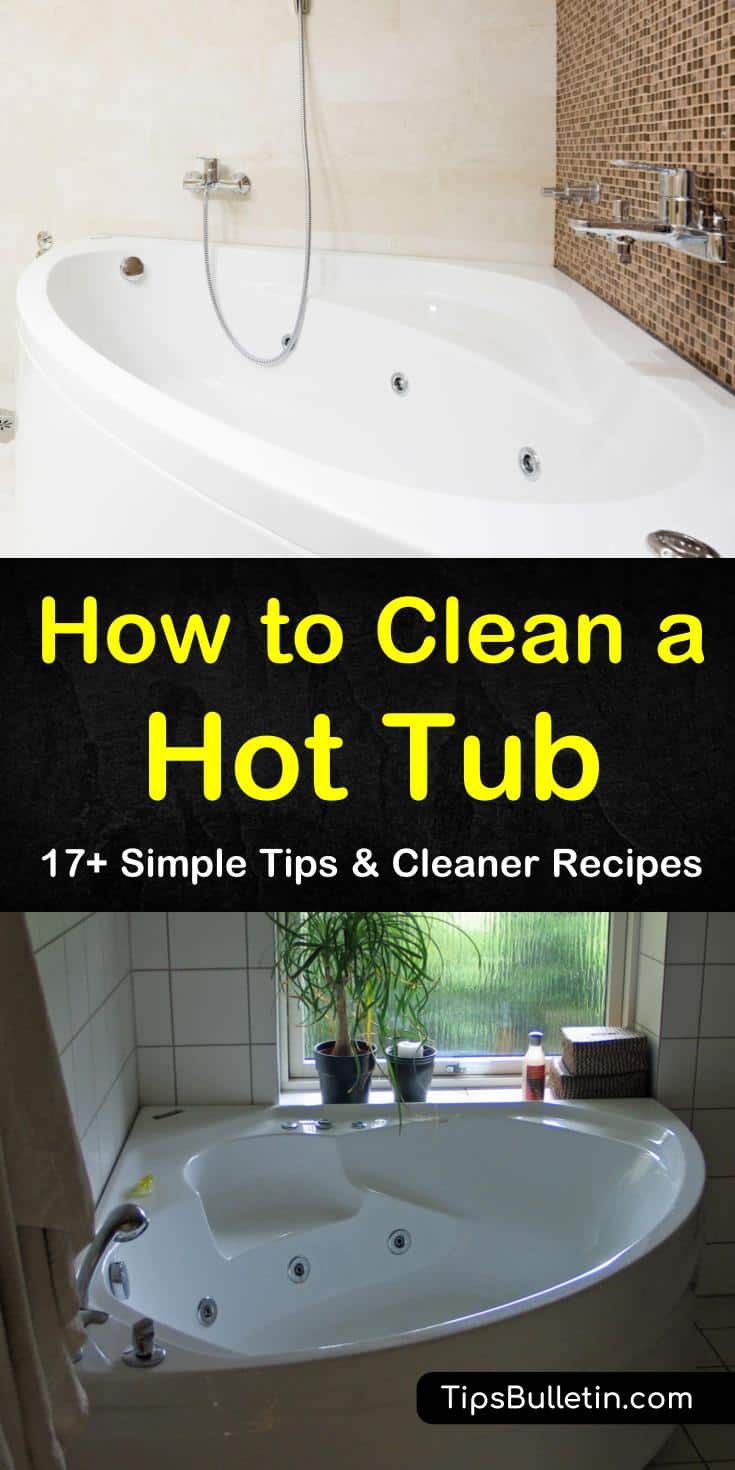 Thank you for reading about our hot tub cleaning tips and recipes. If you found our hot tub cleaning ideas helpful, please share with others on Facebook and Pinterest so they can learn how to clean a hot tub correctly, too.