Humidifiers have a whole host of benefits, from reducing dry skin in the winter and improving air quality to preventing cracking in wood surfaces. However, those benefits are much less pronounced for dirty humidifiers spewing contaminated air. Read on to discover how to clean a humidifier with vinegar to keep your machine operating as effectively as possible.
Unfortunately, the wet environment inside a humidifier is a breeding ground for mold and bacteria. A warm mist humidifier is often preferable to a cool mist humidifier since the boiling water fights bacteria growth.
In our view, the best humidifier is the nearly silent ultrasonic kind, which can have either warm or cool mist. Evaporative humidifiers, which release cool mist, have a wick filter that you need to take extra care to clean and replace. No matter the type of humidifier, follow the manufacturer's instructions since there may be special guidelines for cleaning or taking it apart.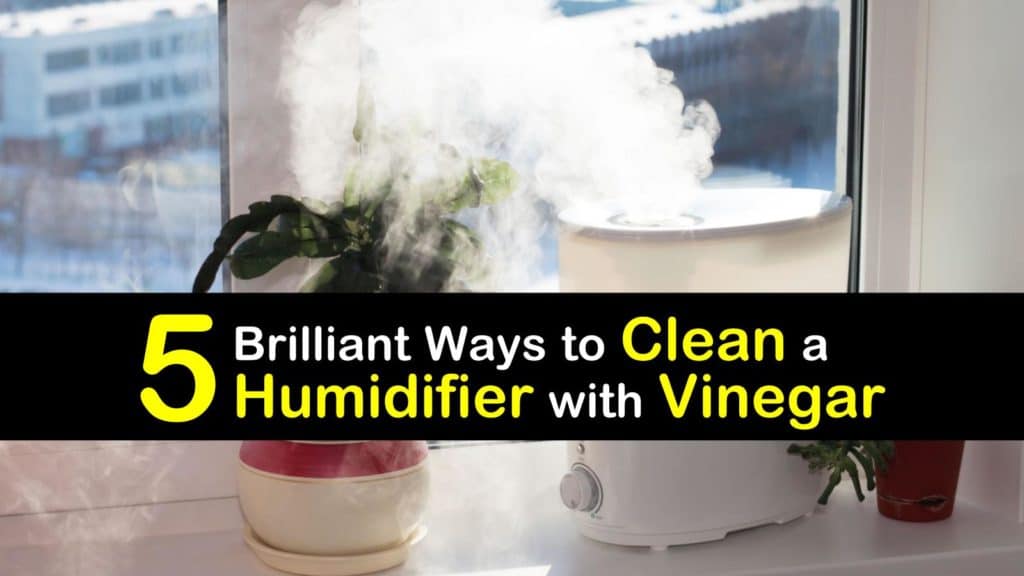 Cleaning a Humidifier with Vinegar
To keep a Honeywell or other humidifier clean, give it a regular cleaning weekly. Clean it every three days if you're using it often, or if someone in your household has a respiratory condition. Give the unit a deep cleaning approximately every two weeks.
How to Clean a Humidifier with Vinegar – The Basics
To clean a diffuser or humidifier, first, unplug the humidifier and allow it to cool, then disassemble it and carefully empty any water. Use pure white vinegar for cleaning a humidifier with vinegar unless the user manual recommends diluted.
The vinegar acts as a natural cleanser, disinfecting and loosening residue, including calcium buildup. Do not use a chemical cleaning product since it could damage the humidifier and release the chemicals into the air.
Fill the humidifier base with vinegar, and swish two cups of vinegar around in the water tank. Let both parts soak for one hour.
Once the hour is up, scrub hard-to-reach areas with a toothbrush to loosen grime. Rinse the base and tank well with warm water, then let them air dry. Finally, reassemble your humidifier.
Air Humidifier Cleaning with Vinegar and Rice
If there's grime buried deep within the tank where you can't fit a brush, try this trick involving common household ingredients. Add a few tablespoons of rice, some vinegar, and cold water to the tank. Seal it and shake it vigorously for about a minute.
Let the tank sit briefly, then repeat the process until you've dislodged all the grime. Rinse thoroughly to ensure that all grains of rice are gone.
Cleaning the Exterior and Removable Parts of a Humidifier with Vinegar
Sometimes, you may want to give your humidifier a more thorough cleaning. After rinsing the base, wipe it down with a vinegar-soaked cloth, then let it dry. Wipe down the appliance's exterior with the same cloth.
For small removable parts like caps, either wipe them with a cloth dipped in vinegar or soak them in vinegar briefly. Some humidifiers even contain dishwasher-safe parts.
Descaling a Humidifier with Vinegar
If there's white residue accumulating in your humidifier, it's likely hard water deposits. This way to descale a humidifier uses the power of white vinegar.
Start by scrubbing away as much powder as possible with a toothbrush. Cover any remaining patches with a vinegar-soaked cloth, leaving it in place for a few minutes. Wipe off the limescale with a cloth, then rinse.
If you can disassemble the humidifier, take out the heating rods. To use this homemade descale solution, remove mineral buildup with a toothbrush, soft cloth, spoon, or dull knife.
If the mineral deposits still don't come off, fill a bowl with vinegar. Soak the parts for at least two hours and even overnight. Wipe away the powder with a cloth, rinse the parts, let them dry, then reassemble your device.
Air Humidifier Cleaning with Vinegar – Deep Cleaning
To perform a deep clean, remove the wick filter if applicable, fill the water tank with one cup of vinegar and one gallon of water. Let the humidifier run for one hour, plugging it in outside so that it doesn't stink up your house.
Pour out any remaining vinegar, then rinse the tank. Fill it with fresh water and run it for another hour. Rinse it again. If there's still a vinegary smell, add a few drops of essential oil as long as the manufacturer's instructions do not caution you otherwise.
How to Disinfect a Humidifier
Cleaning a humidifier with vinegar is an excellent first step and an important task to complete regularly, but occasionally, disinfectants are also beneficial.
Combine the water and the teaspoon of bleach. Pour the bleach solution into the water tank and swish it around. Let the tank soak for up to one hour, then pour out the cleaning solution.
Rinse the tank with cold, clean water until the bleach scent is gone, then wipe it dry and reassemble the humidifier. Alternatively, add a few cups of 3% hydrogen peroxide to the water tank and follow the same steps.
You can also clean it with vinegar and baking soda and get the same – or even better – results.
How to Maintain a Humidifier
To avoid having to clean mold, keep the area around the humidifier dry, turning it down if it causes dampness. Empty the water from your humidifier when it's not in use since standing water encourages bacterial growth.
Make sure the device is clean, dry, and filterless before stashing it away. If you're using the humidifier regularly, change its water every couple of days with distilled water. The minerals in tap water may start to form white dust if they pass through a humidifier.
To clean an evaporative humidifier's filter, rinse it with cold water, then let it dry. Do not wash it with cleaning products since they can damage its antimicrobial covering.
Replace the filter every month or two, especially if it's hard and crusty or smells strange. If a cool mist humidifier is not misting, you may need to unclog or replace the filter.
There are many items around the house that it's easy to neglect to clean. The humidifier could seem low on the priority list. After all, it relies on water, which is traditionally associated with cleanliness.
However, regular air humidifier cleaning with vinegar guarantees that this little device does the job that it's supposed to.
The good news is that humidifier maintenance does not require much effort or unusual ingredients and supplies. Before long, you'll be comfortable with how to clean a humidifier with vinegar.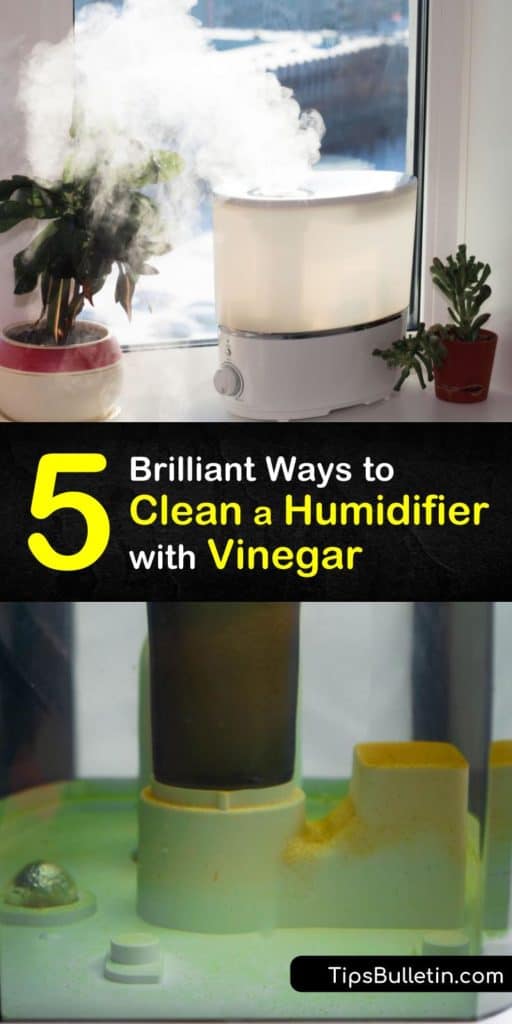 If you found these cleaning tips helpful, please share these humidifier maintenance strategies with your friends on Pinterest and Facebook.