A humidifier is a device used to put moisture into the air. It is helpful in winter when indoor heating systems and weather take moisture out of the air and dry out your eyes, lips, nose, and skin. Dirty humidifiers can cause adverse health effects and worsen asthma or allergy symptoms. Instead of taking health risks with a dirty humidifier, we have provided you with a guide on how to clean a humidifier at home.
Dry air can become problematic for both skin and health. Here is when the humidifier comes to the rescue. But do you know how a humidifier works? What do they do?
A humidifier adds moisture to indoor air to improve air quality and keep you away from many allergens. However, if your home humidifier is grimy, then it can carry many dangerous bacteria.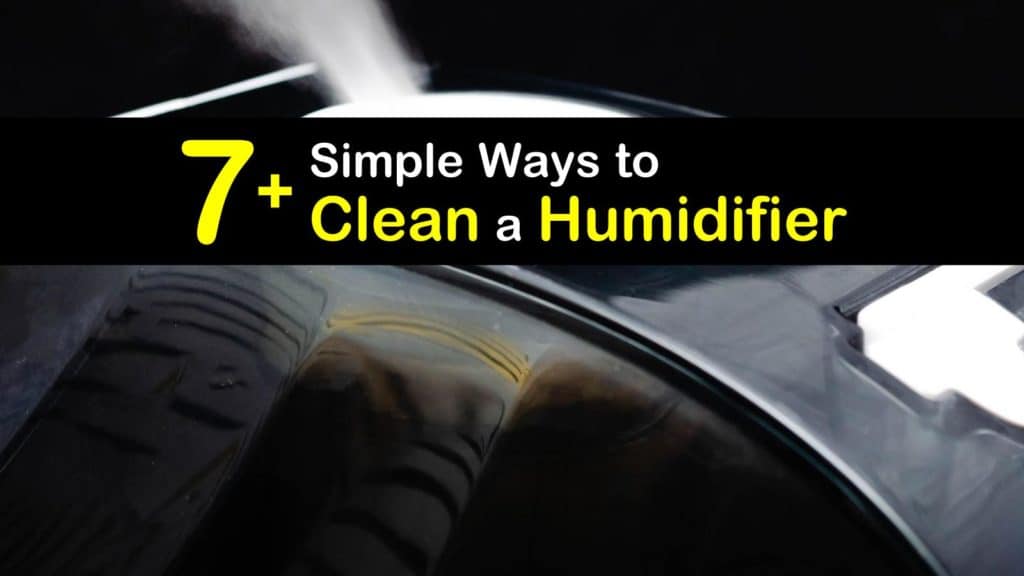 Best Ways to Clean a Humidifier
Some people ask, "How does a humidifier work?" We have the answer for you. Here are the best cool mist humidifier cleaning tips and for those machines that use heat.
We have a list of the best humidifier cleaning and disinfecting methods that will not require any shopping. Most of these items are easily available in your kitchen cabinet. So, let's learn how to clean a humidifier, whether you have a Honeywell or another brand.
Preparation before Humidifier Cleaning
Whether you need to clean an ultrasonic humidifier or other type, first unplug your humidifier before you start cleaning. Ensure that your humidifier is disconnected from electricity for safety. To get to hidden areas, disassemble the humidifier. We recommend that you clean every part very carefully for the best results.
Clean your humidifier tank and disinfect regularly. Also, cleaning a humidifier filter should never include any cleaning solution because chemicals will damage it. Harsh cleansers leave traces behind.
How to Clean a Humidifier with White Vinegar
White distilled vinegar can be a very effective disinfecting agent. It can help you clean a humidifier tank and filter without leaving any impurities.
Unplug the humidifier, remove the filter, and empty the water tank before starting. Disassemble all the removable parts and then keep them on a towel.
Use tap water for cleaning a humidifier filter to remove any visible mineral deposits. Pour white distilled vinegar into the water tank and leave it for an hour.
Use a toothbrush to clean every corner of your humidifier tank or scrub if the grime at the bottom does not come off with the toothbrush. In some models, the water tank opening is not big enough for the brush to do its work.
In this case, use two tablespoons of rice and mix it with the vinegar. Swish and shake the vinegar rice solution in the tank until it is clean, clean a humidifier tank in running water and wash away all the rice grains or vinegar.
Finally, use a sponge or towel drenched in vinegar to wipe all the other parts of the machine and let it dry.
Clean a Humidifier Tank with a Bleach Solution
Bleach can remove all the contaminants very quickly and will clean and disinfect your humidifier with little effort.
You can follow our straightforward method for cleaning a Vicks warm mist humidifier with bleach. Begin by unplugging the humidifier and disassembling all parts. Add a gallon of water to the tank and pour a tablespoon of bleach into it. Mix the bleach solution with water and let it sit for an hour.
Ensure that you don't leave the machine with bleach water for more than an hour because bleach can damage your machine if left too long.
Since this solution is harmful if it comes into contact with your skin, wear gloves and goggles to protect your eyes and hands from harmful chemicals. Rinse the water tank with cold water. Using a clean towel, dry your humidifier, and put it back together.
Peroxide as a Cleaner
Hydrogen peroxide is great for cleaning humidifier water tanks. It disinfects your water container and reduces harmful bacteria growth in your humidifier.
Using hydrogen peroxide to clean the humidifier works quite well. Unplug the unit and remove the parts you need to clean. Carefully rinse the filter with clean water and keep it on a clean towel to dry.
Pour the peroxide into the tank and ensure every corner of the tank is covered with the hydrogen peroxide solution. Let it sit for about an hour. Using this natural descaling solution is the easiest way to get rid of hard water stains and remove all the impurities automatically.
It can also unclog a humidifier and clean mold. Rinse your water tank with cold running water and dry it with a clean towel.
Humidifier Cleaning with Apple Cider Vinegar
Apple cider vinegar is one of the most effective natural disinfectants. It contains antibacterial properties that make it a very effective cleaning agent.
Unplug the machine and take out all the removable parts. Wash your filter with clean water and leave it to dry on a clean towel. Pour vinegar and water into the tank and let it sit for an hour.
Apple cider vinegar will remove or loosen all the hard water buildup. Rinse the humidifier tank and, if it still has some impurities, use a scrub or toothbrush to clean it.
Wash all the parts with running water and let them dry. Reassemble and use the humidifier after it is completely dry.
Tea Tree Oil for Humidifier Cleaning
The Melaleuca plant produces tea tree oil, and its antifungal, antiviral, and antibacterial properties make it a perfect disinfectant. If you want to disinfect your machine after cleaning, try tea tree oil.
It is a natural sanitizing agent that prevents mold growth. Also, it is a very effective breathing aid for asthma and other respiratory illnesses.
Unplug the humidifier and disassemble all the removable parts for separate cleaning. Rinse the filter using clean water. Wipe all the parts and leave them to dry on a clean towel.
Clean your humidifier with a natural cleanser of your choice, then use ten drops of tea tree oil to disinfect the machine. The oil also removes any leftover smell from your humidifier. Leave some drops of tea tree oil in the water to delay mold growth.
Lemon Juice
Due to the acidic properties of lemon, it is an excellent cleaner and disinfectant.
Unplug the humidifier, remove all the parts, and rinse the filter with clean water. Keep lemon juice in a bowl and soak the microfiber cloth in it.
Wipe all the parts with the juice using the microfiber cloth and leave some lemon juice in the water tank for 5-10 minutes. It will do light cleaning and a great job of disinfecting. Rinse all parts and let them dry on a clean towel.
Use Alcohol for Cleaning a Humidifier Filter
We all know how efficient alcohol cleaning can be. If you have some rubbing alcohol, use it as a great cleaning agent.
Unplug the machine and disassemble all the parts. Rinse filter and remaining parts with fresh water. Soak the microfiber cloth in the alcohol. Use this cloth to wipe all the parts other than the filter and leave them to dry on a clean towel.
Cleaning a humidifier filter with any cleaning agent, including alcohol, is not advised. Pour the alcohol into the water tank and leave it for half an hour. Use tea tree oil or another essential oil to avoid any leftover smell. Finally, rinse your humidifier and let it dry.
Multi-Purpose Cleaner
Cleaning and disinfecting are usually separate parts of the humidifier cleaning process. But, Borax, washing soda, and lemon juice do it all quite well.
Unplug the machine and remove all the parts. Wash the filter with water and mix all the ingredients in a bowl. Apply the mixture to the walls of the tank and leave it for 5-10 minutes.
With a scrubber, rub away the hard water stains and rinse with clean running water. Allow it to dry completely.
Did you find something new here? We have suggested some of the best humidifier cleaning recipes that use natural ingredients with antimicrobial properties. Our cleaners attack the bacteria breeding ground and remove impurities.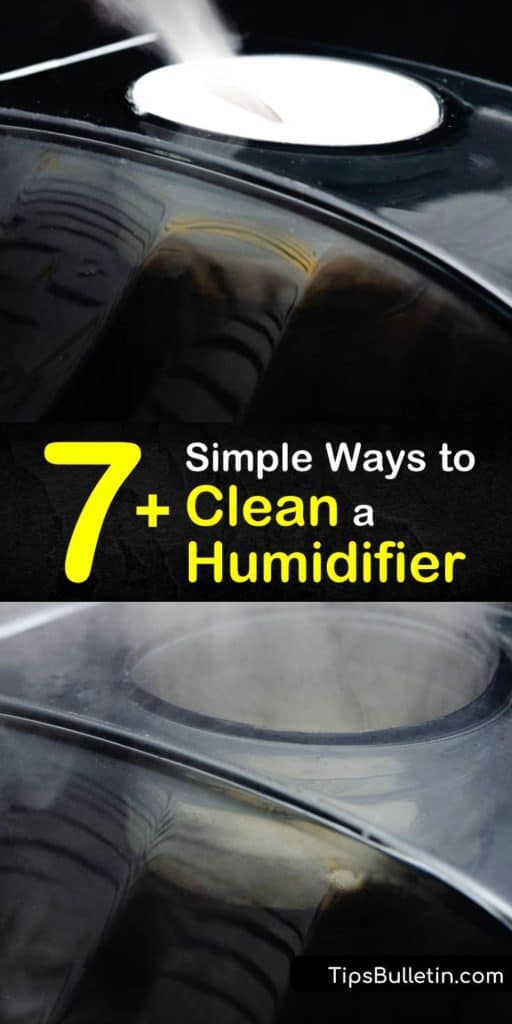 If you found these humidifier cleaning tips useful, please share the information about how to clean a humidifier with your friends on Pinterest and Facebook.