Lovingly-crafted leather furniture is a timeless and elegant addition to any home. While leather doesn't require excessive maintenance to stay clean and comfortable, having a few tips up your sleeve is beneficial. Learn how to clean a leather couch or recliner chair with inexpensive, easy-to-follow tutorials and natural ingredients.
The leather tanning industry is one of the oldest in the world. Almost every ancient culture has its own unique dyes and tanning tricks used to create rich colors and durable material. Thanks to their pioneering efforts, we can enjoy various leather goods today, from shoes and jackets to leather upholstery and furniture.
The marvelous thing about leather furniture is that it tends to get more comfortable with age, much like an old pair of jeans. Naturally dyed leather absorbs dirt and body oils, and a film or identifying patina develops as they oxidize over time. Discover how to clean your leather and preserve the patina without purchasing highly-specialized tools or harsh cleaning products.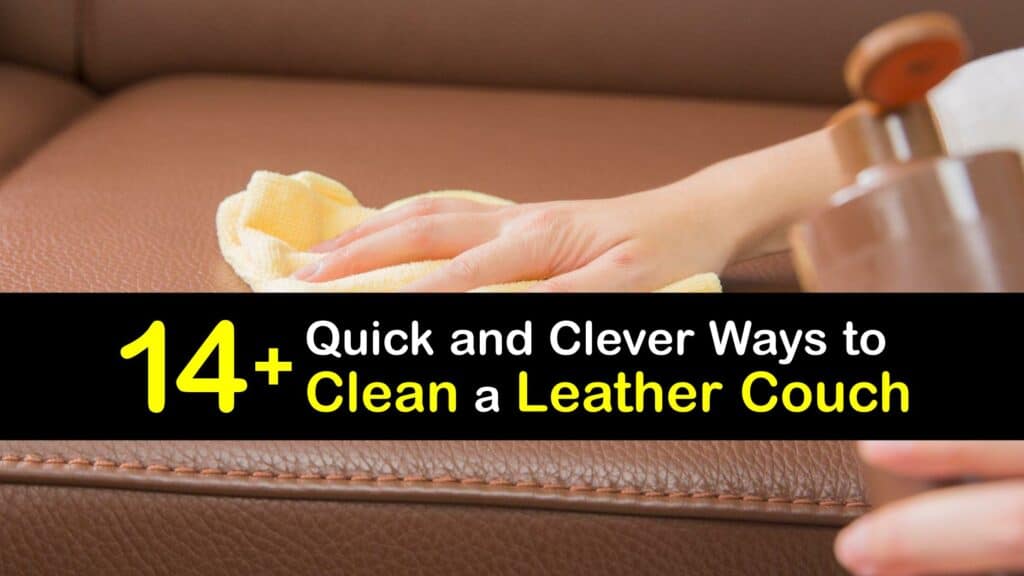 Incredible Tips for Cleaning a Leather Couch
Leather care doesn't have to be confusing, expensive, or time-consuming. Find out how to clean everything leather while learning to preserve the natural finish and promote the health and longevity of your favorite leather furniture and upholstery.
Pick up pointers on how to wash leather couch cushions, use professional leather cleaners, and make an amazing at-home leather cleaner and conditioner for quick and convenient use. These tips and tricks will keep your leather couches looking timeless, lush, and, perhaps most importantly, cozy, clean, and comfortable for family nights.
Types of Leather and Where to Start
There are different types of leather. Full grain leather is from the top layer of any animal hide; it is the highest quality leather and most sought after for furniture and weatherproof pieces like saddles. Full-grain leather is famous for its patina. Unlike faux leather, full-grain absorbs oils, creating an attractive finish.
Top-grain leather is the second highest grade of animal hide leather. It's typically softer and more flexible than full-grain leather because the top layer of skin is split and sanded to remove apparent imperfections.
You might see top grain converted to suede and nubuck or be specially dyed to become the aniline leather we see in high-end handbags and leather garments.
No matter what kind of leather you have, you don't need expensive cleaning products or highly specialized tools to keep your leather loveseat looking lustrous; a vacuum cleaner is ideal. Get the vacuum cleaner out, use the soft brush attachment, and give the crevices a once-over to remove crumbs, dirt, and debris.
Clean Leather With a Microfiber Cloth
When you can't commit to a full-scale deep clean, use a microfiber cloth for a 10-second tidy. Microfiber is ideal for cleaning a leather couch because it's soft, durable, and fantastic at trapping small particles.
Get rid of dust and prevent grimy buildup with a quick wipe-down of your leather couches and chairs. Keep a microfiber cloth or duster near your leather sofa to make maintenance a breeze; if you don't have anything made of microfiber, use a clean, dry cloth.
Lightly dampen your microfiber cloth for extra dust-grabbing power; avoid soaking the leather in excess water. Wipe the couch in small circles, getting all the nooks and crannies. Repeat this process every month for a clean leather couch.
How to Clean a Leather Couch With Dish Soap
Many leather lovers know the pain of ruining a perfectly good leather piece because they've stripped the finish with a harsh cleaner. When cleansing leather, start with something gentle. Get clear, mild dish soap and a clean cloth, and follow this simple tutorial.
The key to successful leather care is to avoid cleaners with a high pH, like white vinegar or lemon, as they tend to dry out the leather and promote cracking. Instead, fill a bucket with warm soapy water, dip a clean cloth, and wring it well.
Wipe your leather furniture with gentle circular motions, rinsing the cloth as you clean. Follow up with a dry cloth to catch excess moisture; never allow water to pool on the leather's surface. Once the leather is dry, look for any lingering residue and repeat the washing where required.
This dish soap method is also an easy solution to clean nail polish color off leather cushions. Avoid using nail polish remover on leather, as it can be too harsh and can damage the finish on the cushions.
How to Clean a Leather Couch With Saddle Soap
What is saddle soap, anyway? If you're not an equestrian, you might not know about this little gem of the leather care world. Discover how to clean a leather couch or recliner chair with this inexpensive, time-saving tool.
Saddle soap is a blend of beneficial ingredients, including mild soap, nourishing oils, and softening waxes. Each component performs a valuable function. The soap removes grime, the oil conditions and softens, and the wax seals the leather's pores to improve water resistance.
Saddle soap suits everything from your leather shoes to your favorite furniture. Before you begin, clean the leather to remove debris. Get a soft cloth and work a small amount of the saddle soap in a circular motion – think of waxing a car. Remove the excess soap with a clean cloth, and allow the leather to dry for at least several hours.
How to Wash Leather Couch Cushions
Castile soap comes from the Castile region of Spain; it's a famously versatile and eco-friendly soap. Learn how to wash leather couch cushions quickly and easily with this gentle Castile soap spray recipe.
Pure Castile soap does not contain artificial foaming agents or harsh cleaners because it comes from vegetable oil in plants like coconut, sunflower seed, hemp, jojoba, and olive. Castile soap is unscented, biodegradable, not tested on animals, and even vegan.
Washing leather couch cushions is simple. Fill a spray bottle with warm water and a tablespoon of Castile soap. Spray a clean cloth with your soap solution, remove the couch cushions, and wipe the grime and oil away for good.
Professional Leather Cleaner Products
A chemical leather cleaner is an excellent option for stubborn stains on a favorite leather sofa. Specially formulated leather cleaning sprays remove stains while keeping the leather hydrated. They also improve durability and water resistance and are pH balanced.
Use a professional product to destroy stains or safely scrub a leather couch with cracks; we all know how tough they can be. These products are usually available as a spray, and you should always follow the directions for optimal results. Check your manufacturer's instructions to see what kind of leather you have to ensure you care for it properly.
How to Make Homemade Leather Cleaner
Many people are surprised to hear they aren't supposed to use common household cleaners on leather furniture. Household cleaning products contain chemicals like alcohol and bleach that destroy the leather's natural finish, leaving a crumbling, flaky mess.
If you prefer to make a homemade leather cleaner from a few simple pantry ingredients, this section is for you. Our recipe requires two hydrating conditioners and a few drops of orange essential oil to help break down the dirt and scum clinging to leather couches.
Hand washing a soft leather couch is a piece of cake with this humble homemade leather cleaner. Start with a small bowl and combine the coconut, olive, and orange essential oil, whisking them until thoroughly combined.
Dab some oil mix onto a clean cloth and work it into the leather in gentle circular motions. Remove any excess and allow several hours to air dry.
How to Clean White Leather Furniture
White leather sure does look luxurious. However, that elegant appearance comes with a risk. Anything white is notoriously tough to keep clean because life happens – think spills, stains, and oil buildup. However, cleaning a leather couch that is white is usually as simple as scheduling some regular upkeep.
Schedule time monthly to dust your white leather sofa with a microfiber cloth. You'd be surprised how far a thorough dusting goes to keep your white leather looking brand new. After dusting, go over the leather again with a damp cloth and watch the leather shine in the sunlight.
If you have buttons or small design crevices on your couch, get a toothbrush and mild soapy water to do the small detail work. Some leather furniture enthusiasts recommend keeping a Magic Eraser to handle scuffs. This could be helpful, but it's always best to do a test spot to ensure the eraser doesn't damage the leather grain.
Removing Paint Stains From Leather Furniture
It's common for even the most experienced painters to drop a dribble in the middle of a remodel; that doesn't mean the end for your leather upholstery. When paint spills and splatters strike, use these tips to keep things clean and tidy.
Most indoor latex paint is water-based, so it comes off quickly with warm water and a little elbow grease. Reach for the paper towel and wick the paint splatter away from the leather. If the stain is already dry, use an old credit card to scrape the top layer of paint away lightly.
Mix a gentle cleaning solution with warm water and mild soap, and use a damp cloth or soft bristle brush to melt the paint out of the leather. If there's a great deal of paint residue, you might need to clean it in stages to stop the leather from getting soaked with water, which could damage it further.
How to Remove Ink Stains From Leather Upholstery
Whether you work from home, have school-age children, or have tiny mischievous tikes, there's a good chance you'll have to deal with ink stains on leather upholstery at some point. Discover how to clean a leather couch with ink stains with these helpful hints.
The most beneficial course of action for cleaning stained leather furniture and upholstery is to deal with it as soon as time permits. Start with a damp cloth and soapy water to see if it's possible to lift the ink without worsening. If not, you might need to raid the medicine cabinet for rubbing alcohol.
While it's not ideal to use rubbing alcohol on leather, it's usually okay if the ink stain is small; always test for discoloration. Grab a cotton swab, soak it in rubbing alcohol, and lightly press it against the ink stain.
You should see the ink transfer to the cotton swab; uuse a fresh one to avoid ink transfer back to the leather.
How to Clean Grease and Oil off a Leather Couch
Snacking on the leather sofa is all fun and games until someone drops a chicken wing on the armrest. If left unattended, grease penetrates the surface of the leather and becomes a permanent reminder of movie night. Be sure to use a leather oil stain remover with cornstarch as soon as these messy stains appear.
Start with a sheet or two of an absorbent paper towel and softly blot the excess grease away from the leather; don't push too hard because it forces the oil into the leather fibers. Get a half cup of cornstarch or talcum powder and spread a layer over the grease stain, allowing time to sit overnight.
Use a paper towel to sweep away the cornstarch, then dampen your microfiber cloth with warm water. Microfiber cloths are best for cleaning leather with a grease stain because they're effective at holding onto microscopic particles. Rub the grease stain in small circles, and add a dab of dish soap to act as a degreaser.
Tips for Sanitizing a Leather Couch
Most of us are so fixated on our hands or other common touchpoints and high-traffic areas in the house that we might forget that the couch could use sanitizing, too. It's important and reassuring to have practical sanitation tips at your disposal. Learn how to disinfect a leather couch naturally with these tips.
Knowing how to sanitize a real leather couch after a big social gathering is a huge asset. Unfortunately, you can't use alcohol or disinfecting wipes on genuine leather. The alcohol and disinfecting chemicals wreak havoc on the bonding agents found in the leather topcoat.
Instead, use hot water to kill any germs or bacteria breeding on the surface of your leather sofa. Fill a 1-gallon bucket with hot water; always use gloves and exercise caution when cleaning with hot water to avoid burning your skin. Wring your microfiber cloth out well, and wipe the whole couch, getting the crevices and cushions, too.
Leather Conditioner Can Change Your Life
Have you ever wondered how some leather always looks so shiny and lustrous? While cleaning your furniture is fabulous, leather needs the extra step to look rich and healthy. Applying quality leather conditioner is all you need if you struggle with dull, dingy leather furniture.
Every leather conditioner preserves and softens your leather furniture, trapping much-needed hydration inside to prevent shrinking and cracking. Think of how tight your face feels if you don't put on moisturizer after a shower; that's what happens to your leather couch after a cleaning.
Unprotected leather doesn't last nearly as long as well-maintained and protected leather. If you're unsure which leather conditioner is right, why not start with Leather Honey? It's a well-reviewed, affordable conditioner that is non-toxic and easy to use. Check your local hardware store or online retailers to grab a bottle.
Make DIY Leather Conditioner
If you need a leather conditioner now and don't have time to run out for a bottle of Leather Honey, make this DIY leather conditioner in your kitchen. Don't skip the most critical step in the leather care process; keep this recipe handy, so you'll always be able to condition your leather items.
Turn the stove on low to medium heat and melt the beeswax and shea butter in a saucepan. Add the grapeseed oil and the caster oil while stirring continuously to prevent burning. Stir the leather conditioner for several minutes to allow for blending, but do not boil the mixture.
Pour the liquid into a heat-safe container, choose one with a lid, and then allow your DIY leather conditioner to dry. When ready to condition, grab a soft cloth and work the conditioner onto the leather's surface in small circular motions until it shines.
Call a Professional Leather Cleaning Service
Did you know professional companies specialize in cleaning and servicing leather upholstery? If cleaning a leather couch from top to bottom is outside your comfort zone, contact your neighborhood cleaning services for a helping hand.
Leather is an organic material; like all organic materials, it degrades over time without proper care. Many of us are busy, but that doesn't mean you can't love clean, well-maintained leather furniture.
Experts recommend cleaning and conditioning your genuine leather furniture every 6-12 months; you only need to book an appointment. Clean leather furniture keeps bacteria and allergens under control and pairs well with an annual carpet cleaning. Being busy living life is okay because the professionals have your back.
We love our leather; the best way to show it is with continued care and conditioning. These tips for how to clean a leather couch provide you with a helpful set of fundamentals and should build your confidence when caring for your leather furniture and fabrics.
Remember to check the manufacturer's instructions to help you decide which cleaning methods to employ. Avoid using harsh household chemicals and cleaners with a high pH, like white vinegar or lemon, which could damage the leather's topcoat and cause flaking.
Stick to gentle cleaners like dish soap, Castile soap, and plain old water. Keep a tin of saddle soap or professional leather cleaner nearby, and clean spills and stains as soon as possible to prevent permanent damage. Always finish your leather care routine with a nourishing conditioner. Your leather will become more beautiful every year.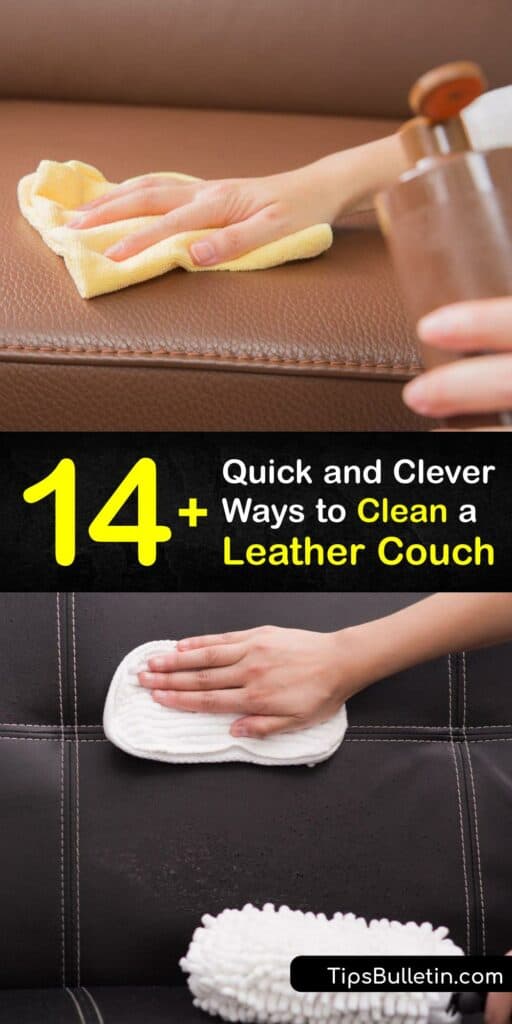 If you loved learning how to clean a leather couch, share this article containing quick and convenient leather care tips with your friends on Pinterest and Facebook.