Cleaning marble demands extra care. The maintenance requirements vary from other types of countertops, floors, and tiles. Learning how to clean a marble tile shower the right way is crucial for the long-lasting, beautiful stone.
Famous for its striking patterns and luxurious finish, marble is stunning. Unfortunately, the natural stone is also highly vulnerable to damage. Marble is a porous rock, which means the material often absorbs dyes, stains, and chemicals in bathroom cleaners.
It's also easily etched by the acidic ingredients in many homemade cleaners. So, what do you use to clean the stone without damaging the sleek appearance? Ditch the chemicals.
Don't use store-bought grout cleaner, bathroom products, or other all-purpose cleaning sprays. A marble shower is chic bathroom decor today.
The natural stone looks elegant, helping homes boost their value potential compared to other tile types. Use our tips to clean marble without causing damage or needing expensive repairs.
Amazing Ways to Clean a Marble Tile Shower
To keep your shower looking its best, learn how to clean a marble tile shower the right way. The best way to clean marble is to use light dish soap and clean water.
Other natural cleaners like baking soda help with issues like removing mildew from the tile grout. Follow our tips for cleaning marble.
Use a Marble Sealer to Prevent Stains
Protect the sealant in marble to prevent stains. Using a marble sealer is relatively simple, and the price of the sealer is worth the investment. However, a sealant isn't ideal for all marble showers. White marble tile, for example, doesn't need sealant.
Test to see if your marble needs a sealer by allowing a few water drops to dry on the surface. If they turn dark, the material is absorbing water. When sealer pools on top, your shower is already sealed.
To seal your shower, dust and clean the tile with a damp cloth. Remove any dirt and dry the shower. Spray the sealer onto the marble and wipe it into the surface with a rag or sponge.
Work from top to bottom for the best results. Let the sealer soak in for 15 minutes and wipe away any excess. Allow it to sit for 24 hours total to absorb fully.
Blot Water Spots Immediately after Showering
After each use, quickly clean your marble shower. Wiping it each time keeps the chemicals in your soap from causing damage to the marble.
There are options for drying the shower. Use a dry cloth, paper towels, or a squeegee to remove the moisture from shower walls and the basin after every shower.
Cleaning marble daily with a microfiber towel eliminates soap scum, mold and mildew growth, and deep cleaning needs.
Remove Hard Water Buildup with Dish Soap
Avoid conventional cleaning products for marble. Instead, a mixture of non-abrasive, undyed dish soap and water works well.
For a fast clean, combine warm water and pH neutral dish soap in a spray bottle. Spray it directly onto the shower, rubbing it in a circular motion with a soft, microfiber cloth.
Use the damp cloth to coat the walls and basin. Rinse the entire shower with water from the showerhead and dry it with a squeegee or rag.
Castile soap is an excellent option for removing water stains. Clean your shower with the spray a few times per week.
Take a look at the drain when you address the marble. If it has an odor or doesn't seem to be draining as it should, it might be time to clean the smelly shower drain. Some baking soda and vinegar should do the trick nicely.
Try a Commercial Spray for Cleaning Marble
There are a few cleaners made specifically for cleaning a marble shower. Unlike homemade recipes, these bathroom cleaners take the guesswork away. They never harm the stone.
Popular marble shower sprays include Simple Green, Zep Marble Cleaner, and Black Diamond. Follow the instructions on the bottle.
Say Goodbye to Rust and Stains with Baking Soda
Baking soda is another excellent natural stone cleaner and rust remover. It's a great natural grout cleaner recipe for tackling harsh mildew. The paste dries right on your shower, absorbing the stain.
Combine three parts water and one part baking soda in a bowl, mixing it to form a paste. Add more or less water to create an even consistency. Apply the paste directly onto shower stains or mildew that regular cleaning couldn't remove.
Wear gloves to protect your hands, then cover the area with plastic wrap. Tape the wrap in place and allow it to sit for 24 hours. Avoid using the shower until you rinse the paste free with water and wipe it down with a rag.
If using the paste as a rust remover, repeat the process as needed. Make sure the paste is at least 1/4-inch thick.
Remove Stains with Hydrogen Peroxide
White or light marble stains easily. Hydrogen peroxide is the perfect stain remover for light-colored marble, such as popular Carrara marble. It gets rid of ink, pens, markers, moss, mildew, coffee, tea, and more.
Find a high-strength hydrogen peroxide, like a 12% solution. Pour a little peroxide directly onto the shower stain, allowing it to sit until the stain lifts. Dry the liquid by blotting the shower with a dry cloth. Rinse using a damp sponge.
DIY Deep Shower Stain Remover
If you still see the stain, repeat the process. For hard stains or cleaning water stains off marble surfaces, try making a paste by pouring hydrogen peroxide into a container with baking soda. Mix until the paste is creamy, and spoon it onto the stain.
Make sure the paste is about ¼-inch thick and only covers the stain. Wrap the region in plastic wrap and allow it to harden for 24 hours. Use a damp sponge or cloth to rinse the paste away and buff the area dry with a soft cloth.
Test a small area before using large quantities of hydrogen peroxide on your entire shower. Never use this recipe on dark marble, or it may cause discoloration as well.
Marble Cleaning and Polishing with Baking Soda
Marble showers require dry mopping before polishing them. Use this DIY recipe as a polish to clean marble floors or showers.
Before you polish marble shower floor, clean and buff the area. Remove dirt and dust using the dish soap and water mixture above. Mix the water and baking soda in a bowl to create a paste.
Dip a soft sponge into the solution and apply it onto the shower floor in a thin layer. Gently rub the floor surface in a circular motion.
Leave the paste to dry for five hours, then rinse the dried baking soda away with a wet cloth. Buff dry the floor with a microfiber cloth.
Cleaning Marble Tile Shower with Homemade Cleaners
Many different all natural homemade shower cleaner recipes are not safe for marble, granite, or other types of natural stone.
The vinegar in these cleaning products degrades the sealant and causes damage to natural stone. Vinegar can etch a range of marble surfaces, from marble floors to marble countertops.
Avoid using bleach, ammonia, Windex, or any other generic cleaning products on marble. Anything acidic etches the stone. Abrasive cleaning pads also scratch countertops and marble tile. If you must use a store-bought cleaning solution, buy marble cleaner.
How to Clean a Marble Tile Shower vs. a Porcelain Shower
While porcelain and marble tile showers sometimes look similar, the two types of common shower materials come with different care practices. The best way to clean porcelain tiles includes making a homemade cleaner with vinegar and Borax.
Vinegar, on the other hand, damages marble. It's durable, but only without harsh cleaners. Various cleaning solutions exist between the two types of showers due to the tiles.
Porcelain has a high-gloss finish that makes the tiles much more durable and stain-resistant. Marble and other luxurious stones are more porous, which allows the stone to soak in stains or damage from acidic liquids.
It also costs much more to install marble than porcelain, so it's essential to keep your tiles looking their best.
Marble installation requires special grout and expensive materials. It's unlikely for marble surfaces to wear down as quickly as other materials with proper care.
Skip the typical bathroom cleaning products. With the right pH neutral soap, your marble tile showers will appear sleek and shiny long-term.
Simple ingredients reduce the risk of staining or scratches, save you time shopping for commercial marble cleaners, and are much cheaper and safer to use around the home.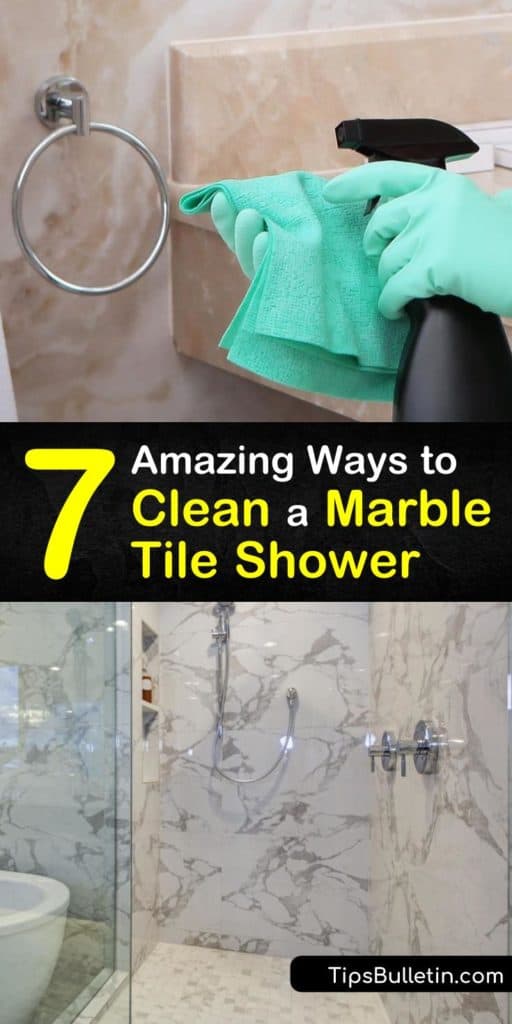 There are many helpful ways to clean a marble tile shower. If you had fun learning how to clean a marble tile shower using mild ingredients like dish soap and baking soda, please pass on our cleaning marble tile shower tips to your friends and family on Pinterest and Facebook.