When it's the middle of the night, and you find out your child had an accident, you need to figure out how to clean a mattress after bed wetting fast. Potty accidents are part of life. A significant step in helping your child feel better and continue their potty training journey is getting their mattress cleaned up and dried off so they can rest comfortably.
Cleaning a mattress after bed wetting doesn't have to be daunting. However, urine is a tough stain, thanks to uric acid. If not completely eradicated, it may cause a persistent odor. Arm yourself with several uncomplicated options to clean the mattress after child pees the bed.
Use items you already have at home, like dish soap or white vinegar, and avoid late-night trips to the grocery store. Urine stains are most manageable when fresh. Though it's tempting to leave it until morning, employ one of these simple ideas as soon as you find the wet bed and get rid of the urine for good.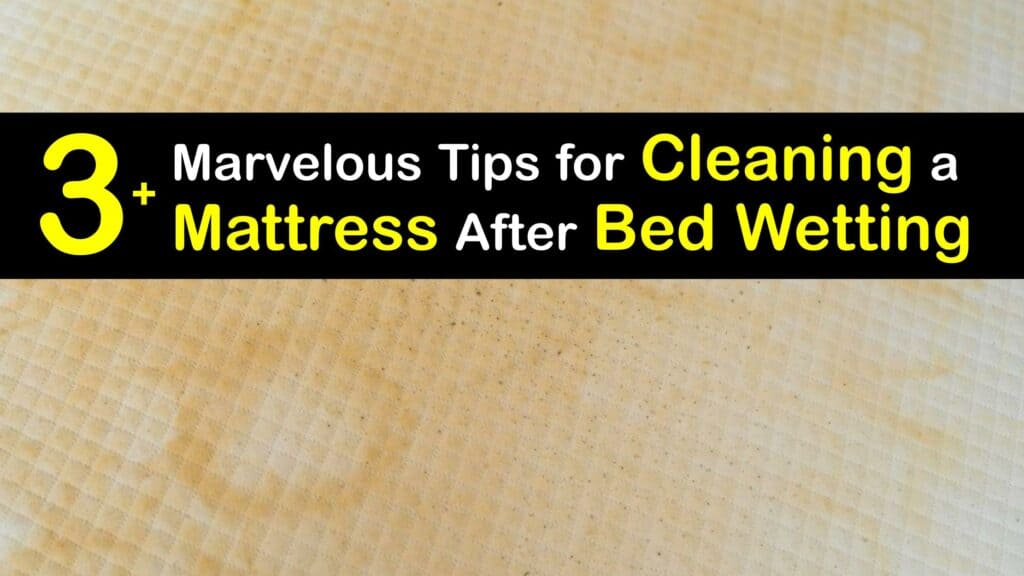 Cleaning a Mattress After Bed Wetting
It pays to understand how to clean a mattress after bed wetting if you care for children. Potty training is challenging for everyone, and knowing methods to clean the mattress after child pees the bed makes it easier.
The uric acid content in urine leaves yellow pee stains on the bed and creates a strong urine odor. As soon as you find a wet mattress, grab a paper towel and some rubber gloves and soak up fresh urine.
When you find a wet bed, follow our best way to dry a mattress covered in pee. Lift as much urine as possible from the bed's surface with a paper towel, and use a simple tip from below to clean the rest.
How to Clean a Mattress After Bed Wetting
White vinegar is an ideal dried urine stain remover. This powerful cleaner uses acetic acid to disintegrate the stain and odor-causing particles in urine so they wash away readily. Combined with tea tree oil, white vinegar makes a potent antibacterial cleaner for washing vomit off a mattress, urine, or any other wet mess.
Shake the liquids together and spray over the urine stain. Leave the cleaner to soak into the soiled region for ten minutes before dabbing it up with a cloth.
Clean the Mattress After Child Pees the Bed
Dish soap is made to tackle tough organic stains, so it's a sound choice to remove the mildew smell from a mattress, bedwetting accidents, blood stains, and cat urine. Mix a cleaning solution using only two ingredients.
Remove the mattress cover and put it in the washing machine with the appropriate laundry detergent. Combine the unscented dish soap and water in a bowl and use a clean cloth to transfer the solution to the urine stain. Scrub back and forth to remove the urine, and leave the mattress to dry in a well-ventilated room.
Clean Pee Out of a Mattress With Enzymatic Cleaner
Enzymatic cleaners are an ideal way to address an organic mattress stain like a urine stain. These specialized products use enzymes to target urine molecules and break them down for effortless cleanup.
Choose an enzyme cleaner appropriate for urine and suitable for whatever type of mattress you have. Use it following directions to safely eliminate pee stains and odors from a bed.
Freshen a Traditional or Memory Foam Mattress
Though it's often used for cooking, baking soda is invaluable for carpet cleaning and removing urine odor from a mattress. If you've previously cleaned urine stains from your child's bed, and a pee odor is lingering, strip down and wash the sheets.
Sprinkle baking soda powder over the entire mattress surface in the morning, and let it sit all day. Before bed, vacuum up the powder. The baking soda absorbs the smell of pee.
Cleaning a mattress after bed wetting doesn't have to be challenging. Knowing cleaning techniques gives you peace of mind. Purchasing the best mattress pad and mattress only to have it sustain a pee stain is disheartening.
Use an effective home remedy to clean urine smell and staining. Consider purchasing a waterproof mattress protector to save your mattress from future accidents.
If you loved this insightful article on how to clean a mattress after bed wetting, please share these brilliant tips to clean the mattress after child pees the bed with your friends and family with children on Pinterest and Facebook.