Metal is an attractive type of roof for many homeowners looking to add longevity and appeal to their homes. Compared to asphalt, the metal withstands harsh elements like sun, rain, and snow, far better and for much longer. So when it comes to proper maintenance, understanding how to clean a metal roof goes a long way in keeping your roof looking beautiful all year long.
Knowing where to start with your roof can be a little overwhelming at first. There are numerous materials and cleaners available, not to mention a myriad of different ways to clean a metal roof.
When getting started, the best thing to do is to collect the supplies you already have on hand for basic cleaning and go from there. If other complications arise, such as mold or mildew concerns, additional metal roof cleaning supplies and procedures may be necessary. Luckily, we have several different methods and DIY cleaning recipes for you here.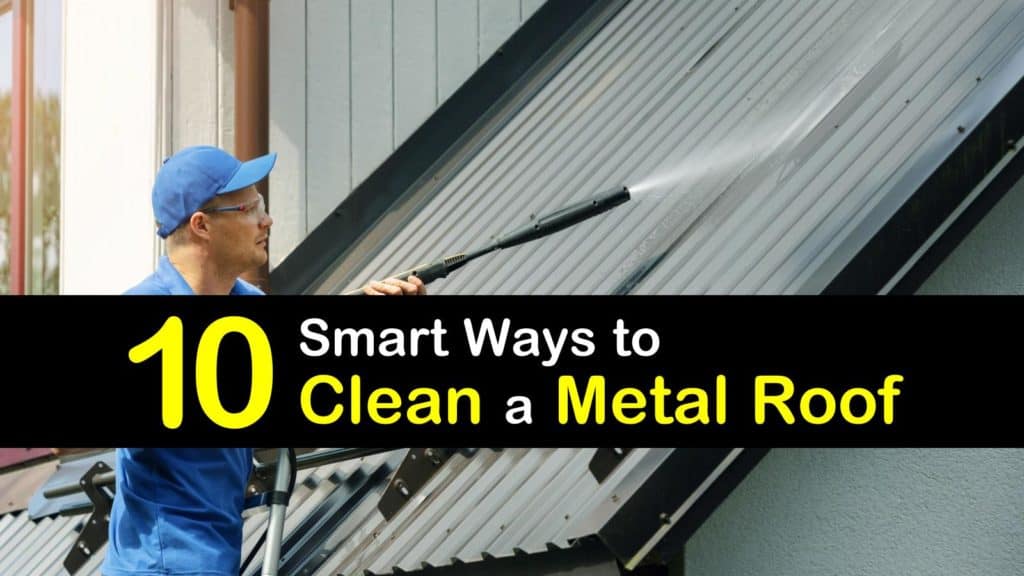 Ways to Clean a Metal Roof
Until you get up on the roof, you don't have a clue what you're dealing with in terms of maintenance. However, these amazing tips give you the peace of mind to tackle even some of the most challenging issues.
Prepare Ahead of Time
Similar to when cleaning aluminum siding, the first step in the process is to clear away as much large debris as possible by hand.
While issues like airborne dirt, pollen, and other small particles are more likely to appear on your rooftop, you may also encounter broken twigs and branches, especially if you have tall trees that hang overhead. The next step is to ensure you have the necessary equipment and supplies nearby.
While a power washer takes care of most grime on roofs, the job may call for a little elbow grease. Having a few types of scrubbing options to help with removing stuck-on particles and hard-to-remove dirt spares you from unwanted frustration.
Equally, wearing protective clothing when power washing prevents flying particles from harming you or getting into your eyes, as well as preventing you from slipping off the ladder when cleaning.
Pressure Washing a Metal Roof
A pressure washer is the most common method for removing unwanted materials from the roof. In some cases, a light rinse is all that is required to clear away the gunk and dirt left on the surface.
Before adding a mild detergent or bleach, you should clear the roof with a light spray of plain water. Start by placing the pressure washer on a low setting.
Spray each metal shingle from top to bottom, letting the dirt slide down until it falls off the side of the house. If you don't have a power washer, then a regular garden hose also works, though you need to scrub more challenging areas by hand.
Cleaning Metal Roofing with Soapy Water
After you finish rinsing your roof, it's time to add mild dish soap to the equation. This formula is ideal for a necessary roof cleaning since it doesn't expose the roof surface to harsh chemicals for an extended period.
Any type of detergent works when cleaning your roof, including mild laundry detergents, car wash cleaning solutions, and so forth.
There are a couple of ways to use laundry detergent to clean your roof. The first is to add it directly to the pressure washer tank, then rinse after letting it soak.
The second is to apply the detergent solution by hand using a sponge or cloth, then leaving it for approximately 5-10 minutes. Afterward, rinse the soap away with clean water from a hose.
Metal Roof Cleaning with Vinegar
Another excellent way to clean metal is using vinegar in a DIY power washer solution. A natural disinfectant, it is strong enough to eliminate most bacteria and removes any build up of mildew, as well. Dilute it with water, the typical ratio being an equal amount of each ingredient.
When cleaning your entire roof, stick to a lower pressure setting with this homemade metal cleaner. High pressure is not necessary and can do more harm than good. Using hot water is preferable, though, instead of cold or warm.
Treating Moss, Mildew, and Mold with Bleach
Bleach is one of the easiest ways to kill common problems like moss, mildew, and mold. However, if there is a significant amount of mold, a professional in roof cleaning services may be required. Generally, any area containing less than ten square feet of mold is suitable to handle on your own.
Start by blending the bleach and water thoroughly. Wet the roof with clean water, then spray the cleanser over the metal surface, beginning with the darkest areas of the roof.
Keep the flow of the water running down the roof instead of upward. Let it soak into the metal for approximately 15 minutes before rinsing with hot water.
This bleach cleaning solution will also work as agreat homemade RV roof cleaner. When an RV or motorhome sits too long, it can accumulate rust or mold. Using this bleach solution can save the metal roof on an RV.
Use TSP to Deep Clean Roofs
Sometimes your roof needs a deeper clean than what soap and water provide. One of the best cleaners to scrub away stubborn layers of dirt and fungus is tri-sodium phosphate, also known as TSP.
This heavy-duty compound is applied by hand, using a soft bristle brush or scrubber, rather than a pressure washer.
Dilute the TSP in water and use a bristle brush to work it into the areas that require cleaning. After thoroughly cleaning, let the formula soak for a few hours before rinsing with hot, clean water.
TSP can also be helpful as a spray paint remover from metal surfaces, whether it somehow got on your roof or another metal surface.
When using this heavy-duty compound, wear protective clothing, goggles, and a face mask to keep from ingesting it or irritating your skin.
How to Clean a Metal Roof
There are numerous cleaning products available to restore the luster to the metal if rust is a concern on your roof. The four most commonly subscribed cleaners are muriatic acid, hydrochloric acid, oxalic acid, and citric acid.
These four different cleaners use the same quantities and process to remove rust stains, though always consult the manufacturer's instructions for verification.
Apply the solution with a rag and scrub the spots in wide, circular motions. Once the rust eats away to reveal the smooth, metal roof, rinse away the acidic cleanser with fresh water.
Do not let the acid linger on the metal for longer than five minutes at a time, and always wear appropriate protection when handling.
More Ways to Clean a Metal Roof
If the rust spots on the roof are minimal, there is an alternative method to treat them without bringing in a severe cleaning agent.
For spot treating challenging rust stains, use a little bit of cream of tartar and hydrogen peroxide. The cream of tartar acts as a mild scrubbing agent to help the peroxide break down the rusty exterior.
To use this simple homemade rust remover, blend the two ingredients into a paste. Layer it over the rust spot and let it sit for at least ten minutes. Once it has had plenty of time to do its job, scrub it with a soft brush and rinse the remaining cleaner.
Add Zinc Strips
After removing any mildew or fungi from your roof, you may be curious about how to keep any growth from happening in the future. One of the best ways to prevent future incidents of fungus on the roof is to install zinc strips.
Zinc is not only poisonous to fungi, but it also inhibits spores from attaching to the roof and proliferating. Most local hardware stores sell zinc in rolls.
Attach them along the top of the roof, at its peak, and along the edges. Since fungi-inducing plants crave moisture, the strips also protect the metal from rusting.
What to Avoid When Cleaning a Metal Roof
When it comes to taking care of your metal roof, there are also some cleaners and supplies to avoid. Highly abrasive materials and chemicals may lead to issues like chalking or rusting.
They may also remove the coating that protects the metal and keeps it from overheating. Some materials to avoid include steel wool, sandpaper, and a wire brush.
Softer brushes and washcloths are perfectly acceptable since they provide a moderate amount of scrubbing without scratching. Paint removers and thinners are also considered harmful and easily remove any protective coating or sealers.
Additional Advice for Cleaning Metal Roofs
With so many different ways to clean a metal roof, you may wonder which option to start with first. For all other questions, we've included some last few words of advice.
How often should I clean my metal roof?
Every roof has specific requirements for how to maintain it without voiding any warranties. So, while you should always check the manufacturer's instructions, the rule of thumb for a basic clean with soap and water is once a year.
This frequency allows you to remove dirt, debris, and tree branches that have fallen throughout the year. Deeper cleaning is necessary once every three to five years, depending on how much exposure to the elements your roof encounters during that time.
A white, powdery film, known as chalking, sometimes forms over metal roofs due to increased weathering. This occurrence is another good indicator that it is time for a deep clean.
If you are unsure about the proper maintenance associated with your particular roof, the Metal Roofing Alliance provides additional resources for homeowners.
Now you have several new ideas to try when performing your metal roof cleaning. Most options require no more than some basic ingredients to get you started. The essential tools to use when taking care of your roof are some good old-fashioned elbow grease and little extra love and care.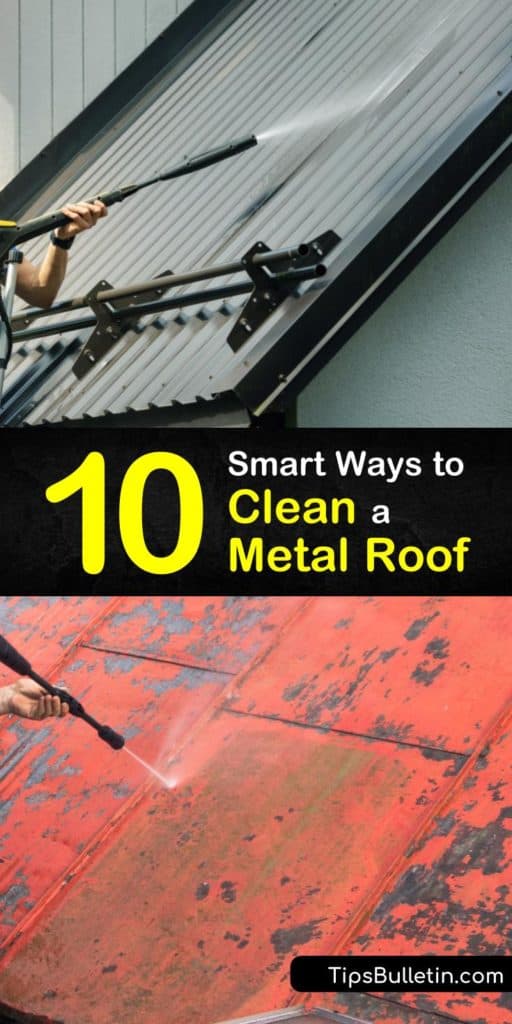 If you found these roof maintenance tips helpful, then please don't forget to share how to clean a metal roof with all the homeowners in your life on Facebook and Pinterest.