The devil is in the details when it comes to a perfectly spotless house, and keeping a mirror streak-free is one of the best ways to make it look like your home has a full-time cleaner. Mirrors are objects found in practically every home around the world. Knowing how to clean a mirror seems like a simple task, but sometimes people find themselves looking into a streaky reflection of themselves even after washing it.
The problem with mirrors is that they always seem to get dirty from dust, lint, hard water, toothpaste, and who knows what else is floating around in the air. Finding the best way to clean mirrors only takes a small amount of reading before realizing that there is a right and wrong way to do it.
Cleaning a mirror becomes even more challenging when there have been weeks or months of grime and gunk build up. If you're ready for a streak-free mirror, follow these glass cleaning tips for an undeniable shine.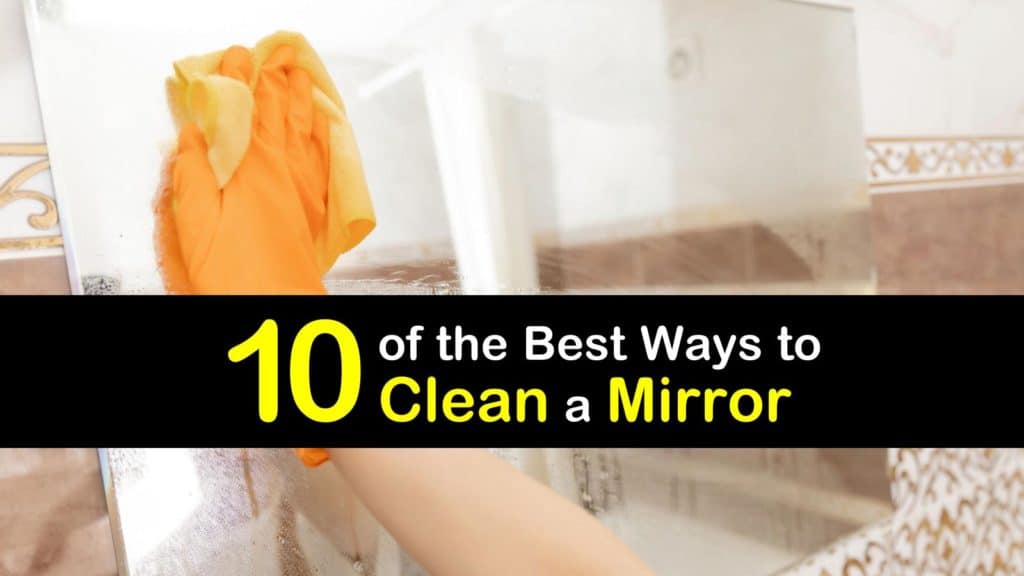 The History of Mirrors
The invention of mirrors came in ancient times. We all know that looking into a dark pool of water shows our reflection, and someone decided to take that effect and turn it into a handheld device.
The first handheld mirrors were created in Persia and Turkey roughly 6,000 years ago and made out of polished gold, brass, copper, or obsidian.
The mirrors we know today are far more advanced and affordable. We have mirrors of massive sizes and place them throughout several rooms in our houses.
Although mirrors are most common in bathrooms and above vanities, we now use them as decoration around other rooms, too. The great thing about learning how to clean a mirror is that cleaning a dirty mirror becomes something you look forward to once you know the proper procedure.
How to Clean a Mirror
Mirrors are made out of glass, and glass gets dirty fairly quickly, particularly since most mirrors are placed in locations with lots of moisture.
Condensation leaves them covered in smudges that smear when we try to wipe them away. Follow these mirror cleaning hacks to ensure that yours always have a streak-free shine and for ways to get wax off a mirror and other unpleasant, sticky messes.
What to Clean Mirrors With
There are several wipes to use when cleaning mirrors with vinegar or other cleaning products. One of our favorite products for mirror cleaning is a flat weave microfiber cloth.
This type of material repels water and lifts the gunk from the surface of the glass. Paper towels are often the next best solution, but any other cleaning cloth used for bathroom cleaning works fine as well.
How to Wipe Away Mirror Cleaner
Whenever you're wiping away your glass cleaner, make sure to move in either zig-zag or circular motions.
These are the best motions to make sure you remove all the cleaner, and they help lift the excess dirt from the surface. Use these simple movements to clean windows as well.
Cleaning Mirrors With Vinegar
Vinegar contains high acid levels that work to fight through tough stains and grime from hard-water, spit, toothpaste splatter, and more. Cleaning mirrors with vinegar is useful on your bathroom mirror or when you're doing your yearly window cleaning.
This household staple is one of the best home remedies for cleaning mirrors and glass around your home.
Remove the top from your spray bottle and fill it with equal parts vinegar and warm water. Apple cider vinegar works well as an acid substitute. Replace the cap and shake the bottle to combine the ingredients.
Spray the cleaning solution over the entire glass surface and let it sit for 60 seconds. Use a fresh microfiber cloth or paper towels to scrub the mirror's surface and lift the grime.
If there are still spots on the mirror or if you need ways to clean a mirror that is hazy, repeat the process and let the solution sit longer before wiping it away. Use a shower squeegee to remove all excess water from the surface and for washing windows without streaks.
What can you use to clean a laptop screen if it is smudged? This remedy works well for this application, too. However, spritz the cleaner on a clean cloth and wipe the screen instead of spraying the screen directly to keep from damaging the internal components.
Using Lemon Juice to Replace Vinegar
Similar to cleaning mirrors with vinegar, lemon juice makes a great substitute because it is naturally acidic. Create a mirror cleaning solution by cutting a few lemons in half and squeezing out the juice.
For this natural glass cleaner recipe, pour the juice into a squirt bottle and fill the rest with water. Spray the lemon water over the mirror, allow it to sit for several minutes, and wipe away the remaining moisture for clean mirrors that last for weeks.
This cleanser works exceptionally well for mirrors with hairspray stuck to the surface.
The Best Way to Clean Mirrors
Sometimes there is build up on our mirrors that has been there for so long that it seems impossible to get off. We guarantee that the best way to clean mirrors is to create a DIY window cleaner from products found in your kitchen.
Add all ingredients to a squirt bottle and shake vigorously until all ingredients combine. Spray the solution over the whole mirror so it is evenly wet. Allow the cleaner to sit on the mirror for roughly two minutes.
Spray the mirror once more before using a clean cloth to wipe away the dirt. Add more spray to areas with leftover stains and repeat this process until the mirror is clean. This recipe is the best mirror cleaner and disinfectant all in one.
One-Spot Cleaners
Even if your entire mirror isn't dirty, at least one or two spots usually demand your attention.
If you encounter some small areas that require cleaning, soak a cotton pad or cotton ball in standard rubbing alcohol and tape it to the affected area. Let the rubbing alcohol sit for several minutes before removing it and wiping away excess moisture. This remedy is perfect for getting Sharpie off a mirror or if you have blotches of toothpaste.
Homemade Mirror Paste
Hard water spots are one of the toughest stains to remove from mirrors. The best way to tackle these stains is to create a paste that dries on the desired location and lifts off quickly.
Mix equal parts baking soda and vinegar in a small bowl. The consistency should resemble a paste. Smear the paste over the hard water spots and let it dry.
Use a dampened soft-bristle brush or an old toothbrush to scrub away the paste. Wipe away the remnants with water and squeegee away all remaining moisture.
Use Fresh Toothpaste on Old Toothpaste
Our bathroom mirrors are often covered in toothpaste spatter from brushing our teeth. Even when we try to avoid it, getting spit and paste on our mirrors is inevitable over time. It's important to clean a stained mirror to restore complete visibility and aesthetic appeal.
Did you know that you can combat toothpaste stains with more toothpaste? Use this method when you don't have vinegar or lemon juice on hand.
Spread a thin, even layer of toothpaste over the dirty area and let it sit for two minutes. Grab a non-abrasive sponge and dampen it with warm water.
Wipe away the fresh toothpaste, scrubbing so that the old stuff lifts into the sponge. Use a bathroom squeegee to remove the water from the mirror.
Abrasive Cleaners
Some homemade cleaners work incredibly well when learning how to clean a mirror. Powdered Comet or Bar Keepers Friend are some of our favorites. Use a wet cloth to dampen your mirror.
Spread the powder over the damp mirror and put on your rubber gloves. With your gloves on, smear the powder into the water so that it spreads evenly over all parts of the mirror.
Rinse the powder away from the mirror with clean water and thoroughly dry the mirror with paper towels.
Store-Bought Glass Cleaner
When all else fails, store-bought cleaners like Windex are a staple to keep in the house. These products are designed for success and made explicitly for mirrors, windows, and all other glass surfaces.
They are created with the material in mind and have less chance to leave behind streak marks and spots from other solutions. Always wear your safety goggles and rubber gloves when handling chemicals and follow all directions listed on the product's container.
Ensure that you remove all moisture from your mirrors and windows with a cleaning cloth after using any products. Glass is a porous material, and leaving water on it may damage it over time.
Like anything else, prevention is always the best way to take care of the glass items around your home. Spraying a vinegar and water solution on glass objects once per week is a natural glass protector. Make sure to wipe it off so no water remains, particularly when cleaning interior car windows.
Whenever you step out of the shower, wipe down or squeegee all mirrors, glass doors, and windows in the bathroom to remove as much moisture from the environment as possible.
Whether you're cleaning mirrors with vinegar or using store-bought products, you will appreciate the feeling of paying attention to the little details so that you have an immaculate house that sparkles.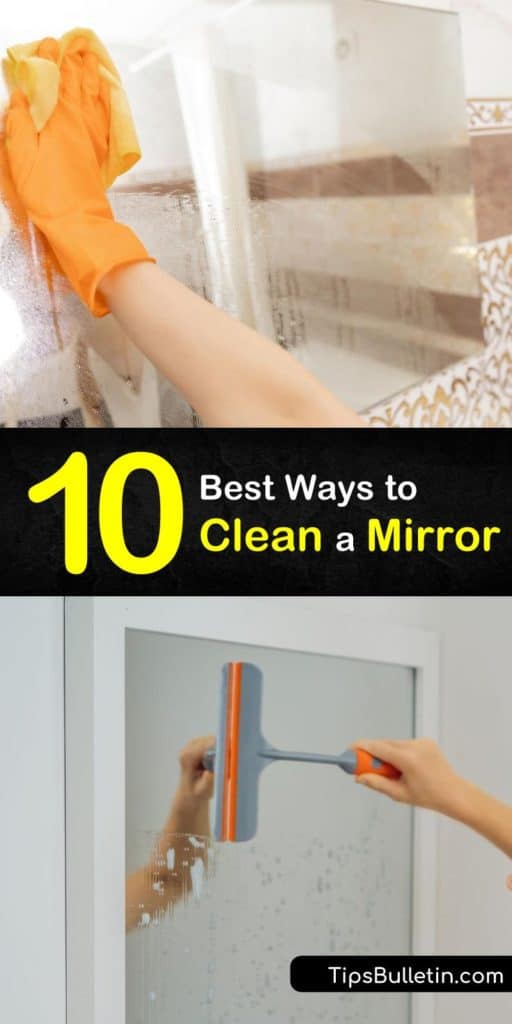 If you discovered something new about how to clean a mirror, share these guaranteed ways to clean a mirror on Facebook and Pinterest.