Your range hood absorbs grease particles that become airborne during cooking, sucking up gunk from your stovetop and filtering it. By doing this, your range hood reduces the grease you inhale and keeps your stove cleaner. However, learning how to clean a range hood filter is essential for running this process smoothly.
If you don't regularly clean your range hood filter, vent hood, or exhaust fan, then a buildup of grease and grime occurs that will impede the filter's ability to function correctly. Cleaning these parts is simple and doesn't require fancy formulas. Most of these solutions include one to two ingredients that already live in the pantries of the average household.
Degreasing agents like dish soap will be your most reliable ally in combating greasy filters. Cleaning every component of your range hood will also ensure the filter and fan run efficiently.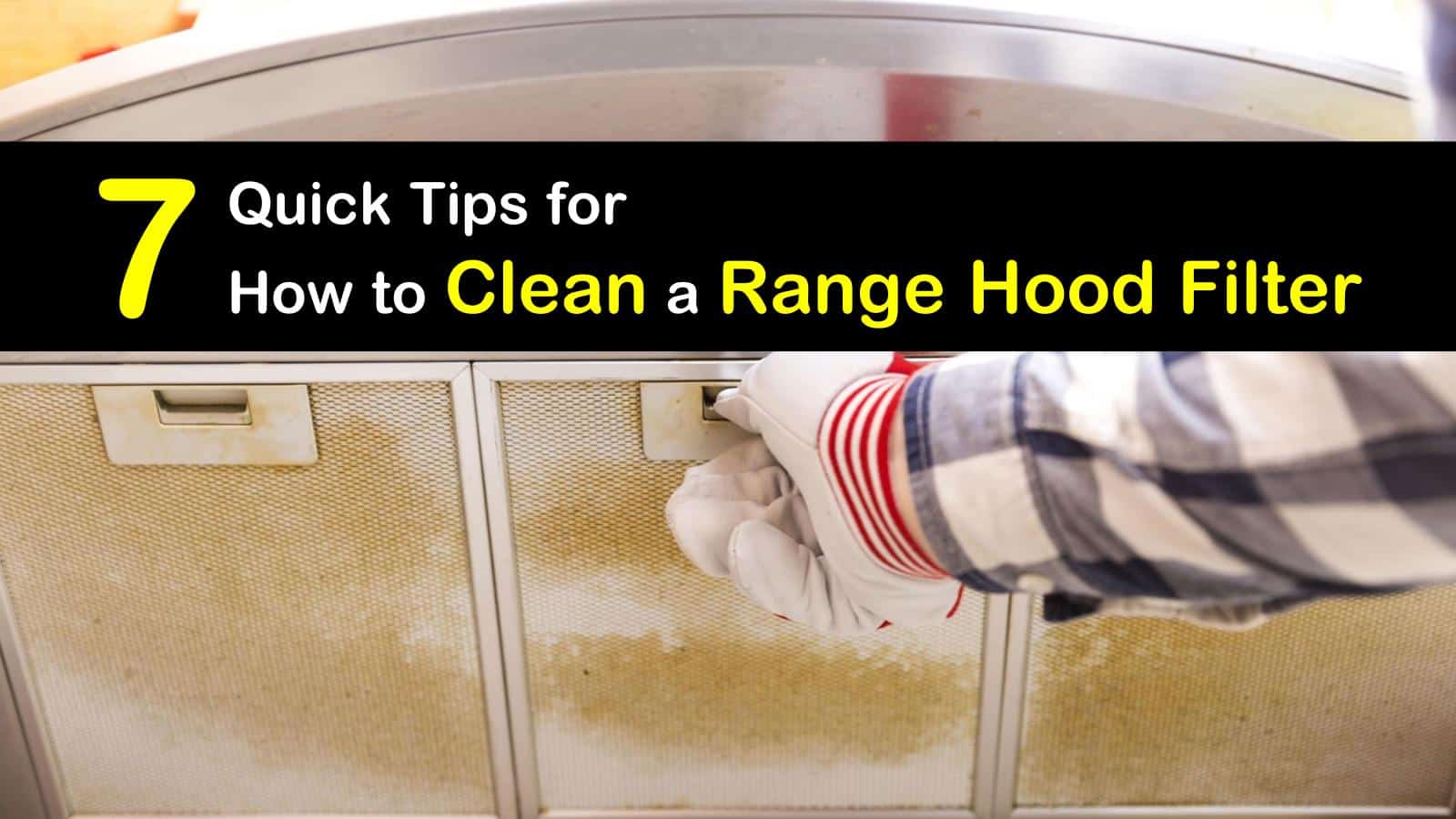 Cleaning Hacks for How to Clean a Vent Hood and More
Get ready to take some basic household ingredients from the pantry or that storage space beneath the kitchen sink. Whip up these cleaning solutions quickly with items you already have.
For an effective degreaser for a range hood or to clean the filter, we have some home remedies that are easy to make and use and will get these surfaces gleaming again in no time.
How to Clean a Range Hood Filter Using Dish Soap and Vinegar
This recipe is one of the most common cleaning solutions you will find when it comes to your range hood filter. Vinegar is an excellent degreaser and easily blasts through gunk lining the surface of your filter.
It can also be used when cleaning gas stove grates, or to clean stainless steel kitchen appliances. Ensure you have the following supplies to clean your filter.
Squirt a few drops of dish detergent in a cup of vinegar. Pour the mixture over the grease-filter and let it soak for 20 minutes. After the 20 minutes have passed, use a soft scrub brush to scrape away any discoloration or noticeable grease stains.
The mesh filter should look shiny and new once appropriately cleaned. Rinse with hot water, then let air dry before returning to the range hood.
How to Clean a Vent Hood with Baking Soda
Another all purpose cleaner is a mixture of dishwashing soap and baking soda. Adding several drops of degreasing dish soap to ¼ cup of baking soda will create a DIY cleaning paste that can be applied to the filter using an old toothbrush. Layer the mixture over the top of the range filter and let it soak for approximately ten minutes.
Scrub the surface using the same old toothbrush to get in between the cracks and crevices of the mesh filter. Rinse with warm water and thoroughly dry. You can also use this solution to clean stove top grease.
Use the Dishwasher for an Easy Clean
Sometimes how to clean a range hood filter is as simple as running it through the dishwasher. Most range filters are small enough to easily fit on the lower rack inside your dishwasher, making it even easier to clean range hood filters. However, don't use this process if your filter hasn't been washed in a long time.
If there are excess grease and oils left on the filter, they will also get into your dishwasher and potentially ruin it. Use this method if you clean your range hood every six months.
Replace Your Filters When Necessary
Sometimes cleaning the range hood filter isn't enough to preserve its quality. While regularly cleaning the filters increases their longevity, a full replacement is still necessary every couple of years. If you notice discoloration that won't come clean or bent pieces on your filter, it may be time to replace it.
While metal filters can last for years, some range hoods use charcoal filters that need to be rotated every few months. These filters reduce the smells caused by grease and smoke and are essential for your range to function correctly.
Use Boiling Water to Clean Range Hood Filters
Boiling water is an effective way to loosen food and dirt particles from metal filters. The hot water can be added to any cleaning solution, whether vinegar, baking soda, or just plain soapy water. Add the boiled water to a baking pan and place the filter inside.
Because the metal can scrape the nonstick surface of baking pans, choose one without a nonstick surface. Let the filter soak for 30 minutes before removing using a pair of tongs. Air dry the filter by placing it on dry paper towels or a soft towel.
If the interior of your oven needs some attention, you can take advantage of boiling water for it, too. Clean an oven without any baking soda by placing a pan of boiling water in the oven and letting it sit for a couple of hours. The steam from the water will loosen grime and baked-on food and will be easy to wipe away.
Cleaning Kitchen Exhaust Fan Grease
After you've completed your filter cleaning, cleaning kitchen exhaust fan grease is the next logical step. You especially don't want all that grease circulating back onto your filter or into your air supply. When removing electrical pieces, start by unplugging the stove.
You also don't want to risk ruining the wiring or circuits by spraying the area directly, so removing it will give you better access for cleaning. When cleaning the exhaust fan, your baking soda recipe will offer the deepest clean without adding unnecessary amounts of water.
Scrub off any greasy residue, then use a dampened cloth to rinse the cleaning solution from the fan blades. Once the exhaust fan is fully dry, replace it in the range hood and restore power.
Clean the Exterior and Underside of the Hood
We've touched on how to clean all the inner workings of the range hood. However, the key to a well-function stove and range hood also relies on how well you keep the exterior.
This step involves cleaning the underside of the hood to remove oil and grime. How to clean a vent hood and exterior depends on which degreasing method you want to use.
In most cases, using no more than soapy water will do the trick. But, if you are interested in trying a homemade degreaser, then the following recipe will work for you.
This degreasing recipe is perfect for cleaning your range hood, stovetop, and any other surface surrounding your oven. Castile soap is a degreaser on its own, using oils to absorb greasy substances and remove them for good.
Adding a natural orange degreaser uses citric acid to blast through grease for a double cleansing effect. All the ingredients are also completely natural, meaning they are safe to use on your stove without worrying about passing on harmful chemicals onto food sources.
Final Words of Wisdom about How to Clean a Range Hood Filter
What is a range hood filter?
Your range hood is the overhead piece just above your oven. This component is what sucks up the smoke while you cook and keeps it out of the air. The filters are part of these range hoods and also filter out contaminants and grease to keep your space cleaner. These filters are typically about the size of a sheet of paper and look like mesh tiles of metal.
How often should you clean your range hood filter?
Cleaning and changing out your range hood filter requires relatively low maintenance over long periods. The good news is you don't have to clean these filters every day, and that they are quite versatile and durable.
Filters don't need to be changed for several years, so there is little need to worry about when to change them, and where to find a constant supply of them. However, they should be cleaned at least once or twice a year.
These tips for cleaning your range hood provide you with everything you need to know for degreasing a hood and have it looking brand new in no time.
The simplicity behind cleaning your greasy range hood filter exists because range hoods rarely come into contact with the grease itself. Instead, you have residual grease that quickly disappears with these simple hacks.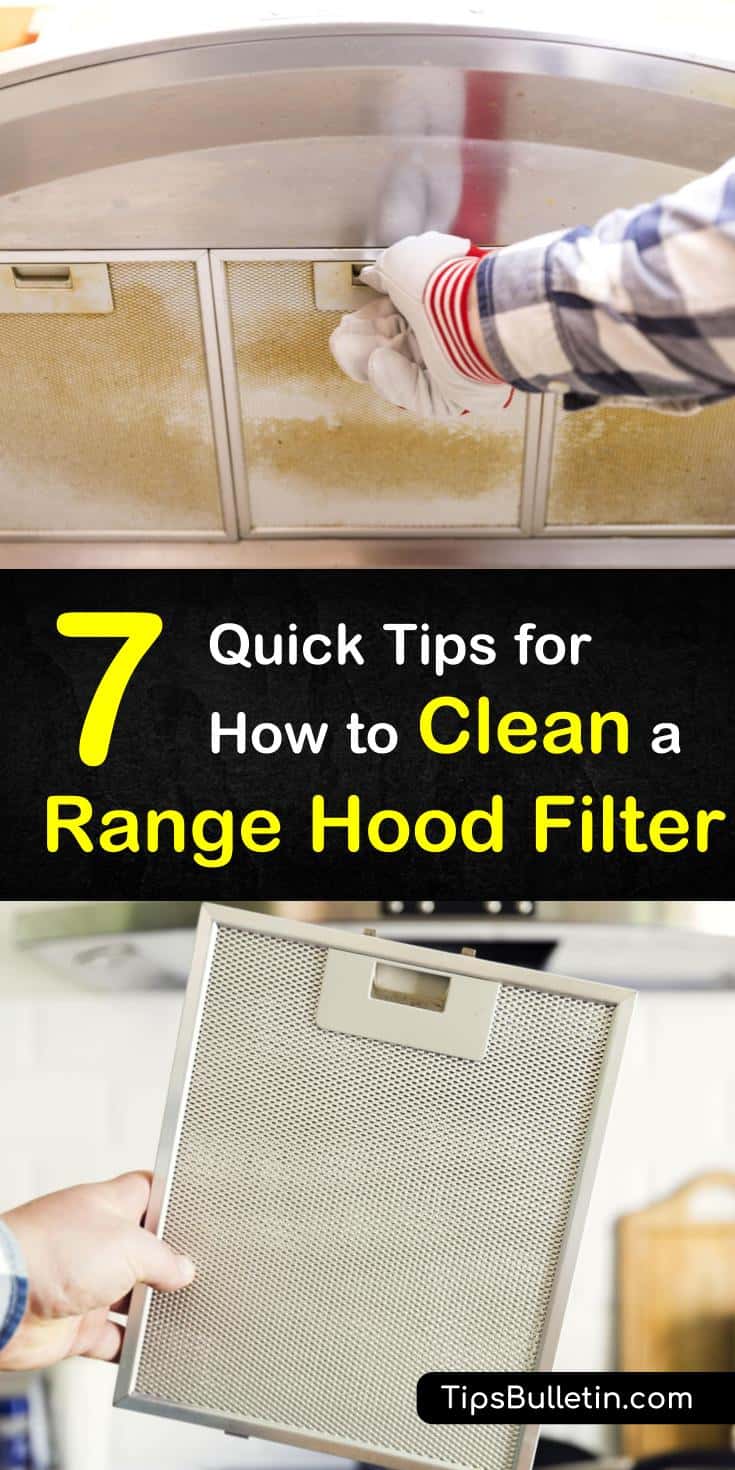 We hope we've answered all your range hood filter questions and given you enough ideas to get you started. Please remember to share how to clean a range hood filter with family and friends on Facebook and Pinterest.