Area rugs and carpets are challenging to keep clean, especially those in high traffic places. You may wonder how to clean a rug without a steam cleaner or calling to hire a professional carpet cleaner. Luckily, natural ingredients create easy ways to clean an area rug without a steam cleaner at all.
We'll show you how to accomplish the same impressive squeaky-clean appearance using cleaning processes like spot cleaning by hand or using the vacuum cleaner. It doesn't take hard work to produce a spotless carpet.
Using household cleaning products or ingredients like club soda, white vinegar, and baking soda on your carpet saves some scrubbing and elbow grease. Whichever cleaning method you prefer, here are our favorite cleaning tips for your area rugs and carpets.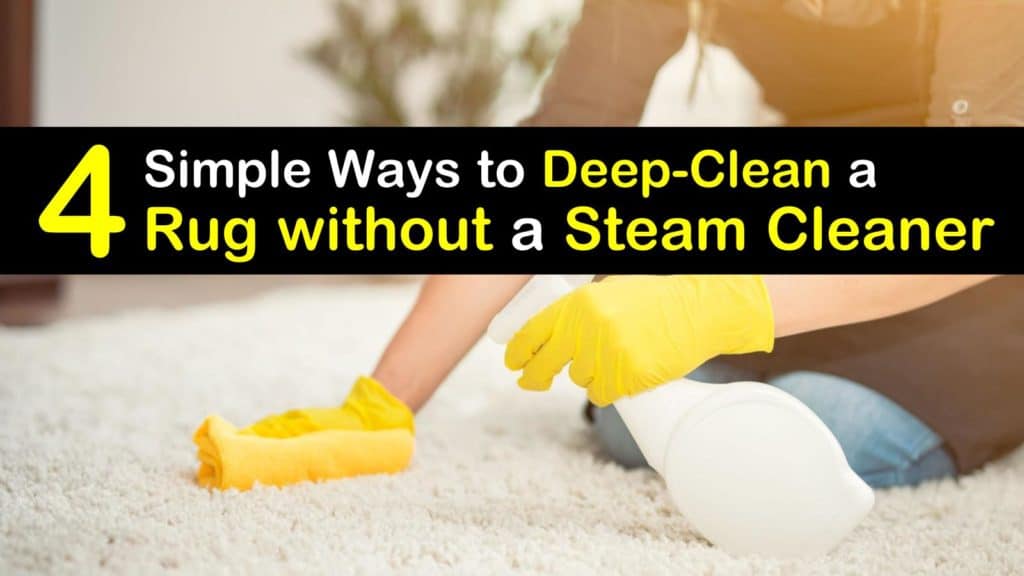 Ways to Clean an Area Rug without a Steam Cleaner
Don't spend money on a carpet cleaner. We'll show you all the ways to clean an area rug without a steam cleaner to save you time and money.
Clean Area Rugs by Vacuuming Baking Soda
Vacuuming your area rug is an excellent stain remover. Weekly vacuuming removes oil and dirt build-up, and grime is the leading cause for discoloration. Vacuum daily to prevent carpet stains in high traffic areas.
For an added odor remover, try baking soda. A few hours before vacuuming, sprinkle baking soda on the carpet. Try scrubbing with a scrub brush for super clean results, then vacuum the area thoroughly.
Use baking soda for spot cleaning area rugs, to clean a shag rug, or as an alternative to steam cleaning high traffic areas. You may also mist the baking soda with hot water from a spray bottle to create a paste before vacuuming. The solution absorbs grime well.
Spot Cleaning Stains Immediately
As soon as a spill happens, start spot cleaning the rug. Never allow carpet stains to sit longer than necessary, or the stain will absorb into the fibers and cause a much worse issue like mildew or foul odors.
Vinegar, baking soda, and club soda are all effective to get coffee stains out of a rug, as well as a variety of other stains.
Try keeping cleaning products or club soda nearby for quick cleanups after spills or if you have young children. Before the stain forms, apply clean water to get the liquid out. You may add a dab of dish soap. Blot the stain using a damp, clean cloth.
Don't rub, or the stain may become worse. Use a paper towel to dry the rug, placing a heavy object on top of the paper towels to soak up water from deep inside. If water alone doesn't work, try club soda. It's ideal for stains from juice or wine.
Blotting the stain with a dry towel, pour a tiny amount of club soda directly onto the small area. Blot until the stain is gone. Never scrub, or the carpet fibers may face damage. Also, only use a small portion of club soda at once rather than flooding the carpet.
Hand Clean Carpet with Hydrogen Peroxide
Who says a steam cleaner is the only way to clean carpets? Hydrogen peroxide is an excellent way to clean your carpets yourself, especially with delicate fibers. Cleaning carpets and rugs by hand requires a little hard work but removes tough grime.
Start by vacuuming the area clean, then dip a scrub brush into a small amount of a carpet shampoo recipe or hydrogen peroxide. Allow the hydrogen peroxide to sit for a few minutes, then scrub.
Rinse with clean water and air dry. Beware, hydrogen peroxide may bleach your carpet. Test a small area before application.
Deodorize Carpets with a Vinegar and Water Spray
Stinky carpet fibers are a thing of the past with DIY carpet deodorizer sprays. Use this recipe for removing odours from carpets or deep cleaning. It's also one of the best homemade carpeting cleaning solutions if you decide to use a carpet cleaner. After cleaning an area rug without a carpet cleaner, the vinegar odor fades.
Combine equal parts vinegar and water directly in a spray bottle, shaking to mix. Spray the solution directly on the carpet, blotting with a clean cloth.
Try spraying the mix to spot clean, deodorize, or combine it with the deep cleaning power of a vacuum's bristles to remove stains. Never use any other type of vinegar, as colors may cause further stains.
When Do You Try Cleaning an Area Rug without a Carpet Cleaner?
If your knowledge of carpet cleaning is minimal, you may find that hiring a professional carpet cleaner is ideal. Hard-to-clean issues may also stump you.
Do You Know How to Clean a Rug without a Steam Cleaner or Cleaning Products?
Cleaning carpets by hand requires little scrubbing or hard work with a few essential techniques. Household ingredients like baking soda, white vinegar, and water are the perfect alternatives. Use our tips to remove discoloration, stains, odors, dirt, oil, and grime build-up.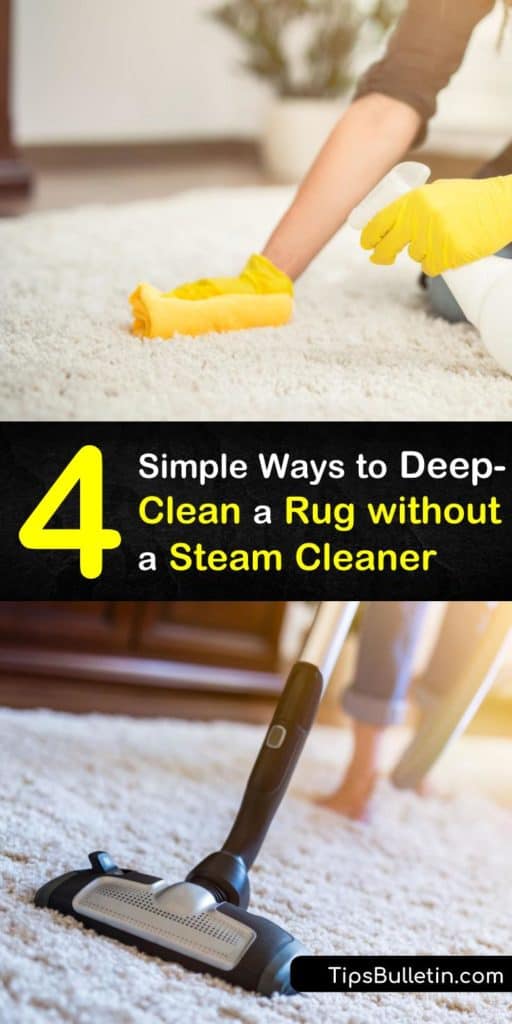 You may deep clean less and add years to your area rugs-lifespan with regular vacuuming and spot cleaning immediately when spills take place. If you appreciated learning how to clean a rug without a steam cleaner, please share our helpful carpet cleaning methods with your friends and family on Facebook and Pinterest.