Shag rugs have made a come-back in recent years with their trendy look. The shaggy, fluffy pile of these area rugs is comfortably stylish, and they come in so many different colors and shapes, it's easy to see why they are so popular. We'll show you how to clean a shag rug to remove dirt particles and stains.
There are several types of shag rugs, and they all have pros and cons. Flokati rugs are usually white or cream, made of wool, and one of the fluffiest on the market. Noodle or shaggy wool rugs are durable with soft fibers, while synthetic shag rugs are inexpensive and the easiest to clean with a steam cleaner.
Unlike regular carpeting, these rugs have a high pile that traps dust, dirt, and hair, making it more difficult to clean. Since they are made from varying materials, the carpet cleaning solution varies from rug to rug.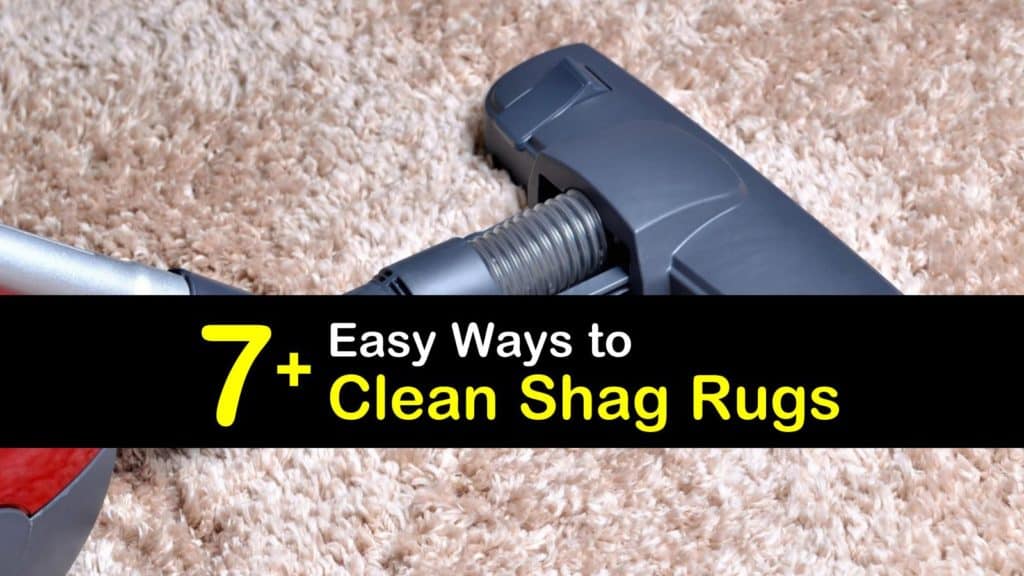 Cleaning and Maintaining Shag Rugs
Most shag rugs are relatively easy to clean, but it's essential to know your rug's material before cleaning it. Once you determine that your carpet is safe to clean, choose a dry or wet cleaning method, and get started.
Can you wash rugs with rubber backing? Sure. You can even add them to the washing machine on a delicate setting but don't put them in the dryer.
Cleaning a Shag Area Rug
One of the simplest ways to clean shag rugs is with a few good beats or shakes. While it seems like an obvious way to clean a small rug, we often overlook it. It's incredible how much dirt comes off a carpet with vigorous shaking.
Carry your area rug outside and stand with the wind at your back to prevent dust from blowing in your face. Hold the rug on one end with both hands and give it a few hard snaps to shake loose dirt.
Hang it over something like a clothesline and use a broom or other hard object to beat the side of the rug to remove even more dust and debris.
Cleaning Shag Rugs with a Vacuum Cleaner
Shaking your rug outside is ideal for removing everyday dust, but it isn't very effective at cleaning away deep-down dirt.
A vacuum cleaner is more effective for cleaning shag rugs, but it's essential to use it properly to avoid damaging the material of your carpeting.
Vacuuming Shag Rugs
Set your vacuum to the highest carpet setting before vacuuming your high pile carpeting. Doing this raises the beater bar further away from the floor so that you do not damage the rug's fibers.
Vacuum the rug slowly in a back and forward motion, making sure to avoid tassels if there are any.
If you prefer not using a vacuum in this manner for fear that it damages your carpet, flip the rug over and vacuum it from the backside or try using the upholstery attachment instead to safely suck away debris.
Steam Clean a Polyester Shaggy Rug
Polyester is a synthetic fiber that is safe to clean using a steam cleaner or carpet cleaner. Steam cleaners are great for deep cleaning and safe to clean a polyester shaggy rug. However, we recommend using a cleaner with an upholstery tool.
Shake the rug outside or vacuum it before performing a deep clean. Follow the instructions on your cleaner and fill it accordingly with the recommended amount of hot water and cleaning solution.
Begin at one end of the rug and slowly move the cleaner to the opposite side while pressing the appropriate button. Release the button while pulling the cleaner back towards you to suck up excess liquid.
Move to the next section and repeat until the entire rug is clean. Drape the carpet over a clothesline or chair to air dry. After it dries, give it a good shake or vacuum it again to fluff the fibers.
How to Clean a Shag Rug with a Dry Bath
The best rug cleaning solution to get an area rug clean and smelling fresh is to give it a dry bath. There are many dry carpet sprays on the market, and they are all suitable for cleaning your high-pile rug.
Follow the instructions on your dry carpet shampoo and spray the cleaner evenly over the carpeting. Use a soft-bristled brush to blend the shampoo into the fibers and let it sit for about ten minutes to dry.
Shake the rug vigorously outside to remove dirt loosened by the cleaner or vacuum the carpet on the thick rug setting.
Spot Cleaning Shag Carpeting
You spill juice or drop a ketchup coated French fry on your creamy white rug and stare with disbelief at a glaringly ugly stain. We've all been there.
The key is to act quickly and efficiently to prevent the stain from setting and ruining your favorite fluffy rug. This is the best carpet cleaner solution for stains that are fresh.
The very first step with a fresh stain is to remove as much of it from the carpeting as possible. Use a white cloth to blot and dab the stained moisture from the fibers. Do not rub the stain to prevent it from spreading outward.
Fill a container or bowl with water and add a couple of squirts of liquid dish detergent. Agitate the liquid to create a suds and use a sponge to apply the soapy water to the stain. Use a blotting motion to lift the stain and work the cleaner into the carpet.
Discard the soapy water and fill the container with cold water. Repeat the same cleaning motions with the fresh water to remove soapy residue. After you are satisfied that the stain is gone, pat the area with paper towels and let the rug air dry.
Removing Tough Stains from a Shaggy Rug
A set-in stain is a bit more challenging to remove, but not impossible. This cleaner works well for removing water-based stains such as pet urine, soda, and other everyday accidents, and is an easy way to clean carpets by hand.
Fill a container or bowl with equal parts water and white vinegar. Dip a sponge into the cleaner and apply it to the affected area. Blot the stain without spreading it, rinse and dunk the sponge as needed, and repeat the steps until the stain is gone.
Empty the container and fill it with cold water. Repeat the cleaning steps with fresh water to remove all residue. Pat the area with a paper towel and allow it to air dry completely before allowing foot traffic.
After scraping the excess away, this home remedy is also how to get dried slime out of carpet without damaging it.
Getting Bad Odors out of a Shag Rug
Using rug cleaners to remove dirt and get stains off a lambswool rug doesn't always work to eliminate bad smells. Odors from cooked food, a wet dog, or smoke tend to seep their way into fabrics, furniture, and rugs.
Baking soda is an excellent remedy for the problem. It naturally absorbs unpleasant odors, and you probably have some in your kitchen cupboard.
Shake a light layer of baking soda on your shag rug and let it sit overnight. Set your vacuum cleaner to the high setting and run the cleaner in rows from one side of the carpet to the other. Repeat until the entire rug is powder-free.
If you prefer not using a vacuum, take the rug outside, shake it vigorously, and hang it over a clothesline. Use a stiff object like a broom to beat the carpet until all of the powder comes free.
How to Maintain a Shag Rug
A shag rug makes a room look inviting and comfortable, but not if it isn't maintained. There are many strategies to prevent your carpet from looking old and sad and keep its plush fibers looking fresh.
Shag Rug Care
Keep leather shag rugs out of all traffic zones, and place other rugs in low traffic areas. Insist that guests and family members remove their shoes at the door to keep the carpets dirt-free.
Shake or vacuum the rug regularly to keep the fibers full and fluffy. Attend to spills as soon as you discover them by using a microfiber cloth to absorb the liquid.
If you have furniture resting on your rugs, try switching the placement of them on occasion to prevent leaving indentations in the carpet fibers.
While a shag rug adds elegance to a room, it does have its problems. These rugs are not the easiest to clean.
However, that doesn't mean you have to hire professional cleaning services to keep them looking great. Vacuuming, steam cleaning, and spot cleaning your rug are easy to do using the right techniques.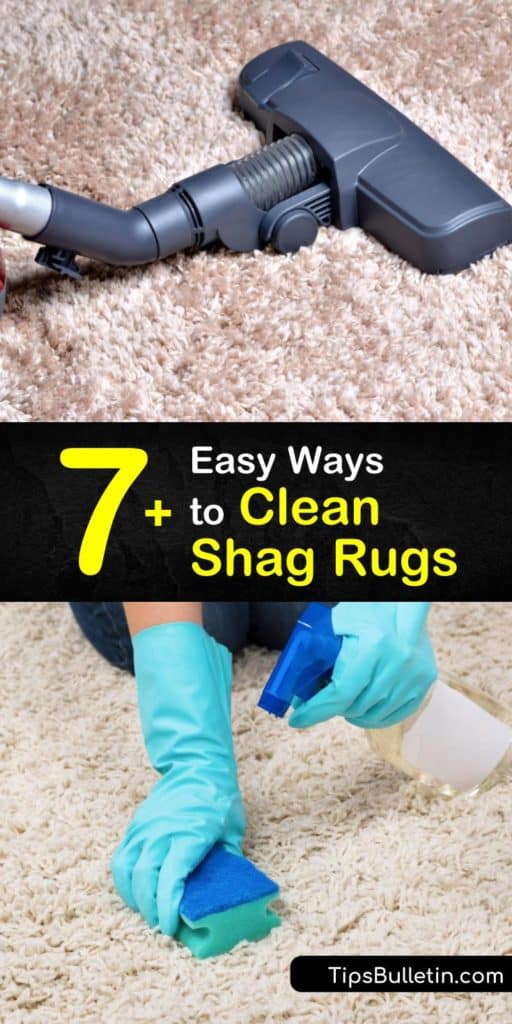 Now that you've learned tips for how to clean a shag rug to keep it looking new and feeling fluffy, why not share our high pile rug cleaning tips with your fashion-savvy friends and family on Facebook and Pinterest?