Not only is a dingy, mildew-covered, dirty shower curtain unsightly, but it can also almost make you feel a little unclean after stepping out of the shower. Dirty shower curtains can even cause infections or irritate those with mold allergies.
Rather than live with it, or even wastefully throw it away, this article teaches you how to clean a shower curtain so that you never have to worry about a grey shower curtain again.
These various cleaning tips will show you the best way to clean a plastic shower curtain to keep you and your family clean, healthy, and make you feel like a cleaning genius.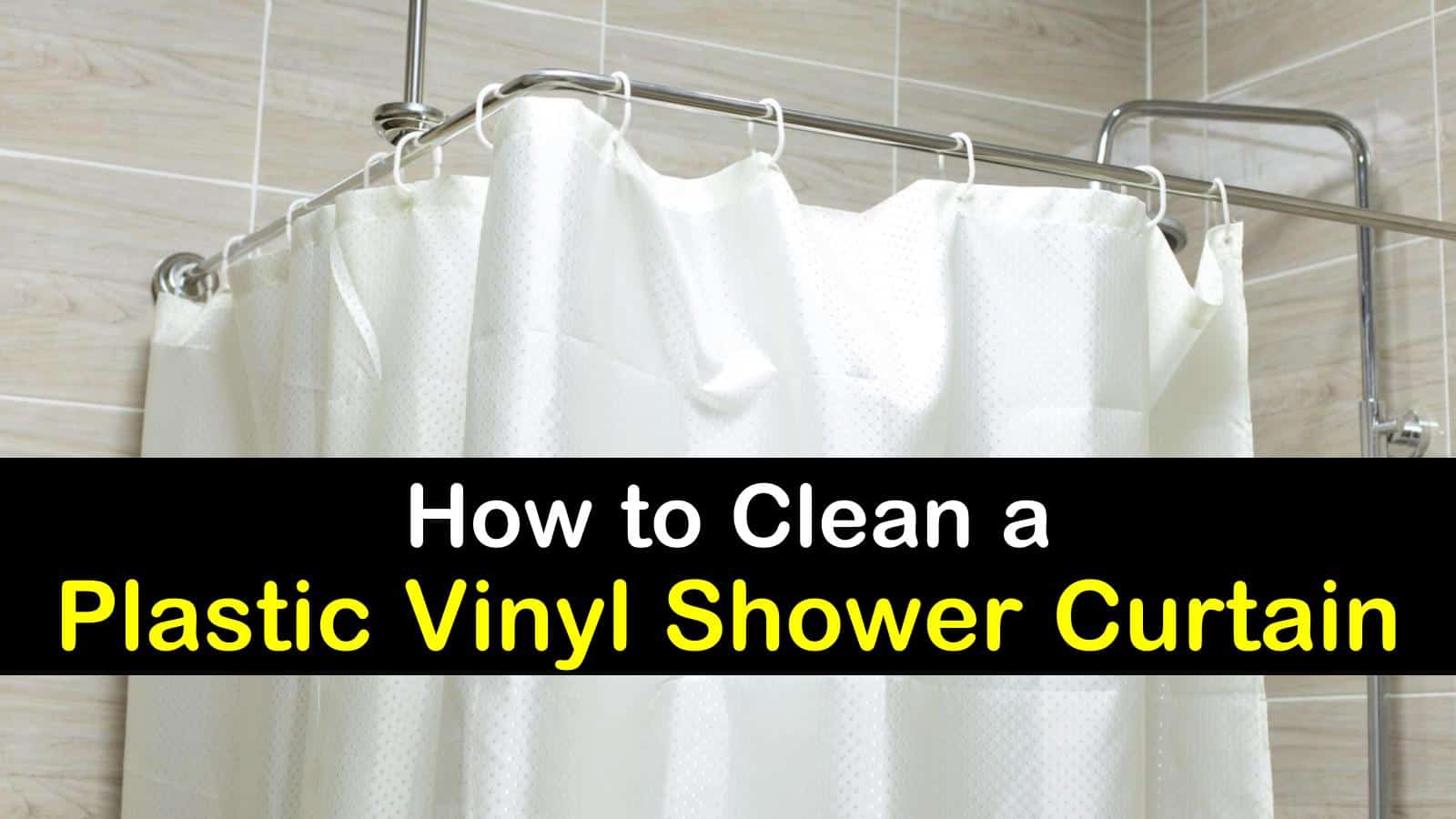 How to Wash Shower Curtain
If you have a cloth shower curtain or a fabric shower curtain liner, the small fibers of the fabric collect dust, dirt, and grime. This added dinginess can make your bathroom feel less clean that it actually is.
When you eventually decide to clean your shower curtain, there are a couple of different methods you can try. Luckily, washing a cloth shower curtain isn't too much different than doing your laundry.
Wash Cycle
Firstly, take down the shower curtain and remove all of the rings. Place the shower curtain in your washing machine and add laundry detergent. Using your regular laundry detergent is all you need.
Add a ½ cup of baking soda for extra scrubbing power. Make sure your washing machine is set to warm water or hot water and then start the gentle cycle.
Once your washer reaches the rinse cycle, add a ½ cup of white vinegar to aid in the cleaning process. When you use vinegar to clean, the acidity helps break down everyday build-up and other messes.
Let your washer continue to the spin cycle so that the shower curtain is no longer dripping wet. After that, let it hang to drip dry.
Use White Towels to Help Clean Your Shower Curtain
If you want stronger cleaning power, you can use white bath towels to aid in the endeavor. The rough surface of the bath towels helps rub away any extra little bits of dirt and grime from the fibers of the shower curtain. Use white towels as other towel colors might rub off or bleed.
How to Clean Plastic Shower Curtains
Both vinyl and plastic shower curtains can harbor just as much mildew, mold, and soap scum as their fabric counterparts. When you need to learn how to wash a vinyl shower curtain, you will discover that the endeavor is a little more hands-on than cleaning a fabric shower curtain.
While you can use similar steps to washing a fabric shower curtain, there are some additional things you can do to ensure that your shower curtain gets cleaned. Keep in mind that using ammonia is not the best way to clean a plastic shower curtain. The harsh chemicals can react with the surface and break down the shower curtain.
Soak the Plastic Curtain
The easiest way to clean a shower liner or plastic curtain is to let it soak. Fill your tub with warm water and sprinkle in two tablespoons of regular laundry detergent. Add a cup of vinegar and let the running water mix the ingredients.
Once the tub is about half full, shut off the water and soak the plastic curtain for 20 to 30 minutes. After soaking the shower curtain, rinse it with cold water.
You will then want to hang the curtain back up and let it air dry. If there are any build-up spots remaining, use a microfiber cloth or sponge to wipe them away.
Baking Soda
If you are touching up an already clean shower curtain, grab your baking soda and a microfiber cloth. This easy way to remove calcium deposits from plastic liners and curtains won't take you very long.
Simply dampen your cloth and pick up some baking soda. Scrub the shower curtain and rinse it with warm water. Baking soda is also a common ingredient for DIY hard water stain remover solutions and a great way for how to clean the bathtub.
Vinegar and Essential Oils
The quickest and best way to clean plastic shower curtain is with a homemade shower spray. This solution is also ideal to clean mold in the shower and for mold and mildew on the shower curtain itself.
If there is a large area of mold, however, you may wish to employ bleach for the shower walls instead and invest in a new shower curtain.
Fill a spray bottle halfway with vinegar. Add the essential oil and dish soap. Fill the rest of the bottle with water and shake to mix. Use this shower curtain spray every day after you shower as a sort of preventive cleaning measure.
If you don't have a shower curtain, but instead have doors in your shower, you can also use this mixture to clean glass shower doors with hard water stains. Spray the surface and use a brush to work the solution into the stains. Let it sit for about half an hour and rinse clean.
With this DIY bathroom cleaner, you'll be able to add another homemade solution to your stock of cleaning products. Vinegar has so many uses around the home you should always have a big jug of it ready for cleaning, as well as for use in the kitchen for cooking.
While you are taking care of cleaning your shower curtain, this is an excellent opportunity to wipe the shower down itself. As a cleaner for bathroom tiles, the combination of vinegar, dish soap, and essential oils can't be beat for its cleaning capabilities.
It is also an excellent remedy to unclog and clean shower head holes and can be used with baking soda and boiling water to unclog and clean your shower drain if it is draining too slowly or if it has started to smell.
Hopefully, you found this article helpful and now have another step in your bathroom cleaning regimen. Everyday use can contribute to plenty of hard water build-up and other water stains, so whether you need to thoroughly wash shower curtains or want to do a little spot treatment, one of the options in this article will get some use.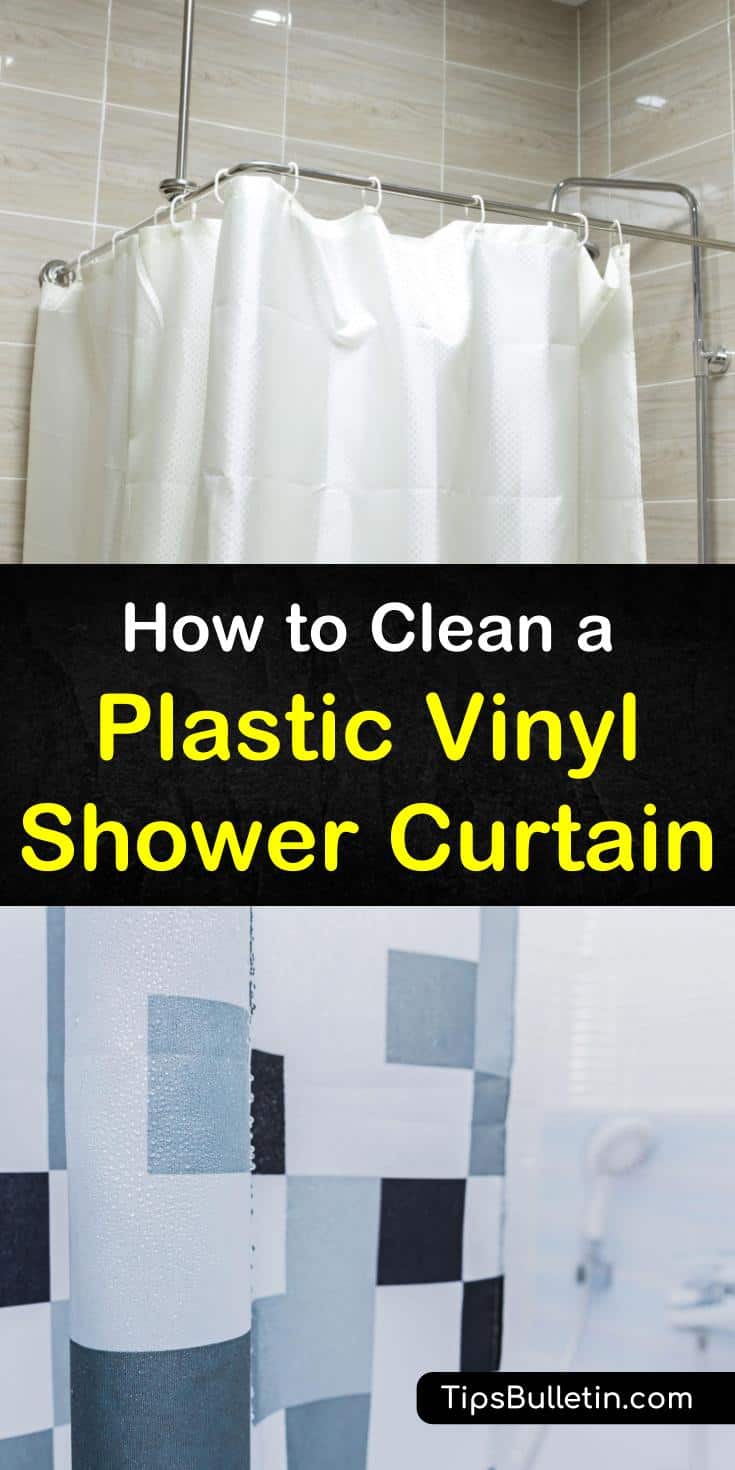 If you found these tips on how to clean a shower curtain handy, then please share these shower curtain cleaning tips on Facebook and Pinterest.