Are your shower mats filthy? Created to keep people safe from slipping and falling or for boosting comfort, the mats and rugs in your bathroom become unsanitary over time. Learning how to clean a shower mat does not take long. However, it is crucial to your health.
Properly cleaning the bathroom regularly prevents dirt and grime build-up as well as bacteria, foot fungus, and terrible odors. The task is easy and fast enough for weekly scrubbing, too. There's no reason not to maintain your shower and the equipment inside it.
Swift washing ensures your bathroom remains hygienic, no matter what type of bath mat you buy. How you clean different materials may vary, though. Shower mats can also include the rug many people place outside the shower to dry their feet.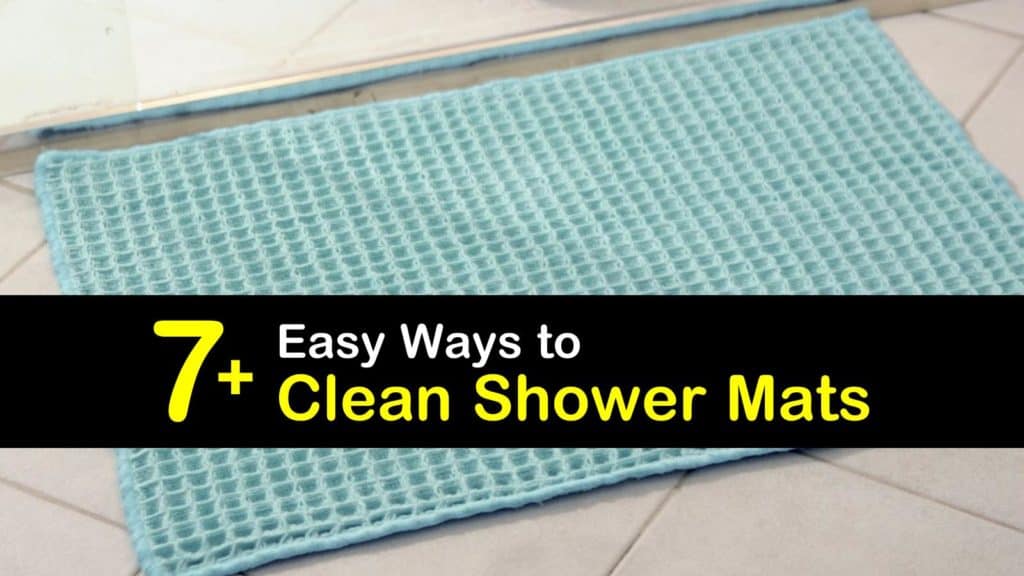 Easy Ways to Clean a Shower Mat
Our cleaning tips explain how to sterilize both mat types. Use our list of ways to clean a shower for regular cleaning or to remove mildew or mold.
How to clean a shower mat depends on the material. Rubber and fabric bathmats both require regular cleaning, as do the shower curtains and rugs. Otherwise, oily build-up from soap and mold could make surfaces slippery and cause problems.
Using the Washing Machine to Clean Shower Mats
One of the best ways to clean a shower mat is to throw them in the washing machine with an OMO liquid laundry detergent and a few other soft items, like washcloths or towels. The cloth helps scrub the bath mat during the wash cycle.
OMO laundry detergent is gentle on rubber or fabric, and it banishes stains and grime. Set the machine to hot water to remove mildew and bacteria. You may also add a stain remover five minutes before washing to remove stains first.
Check the care labels on your products for safety recommendations about drying. Most bathmats are better air-dried, as the high heat might break down and deteriorate the material. However, some options do well in the dryer.
If using the tumble dry approach, set it to a low-heat setting. Place towels or clothes in the machine with the mats for the best results.
Machine Washing Rubber Shower Mats with Bleach
For rubber shower mats, set the washing machine to a gentle cycle with cold or warm water. Rubber does not thrive under hot temperatures. Include other types of sturdy laundry safe for washing with chlorine bleach, like white towels.
Add the same amount of bleach you usually would for your load size with the laundry detergent and start the cycle.
Never machine dry rubber. Heat ruins the material and causes cracking to slip-resistant rubber backing. Hang the mats (rubber or fabric) to air dry.
Washing a Rubber Bath Mat in the Tub with Bleach
There are a few ways to clean a rubber mat. The gentlest method is to use the bathtub and bleach to wash by hand. Bleach is a strong disinfectant that removes black mold in shower and gets stains out of rubber.
It also works for the mats that are not machine washable. Handwashing is much less harsh on the material, especially if you wash the items frequently.
Start by lifting the shower mat from the floor, so the rubber backing and suction cups no longer adhere to the tub. Lay the mat on the tub floor and fill it with warm water. You may also use a large bucket or sink instead of the bathtub.
Put on rubber gloves when handling chemicals like bleach. Open the bathroom door and window to keep the room well-ventilated. Bleach fumes cause dizziness. Never add bleach to hot water in a bathtub, which could intensify the fumes.
Place two cups of chlorine bleach and a capful of laundry detergent in the water, and use a bristle scrub brush to rub the mat from top to bottom. Remember to scrub the back as well. Rinse the mat clean, drain the bathwater, and rinse the tub.
If the bath mat still appears to have mold or discoloration, add a bit of white vinegar to remove it. Repeat the steps as necessary.
Hang it to air dry outside on a clothesline or in your laundry room. Only put the mat back in the bathroom when it is fully dry, or fungus and mold could form.
Use this same process to clean a polyester shaggy rug, too. Hand washing is usually best no matter what rug you clean.
Using the Dishwasher to Clean a Rubber Bath Mat
The washing machine is not the only useful household appliance for cleaning rubber bath mats. The dishwasher is useful for much more than dishes. It's safe for rubber shower mats, drain plugs, shower caddies, showerheads, and even soap holders.
If your washing machine is in use or you don't have one at home, try using the dishwasher. Place the mat on the top rack and run the washer on a full cycle. Use dishwashing detergent or straight white vinegar in the soap dispenser.
Always air dry afterward. Avoid allowing wet mats to sit on the floor, or they may form mold. Repeat the process every week to deter mold and stains from rubber. Vinegar even prevents odor.
Clear Soap Scum from Shower Curtains and Mats
The best way to clean shower curtain and a plastic bathmat free of soap scum is to soak them in the bathtub with warm water, two tablespoons of laundry detergent, and a cup of vinegar.
Place the curtain and laundry detergent in the tub, filling it about halfway. Allow the shower curtain to soak for 20 to 30 minutes, then rinse using cold water. Hang it back in place to air dry, wiping any missed soap scum spots with a microfiber cloth.
Cleaning a Mildew Moldy Shower Mat with White Vinegar
White vinegar is mildly acidic, making it a potent homemade daily shower spray recipe. It even removes hard water stains, grease, bacteria, fungus, mold, and mildew from damp surfaces. Use it to clean the shower tiles, mat, curtain, or glass shower doors.
Add the ingredients to your spray bottle, shaking to combine. If you want to substitute lemon juice for essential oils like tea tree, lemon, or eucalyptus, go with an amber glass spray bottle for safety.
Spray the bathroom surface with the cleaner, allowing it to sit for five to ten minutes. Wipe down the shower mat, tub, and surrounding area with a sponge or soft bristle brush. Repeat as needed.
Removing Mildew and Odors from Rubber by Hand
Bleach is ideal for sanitizing and removing foul odors from the rubber. High-temperature water also helps get rid of bacteria and mildew.
If your rubber bath mat shows mildew or smells bad, follow the regular washing steps for washing rubber with bleach. However, allow the mat to soak in the bleach water for a couple of hours before scrubbing. Keep the window open for airflow.
Getting Rid of Grime with a Baking Soda Paste
Try making a paste if your shower mats have deeply set grime or stains. Baking soda and vinegar paste even help a stinky shower drain. Pour the mixture down the drain after cleaning for added odor removal.
Mix one part water and three parts baking soda, forming a paste. Apply the paste to your bath mat, scrubbing the area with a bristled brush. Rinse with water and allow the mat to air dry.
How to Clean a Shower Rug vs. How to Clean a Shower Mat
When cleaning a mildew moldy shower mat or performing regular maintenance, you might go ahead and clean the rug at the same time. Learning how to clean a shower rug is simple and effective for a spotless bathroom.
Begin by taking the rug outside to shake it free of hair, dust, and loose debris. Most bath rugs are machine washable, but check the tag for care instructions to be safe.
If the rug is polyester, cotton, nylon, plastic, or chenille, throw it in the washing machine on warm or hot temperatures. Memory foam is more delicate. It requires colder temperatures and no bleach.
Run the machine on the gentle cycle with laundry detergent, particularly for a rug with rubber on the back. Add a ¼ cup of vinegar for plastic or stains. Avoid tumble drying.
Whether you choose to hand or machine wash your bathroom equipment, cleaning the mats, curtains, and tiles does not take long. Our tips help you tackle deep-seated problems like stains, mold, or soap scum in minutes. Regular cleaning using these methods prevents issues like this from ever appearing.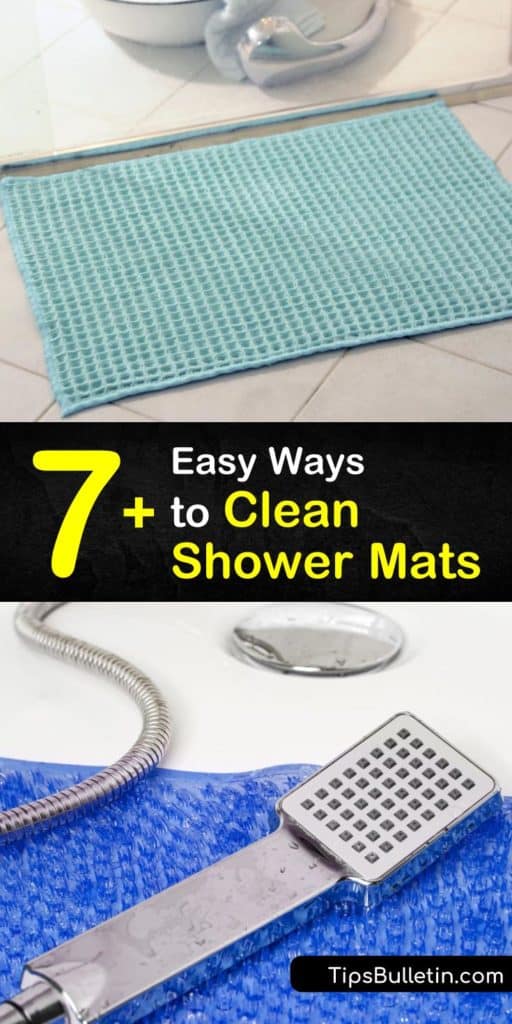 How do you prefer to clean your bathroom? If you enjoyed learning how to clean a shower mat, please share our ways to clean a shower mat with your friends on Pinterest and Facebook.