Do your clothes smell musty, moldy, or generally unappealing after a trip through the washing machine? If so, it's wise to learn how to clean a smelly front load washer. Front load washers are a favorite with homeowners, and for a good reason. Unlike a top loading washing machine, a front loader requires less bending and reaching, is more efficient, and tends to leave clothes cleaner.
Despite this, your front load washing machine is useless once it starts to smell and no longer cleans your clothes. Like many appliances relying on water, washing machines are prone to mold. The presence of soap and liquid fabric softener only exacerbate the problem by providing residue for microorganisms to cling to.
Though cleaning a smelly front load washer seems daunting, it's painless with the proper techniques. Find out helpful ways to get mold off a washing machine rubber seal and get back to doing laundry without worrying about making your apparel smell worse.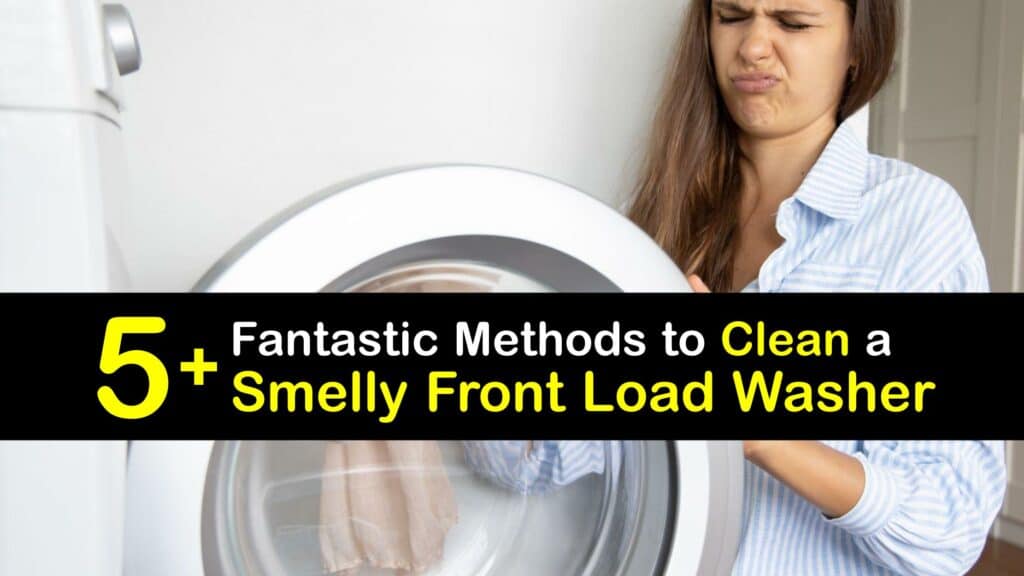 How to Remove the Smell From a Front Loading Washing Machine
The objective of a washing machine is to refresh and clean clothes so they appear tidy and smell pleasant. An odorous machine makes your apparel stink, too. Exploring why odor starts helps you understand how to clean a smelly front load washer.
Don't let your washer make your clothes smell dirty. Try simple tips for cleaning a smelly front load washer with white vinegar, baking soda, bleach, and commercial products. Discover easy maintenance steps to clean a top loading washer without an agitator and prevent mold growth in a front loading machine.
Why You Have a Bad Front Loader Smell
Though washing machines are constantly filled with laundry detergent, washing soda, and water, they're also stuffed with dirty and smelly laundry. Sweat and dirt build up on your clothes and towels before you throw them in the wash.
The main culprit for a smelly washing machine is a combination of mold, mildew, and bacteria. If your washer smells like mold and mildew, there's a good chance that humidity is accumulating in and around your washing machine, which makes bacteria grow.
A secondary culprit may be a pipe or sewage issue. If your washing machine smells like sewage and the smell won't go away, even once you deep clean, it's time to call a plumber.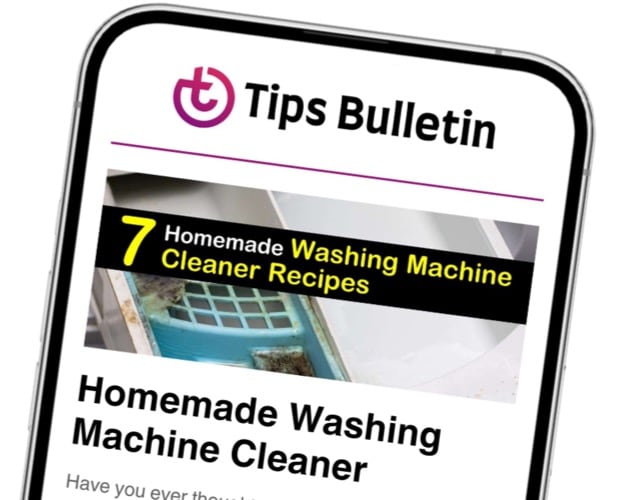 Finally, an email that Transforms Your Home.
Get the latest home and garden tips from our experts, delivered straight to your inbox.
Consider the type of washing machine you own before getting rid of washer smells. Front-load washing machines are typically more energy-efficient because they use less water, which means mold accumulates faster.
Front-load machines also use a rubber washer door gasket to seal shut, making it easier for water to get trapped. Learn how to remove odors from your front load washing machine and stop them from returning.
How to Freshen a Stinky Front Load Washer
Front-load washers develop foul odors because water can easily pool in small spaces and create mildew or mold. Typically, the cause of the mildew smell is the gasket or rubber seal surrounding the door. Distilled white vinegar is an affordable tool for removing the smell from a front loading washing machine.
However, cleaning the entire machine is a good idea. Distilled white vinegar is the ideal cleaner as it's cheap, readily available, and destroys mold spores. The acetic acid in white vinegar denatures the mold and eradicates the smell.
Run a wash cycle with two cups of white vinegar in the drum using the hottest and largest load settings. Wipe down the outside of the appliance, clean and soak detergent pans, drawers, and removable components in undiluted distilled white vinegar.
After the cleaning cycle, use an old toothbrush to scrub the door gasket and rub it down with white vinegar. Clear moisture from the interior of the drum and door with a microfiber towel, and set the door open to ensure that everything dries fully.
Baking Soda Will Deodorize a Washing Machine
Baking soda eradicates odors throughout the home, including a front load washing machine. The alkalinity of baking soda neutralizes odors, while its mild abrasive cleaning power removes mold, mildew, and hard water deposits in your washer drum.
Begin with an empty washing machine. Pour two cups of baking soda directly into the washing machine. The powder gently scrapes the inside and eliminates stale, moldy aromas left behind by old soap and fabric softener accumulation.
Run a hot water wash cycle and use the self-clean function if your device has one. Combine one quarter cup of baking soda and equal parts water. Pour the mixture into the laundry detergent dispenser and run a regular cycle without washing clothes. Open the door and inspect the drum for lingering smells. Use a bleach solution to wipe the seals if the scent of mildew persists.
Sanitize Bad Smells From a Washing Machine
Chlorine bleach is an ideal way to clean your washer when the rubber gasket on the front loader smells bad, as it destroys odor-creating pathogens without damaging your machine. Fill the detergent drawer of your washer to the maximum level with chlorine bleach and pour half a cup into the drum. Run a standard wash cycle on the hottest setting, then mix a dilute bleach solution with water.
Spray a diluted bleach solution around the door, taking care to get the rubber gasket and seals. Allow one minute before cleaning the bleach off with a microfiber towel and leaving the washer open to dry.
After the bleach cycle, run a rinse cycle to remove any bleach residue so it doesn't transfer to your garments. To stop corrosion, use hydrogen peroxide instead of bleach if you have a stainless steel washer drum or pipes.
You can also use baking soda for cleaning a washing machine agitator on a top loading machine. The agitator in a washing machine can become caked with grit and grime from dirty clothes. Be sure to keep all the small parts clean on your washer to keep your clothes smelling fresh.
Combined Cleaner for Heavy Odor
Homes with hard water have excess minerals in the water from the faucets and appliances. These minerals, such as calcium, solidify on fixtures and inside the washer, creating a perfect attachment point for mold and bacteria. Hard water residue inside the washing machine typically causes heavy or stubborn mold odor.
Eliminating the hard water deposits gets rid of the odor. Combine the cleaning capabilities of distilled white vinegar and baking soda to tackle the stench naturally. Place half a cup of baking soda into the empty washing machine and fill the laundry detergent drawer to the maximum level with distilled white vinegar.
Set your device to run a hot water wash cycle. The baking soda and vinegar combine to loosen mineral accumulations so they wash away. Add equal parts distilled vinegar and water to a spray bottle to clean the door seal and exterior of the washer.
Keep the door open so the drum dries fully. Run an empty wash to clear the vinegar smell before resuming laundry as usual.
Commercial Products for Cleaning a Front Load Washer
There are many commercial products for the job if you're nervous about using DIY strategies to erase a washing machine smell. Head to your local hardware store or visit the cleaning aisle at the supermarket to find an appropriate washing machine deodorizer.
Choose an odor eraser intended for front load washing machines, and take note of special instructions – some cleaners are inappropriate for a stainless steel drum.
While some store-bought washing machine cleaners focus on everyday ingredients like bleach or baking soda, others contain harmful chemicals. Read the safety directions carefully for any odor eliminator you choose, and follow the instructions to ensure the best outcome.
Tricks to Prevent Odor in a Washing Machine
Treat the stench in your washing machine as soon as you notice it to prevent it from worsening. Most front loading washing machine odor traces back to moisture. There are preventative actions between washes to guarantee the odor doesn't return too frequently.
Straightforward steps to minimize dampness in and around your machine reduce the likelihood that odorous mold or mildew spores form. Use a detergent designed for high-efficiency machines to leave fewer suds and soap scum behind. After each wash, leave the washing machine door open to avoid retained moisture.
Remove damp garments from the washing machine promptly. Wash items inside out to remove odors and grime trapped inside your garments. Ensure your pipes drain properly. Clean your washer gasket every couple of weeks to avoid moisture buildup.
Keeping your front loading machine dry between washes creates less opportunity for mold to form, and lessening soap reduces scum buildup. Over time, mold and dampness destroy your washer's seals, gaskets, and internal parts, resulting in costly appliance repair. Prolong the life of your device with these effortless ideas.
Did this article enlighten you on how to remove the smell from a front loading washing machine? A front loader washing machine is convenient and spares you annoying reaching and bending to load and unload your laundry, yet the machine becomes stinky without regular cleaning.
The buildup responsible for the odor can cause issues with washer function and lead to a total breakdown if not addressed. Use proven hacks to deep clean your smelly washer so it's ready for the next load.
If you loved this illustrative article on how to clean a smelly front load washer, please share it with your friends and family who are cleaning a smelly front load washer on Pinterest and Facebook.