The sofa or couch is probably one of the most expensive pieces of furniture in your living room and is also one of the most commonly used. It reflects your style while providing comfort after a long day's work. Learn how to clean a sofa during regular maintenance and how to perform spot cleaning to ensure that your investment lasts for a long time.
Not only did you spend a lot of money on your sofa, but you probably invested a few hours choosing the right type of fabric, color, and style.
Keeping your couch looking like new not only gives you a clean and comfy place to rest your behind but ensures that all of the time and effort you put into purchasing it did not go wasted.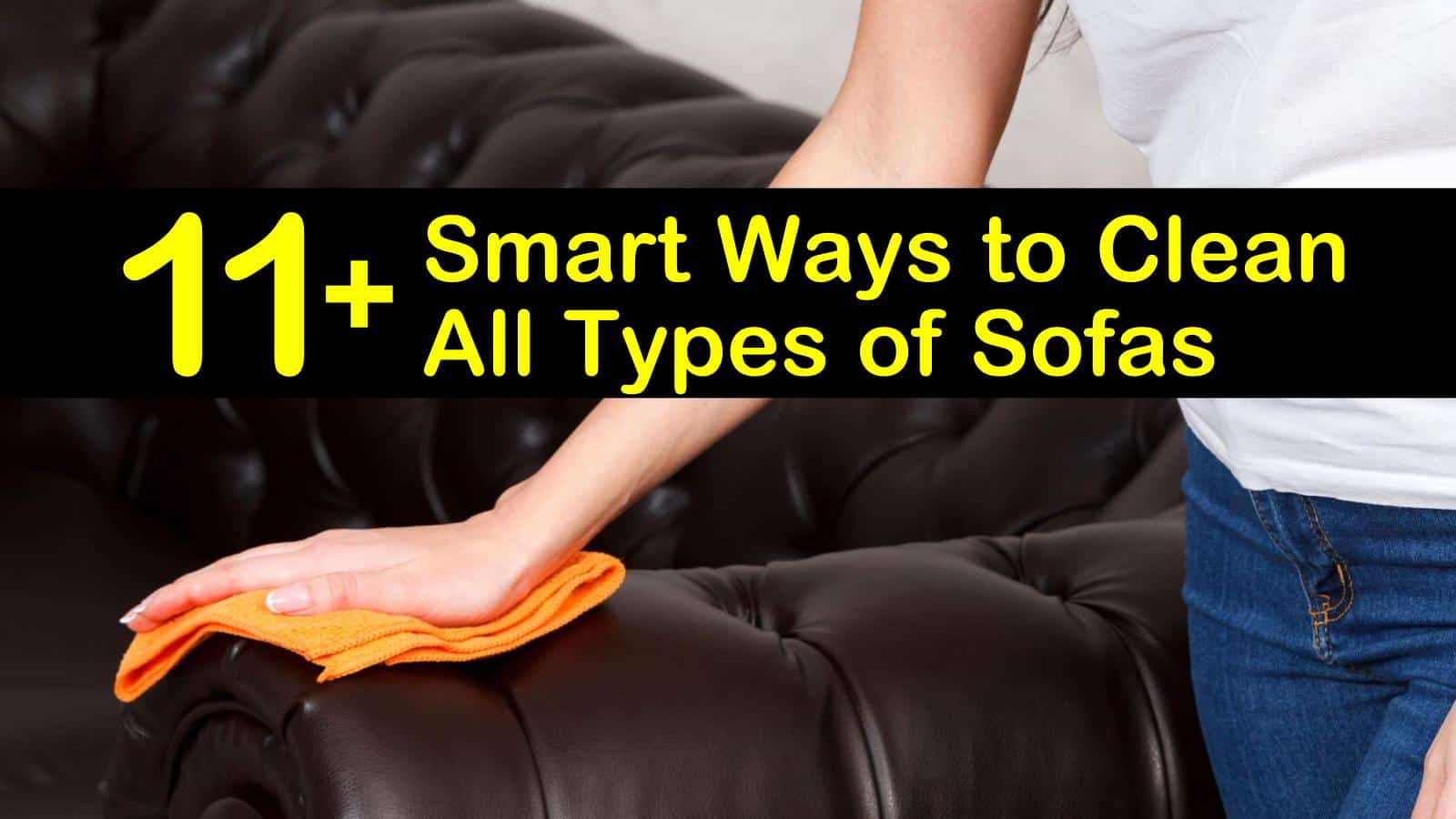 Best Ways to Clean Your Sofa
There are several ways to clean upholstery on your sofa, whether it is fabric, suede, leather, or other material. The first step is to ensure that accidental spills do not turn into permanent stains, followed by regular cleaning. We'll show you how to spot clean, deep clean, and use proper care to keep your sofa its best for years to come.
Vacuuming Before Sofa Cleaning
Performing regular vacuuming to your sofa, no matter the fabric, is essential to prevent dirt from embedding into the material. Before using any sofa cleaning products, vacuum the couch to remove loose dirt, crumbs, and pet hair. Vacuuming is a great first step to get dog hair out of couch upholstery so you can clean it properly.
Sofa Vacuuming
Use a vacuum with a brush attachment to suck loose debris from the headrest, sides, and seat cushions of the sofa. If the cushions are removable, set them aside and use the upholstery attachment crevice tool to suck crumbs and dirt from the inside creases of the couch.
What to Check Before Cleaning Your Sofa
Many sofas come with specific manufacturer's instructions and cleaning codes. Unfortunately, you cannot use a carpet cleaner to clean a sofa. Check the tags of your couch before you use any cleaning products. Here's what to look for when removing stains and deep cleaning your furniture.
Cleaning Instructions
Check for any special instructions before applying detergents to the material of your sofa to prevent damage. Check the sofa's tags for cleaning codes. The codes tell you which types of cleaners can be used safely on your furniture.
'W' stands for water-based cleaner. These cleaners use water as the main component.
'S' stands for solvents. These are cleaners that use cleaning chemicals as the main component.
'S/W' means that both solvents and water-based cleaner are safe to use for cleaning.
How to Clean a Couch Made of Fabric
While sofas made of fabric are the easiest to clean, it's still essential to check the cleaning label on your couch brand to make sure that this basic cleaning solution is safe for the material. Here is how to clean a couch upholstered in fabric.
To make a simple homemade upholstery cleaner recipe, combine the water, vinegar, and dish soap in a spray bottle and gently shake to mix. Spray a light layer of the mixture onto your couch, working with one section at a time.
Use a sponge to work the upholstery cleaner into the fabric to remove the everyday build-up of dirt, and then pat dry with a clean towel. Allow the sofa to air dry completely before using it. Drying outside is an excellent way to freshen fabric.
Suede Couch Cleaning
Do not use standard couch cleaning solutions for a suede sofa. This material is a soft form of leather, and it needs special care and attention when removing dirt and stains. We'll show you how to clean suade to remove light dirt that results from everyday use.
Apply suede upholstery cleaner to a sponge and clean the sofa in sections using circular motions. Assist the material in drying by opening windows or turning on a ceiling fan. Once the couch is dry, polish the surface using a suede cloth.
Cleaning a Leather Sofa
Removing dirt and stains from leather can be particularly tricky, especially if cleaning a white leather couch. While the task may seem daunting, leather sofa cleaning is easy if you know the right tools to use.
Combine equal portions of water and white vinegar into a spray bottle and shake well. Work in sections to spray the leather couch lightly and use a microfiber cloth to wipe away dirty residue.
Combine water and a squirt of cleaning detergent into another spray bottle and shake gently to mix. Go back over each section and repeat using the new solution to clean away any vinegar residue and smell. Dry the sofa thoroughly with a clean towel.
How to Condition a Leather Sofa
If not conditioned regularly, leather deteriorates over time due to moisture loss, natural elements, and wear. When cleaning a leather couch you will also need to condition it to help it maintain its natural oils and prevent fading or cracking.
Combine two parts of either flaxseed oil or linseed oil with one part white vinegar into a spray bottle and shake vigorously. Spray the conditioner onto the sofa in sections.
Use a microfiber cloth to work the solution into the leather with circular motions. Allow it to rest for ten minutes and then use a soft, dry cloth to buff shine into the sofa.
Steam Cleaning Couch Upholstery
If you have a water-safe couch, you can use a steam cleaner to clean away stains and dirt safely. Test an inconspicuous area before upholstery cleaning to be sure that the fabric is heat-safe.
Give the couch a thorough vacuuming before steam cleaning to ensure that hair and significant bits of debris do not clog the steam cleaner. Follow the instructions on your steam cleaner model. Use the steam cleaner to loosen up a stain or to deep-clean the entire sofa.
Allow the couch to air-dry. Putting on a ceiling fan and opening windows may help to speed up the drying process. After the couch dries, use a vacuum cleaner to suck up any leftover residue.
Removing Stains from a Fabric Sofa
Removing stains from fabric upholstery is relatively easy as long as you know which type of cleaning solution is safe to use. Blot the stained area as soon as you notice it and then use either water, vinegar, or baby wipes to clean tea stains, pet stains, and accidental spills from your sofa.
If your couch is water safe, put a few drops of dish soap into a container of water, and use a cloth to apply the solution to the stain. Keep blotting the stain until it is gone. Use a dry towel to absorb leftover residue.
If the upholstery on your couch is microfiber, then you're lucky. This type of material does not absorb spills well, so you'll have plenty of time to clean it. For microfiber upholstery, use a baby wipe to clean away stains gently. Continue to change wipes while cleaning until the stain is gone.
If the cleaning code on your couch is labeled 'S,' use either vinegar or alcohol to remove the stain. Pour either liquid onto a clean cloth and dab at the area until the stain is gone and then let the spot air dry.
How to Clean Stains on a Suede Couch
The best thing to do when you discover a stain on your suede sofa is to take care of it immediately by gently dabbing the stain to remove as much as you can without spreading it further. If the stain persists, use vinegar or a suede eraser to remove it.
For wet stains, apply some white vinegar to a clean cloth and rub the area using circular motions. Allow the spot to air dry and use a suede brush to work the fibers back to their original state.
If you have a dry stain on your suede couch, begin by using a suede brush to loosen any dirt debris from the fabric. Use a suede eraser to rub the remainder of the stain away gently.
Cleaning Leather Sofa Stains
Discovering a dark stain on your leather sofa can be disheartening, especially if it's something like an ink stain or red wine. The best way to remove stains from leather is by using a little rubbing alcohol and some cotton.
Before cleaning the stain, use a paper towel to blot as much of the stain away as possible, making sure not to spread it. Apply some rubbing alcohol to a cotton swab and spot test an inconspicuous area of the sofa first to check for color-fastness.
Use the swab to dab at the stained area, making sure that you do not spread the stain outward. Keep using fresh swabs dipped in the alcohol for blotting at the stain until it is gone.
Washing Sofa Cushion Covers
You may be fortunate that your sofa came with removable sofa seat covers. Remove the cushion covers for cleaning in the washing machine if the washing instructions permit. For specific cleaning, you may take the cushion covers to the dry cleaner for specialized dry cleaning.
Before proceeding, check the cleaning instructions on your sofa cushions. Unzip each cushion and pull each one out of their sleeve. Place the covers into the washing machine and wash them using your favorite detergent.
Make sure that you use an appropriate wash cycle setting according to the cushion instructions. After washing, place the seat covers into the dryer as recommended on the instructions.
Once dry, place the cushion covers back onto the cushions. They may shrink a bit in the dryer, so the cushions are a bit more difficult putting on then they were taking off.
Removing Bad Odors from a Sofa
If pets sneak onto the furniture while you're away from home, your sofa may have that distinctive pet odor. For a couch that isn't stained or dirty yet has an unpleasant odor that needs removing, you can use baking soda to make your couch smell good. You probably already have some in the pantry.
Sprinkle baking soda over the entire sofa lightly, including the area beneath removable seat cushions. Let it sit for 20 minutes while it absorbs the bad smells. Use a vacuum brush attachment to suck up all of the powder.
Performing Day-to-Day Sofa Maintenance
Over time, furniture can begin to look drab and worn. We have some necessary steps to take to ensure that your sofa lasts you many years without losing its original look and feel.
Vacuum the couch each time you vacuum the living room and use a lint roller to remove hair if you have pets. If you sit in the same spot in the same manner on your sofa, day after day, the fabric gets worn in specific areas, and the cushioning becomes flat. To keep your sofa firm and prevent wearing of the fabric, alternate your seating arrangement from day-to-day.
Fluff and flip the cushions each time you vacuum to keep the stuffing even. Material that sits in rays of sunlight begins to fade and lose color. Prevent UV damage to your sofa by situating it in the living room away from direct sunlight.
When having social events in the home, use slipcovers on the sofa to prevent stains from accidentals spills. Cover leather furniture with a sofa cover to protect it when not in use.
Do not sit on the armrests or backrest of the sofa. These areas of the couch are not designed to handle the weight and eventually become damaged.
Keeping your living room furniture clean, regardless if it is fabric or leather furniture, does not have to be a problem if you know the right cleaning methods to use.
Performing regular deep cleaning and necessary spot cleaning on your sofa is essential to making sure that your couch is a part of your living room for many years, particularly if you have children or pets.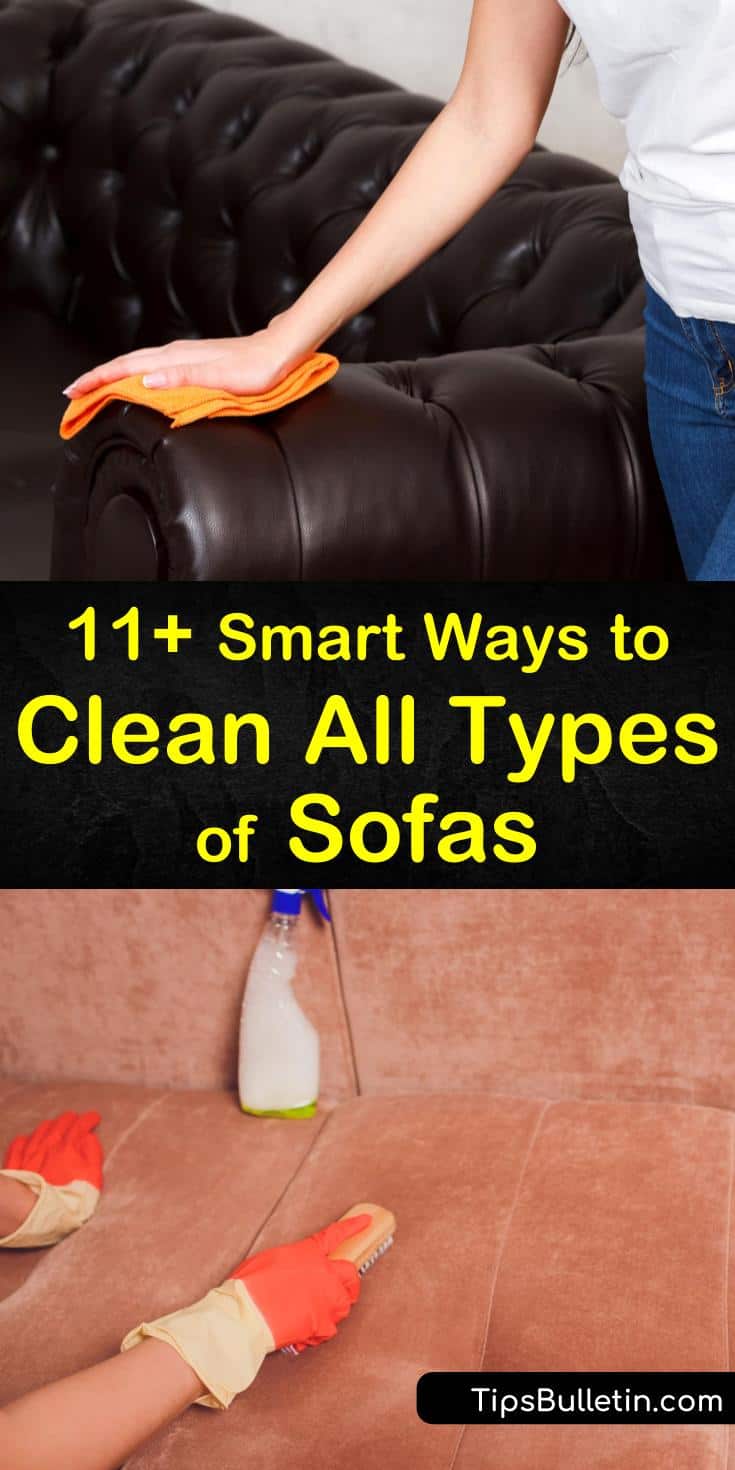 Now that you know our cleaning tips on how to clean a sofa to remove everyday dirt and stains, why not share these couch cleaning tips with your friends and family on Pinterest and Facebook?