Every homeowner needs to know how to clean a stained mirror. A mirror serves two purposes: it aids in grooming and dressing while also helping as a decorative element that adds depth and bounces light around a space. Most houses have several mirrors, including mirrors on dressers, bathroom mirrors, wall mirrors, display cabinet mirrors, and handheld mirrors.
It is frequently necessary to clean bathroom mirrors daily to prevent splatters from toothpaste, water, and beauty products. A streak-filled or unclean mirror is unattractive. Fortunately, cleaning a stained mirror with a few items you undoubtedly already own is straightforward, so you have spotless, gleaming mirrors and glass.
Stained glass, window, and shower glass all need routine upkeep to maintain at their best. Decorative mirrors must be dusted regularly with a soft duster and completely cleaned once a month to get rid of the contaminants that collect on the surface. Discover techniques to clean a stained mirror and enjoy a shiny, streakless glass finish.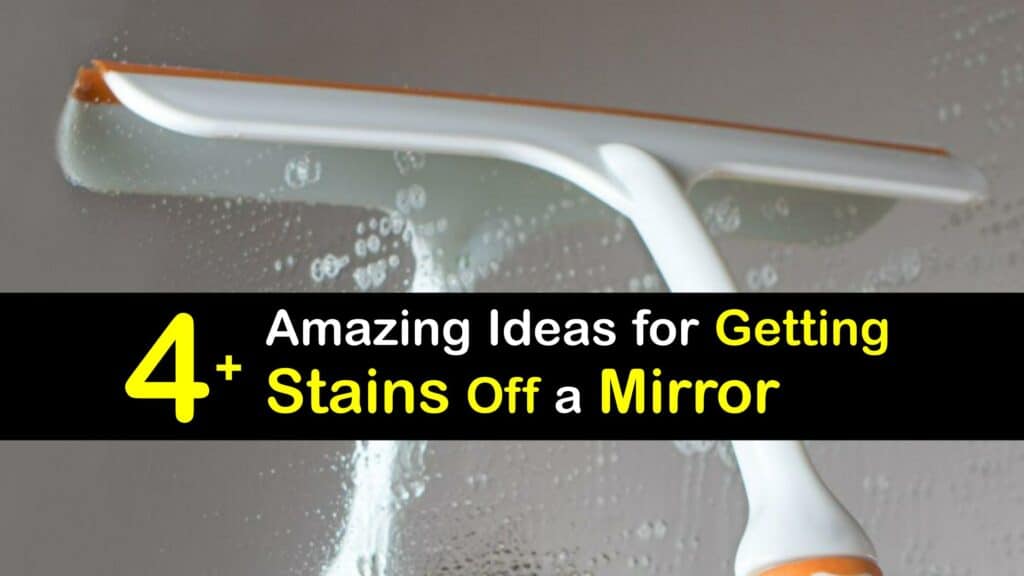 Home Hacks for Cleaning a Stained Mirror
Find out how to clean a stained mirror and avoid dirty glass or a cloudy mirror ruining the look of your bathroom. Even the most meticulous housekeeper frequently runs into issues with streaky mirrors and glass.
No matter how diligently you clean, the prints from where you previously cleaned are sometimes visible. Toothpaste splatters, hairspray residue, and hard water spots leave your glass shower door and over the sink mirror looking grubby.
A streak-free shine is easily grasped if you follow simple home remedies for a spotless glass surface. Learn tricks and tips to clean a stained mirror or glass and maintain your bathroom confidently.
How to Clean a Stained Mirror With Toothpaste
Toothpaste is a go-to cleaning solution for numerous home goods. It works well as a bathroom mirror cleaner and for cleaning glass. Since toothpaste is mildly abrasive, it is ideal for removing grime from shiny surfaces like mirrors, shower glass, and teeth. Additionally, it polishes smooth surfaces to a shine when applied with a soft cloth.
Start by moistening a clean towel with warm water before using toothpaste to clean your mirror. Dab a little toothpaste on the damp cloth and massage it in a circular motion on the glass surface. Rub the mirror until it is spotless. Remove extra toothpaste with a clean cloth.
Clean a Stained Mirror With White Vinegar
White vinegar is a popular cleaning product and a clever choice to remove stubborn stains from toothpaste splashes or a dried hard water stain. Since vinegar contains acetic acid, dilute it with water and only use it on the glass portion of your mirror. Take care not to get it on the framing or glue.
Combine the ingredients and use this mirror cleaning DIY spray on all the mirrors in the house. Spray the cleaner onto the mirror, a paper towel, or a cotton cloth. Wipe the mirror from one side to the other or up and down with the cotton rag before the spray dries. Never wipe your mirror or custom glass window in a circular motion.
Take a microfibre cloth and dry the mirror using the same side-to-side or up-and-down action. Look at the mirrored surface from the side when it dries to check for streaks or missed spots. Clean these places and buff the mirror to shine.
Try Rubbing Alcohol for Getting Stains off a Mirror
Rubbing alcohol is an effective glass cleaner to eradicate smudges and deposits from your shower door or an antique mirror. Rubbing alcohol removes hairspray residue from mirrors and other dirty build-up or grimy streaks. It is often in the pharmacy section of any supermarket store and has numerous uses as a solvent.
Spritz isopropyl alcohol on a microfiber cloth and wipe it away quickly. You might need to rub to eliminate persistent sticky marks for an immaculately clean mirror. Spot clean small marks as needed. Get sticker residue off your mirror with a little extra pressure. Rubbing alcohol provides excellent results.
Rubbing alcohol is an excellent glass cleaner; its solvent properties mean it's a great way to remove paint from a mirror. Instead of busting out a razor blade and paint thinner, rubbing alcohol is an easy at home alternative to get paint off a mirror.
Removing Stains From a Mirror With Dish Soap
Though it's commonly associated with dishes, liquid dish soap is a suitable cleaner for stained glass windows, mirrors, and shower glass.
Wipe away gathered dust with a soft microfiber cloth to prevent scratching the mirror. Mix the liquid dish soap and warm water in the bowl with a squeegee.
Work in even, straight lines as you run the squeegee's rubber edge over the glass to remove the dish soap solution and for getting smears off glass. Removing the remaining streaks is easy; take some fresh newspaper and rub it all over the glass to finish.
Use Shaving Foam for Cleaning Mirrors
Shaving foam is a quick way to clean glass shower doors, remove water spots, and prevent your mirrors and glass from fogging. This thick, white foam is most often used for removing body hair. However, it features in several cleaning home hacks, including brightening dull glass.
Shaving foam prevents your mirrors and glass from misting up and leaves them looking clean with a streak-free finish. Lather some cream-type shaving foam on your glass and mirrors, leave it for a few minutes, and wipe with a clean, dry towel.
Cleaning a stained mirror doesn't have to be a bother. Glass shower doors, custom windows, and large mirrors add character to your bathroom. When glass becomes dirty, it's challenging to clean it without leaving streaks or spreading the mess.
Use everyday items like white vinegar, toothpaste, and shaving foam to effortlessly clean your glass surfaces to a shine, so your bathroom looks well-kept.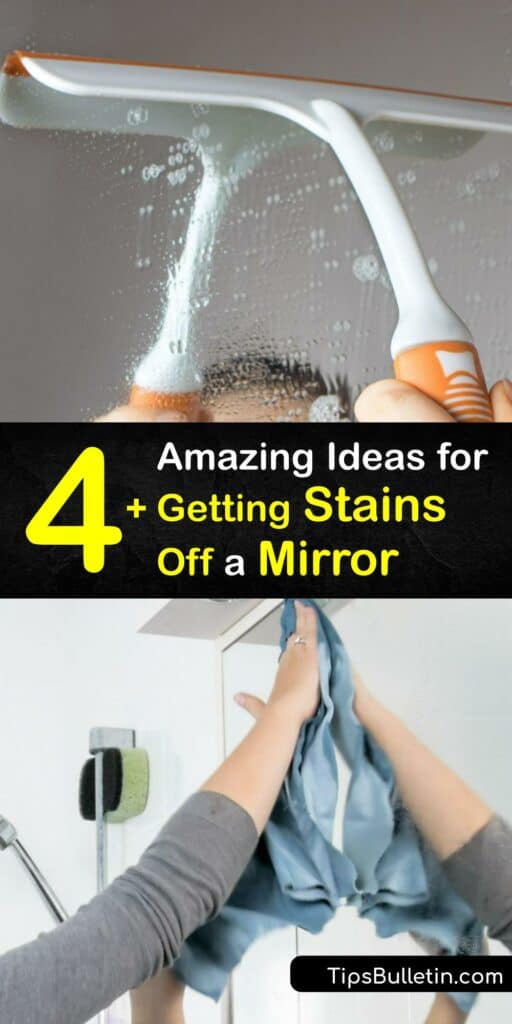 If you loved this article on how to clean a stained mirror, please share these brilliant ideas to clean a stained mirror with your like-minded friends and family on Pinterest and Facebook.