One of the reasons stainless steel appliances are so prevalent in kitchens is because they are rust and corrosion resistant. Although they may look nice, don't let the term stainless fool you, as these appliances seem to be a magnet for stains. The two biggest culprits are water stains and fingerprints, but even they aren't that big of a problem once you learn how to clean a stainless steel refrigerator.
If you already own stainless appliances, you know about this problem, but if you are considering getting them, this is your warning. One of the most important reasons for cleaning a stainless steel fridge is if left alone, dirt, dust, and grime will put your best appliances at risk of rusting.
Another reason for cleaning a stainless steel refrigerator door is to keep it looking shiny and new. Most people judge you based on how clean your kitchen is, and as a central part of your kitchen, everybody looks at your fridge.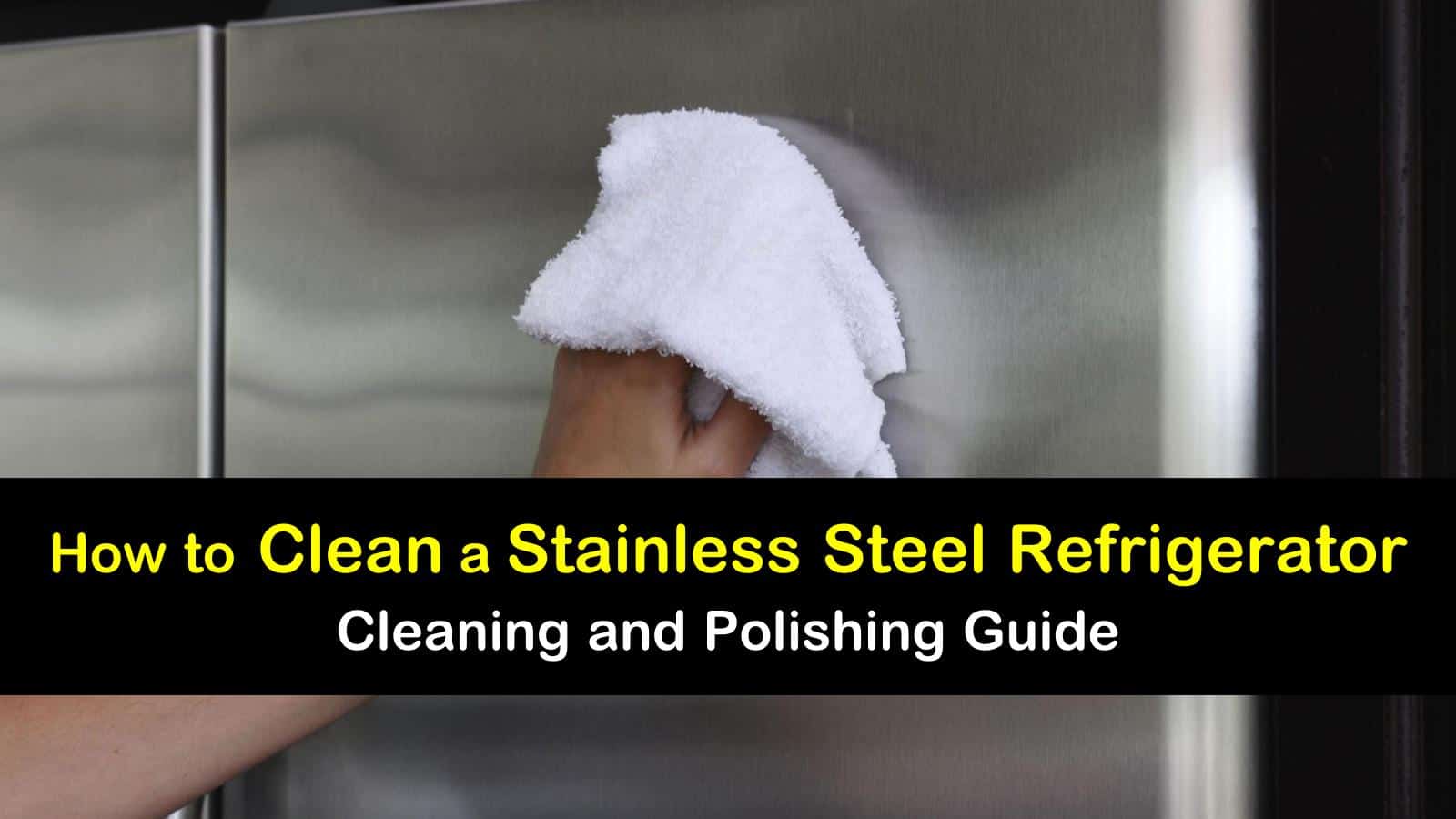 What to Avoid When Learning to Clean a Stainless Steel Refrigerator
When cleaning stainless, there are certain cleaning products you want to avoid, including oven cleaner, ammonia, or other chlorine-based cleaners. Avoid using anything abrasive such as steel wool or other scrubber pads as they will scratch the finish.
Hard water should never be used to clean stainless steel as it leaves behind stains or spots that are quite challenging to remove and you may never completely eliminate. These cleaning methods also apply to other stainless steel appliances in your kitchen, like the microwave, dishwasher, and sink.
The best way to clean a stainless steel sink or other appliance is by following the same tips that work for polishing a stainless refrigerator. Use our easy solutions for gleaming stainless surfaces. Having nice, gleaming appliances will make you happier every time you walk in the kitchen!
Cleaning a Stainless Steel Fridge
When learning how to clean a stainless steel refrigerator, you can use commercial stainless steel cleaners that contain harsh chemicals, but chances are they won't deliver the results you are after.
Instead, use one of our inexpensive cleaning solutions for cleaning your fridge and freezer. If you do end up needing commercial cleaners to restore the shine, stick with the Weiman line for the best results.
Cleaning Your Stainless Steel Fridge
When cleaning a stainless steel refrigerator door, for best results, go with the grain. To figure out the direction of the grain, look for the striations on the steel, the entire door should be one direction. Handles or knobs may have a different direction, so pay attention.
To clean your fridge, apply a small amount of dish soap or detergent directly to the cleaning rag. Add enough water to dampen the cloth and use the damp cloth to wipe along the grain.
For harder to remove prints or marks, you may need to wipe them several times. Dry any streaks with a clean towel.
To polish your fridge, use baby oil or even mineral oil. Apply a few drops of the oil to another clean rag. Wipe either direction following the grain of the stainless steel. Avoid using a paper towel to clean the fridge, as it leaves lint behind.
Cleaning Stainless Steel with White Vinegar
Using a microfiber cloth, spray a small amount of white vinegar onto the rag or directly onto the fridge. Wipe the surface clean following the direction of the steel's grain. You may need to reapply white vinegar several times to get the refrigerator clean from all grime.
You can also clean your dishwasher with vinegar, both inside and out. Use a clean cloth and dab a little olive oil onto it to polish the steel. Always follow the direction of the grain and wipe off excess oil residue with a separate clean cloth.
Clean Your Brushed Stainless Refrigerator
Fingerprints are the worst thing about stainless steel, but with glass cleaner and some elbow grease, you can easily remove them. Using Windex or another brand of glass cleaner, spray a microfiber cloth, and rub directly onto the fridge in a circular motion.
Repeat until all fingerprints are gone. Never spray glass cleaner directly onto your refrigerator as it can leave spatter and drip marks, which means more work for you.
Club Soda for Cleaning a Stainless Steel Refrigerator Door
A natural way to clean stainless steel is with a spray bottle and club soda. Fill the spray bottle with club soda and spray your fridge. Wipe down the refrigerator using a clean, dry cloth, going in the direction of the grain.
The club soda cleans the surface of your appliance and provides a beautiful shine. Dry with a clean, microfiber cloth.
Cleaning Your Fridge with Water and a Cloth
For cleaning stainless steel appliances, you will be amazed at how well warm water and a lint-free cloth work on your fridge and countertops. When it comes to a non toxic kitchen cleaner, it doesn't get much better than plain old water.
Once you have wiped your fridge clean following the grain, use a dry towel to prevent water spots from appearing. Polish with a microfiber cloth or a special polishing cloth. These cloths absorb the water and effectively remove most smudges.
Baking Soda as a Natural Stainless Steel Cleaner
Baking soda is one of several DIY cleaners for stainless steel, but it is messy. The upside to this cleaning method is that once clean, your fridge will look like it just came off the showroom floor.
To clean your refrigerator exterior or for how to clean stainless steel pans, make a baking soda paste with water and baking soda, dip a cleaning rag into it, and gently rub into your fridge or pots and pans. To help minimize the mess on the floor for fridge cleaning, lay out an old sheet or towels to catch any drips.
This method is best used in small sections on stainless steel surfaces due to the mess it creates. You will notice a white residue left behind from the paste. Use a cleaning cloth dipped in hot water to remove the residue. Follow up by polishing your stainless steel with a microfiber or polishing cloth.
Pour a little baking soda into an open container and leave it inside your fridge to eliminate refrigerator odors and strong smells like onions and fried foods.
Baking soda is also appropriate for removing rust from stainless steel if you discover a patch on your newer fridge or have inherited an older one. Follow the same recipe, ensuring that you get rid of all traces of rust.
Cleaning Stainless Steel Refrigerators with a Flour Sack
Instead of using a cleaning cloth, this method requires the use of a small section from a flour sack. Use the flour from inside the sack when cleaning stainless steel surfaces.
Dampen a small piece of the flour sack and sprinkle a small amount of your preferred cleaner. Use a circular motion to rub the cleaner onto the surface. Apply a small amount of water on a different piece of the sack and using the direction of the grain, wipe the surface clean.
Dry with a third piece of the sack. Once dry, rub with a bit of wax paper, making sure you are using the waxy side, to help repel fingerprints and smudges.
The flour from inside the sack may be used to clean your kitchen appliances, including the fridge, but it can get messy. This method works best for stainless steel sinks and cookware.
To use this cleaning method, clean sinks, appliances, or cookware thoroughly to remove any caked on messes. Once dry, cover the entire surface with flour. Use a soft cloth to buff until flour is gone and the surface is shiny.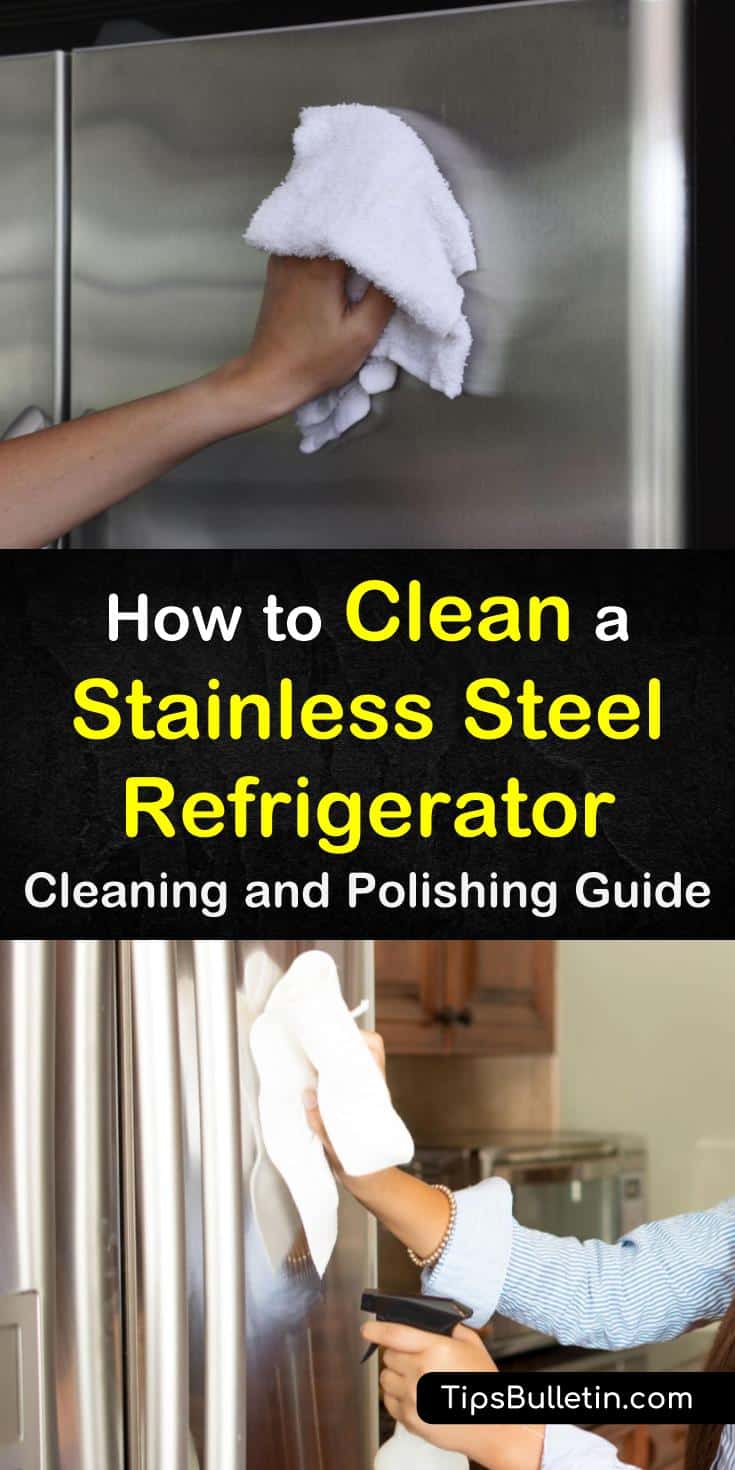 Thank you for reading our stainless steel fridge cleaning tips. If we have helped you learn how to clean a stainless steel refrigerator, please take a minute to share our easy to use cleaning methods with others on Facebook and Pinterest.