Stainless steel appliances give a sharp, sophisticated look to any kitchen. However, even the most beautiful devices are subject to the mess and wear and tear of the kitchen, especially ones that you use for cooking. That's why it's vital to learn how to clean a stainless steel stove.
While stainless steel looks great, it does require a little extra care when it comes to cleaning. One problem you need to be aware of with stainless steel is that it can easily rust. To avoid this, make sure you don't leave wet metals sitting on your stove top for extended periods. However, sometimes mistakes happen, and that's why we're sharing our cleaning secrets here!
Another problem that occurs with stainless steel during the cleaning process is that it is easily scratched. That's why you need to be careful of the scrubbing materials you use. For example, you should never use steel wool or any other abrasive scrubber on a steel surface. Additionally, you have to wash stainless steel in the direction of the grain. I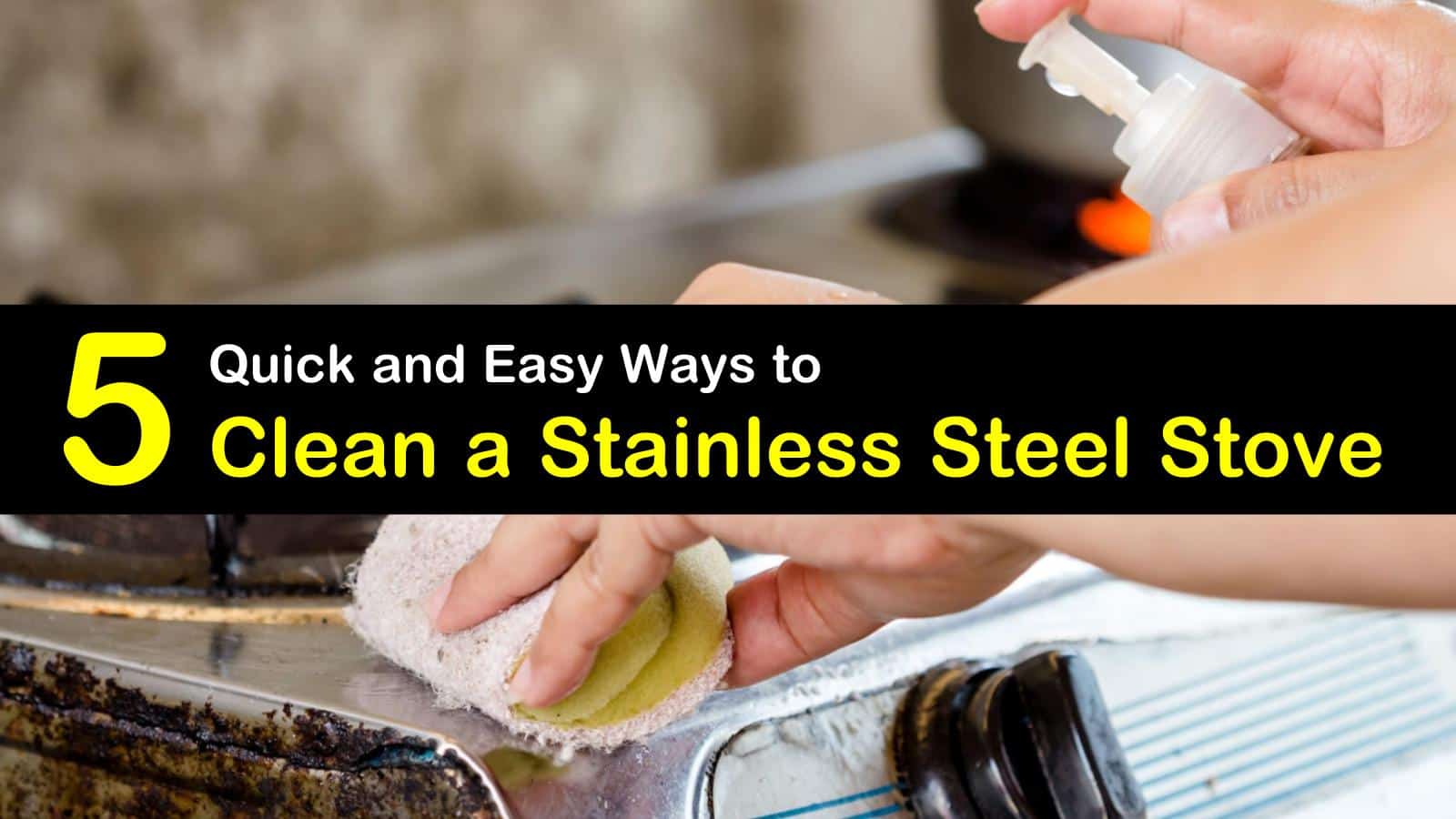 The Best Ways to Clean a Stainless Steel Stove
f you follow our quick and easy solutions for cleaning stainless steel, your stove will be looking good as new in no time.
Any time you use your stovetop, it's likely that you're leaving behind remnants of grease. If you let this grease sit, you will soon have sticky, unsightly smudges all over your stainless steel kitchen appliances. Luckily, there is an easy and accessible solution to remove stains from stainless steel stove top: dish soap!
Many of these same ideas are also applicable for cleaning stainless steel pots and pans, too. You can use most of these remedies for getting your other stainless appliances nice and shiny, as well.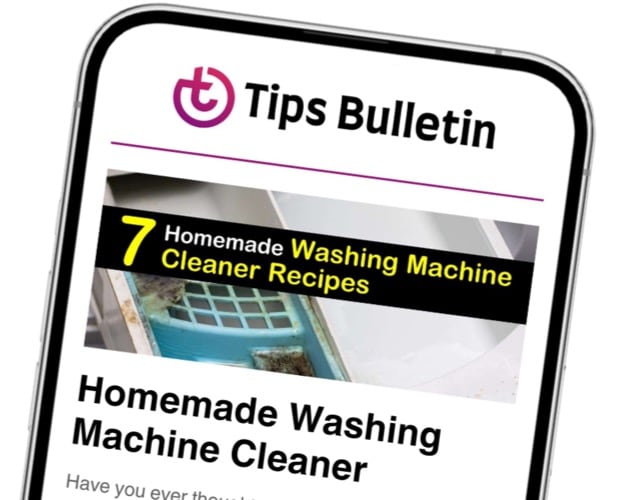 Finally, an email that Transforms Your Home.
Get the latest home and garden tips from our experts, delivered straight to your inbox.
Remove Grease Spots from Stainless Steel Stove Top
Grab any good grease-cutting soap that you use in your dishwasher or when you hand wash dishes and mix it with hot water in a bowl. Dawn and other similar brands are ideal for this purpose. Dip a dry cloth in the soapy water and scrub away for the best stainless steel cleaning option out there.
If the grease stains are stubborn, pour a little bit of soap directly on the stove surface. Once you scrub away the stain, get rid of water spots that are leftover by drying off the stainless steel with a microfiber cloth or paper towel. For heavier stains, you may need to try one of the other cleaning solutions we have listed here.
Not only can you take care of grease stains on the stovetop, but you can also start cleaning ovens with Dawn, too. The procedure is the same and gets your oven interior sparkling.
How to Clean Stainless Steel Cooktop with Homemade Stove Cleaner
Instead of spending money on expensive cleaning products with ingredients you can hardly pronounce and that contain harsh chemicals that are harmful to you and the environment, make your own stainless steel cleaner with household ingredients.
This recipe works so well on grime that we also recommend using it as an oven cleaner or for stainless steel coffee pot cleaning.
To make this DIY stove cleaner, mix the ingredients in a large bowl. Grab a clean cloth and soak it in the cleaning solution. Wring out the rag, so it is still wet but doesn't drip. Wipe the homemade stove cleaner on the stove top with the rag until it shines once again.
This recipe also works to clean burnt food off your stove top or burners. Instead of rubbing the cloth on the stain, let the damp cloth rest on top of the burnt build up for at least 30 minutes. Scrub the loosened debris with the rag and wipe it away.
How to Clean a Stainless Steel Stove with Vinegar
It is safe and effective to use vinegar on stainless steel for cleaning and sanitizing the surface. Vinegar is an excellent solution for breaking down water stains, food debris, and other splatters you might find on your stove top.
This homemade vinegar cleaning solution will not only clean stainless steel appliances, but it is also a great glass cleaner and will work as the perfect homemade cleaner for gas ovens and stoves. Use vinegar on almost everything in the kitchen and elsewhere throughout your home.
Mix the ingredients in a spray bottle, replace the lid, and shake well. Spritz your stainless steel stove top with the solution to clean up any mess left behind. This vinegar cleaner works well on hard water stains and is the perfect cleanser for other surfaces, such as your countertops.
If there is still discoloration after you've wiped down your stainless appliances with your vinegar mixture, use olive oil to finish the job. Rub the surface with a small amount of oil and a soft cloth.
Cleaning Stained Stainless Steel with Baking Soda
Baking soda is a powerful natural cleaner that works well to clean stainless steel. This recipe is appropriate for tougher grease stains and to clean stainless steel kitchen sinks.
In a bowl, mix the ingredients to form a paste. You may need up to ½ cup of hydrogen peroxide to get the consistency you want for cleaning stained stainless steel. Using a cloth or sponge, rub at the stain with the paste, following the direction of the grain or moving in small circles.
Gently scrub until the stain is gone. Allow the cleaner to sit for a few minutes and then wipe it away with a damp cloth.
Removing Rust from Stainless Steel
Keeping the innate stainless steel rust resistance capabilities intact in your stove requires diligence every time you cook. However, if you have rust and want to learn how to clean stainless steel cooktops that are rusted, it's not as hard as it might sound!
While discolored stainless steel is tricky to clean, our homemade rust remover for metal will get your stove looking as good as new. This rust removing solution requires only two ingredients: table salt and lemon.
Start by dusting a little bit of salt over the rust stains. Once the stain is coated, pour a squeeze of lemon juice on top. Let the ingredients sit for two or three hours and then use the fruit of the lemon to buff away the stuff.
If you don't have any lemons, lime juice will do. Wipe down the surface with a damp cloth and then dry with a paper towel.
Nothing makes a kitchen look better than shiny, clean stainless steel appliances! With these cleaning tips, you can quickly get your stovetop sparkling again using ingredients you already have in your home. Once you're done cleaning, you'll be eager to invite friends and family over for dinner and entertainment!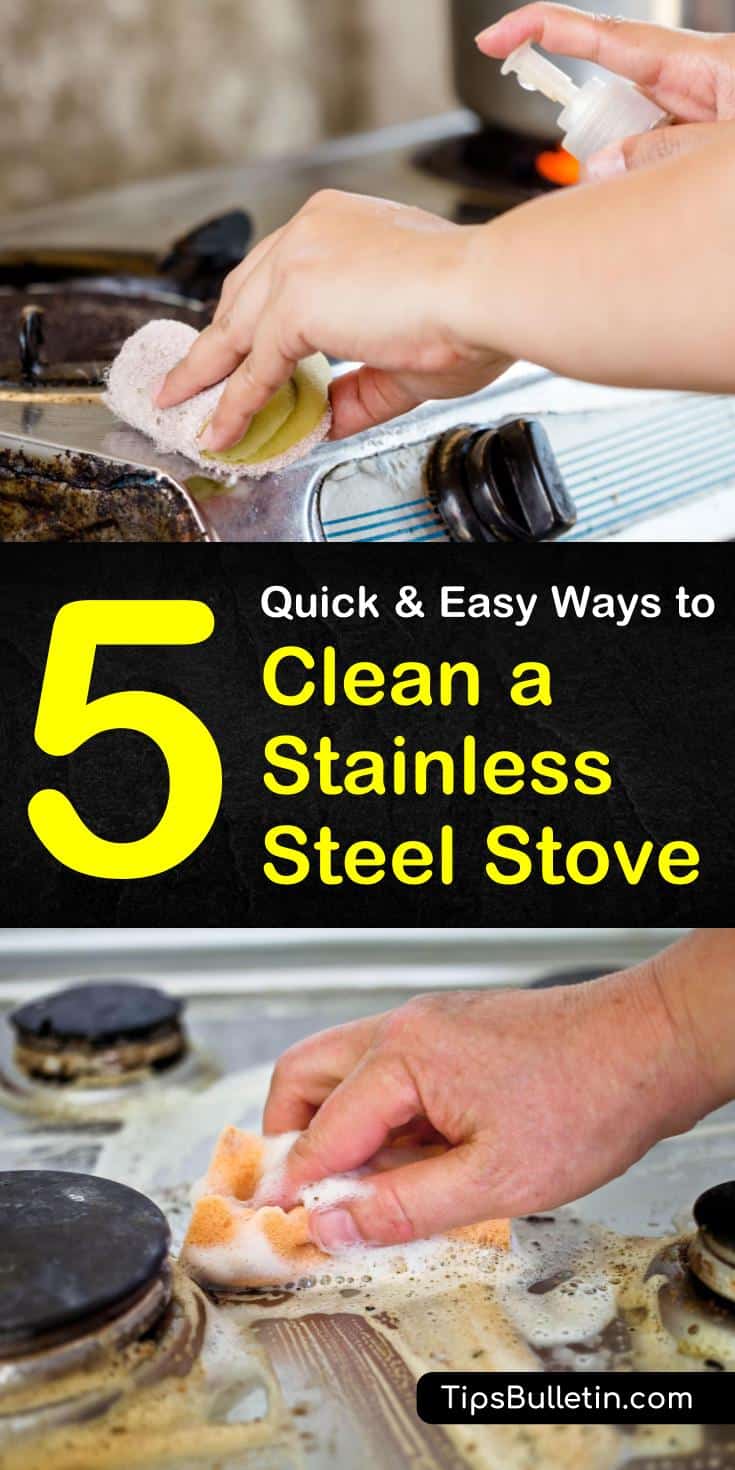 We hope our list helped you get your appliances shining again. If you were able to learn how to clean a stainless steel stove, then share our cleaning list with your friends on Facebook and Pinterest!