Nobody in the house volunteers to clean the toilet let alone unclog the toilet. Nobody wants the job because the toilet bowl is the nastiest fixture inside your home. Regardless of how dirty the task is, it has to be done.
We can show you how to clean a toilet quickly and easily without sacrificing amazing results. Many people ask if commercial cleaners are the best way to clean a toilet. Yes, you can use commercial cleaners, but they are full of harsh chemicals that are toxic to your family and the environment.
Most commercial toilet bowl cleaners contain hydrochloric acid, which is a corrosive chemical used to keep the toilet clean. If you no longer want to expose your family to harsh toilet cleaners, we can teach you how to clean a toilet using natural toilet cleaners.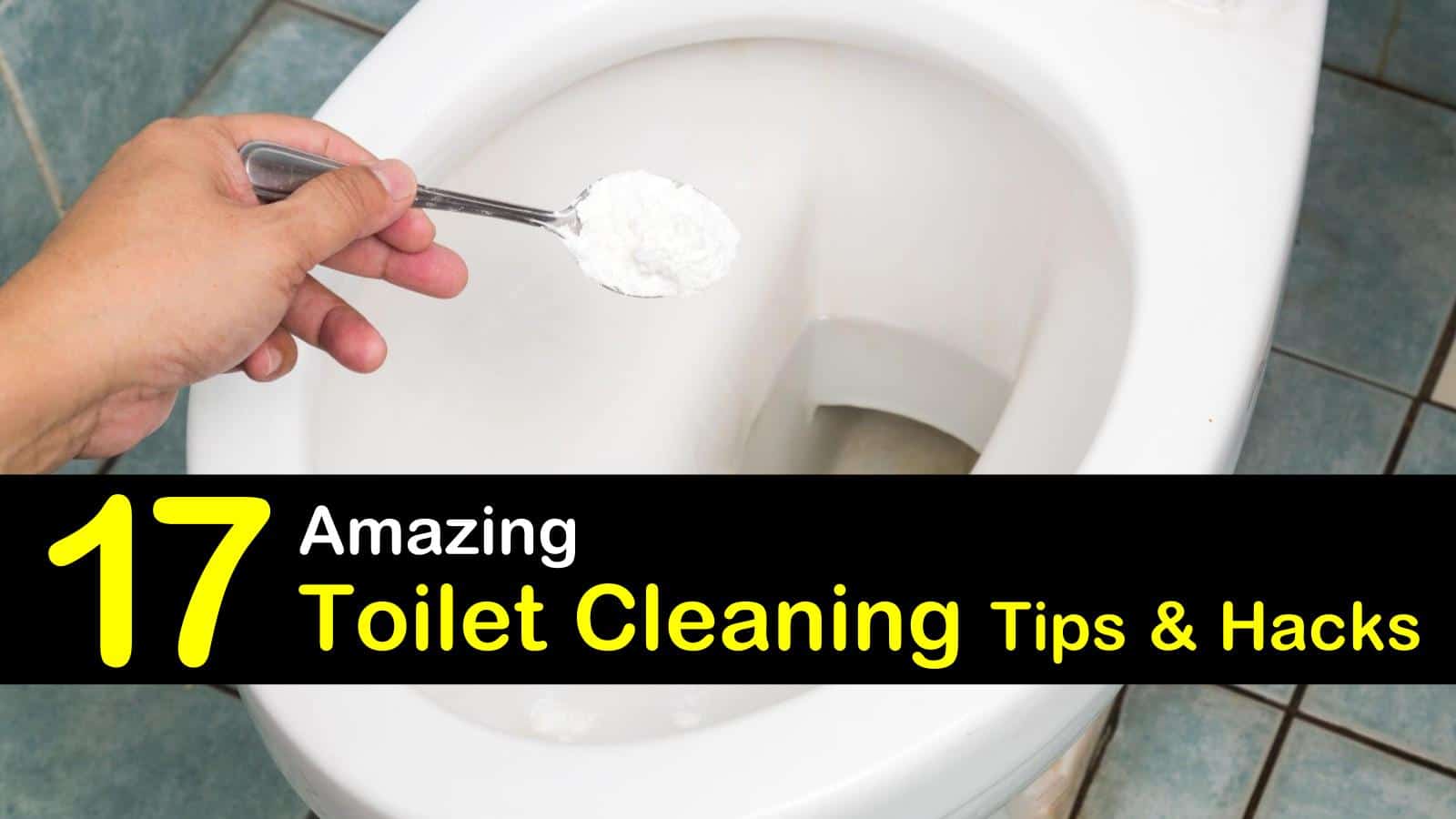 Quick and Easy Tips to Clean a Toilet
There are a variety of ways to make a DIY porcelain cleaner for the toilet that get rid of stains and mildew or mold. Many of our recipes require using white vinegar to clean. Try one to see if it works for you or use another until you find one that meets your particular needs.
Toilet Bowl Cleaner with Tea Tree Oil
Tea tree oil has antibacterial properties that kill germs in the toilet bowl and along the surfaces. It's an excellent option to take care of a dirty, stinky toilet in a natural way without harmful commercial chemicals.
To make this toilet bowl cleaner, combine tea tree oil and vinegar inside a glass spray bottle. Spray the interior and exterior of the toilet with the cleaning solution. Allow it to sit for several minutes.
Wipe all exterior surfaces clean with a dry cloth. Sprinkle baking soda inside the bowl and scrub with a toilet brush. Flush to rinse away the residue.
Homemade Heavy Duty Toilet Cleaner
Whether you just unclogged your toilet or your toilet bowl has stubborn rings, this heavy duty toilet bowl cleaner leaves it sparkling clean. It also works well for getting rid of nasty odors.
Combine all four ingredients in a jar. Flush the toilet to ensure the sides of the toilet bowl are wet or swish water around with your toilet brush. Dump in the cleaner and allow to sit for several hours.
For tough rings, let it sit overnight. Use a brush to scrub the bowl and flush to rinse. This is a great way to keep your toilet bowl smelling fresh. Between cleanings, add a few drops of lavender or lemon essential oil to the tank.
Toilet Bombs for Toilet Cleaners
One of our best toilet cleaning hacks is toilet bombs. These fizzy cleaners rid your home of any sewage smell and keep toilets fresh between cleanings. Easy to make, these fizzy bombs use simple ingredients that you can find at your local grocery store.
In a bowl add baking soda and citric acid. Then add essential oils and water. The baking soda will begin to fizz when wet ingredients are introduced. The mixture should be about the same consistency as damp sand and clump together when squeezed.
Add water as needed until consistency is reached. Pack mixture firmly into silicone molds. Allow molds to dry overnight before removing toilet bombs. To use, drop one bomb into the toilet and watch it do the work for you.
All-Natural Toilet Bowl Cleaner
With this toilet bowl cleaner, you will fight odors while cleaning your bathroom. Baking soda offers abrasive properties that cleanse the bowl as it deodorizes it.
For this recipe, use a single oil or combine to make a pleasant scent. Mix oils, Castile soap, and water in a squirt bottle. Pour in the baking soda and shake.
Spray liberally inside your toilet bowl, making sure to get the rim of the toilet, and allow to sit for 15 minutes. Use a toilet cleaner brush to scrub inside. Spray the sides of the bowl with hydrogen peroxide and let sit for several minutes. Flush to rinse.
Removing Hard Water Stains from Toilet Bowls
With hard water, you know how quickly lime and rust stains build up. Not only do they build up quickly, but they are also one of the hardest toilet stains to eliminate.
To get rid of hard water stains in a toilet, pour one cup of vinegar inside the bowl. Give it a quick stir with your toilet cleaning brush and let it sit for one minute.
Dump in the baking soda followed by another cup of vinegar. Leave for 10 minutes. Stir the cleaner around with a brush to cover the entire bowl, including above the water line.
Close the lid and allow it to sit overnight. In the morning scrub away the stains using a bit of elbow grease. A pumice stone may help remove blue toilet cleaner stains and stubborn rings that an ordinary brush cannot.
Unclog the Toilet with Boiling Water
No one wants to have toilet problems, and they often occur at the worst moments. One of the most annoying and potentially messy issues is a clogged toilet. Whether your toddler dropped your keys in the bowl or there is a particularly large accumulation of toilet tissue causing the problem, unclogging a toilet is definitely a priority situation.
One of the first methods to try when unclogging a toilet is boiling water. Bring water to a boil on the stove. While the water boils, make sure there is no water in the drain pipe.
Pour the boiling water down the toilet and flush. If that doesn't work, try another pot of boiling water. If the second attempt still doesn't work, move on to a different method.
Use Your Plunger
The simple yet effective tool known as a plunger was designed to loosen clogs in the toilet or sink. The way to use a toilet plunger is simple. If there is no water in the drain, you will need to add some, so you are not just pushing air.
Place the plunger over the clogged drain, creating a vacuum, and push up and down several times as hard as you can. The plunging should force the water to push the clog down and out of the way.
Clear the Clog with Your Drain Snake
A drain snake or drain auger is found in many big box retail stores. Snakes can be manual or electric and allow you to reach clogs that are located deep within your pipes.
To use the snake, place the end into the drain and begin twisting the handle until you reach the clog. Continue turning until you feel the clog break free. Flush with water to ensure clog is gone.
Homemade Drain Cleaner
Some clogs are tougher than we think. Use a powerful homemade natural drain cleaner to unclog the toilet in minutes.
To unclog your toilet, pour a gallon of boiling water into the bowl. Add the baking soda and allow it to sit for several minutes. Mix two cups of vinegar with one cup of hot water and pour down the drain after the baking soda.
Close the lid to the toilet, as this will cause a chemical reaction and a potential overflow. Let it sit inside the toilet for 20 minutes before flushing with a gallon of boiling water. If this doesn't work, use a different way to clear a plugged toilet.
Homemade Rust Stain Remover
This recipe is very similar to our hard water stain remover recipe. Our rust remover tip uses an extra ingredient to help make stain removal easier and is a great toilet cleaner.
Part of learning how to clean a toilet bowl is learning how to get rid of even the toughest stains. Before you begin, turn off the main valve for your toilet and remove as much standing water as possible with a cup.
Pour vinegar directly into the bowl, and then dump in baking soda. With a nylon brush, swish stain remover around the inside and allow to sit for 15 minutes — scrub stains with a brush. If stains are still present, apply lemon juice and let the stains dissolve. Turn water on and flush to rinse.
DIY Toilet Bowl Cleaner
A great thing about this DIY toilet bowl cleaner is how inexpensive and easy it is to make. This natural cleaner can be used on the inside and outside of the toilet.
Pour baking soda inside a glass bowl. Add essential oil and mix with a wooden spoon. Break up all oil clumps and store cleaning product inside a glass jar until ready to use.
Add one tablespoon of the cleaning mixture to the toilet bowl and scrub with a toilet brush. Add vinegar and let it fizz. Scrub again with a brush and flush to rinse.
Powerful All-Purpose Cleaner
One of the best ways to clean a toilet uses a homemade all-purpose bathroom cleaner. The cleaner is powerful enough to clean around the base of the toilet, using just a few simple ingredients.
Pour warm water into the spray bottle, then add baking soda and shake to mix. Add Castile soap and essential oils and stir again. To use, liberally spray toilet seat, base, and bowl. Wipe exterior surfaces with a clean cloth. Use a nylon brush to scrub the bowl.
How to Clean a Toilet Tank
You can purchase a commercial tank cleaner from the store, but you can easily clean toilet tanks with ingredients you have around the house. When cleaning, be mindful of the parts inside, including the chains. You don't want to break or dislodge anything.
Vinegar is perhaps the best way to clean a toilet tank, as it's naturally acidic. It removes lime and calcium deposits, and it's a natural antibacterial. Pour two cups of vinegar into the tank, allow to sit for an hour, scrub, and flush to rinse.
Bleach is another cleaner you can use for cleaning a toilet tank on the inside, but when using bleach always wear rubber gloves. Bleach will disinfect and get rid of any mold, but it will do nothing for calcium deposits. To remove those deposits, you will need to use an acid product that is safe for porcelain.
Homemade Bathroom Cleaner
Toilet cleaning is not a fun job as it is often the grossest part of any bathroom. Commercial products leave the porcelain throne sparkling, but several natural cleaners work just as well to keep toilet clean.
Mix the washing and baking soda with the Castile soap to form a paste. Add the essential oils and mix with a wooden spoon. Once all oil clumps are broken down, stir in the vinegar.
Use a scoop or a sponge to apply the paste to the inside of the toilet bowl. Apply with a paper towel to the entire exterior. Wipe clean with a clean, damp sponge.
How to Clean a Toilet Bowl Naturally
Cleaning products that use all natural ingredients are just as effective at cleaning and disinfecting as expensive commercial cleaners. Deep clean the inside of your toilet using a ½ cup of baking soda and ten drops of tea tree oil.
Once those have been added, pour in ¼ cup white vinegar. As the cleaners fizz, scrub the inside until clean.
Organic Drain Cleaner
Baking soda is a natural antibacterial and an excellent solvent, so it makes a terrific drain cleaner. The non-corrosive drain cleaner is cheap to make and safe enough to use on toilets, as well as other drains throughout your house.
Mix baking soda, cream of tartar, and salt in a medium-sized container. Add a little water at a time until you have a creamy liquid. Pour down the toilet and allow it to stand for 20 minutes. Rinse with the boiling water. Repeat as necessary until the clog clears.
Powerful Homemade Organic Enzyme Cleaner
Not only is this enzyme cleaner powerful enough to clear tough clogs, but it will also leave your pipes smelling clean and fresh.
Fill a jar with as many citrus peels as will fit and add vinegar. Secure the jar with the top and leave for two weeks. Strain the citrus peels from the vinegar for citrus infused vinegar.
Pour some baking soda down the clogged or smelly drain. Follow with citrus infused vinegar in an equal amount. Cover and leave alone for 30 minutes. Rinse with two cups of boiling water.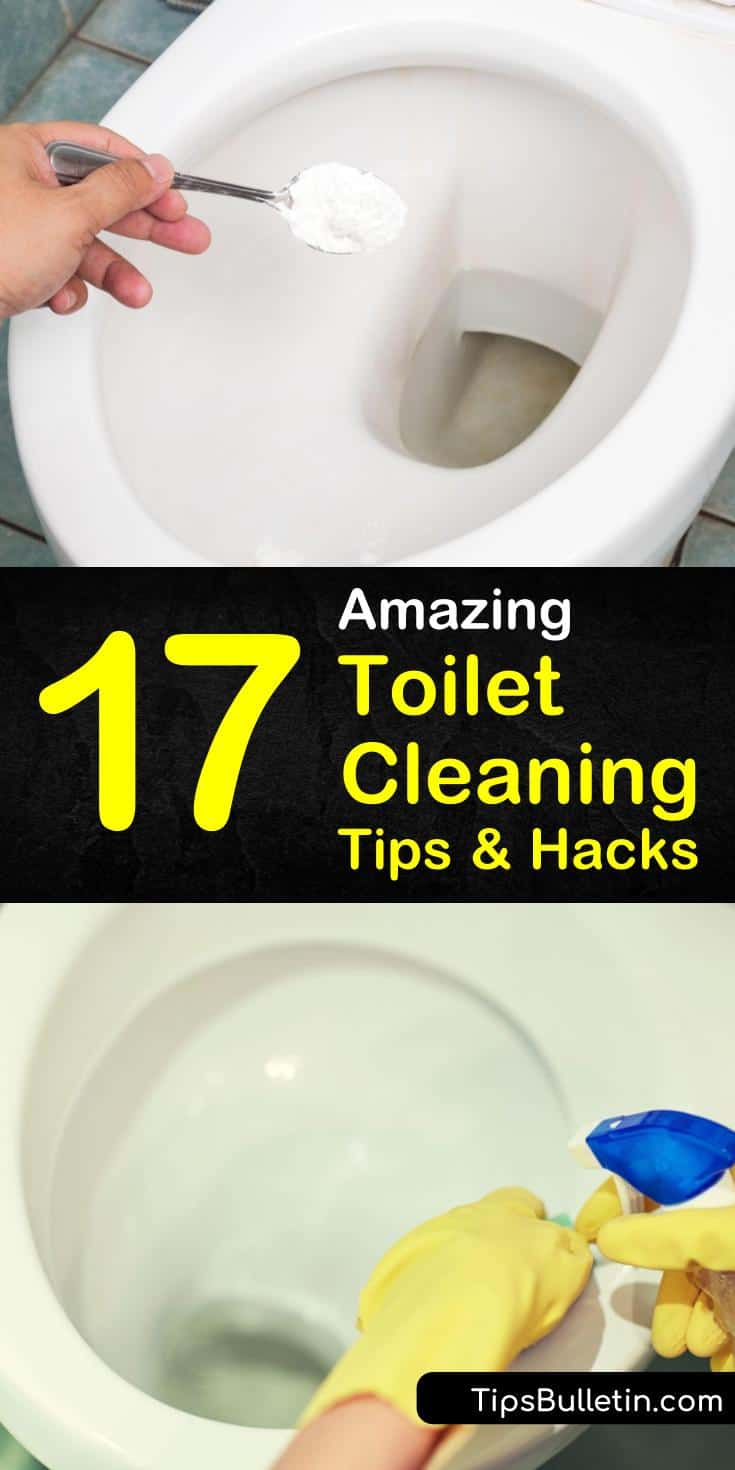 Thanks for reading about our toilet cleaning tips and hacks. If you found our ideas or recipes useful, please share our best ways to clean a toilet on Facebook and Pinterest with others.