Vaporizers have innovated ways for users to smoke dry herbs, oil, wax, or flavored juices in a more discreet manner. Knowing how to clean a vaporizer is critical in preventing gunk buildup from negatively impacting the product's heating chamber and flavor.
To keep your vape pen working efficiently and for a long time, maintaining an effective cleaning routine is essential. This article provides quick and easy tips to perform a proper deep clean for your vaporizer.
We also teach you processes for cleaning a clogged Vicks vaporizer and other devices, like a bong, used to smoke. These techniques save you time while also successfully removing the sticky residue that accumulates, especially in a dry herb vaporizer.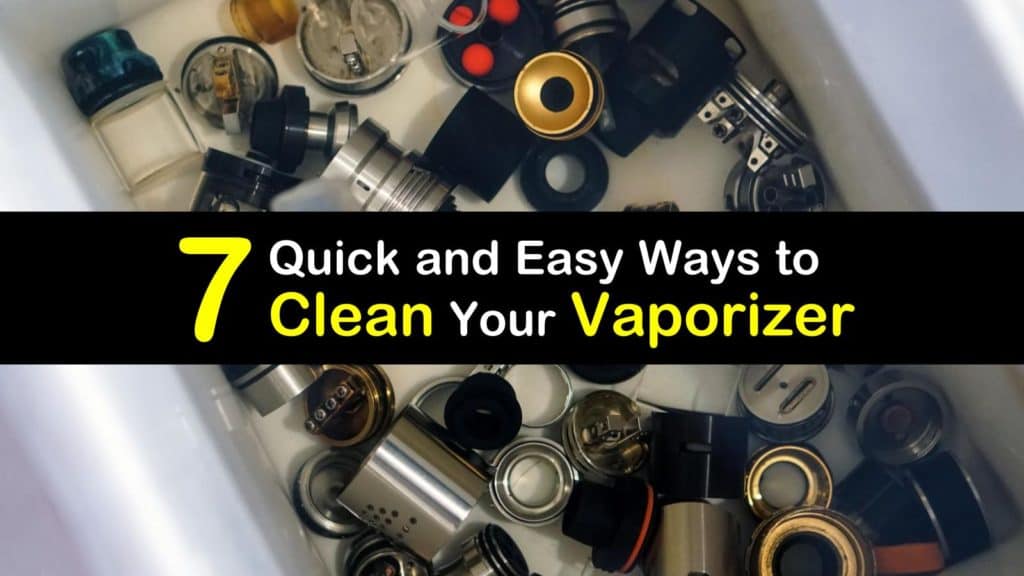 Understanding the Importance of Cleaning Your Vaporizer
If you vape, maintaining an effective cleaning solution is critical so you get the most out of your vaporizer. A clean vaporizer delivers smoother smoke because there is no buildup in the heating chamber.
We show you how to clean vaporizer with vinegar and other household products like rubbing alcohol and baking soda.
Cleaning a Vaporizer Quickly with Warm Water
If your time is compromised and you still want a clean vaporizer, using warm water and a paper towel gives you a quick clean. Using warm water is also perfect if your vaporizer is not backed up with gunk and needs regular cleaning.
Regularly rinsing your vaporizer extends its overall life, too. Fill a medium-sized bowl or container with warm water. Make sure the container you use fits the tank of your vaporizer. Disassemble your vape pen, specifically the parts of the tank.
Place the small parts of the tank in the warm water and let the pieces soak. The water loosens up the gunk buildup, making it easy to wipe away the remainder with a piece of paper towel after it has soaked.
Finish the process by letting the parts air dry for 5 to 20 minutes. It is essential to let the pieces completely dry to avoid mold.
Utilizing Vodka to Effectively Clean Your Vaporizer
Unclog a vaporizer using the active ingredients in clear spirits like vodka. Learning how to clean a vaporizer utilizing this approach is relatively simple.
If you are vaping every day, performing a deep cleaning routine like this should be completed once every month to ensure your vaporizer works optimally.
Start by disassembling your vaporizer and place the pieces that need cleaning in a small bowl or dish. Pour enough vodka in the bowl to completely cover the parts.
We recommend using higher proof alcohol because it breaks away the residue easier. Use a cotton swab dipped in the alcohol to scrub away at the gunk on your vaporizer.
Vaporizer cleaning goes quickly with this method—the active ingredients in the alcohol break through tough gunk and other harmful buildup. Let the pieces completely dry before you reassemble your vape pen.
Using Rubbing Alcohol to Clean Hard to Reach Sticky Residue Build Up
If you smoke cannabis, there is a higher likelihood that sticky residue builds up in your herb chamber or bong. By utilizing the active ingredients in isopropyl alcohol, this gunk is easily cleaned despite being in a hard to reach area.
Rubbing alcohol breaks through tough buildup of gunk and other residue and it's great for cleaning nicotine stains off walls, too. To reach every nook and cranny of whatever device you are cleaning, use a pipe cleaner and cotton ball soaked in rubbing alcohol to get rid of all residue successfully.
A pipe cleaner works as a small cleaning brush that reaches areas that are impossible for your fingers. For larger sizes, using a toothbrush to scrub away at grime also works.
Cleaning Vaporizer with Vinegar Solutions
Vinegar is an all-natural liquid to unclog a vaporizer. Cleaning vaporizer with vinegar solutions disinfects more adequately than hot water and is ideal for eliminating smoke smell in the home or clothing. Vinegar contains acetic acid that eats away at grime and dirt.
Using vinegar is another effective way to descale a vaporizer with a standard household product—the coils of your vaporizer act as the heating element. When the coils are covered in gunk, they do not heat up as quickly and often give off a sour taste.
Disassemble your vaporizer and put the coils in a small dish. Fill the container with white vinegar to cover all of the coils. Let the coil soak in the white vinegar for two hours. Cleaning vaporizer with vinegar is critical in extending the overall lifespan of your coils.
How to Clean a Vaporizer using Baking Soda
Cleaning vaporizer areas that contain a lot of bacteria is vital to clean mold out of your vape pen. Notably, the mouthpiece of your vaporizer may contain germs. Baking soda solvent is a mild alkali that dissolves grime when water is added.
To remove calcium deposits from a humidifier or vaporizer, mix the ingredients in a small dish and stir the baking soda and water until it forms a paste. You may need a few more drops of water to make a consistent paste.
Use a toothbrush to brush any grime that developed through vaporizing. After scrubbing the affected areas, wipe the remaining baking soda away with a clean cloth and rinse your pieces before air drying them.
Purchase a Quality Vaporizer to Clean Less Often
Knowing how to clean a vaporizer is essential to prolong the life of your vape pen. However, purchasing a quality vaporizer decreases the number of times and how often you are forced to clean away gunk and grime.
Vaporizers like the Firefly 2 not only include a two-year warranty but also come with a cleaning kit upon purchase.
The Firefly 2 burns cannabis more efficiently and at a higher temperature than most other vape pens. The smooth distribution of smoke allows for fewer needed deep cleans.
Using Bleach and Vinegar for Cleaning a Clogged Vicks Vaporizer
Just like when cleaning a clogged essential oil diffuser, it is critical to ensure that your humidifier distributes clean vapor into the air. Cleaning a clogged Vicks vaporizer is much simpler than most people assume. If you are asking yourself, "How does a home vaporizer work?" look no further.
A home vaporizer heats water and distributes the steam into the air to help provide cough relief. Cleaning a clogged vaporizer requires only white vinegar and bleach.
For the best way to clean a diffuser or vaporizer, and to clean the device's heating element, submerge the base of the device with one part white vinegar and one part bleach until the heating element is completely covered. Let the heating element soak for 30 minutes.
If there are mineral deposits on the side, use an old toothbrush as a way to descale the vaporizer. Dump the liquid down the drain and rinse the vaporizer with warm water.
Whether you are cleaning a clogged Vicks humidifier or a vape pen, it is critical to prolonging the device's life. Washing away the grime on a vaporizer is quickly accomplished with everyday household products like white vinegar and baking soda.
Completely cleaning your vape pen also gives you smoother hits so matter what you choose to fill your tank with.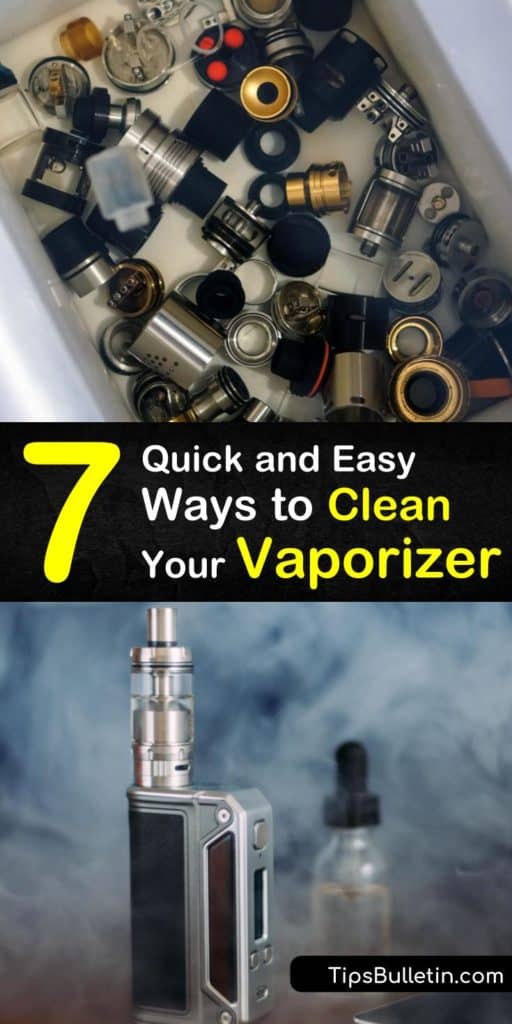 If these cleaning tips showed you how to clean a vaporizer, please share these tricks about cleaning vaporizer with vinegar on Pinterest or Facebook with your friends.