A Vicks warm mist humidifier pumps warm steam into the air. Humidifiers are great during the cold months of the year, as they moisturize the air and help prevent dry skin and cold and flu symptoms. Learning how to clean a Vicks humidifier is essential because of the excess moisture the product endures regularly.
We provide you with several DIY tips and tricks to get rid of mineral buildup and unwanted bacteria in your Vicks vaporizer or humidifier. Whether you have a steam vaporizer or cool mist humidifier, disinfecting the product regularly is vital to clean mold and to descale. Familiar household products like hydrogen peroxide, white vinegar, and bleach are great tools to clean Vicks humidifiers.
We give you step by step cleaning instructions for cleaning a clogged Vicks humidifier. It is vital to unclog a Vicks humidifier properly so the machine's shelf life is extended and it performs as it was designed.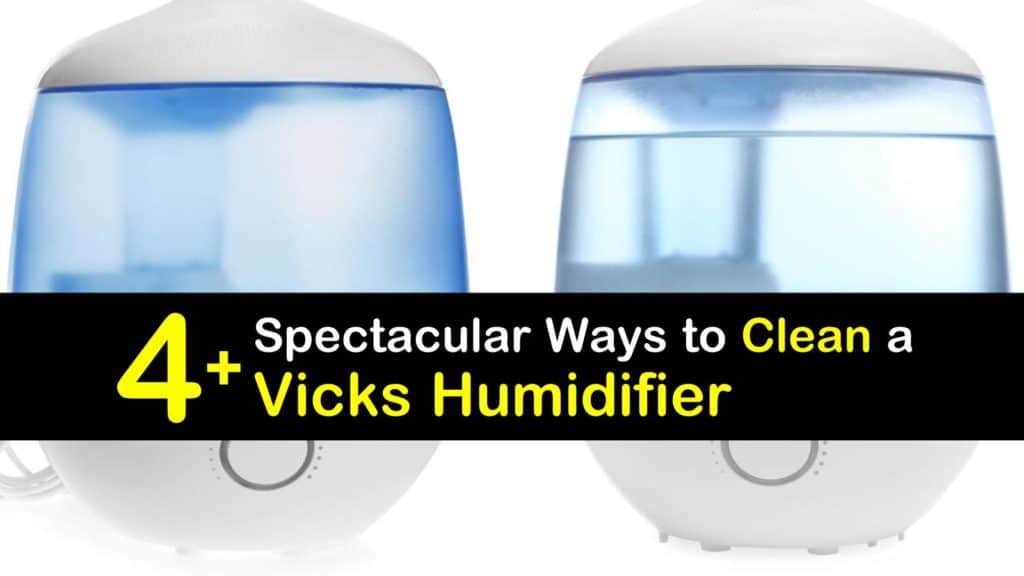 The Importance of Cleaning Your Humidifier
Answering the question "How does a Vicks humidifier work?" is an excellent way to begin your cleaning process. A humidifier contains a few essential parts that need to be cleaned.
These parts include the water reservoir, fan, and wick. The wick absorbs water found in the reservoir and turns it into steam, distributed by the fan.
Kaz, the company that patented Vicks humidifiers, recommends a daily cleaning regime and a deep weekly cleaning to prevent bacteria buildup.
How to Clean a Vicks Humidifier with Vinegar
Vinegar is an excellent cleaning product because of its acidic nature and there are tons of vinegar cleaning tips for in and around the house. The acidity of vinegar allows it to eat through dirt, grime, and mineral deposits. White vinegar also kills nearly all the germs and bacteria on the surface.
Using vinegar for cleaning a clogged Vicks humidifier helps disinfect the machine. Before starting to clean, make sure the unit is unplugged and away from an electrical outlet. Disassemble your humidifier and fill the water tray and heating element with vinegar.
If your humidifier has several hard water stains, use vinegar to clean the humidifier by letting the vinegar soak overnight. Using an old toothbrush, scrub at the limescale deposits until all areas are spotless.
Pour the vinegar down your drain and rinse the items with tap water. Air-dry the cleaned parts entirely before reassembling the humidifier. Learning how to clean a Vicks humidifier is effortless with white vinegar.
Learning How to Clean Vicks Cool Mist Humidifier with Bleach
Bleach is the most effective disinfecting agent for cool mist humidifiers. The ingredients in bleach kill nearly every germ and bacteria cell found on its surfaces.
Using a bleach solution prevents any mold growth from harming you upon further use of the machine. It is critical that you thoroughly rinse out the bleach after cleaning.
Pour the mixture of bleach and water into the humidifier's reservoir. If you have a detachable tube, place that in the water as well. Soak in cool water for 30 minutes. Make sure to swish the water around every once in a while to ensure every area is clean.
With a clean cloth, wipe down every area of the machine while the bleach solution is soaking. Rinse out the device with cool water. Understanding how to clean Vicks cool mist humidifier is straightforward when using bleach.
Knowing how do humidifiers work ensures that you understand the best ways to clean them so they operate efficiently.
Cleaning a Clogged Vicks Humidifier with Hydrogen Peroxide
One of the best humidifier cleaners is hydrogen peroxide. It's also appropriate for cleaning an oil diffuser. The ingredients in hydrogen peroxide destroy bacterial cell walls, ultimately killing the cell.
To eliminate any bacteria or mold growth in your Vicks humidifier and to descale a humidifier, implement a hydrogen peroxide cleaning solution. Fill a medicine cup with hydrogen peroxide and pour it into your device's water reservoir.
To further disinfect the humidifier, add a cup of white vinegar. Use a soft brush to wash away any limescale buildup and bacteria in hard to reach areas.
If there are intricate areas you need to clean, using a toothpick to chip away at mineral deposits is a great technique.
Some people think that cleaning a clogged Vicks humidifier requires several tools. However, hydrogen peroxide is an inexpensive product to disinfect the machine.
Implementing a Daily Cleaning Routine
If you use your humidifier regularly, cleaning the device on an everyday basis is essential. When you tend your humidifier each day after using it, it is less likely that bacteria and mold will grow.
Figuring out how to clean Vicks cool mist humidifier daily is simple and only takes a few minutes. Start by unscrewing the tank cap and filling the water tank with warm water.
Swish the water around so it reaches every part of the tank before dumping it down the drain. We recommend using warm water and not hot water, as the hot water may warp the device's plastic pieces.
After rinsing the machine, let it air dry before using it again. Making sure the humidifier is completely dry prevents mold growth.
Creating a Baking Soda Paste to Get Rid of Buildup
Baking soda is an all-natural descaling product to use for cleaning a clogged Vicks humidifier.
Baking soda dissolves the mineral deposits and grime that accumulate in your machine—additionally, the ingredients in baking soda act as natural deodorizers, eliminating foul smells from your humidifier.
What is a descaling solution that is easy to make at home? In a small container or dish, mix ½ cup of baking soda with about three tablespoons of water. Stir the solution until paste forms. You may need to change the amount of water so the ingredients form a paste.
Use an old toothbrush and the paste to scrub away at hard water stains and mineral buildup. Rinse the surfaces with warm water and wipe them dry with a paper towel or microfiber cloth.
Learning how to clean Vicks cool mist humidifier with a baking soda paste is a natural and straightforward way to defeat limescale buildup.
A variety of things cause the buildup of gunk and limescale in your humidifier. If you use essential oils with water in your humidifier, it clogs up the machine quickly.
Descaling a humidifier is simple and inexpensive with everyday household products like baking soda or hydrogen peroxide. Regular humidifier cleaning allows it to work properly.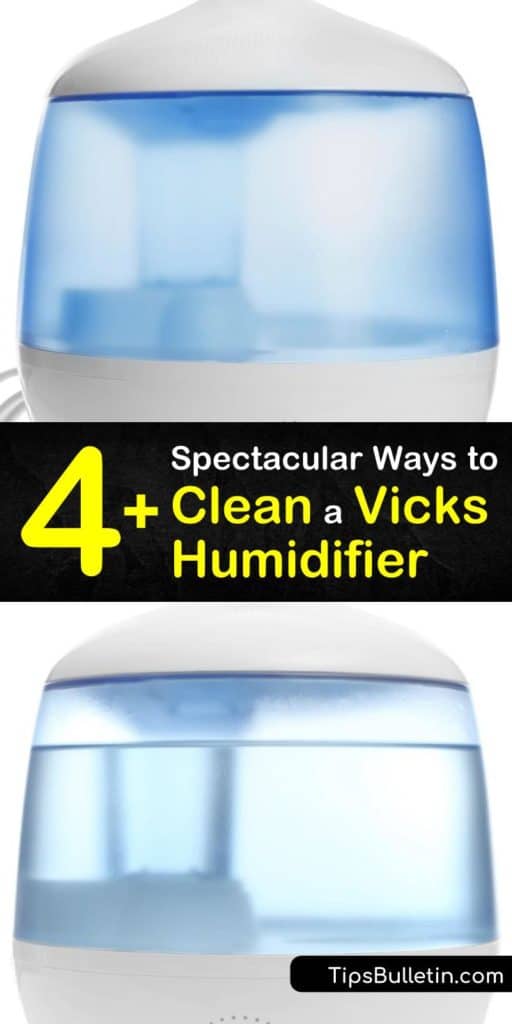 If you learned how to clean a Vicks humidifier with these cleaning methods, share this article about declogging a Vicks humidifier with your friends and family members on Facebook and Pinterest.