Waffle makers are terrific kitchen appliances for preparing brunch. If you fancy various waffle recipes, chances are, you own a waffle iron, and it's vital to know how to clean a waffle iron. You can make fresh, fluffy waffles in a matter of minutes just by plugging it in, turning it on and pouring your batter in – it'll do the rest.
Regardless of how you take pleasure in those waffles, most likely, cleaning your waffle maker is something you do not look forward to at all. Electric waffle makers gather butter and oil in crevices, and since you cannot dip them in water or use soap on the nonstick surface, removing cooking residue takes time.
For this reason, learning how to clean built-up grease on a waffle iron is essential. Although numerous electric waffle makers possess non-stick plates and non-removable plates, they can be hard to clean. The nonstick surface does make it easier to eliminate the built-up gunk by gently scrubbing it off using a damp paper towel.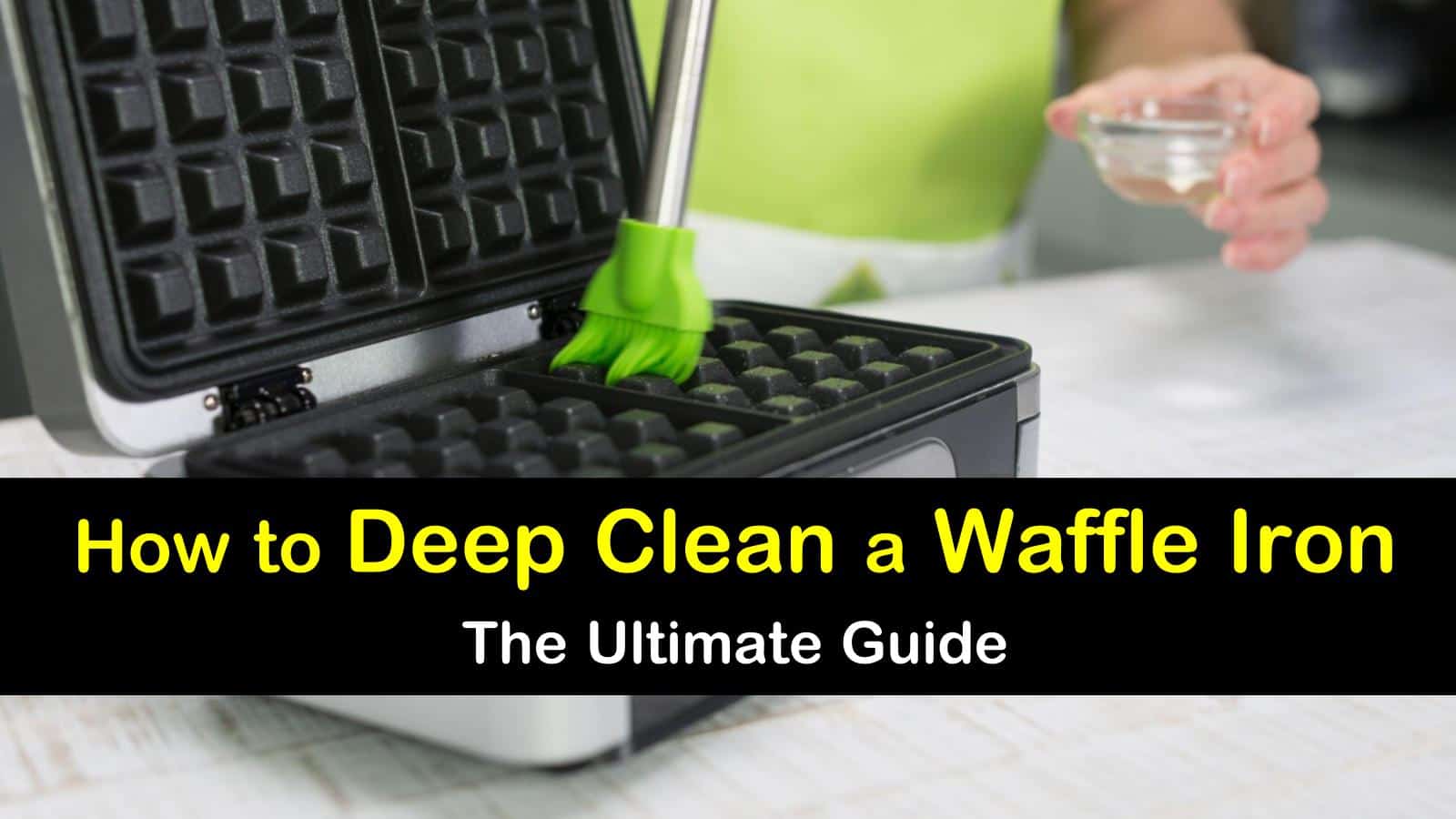 Learning how to clean iron with salt can be tough. Luckily, we have some cleaning tips and proven methods on how to give your waffle makers some TLC.
The Best Way to Clean a Waffle Iron
Since your waffle maker is an appliance, soaking it in soapy water might not be the best way to clean a waffle iron. It's not safe, and it could mess up your appliance. Nevertheless, the grooves that make your delicious waffles can be hard to clean.
The trick to getting into those crevices is by using the waffle iron's heat against the gunk. Start by turning off your waffle maker right after preparing the best waffles. Using a dry paper towel, wipe the batter off your waffle maker.
If there's any batter caked on, pour cooking oil on it and let it sit for about five minutes. It should be easier to wipe off now. Lastly, clean the exterior with a soft, damp cloth when it's sufficiently cool.
How to Clean a Waffle Iron (Non-removable Plates)
It can be daunting cleaning a waffle iron with non-removable plates. You can't use a metal utensil, scouring pads, or steel wool to scrape the grill. They ruin the non-stick coating, causing it to peel off.
It's not only unhealthy but also causes your waffles to stick the next time you use it. So, do you want to learn how to clean waffle maker efficiently? Check out these cleaning tips and see if you can find one that works for you!
Dry Clean
Use the dry clean method if you prefer not to get the nonstick surface of the waffle iron wet. Start by disconnecting the waffle maker from the socket allow it to cool off. Dry cleaning works best if it's quite warm, but not so hot that you can't touch it.
Use a paper towel to wipe away excess oil and brush away crumbs. You can also use a soft bristle brush to remove most of the gunk. If there're any hardened bits, soak a dish towel in hot water and ring it out.
Put it onto the waffle maker and close it. Allow it to sit for a few minutes. Pry up any dried up oil spots using a rubber spatula. It's capable of cleaning between the grid plates due to its thin and malleable nature.
You can also sprinkle a small quantity of cooking oil over stubborn pieces of waffles and let it sit for a moment. Afterward, rub the gunk away using a paper towel. Lastly, using a damp cloth, wipe the outside of the waffle iron.
Grease It Up
If you've ever used aerosol cooking spray to clean a waffle iron, like you would grease a pan for baking, you may have noted a brown, sticky residue. The residue bakes on and, in time, becomes a problem to remove. Learn how to clean a waffle iron without using severe chemicals.
Spread a moderate layer of cooking oil, preferably Crisco, on the entire nonstick surface of the grill using a pastry brush and let it sit for an hour. Afterward, sprinkle a bit of baking soda onto the cooking oil.
Take your dry paper towel and begin rubbing until you remove the gunk. The use of both cooking oil and baking soda is advised not only because they gently scrub the surface clean, but also because they are food safe items. They aren't harmful if they come into contact with food.
Steaming Method
Steaming helps loosen all the caked-on batter and makes it easier to wipe off all the gunk. One study found that it was easier to wipe away the crumbs and greasiness while the grill is still a little bit warm.
The article also explained how to clean built up grease on waffle iron. Before you start preparing for your next brunch, commit these tips to memory.
With the steam method, start by boiling some water. Dip the damp cloth into hot water and squeeze it so that it's not dripping wet. Squeezing the cloth prevents any damage to this kitchen appliance's wiring as a result of water dripping through the crevices.
When the iron is hot but powered down, put the wet cloth over the cooking surface of the waffle maker; then close the lid and let it sizzle and steam. Once the build up gunk has loosened, use a soft toothbrush or a rubber spatula to scrub off the grate.
Be gentle to avoid scratching the nonstick surface. Dipping the toothbrush in baking soda helps achieve this goal.
Using Baking Soda and Vinegar
According to a graduate from Iowa State University, baking soda can be used to clean off sticky grease on pans or kitchen appliances as it acts like an eraser. Baking soda helps in killing bacteria and is friendly to a nonstick surface, too.
Mix some baking soda with some water to form a spreadable paste. Using a toothbrush made of a soft bristle, apply the baking soda paste to the nonstick surface of the grill. Next, pour some vinegar in a spray bottle and carefully spray each section of the grill.
Don't saturate the waffle iron with vinegar. Afterward, use the toothbrush or soft bristle to scrub the grill while being careful not to leave marks on the non-stick coating.
Wipe clean with a dry paper towel. Grab a clean damp cloth and wipe the nonstick surface of the grill before storing it away.
How to Clean Waffle Maker with Removable Plates
Cleaning a waffle maker with removable plates doesn't have to be a pain if you have a few cleaning tips in your arsenal. For these types of waffle makers, the cleaning technique has a small tweaking. You can detach the plates and clean them in water.
Start by unplugging your waffle maker and letting it cool off. Follow the manufacturer's instructions when removing the plates. Soak the plates into a shallow dish containing hot water.
Scrub the plates using a kitchen brush with soft bristles. Afterward, wash away crumbs or any remaining gunk in warm water. Use a dry paper towel to fix the grid plates back when they've completely dried.
Wipe the waffle maker's outside lid with a wet cloth, making sure no water gets into the electrical parts of the waffle iron. If stubborn pieces do not come off when cleaning a waffle maker with removable plates, consider trying a combination of the tricks outlined above.
Don't dash to wash the grid plates with soapy water or in the dishwasher. In one study, it was discovered that soap combines with either magnesium or calcium to form scum. The scum leads to deterioration of the non-stick coating, which can be hazardous to our health.
How to Clean a Cast Iron Grill
Cast iron has two foes, corrosion and the loss of their "season" non-stick coating. To prevent this from happening, you need to learn how to clean cast iron grill.
For cleaning burnt cast iron, sprinkle the tablespoon of coarse salt onto the grill and scrub off the gunk using an old toothbrush. The salt breaks up the stubborn debris or rust into grates, which come off quickly.
You may need to apply some added pressure to stubborn burned-on stains. Wipe the cast iron with a clean paper towel.
To further protect your cast iron, rub some cooking oil over the entire cooking surface using a pastry brush. Subsequently, you'll need to "re-season" your waffle iron to ensure the next best waffles don't stick.
In conclusion, you should never use harsh chemicals to clean a waffle maker. They ruin the nonstick surface, plus, if the grill is not removable, it will be tough to clean and rinse the chemicals away. If waffles stick to the grid plates, it's due to the worn-out non-stick coating.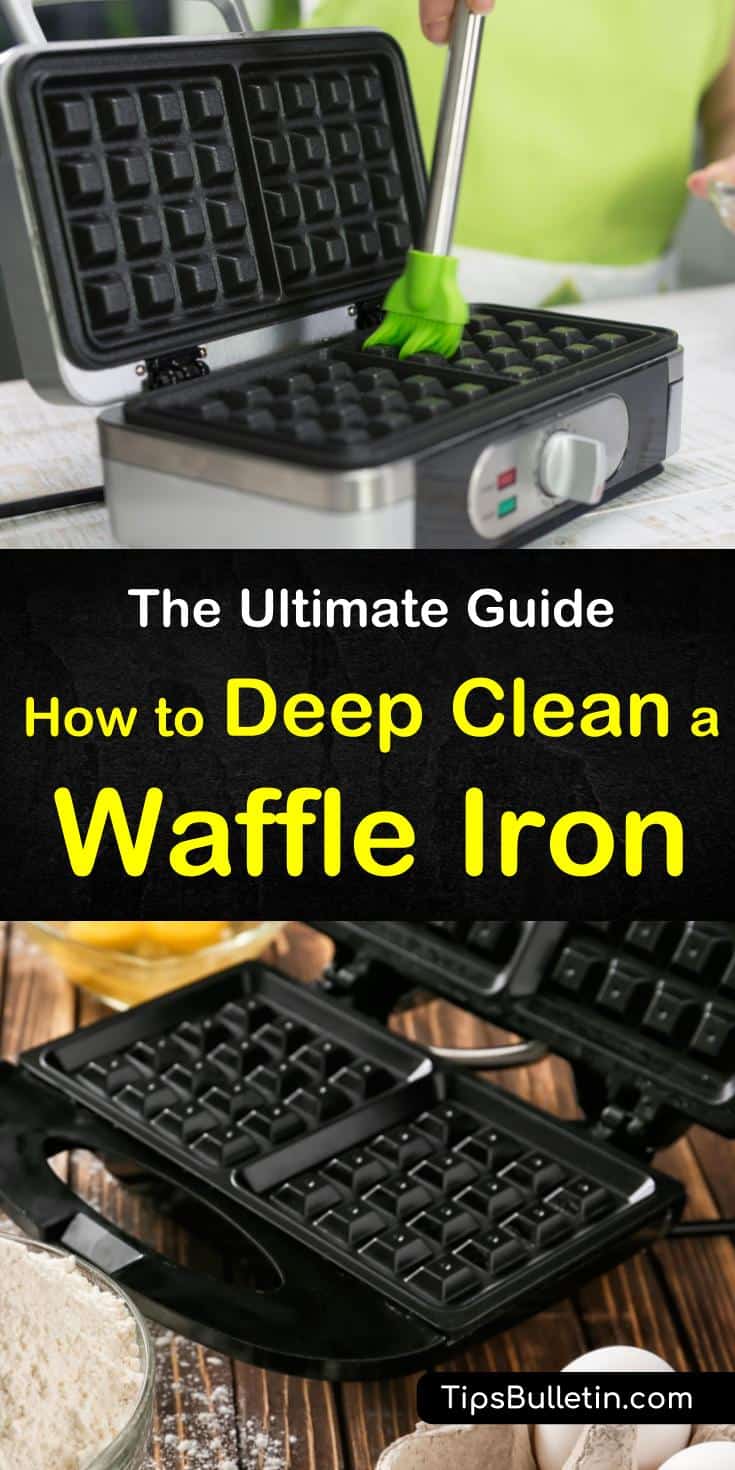 We hope you enjoyed learning about the different ways to clean this kitchen appliance and have committed to memory the best way to clean a waffle iron. If you've liked our cleaning tips on how to clean a waffle iron, please share these waffle iron cleaning tips with your friends on Pinterest and Facebook.