Did you know your washing machine requires regular cleaning to continue running properly and clean your clothes? As strange as it sounds, the agitator washer, tub, and lint trap accumulate grime, even though detergent and water run through the machine during the wash cycle. Learn how to clean a washing machine agitator in a few simple steps.
The washing machine is a modern convenience we all take for granted. It removes dirt and odor from clothing, keeping fabric fresh and clean. It's totally understandable that we neglect to clean the machine that cleans our clothes.
There are many components in a washer, whether it's a front load or a top load washer. Soap scum builds up on the washer tub, agitator, fabric softener dispenser, and other washer parts. It is necessary to clean them to prevent gunk from transferring to your clothes.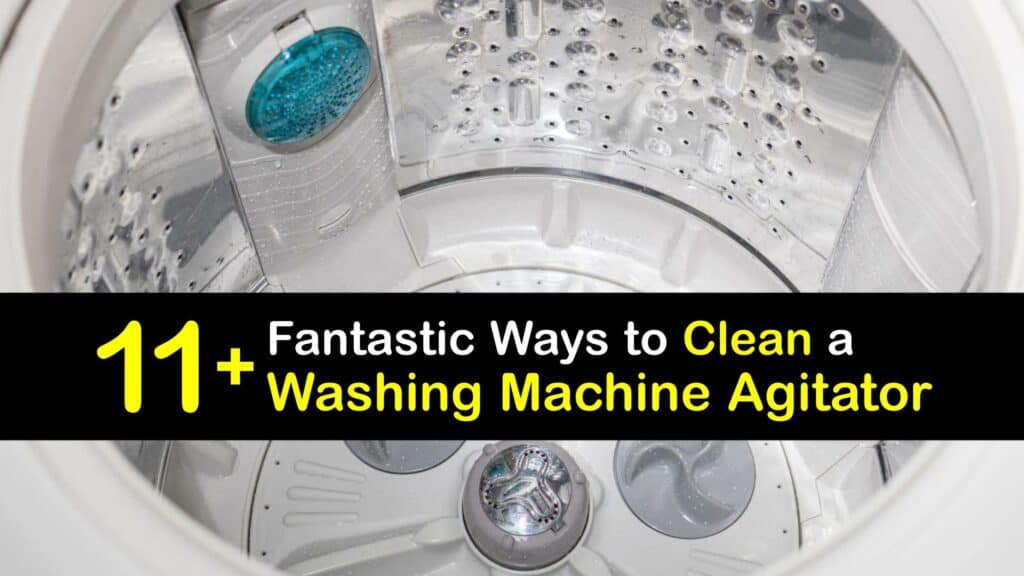 Cleaning the Washer Agitator
You don't need expensive cleaning products for cleaning a gasket or agitator on a washing machine. All that's required is a washing machine cleaner or vinegar and baking soda, and a little of your time.
It's easy to forget about cleaning the washing machine and its parts, yet ensuring it works as it should is essential. The good news is that it's pretty simple, and there are different cleaning methods to fit your needs.
What Is the Agitator?
We don't think much about washing machines when we do our laundry. All we expect is that the washer gets our clothes clean. What is a washing machine agitator, and how is this washer type different from others?
Washer Agitator
A washing machine agitator is a post in the drum's center. The agitator post twists back and forth against clothes to break up dirt and stains. While this is a great way to clean clothes, sometimes the high-speed cycle causes clothing to get twisted around the agitator, throwing off machine balance.
In contrast, an impeller washing machine has a low-profile disc or cone that spins to rub clothes against each other.
Cleaning This Washing Machine Part
There are some things to know about cleaning a washing machine agitator. Is it possible to remove the agitator, or does it have a removable cap? Some washing machines even can switch the impeller and agitator.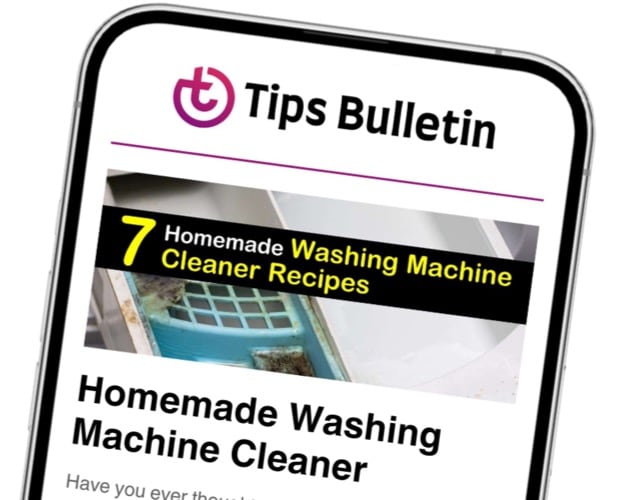 Finally, an email that Transforms Your Home.
Get the latest home and garden tips from our experts, delivered straight to your inbox.
Washer Agitator and Cap
Check your washer's manual before cleaning the washing machine agitator to see if removing the agitator from the drum is possible. It's best to avoid trying to remove the post if you no longer have the manual.
Check for a removable cap on the agitator. Look for the cap at the top of the post and try to twist or pull it from the agitator gently. If it doesn't budge, it's not removable.
Do You Have to Remove the Agitator to Clean It?
Cleaning a washing machine and its parts is sometimes confusing, especially if you no longer have the owner's guide. This confusion is one of the reasons many people don't clean their appliances. For instance, do you have to remove the agitator when cleaning, or can you wash it in place?
Non-Removable Agitators
The best way to wash a machine with an agitator is to remove it, but not all agitators are removable. While it's a little more challenging, you can clean the agitator without removing it. It's inadvisable to try and remove it unless the appliance's manual has specific instructions.
Routine washer maintenance ensures that the agitator stays clean. If you notice any dirt on the post when doing laundry, use mild soapy water and a cloth to wipe it clean.
Cleaning Washing Machine Agitators
Your local store carries a selection of cleaners ideal for cleaning a washing machine agitator. They are simple to use and helpful if you prefer to use commercial cleaners rather than home remedies.
Washing machine cleaners come in varying forms, including tablets, powders, and liquids. They break up or dissolve during the wash cycle and remove soap scum, mildew, and odor-causing residue from the drum, agitator, hose, and other washer parts.
Follow the directions for your cleaner brand for optimal results. Generally, you add the cleaner to the dispenser cup, set the machine for a regular or self-cleaning wash cycle with hot water, and run the washer without clothes.
How to Scrub the Inside of a Washer Agitator
If your washer is extra filthy, you may want to do more than just run a cleaner through the self-cleaning cycle. Scrubbing the inside of a washer agitator is not as difficult as it sounds as long as the agitator has a removable cap.
Remove the fabric softener dispenser and wash it separately in the sink with soap and warm water. Pull or twist the cap off the top of the agitator and clean the inside with a damp cloth. Wipe the inside of the agitator, along with the dispenser and cap, with a towel, and leave the washer lid open to air dry.
Clean the Inside of an Agitator
An ideal way to remove soap buildup from a center agitator is to remove the agitator from the washer tub. However, remember that not all washers come with a removable agitator. Check the owner's guide for instructions.
Unplug the washing machine and lift the washer lid. Remove the fabric softener dispenser and set it to the side to clean later. Use a flathead screwdriver or your hand to pop the cap off the post. Reach inside the agitator, and remove the plastic dust cap if your unit has one.
Connect an eight or ten-inch socket extension and an appropriate-sized socket to a socket wrench. Insert the socket into the post and remove the agitator bolt from the inside. Place your fingers beneath the agitator and lift it out of the washer.
Fill a sink with warm, soapy water and clean the agitator and fabric softener dispenser with a sponge. Rinse them with water, and dry with a towel before reconnecting them to the washing machine.
Clean a Top Loading Washing Machine With Baking Soda
Baking soda is one of our favorite household products. It's cheap, and we use it for everything from baking to deodorizing and cleaning. Discover how to get the smell out of a top loader with sodium bicarbonate as a natural solution.
Mix sodium bicarbonate or baking soda with warm water to prepare a cleaning paste. Scrub the agitator with the paste and a sponge, and clean it from top to bottom. Pour one cup of baking soda into the washer drum. Run a normal cycle with the hottest possible water since cold water is less effective. Open the washer lid and let it dry.
Use Vinegar to Clean a Top-Loading Washing Machine
White vinegar is another helpful product that cleans surfaces without harsh chemicals. Its natural acidity works for getting mold off a washing machine spinner and is safe for the machine.
Get a sponge wet with warm water and shake some baking soda over the top. Use the sponge to scrub the agitator from top to bottom. Fill the washer drum a quarter of the way with hot water and pour in two cups of white vinegar. Close the lid on the washer, allow it to finish filling, and run a normal wash cycle.
Clean the Washer and Agitator Nooks and Crannies
There are many nooks and crannies on the inside of your washer. These small spaces collect debris and hold moisture, which leads to mildew and mold growth. Learn how to get grime out of the middle of a washing machine with an old toothbrush or a pipe cleaner.
Fill a container with hot water and add a squirt of detergent. Dunk an old toothbrush, Q-tip, or pipe cleaner into the soapy water and scrub the grime and scum out of the hard-to-reach areas on the agitator.
It's also helpful for cleaning the washer's corners, edges, and other small parts. Wipe away dirt and soap residue with a damp cloth and dry it with a towel.
What to Avoid When Cleaning the Washing Machine
Washing machines are durable. Nonetheless, there are things to avoid when cleaning and using them to prevent damage to the washer or your clothing. If you've ever pulled a shirt out of the washing machine and discovered it has bleach stains, you know what we mean.
Extra filthy clothes seem to require more laundry detergent, yet using more soap than recommended causes problems in the washing machine. Excessive detergent leaves an invisible layer of film that builds up, trapping hard water minerals and dirt, causing clothes to appear dingy.
Avoid cleaning the washer with cleaners not recommended for washing machine use, which may cause damage to hoses and other washing machine parts. Always dilute chlorine bleach or add it to the washer's bleach dispenser to prevent laundry bleaching. Better yet, use oxygenated bleach for worry-free cleaning.
How Often Should You Clean the Agitator?
Once you know how to scrub the inside of a washer agitator, you may wonder how often you have to do this job. The answer depends on how many loads you wash each week and which detergents you use.
Clean Washer Schedule
Use a commercial washing machine cleaner, white vinegar, or baking soda to deep clean the washer at least once a month. If you have a large family, clean the washer more frequently.
Not cleaning the washer leads to bacteria that clog inner mechanisms. These clogs keep the water from getting hot and lessen the strength of the laundry detergent.
Tips for Maintaining a Washer and Agitator
Washing machines are costly and getting more expensive each year. The best way to avoid replacing your washer is to care for it correctly. With the proper maintenance, a washer can last 13 years or longer.
Position the washing machine at least four inches from the wall to keep the hoses from kinking. Check the washer hoses routinely for cracks, bulges, and leaks, and replace them when necessary.
Ensure the machine is level since an unlevel washer can vibrate and rock across the floor during the spin cycle. Turn the washer legs clockwise to lower it and counterclockwise to raise it. Once you have the machine level, insert a drip pan beneath it to catch leaks, especially if the washer is on the second floor.
Clean the lint filter, which may be located in the agitator tube, depending on the model. Prop the washer lid open between laundry loads to keep the inside dry and stop mildew and mold growth.
Clean the washer and agitator regularly. Read the washer instruction guide, use the correct detergent type for your appliance, and don't add more soap than necessary. Don't overload the machine; use the appropriate amount of water for the load size.
While the agitator post efficiently cleans your clothes, it also needs attention now and then to keep it clean. Unlike an impeller washer with a low-profile disc, an agitator has a central post that accumulates soap scum and mildew. Luckily, baking soda, vinegar, and other cleaners quickly clean the washer and its parts.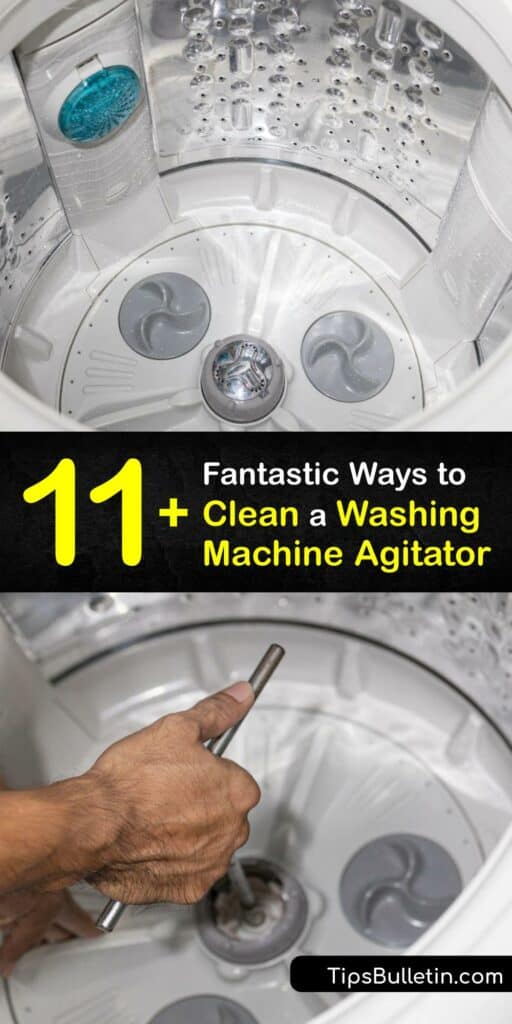 We hope that learning how to clean a washing machine agitator keeps your washer and clothes clean, and we'd love it if you'd share our tips for cleaning a washing machine agitator with your family and friends on Pinterest and Facebook.